Serial Pissers from Belgium sent me a split-LP with On fire and that record was the best one I have heard for many months. Here have Pascale Pisser with her friends answered a lot of questions from me…Enjoy!! August-2023
Please tell me a little about the history of the group and the members right now. Age, family, bands before and on the side.
Pascale: It all started in spring 2019 on a Silence Means Death rehearsal because i was always there drinking their beers. Rik (guitar player/singer of SMD) suddenly decided to form the band then Serial Pissers was born. He once said to me that he knew that my voice would fit their music by hearing me yelling at a show ahahah... Serial Pissers was and still is Rik on guitar/backing vocals, Willy on drums, Jos on bass guitar and me on vocals. Age wise, we are all approaching fifty except Jos who still is a lill' youngster ahahah... Jos and I are a married couple and we live in Liège in the french part of Belgium. Rik and Willy are located in the beautiful city of Bruges completaly on the other side of the country, in the flamish part. Willy is playing drums in NahendeVernichtung (the longest runing d-beat band of Belgium, active since 1991), Silence Means Death (from 2007), Contradisanti (from 2013) and he is the guest drummer on the last LP of Private Jesus Detector "Nobody's Master Nobody's Servant" on In Crust We Trash (Japan). Rik is playing guitar and doing the vocals in Nahende Vernichtung and Silence Means Death. Jos plays bass in Feed The Tumör (from 2018), СМОГ (Smog- from 02/2022) and Silence Means Death. He was the bass player in Last Legion Alive (2009-2013) and used to sing in Fart (2000-2008). Me, I was screaming in Grindfeast whose name later became Chaos Bastards (1994-2000), Buzzsaw (2000-2003) and i actually shout in СМОГ and Feed The Tumör.
Have it been many lineup changes?
P: Nope, Serial Pissers is still in the original line-up.
Serial Pissers how did that name came up? What does it mean? You were never afraid that another band already was called so?
P: It was Rik who came up with that name. No idea where he had this inspiration but we all liked it straight away as we are a bunch of drunks who are, sometimes, serial pissers eheheh...A serial pisser is someone who, when he/she's drunk, piss his/her pants or wherever he/she feels at ease. Not much people are proud to be a serial pisser and the name can be shocking for certain persons and we were sure that nobody else would call their band that name but we were wrong...a grindcore band from South Carolina is called Serial Pisser but we decided to keep that name anyway.
Is it still important to release physical records? Or can you feel that you have done a record if you only release it digitally? Are you satisfied with the split with On Fire. Something you could have done better?
P: Of course releasing physical records is important to us. It's always cool to have your own vinyl in your hands. It's more than a music support, it's like a piece of art. But it's also cool to have platforms as bandcamp to spread music and it's easy to send the link when you look for shows. As well, not everybody still has a record player tho'. We're pretty satisfied with our split with On Fire, having a split with them is great as they are friends for many years and Max (guitar/vocals) is activ in the Brussel/Belgium scene since i don't know when. The artwork was done by Steph Gillain Killustrator and we're more than satisfied with the result. Of course there is always a few things you would have done differently but for a first vinyl we think that it's a good quality.
You have never been to Sweden and played or? If you not have when do you come?
P: Unfortunetaly we've never had the opportunity to play in Sweden neither than Norway, Finland or Danmark but we really wish to come and play in the future. Jos and i drove a band on their scandinavian tour back in the days, we also visited Sweden several times and we went to Hygget Fest, Punk Illegal and Fragile Mountain Fest...these festivals were incredible! So to be honest it would be awesome to play there once.
Which countries have had the pleasure to be hearing the band live?
P: We played in Belgium of course then in Germany (Villa Oetinger/Darmstadt, Frost PunxPicnic/Mülheim), Poland (Atelier Wolimierz/Pobiedna), Slovakia(Garage/Bratislava), Hungary (Kripta/Budapest). We will play soon in Czekia (More Noise Fest/Pardubice), Slovenia at the infamous Metelkova (Ljubljana) and a few other shows in Germany but we're still waiting for confirmation as I write. As you can see we don't play so many shows but with all the bands we play in it's not that easy to arrange.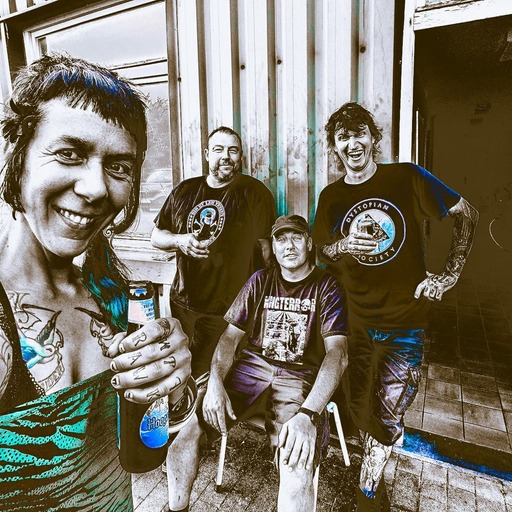 When you do songs, how do you do, are you jamming together or do someone comes with a lyric and some with the music or how do you do your songs?
P: It depends, sometimes Rik comes with a riff, sometimes is Jos and sometimes is a mix of both riffs. Willy add his drums and we talked about what we like and what we don't and we do the adjustments together. I'm the one who write the lyrics. I show them to the others and if there is something they want to talk about or change I do so. Some of the lyrics (No Fear and Life's a Bitch) are made by Dish (second singer of Chaos Bastards) and me, back in the days but were never been used.
It seems like your lyrics are important, is there anything you not will write a song about?
P: Yep i think that lyrics are as important than the music in a song. I write about subjects which mean things to me, about (my) life, about myself, about what's happenned in the world...I've never thought about that but i think i could not write about a subject that i don't understand the meaning. And as I don't like to preach, I would not be able to write about things people should have the right to do or not. As an anarchist and a punk from the older generation i think that everybody as the right to think by her/his-self and not receiving orders from others...in a respectful way of course. No racism, no fascism, no sexism, no homophobia..!
Please tell me a little about the following lyrics
Self-esteem
Doomsday machine
Suburban Fury
P: Self-esteem talks about ourselves. The fact that we all have, as human, an enemy in common. This enemy is ourself. We all doubt, we are in need to have the approbation from others to see that we are a good person. We don't trust ourselves and we should!!! I spent almost a decade with a pervert Narcissist, this relationship dragged me down so much, i lost the faith i had in myself and i lost my self-esteem, it was a really difficult time but nowdays after a long "work" i finally am proud of myself, proud that I managed to be back who i used to be BUT with more strength. We should stop listenning to the little devil voice in our head and sure follow the one in our heart. In a way, it's a positive song.
Doomsday Machine was written during the Chaos Bastards era together with Dish. The lyrics talk about suicide/suicide thoughts when some situations in life pull you so much down that you think that you are less than nothing and that no words can help.
Suburban Fury is about reclaiming the world. Reclaiming what governments took from us, by force in need.
How is it to live in the Belgium nowadays, racists, politics, etc?
P: Living in Belgium is nothing special. Like any European countries there are things good and things bad. We have a pretty good arranged social security and the standards of living are not that bad even if these last few years the country is going down. But Belgium is a really complicated country with it´s 3 different languages (French, Dutch and German), it´s 4 regions (Wallonia, Flanders, Brussel Capital and Eastern Townships) and its 2 political views, the North is extremely rightwing and the South is left. It's almost impossible to form one solid government in Belgium, we already spent years without one (194 days in 2010/2011 and 589 days in 2018/2020).
Are you calling yourself a punkband, hardcoreband, metalcoreband or just call you a rockband? Is it important to mention punk in the same time you talk about your band? What is your thoughts about punk when you started and if you compare with punk today?
P: I would call ourselves a "Crust Punk band" with a good attitude and lots of humour. Sure associate the word Punk when I talk about the band is totally important because Punk is a way of life, it's political and not just wearing a costume or having a cool haircut even if I love it tho'. Thinking of Punk back in the days, it feels like a teenage rampage...shocking people, having fun, going your own way, being anarchist, living with you own rules "us against the world", being anti-fa, fighting authorities, being free! Nowadays the scene has more rules, it's a small society in the society, it has its advantages and its inconvenients.
Do you have any favorite football team (I support Arsenal and a Swedish team called GAIS myself)?
P: Personaly I'm not a big fan of football but when the Worldcup or the Eurocup is on I can watch a game or two. My father-in-law is a huge fan of sports in general and I do appreciate to watch some match with him and Jos sometimes but i don't have preferences in teams.
Jos: Being born in the flamish part I support the Underdog of my old city Eendrachtaalst but I've always been a supporter of Standard de Liège, the city i live now. Outside Belgium I'm a fan of St Pauli (Hamburg).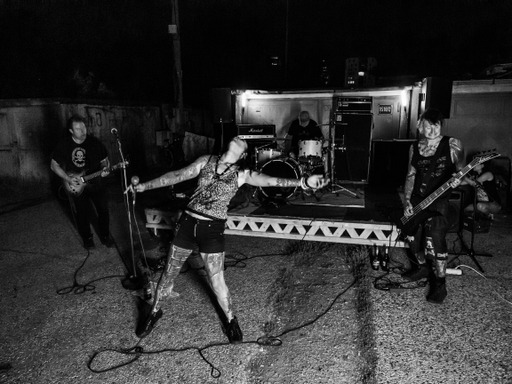 Beer is expensive in Sweden. I have a very big interest in beer and brew myself? Your favourite beerstyle ? You don't have an own SerialPissers-beer? Or maybe your straightedge?
J: We are not straightedge at all. We like beers, good wine, a good whisky and the delight of the Eastern/Balkans spirits (preferably homemade). Pascale andIi are vegan and the other two blokes are more souple. Oooh damn, talking about beers in Belgium, you got a week or two? Ahahaha...Well,we have more than 1000 brews, not Ale but special beers; Without counting the Abbeye and Monastery brewings. Rik enjoys Jupiler and Hoegaarden (white beer) and, i don't know why, Desperado. Willy likes Chimay Bleu, Jupiler but he would drink every kind of beers, he's not picky. Pascale doesn't like Ale and bitter beers but she's alway up for a white, a souer red (Rodenbach) or a Lambic beer (Only to be found/produced in Belgium). Me, i can't live without my Jupiler ahahah...but i do appreciate souer red beer and trappist wise (Westmalle Triple).
You never do lyrics in Belgian language?
P: As I said in a previous answer we have 3 languages in Belgium (French, Dutch and German). I speak French, the rest of the gang speaks Dutch. I write/sing in English 'cos it's easier for me as eveyrybody in the band understands and also it sounds better to me in english than in French. I have one song "The Call" where the lyrics are a part in French and i love it. I would like to sing more in my language but it's not that easy to make lyrics which fit the riffs as French is a more complicated language (longer sentences to explain things).
What is your strength when you play live?
J: Our strength live is, if you can say so, our solid and powerful sound and Pascale who is an energetic person jumping all over the place and to quote Ervin from Two Manky Hookers And A Racist Dwarf (Bratislava) "You live what you sing about".
Which type of people comes to your concerts? Which type of people do you miss?
J: We've played in different venues with different style of bands from Crust/Metalcore to HardCore/Rock'n'Roll. Our public is diversified but mostly punks. We don't really miss people, we got everything/everyone we want but we sure know what we don't want as an audience, fascists and racist pricks!!!
Do you buy much records, or is it only Spotify and those type of things to listen to music?
P: Jos and i are buying lots of vinyls or tapes and we also use different platforms as bandcamp to listen music but we rather buy physical recordings than digital ones. We also buy records, tapes and fanzines for our distro "Cara Punks Distro". Willy and Rik buy vinyls but also digital albums.
Are you selling any merch on your gigs, do people buy it?
P: Yes we always bring merch to our shows and yes people buy. Tshirts are the best sale.
Which is your own favorite song among your own songs? And which song is the people choice?
J: Life's A Bitch is my favorit song because it's the first song we've written and it's always something special. Also it was totally different than SMD, it reminds me of Spanish Punk in the veins of Derrota, Totallickers...No Fear is definataly the song where shit hits the fan, the public choice i think so and as Rik would say "That's a killer".
P: Life's a bitch is also my favorit song but not because it's the first song we've mabe but because I love the lyrics. They talk to me and bring me back to my youth. But i would choose Breakout (not on the split) for the music. And i do love Doomsday Machine because it's a cover of Chaos Bastards and i'm touched to play it with Serial Pissers. What an honor it was when Rik proposed it as a cover. Indeed, No Fear is the people choice with its square d-beat tempo.
What's the biggest difference when you play live nowadays if you compare when you first started to play in a band? Or is this your first band maybe?
P: I think that the shows were more crowded before. People were going out to concerts to see bands wherever they were from or whatever the bands were known or not. It's true that we didn't have social medias/Musical Platforms and listen to the bands was not that easy so, yes, we were going to see them live without knowing much about them/the music. There were also more venues and, in consequence, more shows. Nowadays we have the choice and the "luck" to know about the bands before to decide to go out and support the scene and we all are becoming more lazy as well.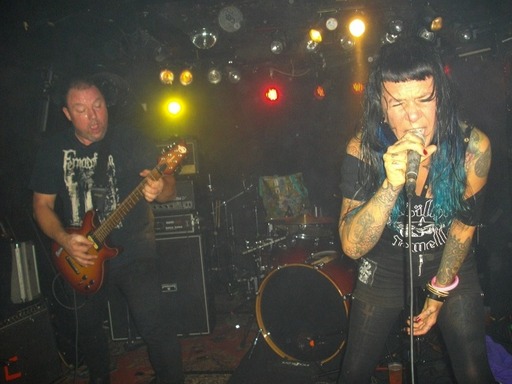 Do you care about reviews? Which is the most peculiar you ever had, with this band or any other band you have been to?
J: Of course i care about reviews. It's always cool to read feedback of people who are dedicated to the music/scene. I like to discover bands while reading reviews. With Serial Pissers we don't have reviews yet, the one in Skrutt Magazine will be the first one. Back in the days i remember reviews of SMD and Last Legion Alive, they brought me always a smile on my face.
P: I remember of one review in Maximum rock'n'Roll for Chaos Bastards. We were so proud. But i can't think of an other one?
If you could choose five bands from the past and the history and nowadays and both dead and living bands to have a concert together with your band. Which five have you been chosen?
P: Mmmh...it's a tricky question as i like so many bands, dead or alive. I would really be happy to play with Vicious Irene (Sw), Coitus (UK), Mushroom Attack (NL), Nausea (US) and Health Hazard (UK) and many many more ahaha..
J: I would definetaly love to play with Dirt (UK), Nausea (US) and Disclose (Japan) and for those living bands, Extenction Of Mankind (UK) and Misantropic (SW).
Is music a good way to get out frustration and become a nicer person outside the music?
P: To me yes, it helps a lot relieving my frustration. I listen all kind of music and each of them helps me in a different way. It can give me peace of mind, happiness but also sadness (life is not always a piece of cake and crying while listening music is beneficial for me sometimes). But also singing is a good medicine, i give all i have to evacuate my stress or frustration when i sing.
What shall a young guy do today to shock their parents as the way we did when we were young? They have already seen everything ?
J: Sniffing a line of Coke on the kitchen table in front of the parents and grand-parents would do the trick no? Beside that I don't really thing lots of stuffs are still shocking, they've seen it all.
Is it boring with interviews? Is it much interviews? What do you prefer Telephone interviews, face to face or as this one via e-mail?
P: I like interviews, to read them or to answer the questions. I prefer via e-mail like that i can take my time. The one here is the second interview for Serial Pissers (first one was for Luminous Dash) and i never made other interviews for the bands i played or still play in. Jos had a few interviews about SMD and LLA : Just A Nightmare Zine (Skopje), Disastro Sonoro (Italy), Luminous Dash (Belgium), Disorganised (Belgium)...and there are much more than he can't remember.
Any good belgian bands you can recommend and you have some more bands on the side too, old and new belgian bands we must hear?
P and J: Wow yes there are quite a bunch of cool/good bands in Begium : The End Of Ernie, When Birds Hunted Horses, Hetze, Raw Peace, Arrögant, Mölar, Freddy And The Vangrails, Wizards Of Oi, Verpest, Frustrerad, Plague Thirteen, Mucus, Sons Of Disaster, Intestinal Disease, Days Of Desolation, René Binamé, Vacant, Agathocles, Werly, Suit Side VS Vega Plight, The Nutters, ElevenO-Seven, Loathsome, Holyland, Travolta, Reproach, Hiatus, Wildheart, Ulrike's dream, Ekzeem-A, Tranny Terror, Smäris, Ordigort, Cyclone, Bütcher, Detestation, Gura, Pesticide, The Dirty scums, Toxic Shock, Bezette Stad, Detrvire, Idealus Maximus... And those who no longer exist : Unhinged, Skewwhiff, Twisted System, Higgins, Goat Vomit, Loadead, Punching Pecker Guns, Two Star Hotel, Les Shtroumphs Alcooliques, Netra, Vort, Crapulius Ceasar, Oedeem, Ezekiel Speedözer, Violent Mosquitos, The Pitbull Boys, Furious, Trouble Kidz...Sure we've forgot some!
Future plans for the band?
P: A second split LP is in our mind. We working on the songs as we speak. A mini-trip in Balkans and we hope a few cool concerts in Sweden, that would be nice.
Any Swedish bands you like?
P: Contorture, Vicious Irene, Totalitär, Warcollapse, Misantropic, Pale, Agrimonia, Asocial, Avskum, Disfear, Entombed, Wolfpack, Skytsystem, Mob47, Voidfiller. There are more bands but my memory is playing with me right now ahaha...
J: I like the same Swedish bands that Pascale named already but i can add a few more : Swordwielder, Crutches, Anti-Cimex, Warvictims, Uncurbed, Nekrokraft, Moderat Likvidation, Wolfbrigade, To What End.
Wisdomword?
J: Eat your vegetables.
P: Be kind and believe in yourself.
Something more to add?
P: Thank you for this interview and for the review of our Split LP "Double Trouble" in Skrutt Magazine. It's a really good webzine that you make...keep it alive !!