Sensa Yuma is a group which have been on the road for a long time and they started around 1981. Now have they answered a lot of questions from me from the sunny Spain. January 2015
Please tell me a little bit history of the group?
-Pid..Sensa Yuma formed around 81 with a bunch of friends in Stafford near Birmingham, with the intention of getting drunk and meeting same minded people from across the UK,,although chaos resumed and didnít real get gigs outside the midlands around this time.....finished in 89 as musical differences had crept in and it was time to stop....restarted again in 98 for a one off gig in which Sensa Yuma were joined by the Mighty Jock and Ross from GBH for a cancer benefit gig as we had just lost a friend at the age of 26..!!!!, toured endlessly with various lineup changes before re rutting Sensa Yuma to Spain where weíve been playing together for 12 years...........
Max..so basically the band has had two periods, the start and first album in the Uk and then the second period in Spain, with four albums until now.

Please tell me a little about every member in the group right now, age, family, work, interests and something bad about everyone? Have you been in any other punkbands before?
-Max..well ,we definitely are one mixed up bunch, Pid,on vocals is English, from Birmingham heís been in bands such as English Dogs, Contempt and Police Bastard, the man is punk as fuck..ha,ha., then thereís Fre on bass, from Belgium, he is former member of Funeral dress and Under the gun, the nice guy of the band, he will never argue with you, ha,ha..then we have the spanish connection, with Rafa-Hell and Juani Tea bag on guitars, they both come from Alcoy (north of Alicante) and are always up for a good laugh, and then me, on drums, Iím Danish, but have lived pretty much all my life in Spain...we have all been playing in bands for decades, as were all in our forties, some more than others, ha,ha...something bad??..donít know..were all fat lazy wankers, ha,ha,ha..just, kidding..........not really.
You have listened a lot to older stuff like old English punk from the 80īs ? Am I right? Favorites from the past?
-Pid...as Sensa Yuma was formed in the UK we grew up with the Pistols, X-ray Spex, then the second wave, Conflict, Crass, Discharge GBH but to name a few.....Sensa Yuma tried to keep politics out of there lyrics, but if your pissed off then Iím gonna sing about it, ha ha ha
Rafa... Some English old punk stuff which I like a lot are: Subhumans, Damned, and The Partisans. Some UK punk bands like GBH or UK Subs are probably the main influence of our sound. But actually, we listen a lot of different kinds of music. I hope that this variety give some interesting elements to our songs.
Sensa Yuma, are you satisfied with the name? How did it came up? Which is the best bandname you know
.Pid...Sensa Yuma is an abbreviation of sense of humor, so yes Iím more than happy with it as if you donít put your whole life into a group and not have fun whatís the point.........we may be angry with the state of the world and care about it, but we deliver the music with passion and humor and meet up with people, take a beer and have fun....fuck that depressing shit and we donít take ourselves seriously, apart from max heís a perfectionist fuckin mad drummer......the beat is the most important part of a band if that fucks up then the rest of you will,
Max...thereís a lot of brilliant band names out there, some i like would be like "Pulled apart by Horses", or "Alabama thunder pussy"..thereís lots of them
Whatīs the best thing with playing live?
Pid...Best part of playing live is meeting people, new people and of course your old mate who you know are gonna be there, if we travel 28 hours in a van and play Germany and your mates are there, itís all been worth it..!!!!
Max...and the rush you get, the adrenaline rush you know...when you see everyone going fuckin nuts listening to your music, canít beat that feeling.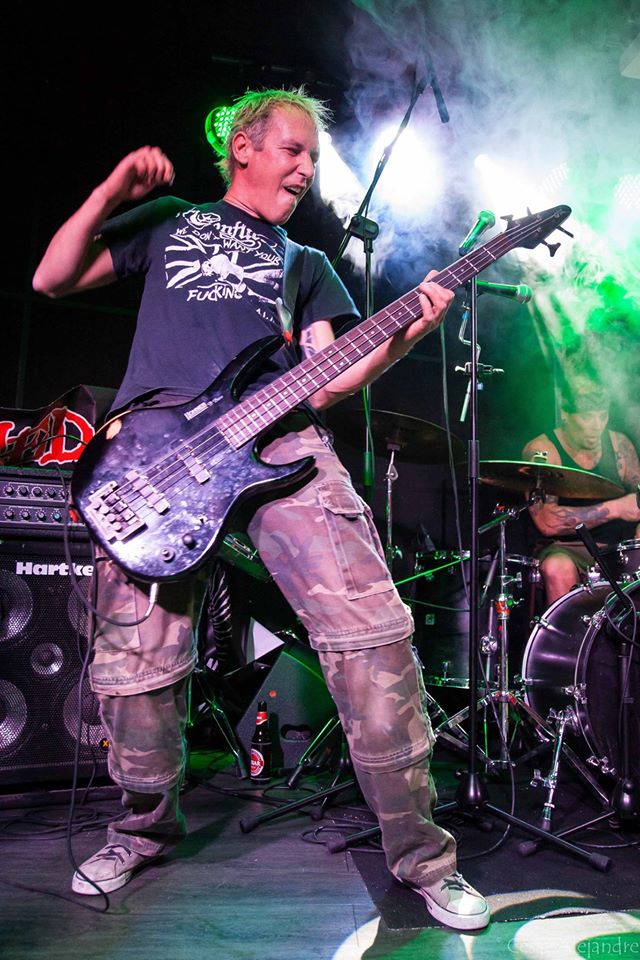 And where is best to play?
-Max...well everywhere you get a good response, a good sound and good beer, is where is best to play.
Rafa... You never know, can be anywhere. The place is important, but no more than the moment. If you catch a good place in the right moment, that's the thing!
How is it to play this sort of music in Spain/England?
-Pid...at first it was a big hurdle to climb here in Spain as I sing in English, but with humor we seem to have got over that and of cause we all talk Spanish when were not on stage----I think doing videos has won that battle and being daft and friendly..
Max...Spain is actually pretty punk, there is a big punk scene
Rafa... Our zone, south east of Spain, it's traditionally closed to punk music not sang in Spanish. In Barcelona or Basque country is different. But now, in our area, thereís much more people listening to international punkrock than 10 years ago. That make some people interested in us. And normally if you do good gigs, people appreciate this. So when you play again near to their hometown, they will be there with some friends. That's very nice and gives us also a lot of good relationships.
How would you describe your music in three words?
-Max..Fun punk rock?
What does punk mean to you, is it only a word or is it a lifestyle?
-Pid...Punk to me means everything Iím proud of the last 36 years Iíve been a punk, still got most of my mates from when we started the punk thing in 1979, Iíve been places and done things i never would have done without punk...and what it means to me is freedom..
Max...its definitely a lifestyle.
How do you see on downloading, mp3 and that stuff?
-Max...I think itís a good thing, especially for the smaller bands like us, itís easy to get your music promoted all over the world, to get heard, maybe one of the problems is that we are constantly over informed about every band going all the time..ha,ha,..but thatís how it is..
How is it to live in the Spain/England now? Politically?
-Max...well ,we all live in Spain, sunny Spain, by the sea..fuckin lovely...politically..,its corrupted and fucked up like the most.
Rafa... Repression is going mad, especially against the anarchist collectives.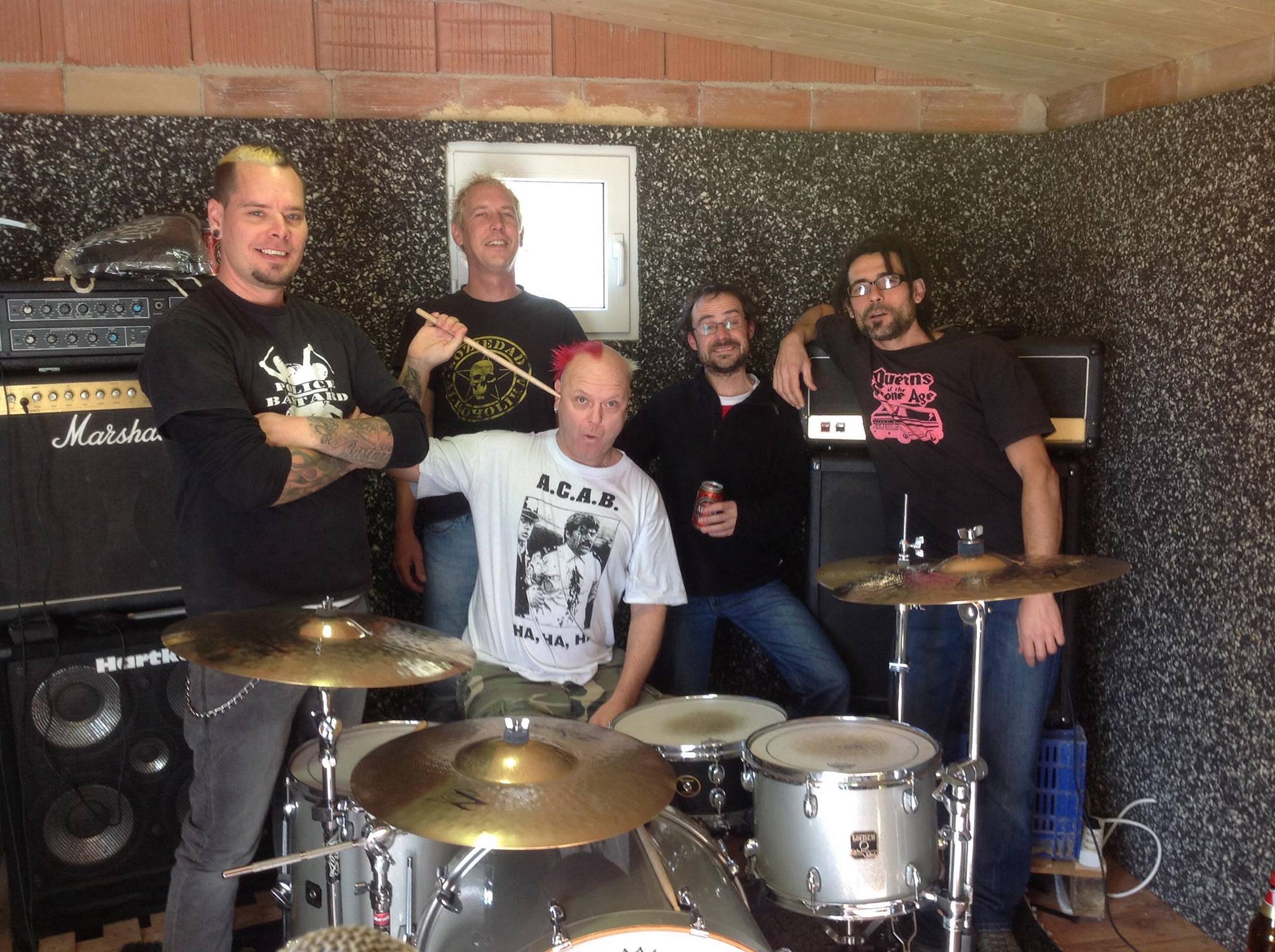 Is there any good bands from Spain/England now? Is the punkscene big? How is it in your hometown?
-Max... There is a lot of good bands in Spain, like Soziedad Alcoholica, Non servium and so...one of my new favorite bands is a band from Bilbao called Ratzinger, itís a mix of Motorhead and exploited, they kick ass as fuck...and we share sound man (Oscar)....there is not a lot in our home town (Torreviej ), thereís a few local rock bands, but nothing punk..
Rafa... There is a pretty good underground punk scene in Spain I think. Bands like Accidente, Punko Uk!, Juanita y los Feos, Sudor, Cuello and so on. Lots of different ways of punk but some of them very interesting.
What do you know about Sweden?
Pid...Sweden I toured there when I sang for the English dogs in'95, thought it was great, met some brilliant people, we toured with Chaos UK and Iíll tell you it was chaos!!!! Beautiful country.........
Rafa... Not much, to be honest.
Have you heard any good bands from Sweden?
-Max...Abba, Europe, Ace of base, ha,ha,ha..oh, and entombed.
Rafa... The (International) Noise Conspiracy, The Hellacopters, Entombed, The Hives, Masshysteri, Backyard Babies, Mando Diao, Anti Cimex, Union Carbide Productions-The Soundtrack of Our Lives.
I know and like all these bands, more or less. But I have to check internet to make sure they are from Sweden. I'm a bit confuse with geography and Rock'n'roll, hahaha.
Your lyrics, who does them and what influences you?
-Pid...my lyrics I write whatís around me, stuff that pisses me off, and lyrics i can take the piss out of myself,,,but trying to write stuff that everyone can interpretate them for themselves, what I mean is, different people think it means something different to the next person..I often get asked what was that song about,?, and I tell them, and there surprised as they thought it was about something completely different....I like that...
Is there any subject that you never will write anything about?
-Max...Heíll probably never write a heavy metal song, ha,ha,ha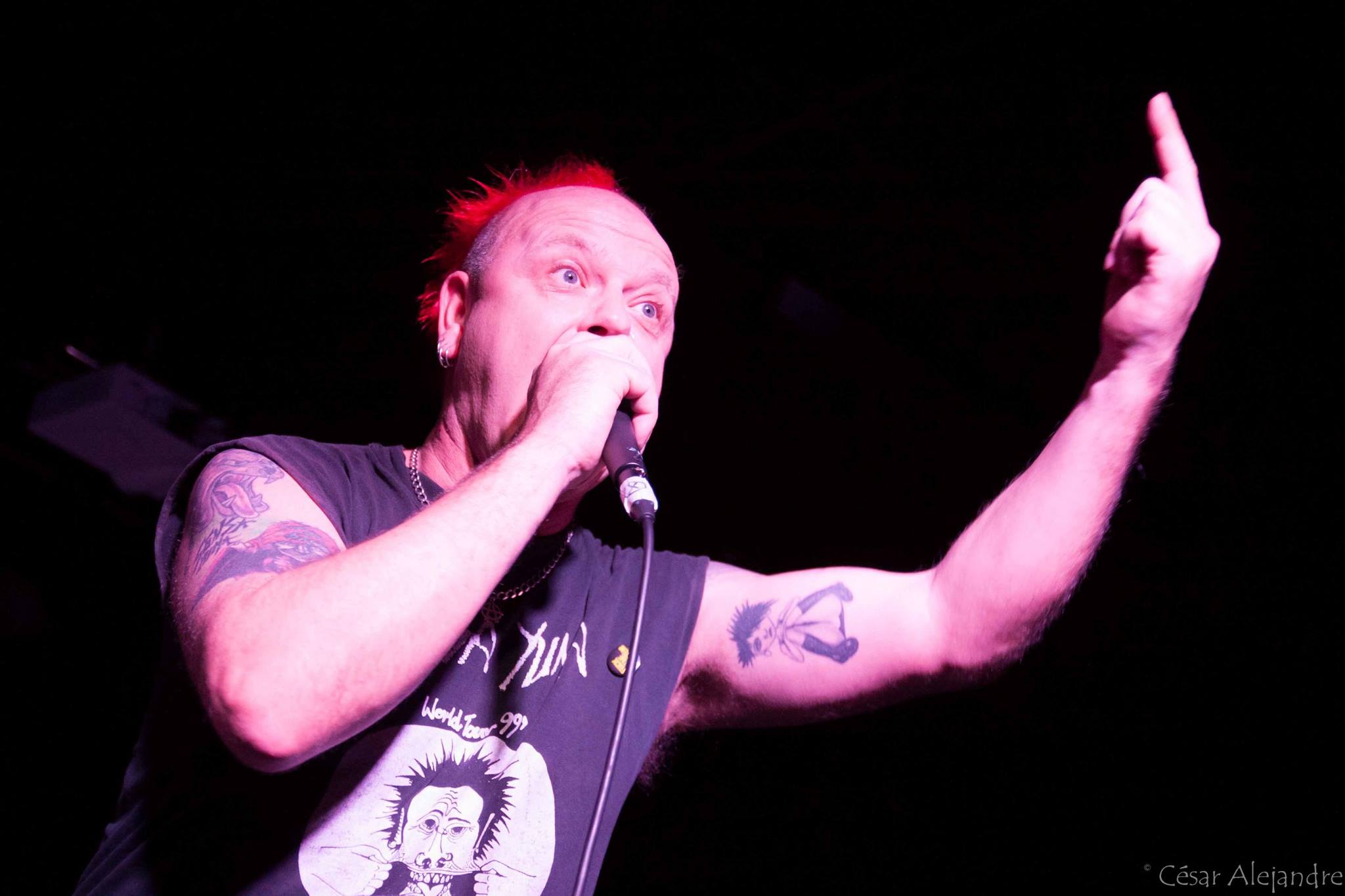 Politic and music, does it goes hand in hand?
-Pid...politics and punk have always been hand in hand..for example the Sex Pistols taught me how to say fuck off, the Conflict, Crass taught me how to think...these 2 bands completely changed my life...now thatís powerful stuff right there...not music lyrics.....
Best political band/artist?
-MAX.... itís always difficult to say "the best", cause it depends on your taste, everyoneís different. thereís a lot of good political bands such as crass or the Dead Kennedys, I personally like a lot Henry Rollins, he always got a lot of interesting things to say. And another band, thou they are not punk, they always have a lot of political and interesting things to say, itīs the Swedish band Clawfinger, I like them as well.

Do you think that music(lyrics and so on) can change anyones life, I mean people who listens to music?
-MAX...Donít know if it can change your life as is.,but i definitely think music can influence you a lot ,it can put your in a certain direction. There is always a message the artist is expressing, which you can identify with, or not, itís a beautiful thing, and it has been so important, at least to me.
Rafa... I agree with Max. Music can be an alicient, a detonator. It can wake up your curiosity and can help to expand your ideas. I love music as I'm sensible to the beauty of life, and to the misery of power.

Why have you moved to Spain or where do are you live??
Pid: I live in Torrevieja near Alicante, moved here as a new age traveler, living out of my van and caravans up on a mountain, very hippy, ha ha ha now i live in the city with max, the others, Juani, Raffa and Fre live in Alcoy, not far a way, but I love the coast....
Rafa... We live up in the mountains. In small villages. I don't really like the City- Life. For me is expensive and stressing.
Is your label a good one? Is it important for you to get out your records physical also?? Something new on itīs way?
MAX..-Yeah, we work with a few good labels, in Spain its Potencial hardcore, itís an old label ,with many years of working with punk rock, very respected here in Spain, then thereís Massprod. From Brittany in France, yet again very respected punk rock label there, they have all been so helpful for us, and we are all good friends..I definitely think itís important to bring out the physical form, there is nothing like buying a new album, and listen to it ,while you go through the booklet, itís great, and we canít loose that...
Rafa... Potencial Hardcore and Mass Prod are definitely our main labels. But we also work together with more little labels, like Ojala Me Muera Recoords in Barcelona and Canya de la Muntanya, in Valencia-Alicante. This is good for us to have our records distributed easily in different areas.
And we have to say that very soon a new album are coming through these labels. We're very happy for that.
Please tell me a funny thing which have happened during your career and under some gig?
-Ha,ha, well ,itís funny ,coz we were just talking about some funny storyís the other day..,weíve played this massive punk festival in Blackpool, called Rebellion lots of times.,one of the times we played, we hit the stage as our intro music started, and Pid is not there., the intro finishes so we start playing, and Pid,s not there, he was in the bar, ordering beer, and it was not only till someone next to him at the bar says, Hey, that sounds like Sensa Yuma!!..and Pid is like, oh yeah it does...SHIT.!!!!.And runs to the stage as we are finishing the song,ha,ha..everyone just laughed...then thereís another one, at the same festival ,but another year. As we got there, we got the dressing room wrong, as we got in there ,there was a HUGE table full of food and drinks, which we fuckin jumped on, as we were hungry and thirsty,(were always thirsty.).Until someone came running in and shouting, get the fuck out of here!!..Turned out it was the Damned,s dressing room,ha,ha., they kicked us out, and gave us a little room, with one case of beer,ha,ha..Typical Sensa Yuma moment.!!

How does your audience look like? Which people do you miss on your concerts?
-MAX...How does it look like.?..well, its punks for the most part, but we do get the odd straight looking people aswell, ha,ha..and sometimes dogs too.
Rafa... It depends of the hour, at some point everybody looks like drunk.

Please rank your five favoriterecords, five favoriteconcerts and five most important things in life?
-MAX...thatís a very difficult question..I would say Biohazard,s Mata leo...,The Exploited,s Beat the bastards..,Turbonegro,s Apocalypse dudes...,Metallica,s Black album...,and Suicidal tendencies Free dumb.just to mention a few, and not necessary in that order.....best concerts its impossible to say, as there are many. But Rancid and Rammstein would definitely be in the top five..for me at least

I donít like that "favorite" expression. thatís because I like a lot of bands, things, etc. and sometimes I like to listen to one or another. Anyway, at this moment, I enjoy a lot listening to Rocket From the Crypt - Group Sounds; King Khan & His Shrines - Idle No More; Kyuss - Blues for the Red Sun; Pixies - Doolittle; and Wipers - Is this Real? To name some.

Is it boring with interviews? IS it much interviews??
-PID...itís never boring doing interviews, very happy that people want to know about Sensa Yuma, Iím very great-full for you asking...cheers......
Rafa... I think we all like interviews. Best thing is when everyone can get the time to answer. That give a best vision of the band. But sometimes you don't find the time or the incentive.
Please ask the questions you never get but you want to have, ask it and answer it?..
MAX... -Ha,ha,ha ,thatís a different one..ok...Ņmax ,why are you so fucking good looking.??..ahh, thanks, thanks everyone..Dont know, I just am..ha,ha,ha
Rafa... Well, normally we always get asked about our musical influences. So, I was thinking about it and thought, more or less, I get a good resume. But since you havenít asked us about it,.. so... the answer goes like this..:: First of all the UK Punk, especially the second wave called UK82 punk, as we said before. Then the Dark Wave, with bands like Killing Joke. The Anarcho-Punk, with lots of bands like Conflict, Subhumans, ... I think these are the classical influences of Sensa Yuma, but in the last years we also get some wind from the USA, with bands like Rancid, Anti-Flag, Adolescents or Suicidal Tendencies. And finally, years ago we listen a lot to Turbonegro when we were on tour, so definitely that "Scandinavian Rock" influences as, with other bands like Gluecifer or the Swedish Hellacopters. And well, if the boys agree, we can say that everyone can find a good mix of all this shit with a plus from the Sensa Yuma inspiration, is on our last (Kickin' & Screamin') and new (Punkrockers) albums.
Actually a very Good question, it takes me by surprise!
Futureplans for the band?
-PID... the future is bright, we have a new album out in march, it took 3 years to prepare for it---its punk as fuck...
Rafa... Play gigs and enjoy together with the people who'll come.
For yourself?
-MAX...only time will tell. Hopefully good stuffÖ..play shit lots of gigs, and enjoy life with friends and family..
Wisdomword?
-MAX...go to our gigs, and spend all you money on our merchstand.and buy the drummer a beer,Öyou won't regret itÖ.ha,ha

Something to add?
-PID... thanks very much for taking your time to ask us some questions, much appreciated...over and out Pid...
MAX... yeah, thanks for your interest in the band..hopefully we will come to Sweden one day..and drink your danish beer..haha,,cheers
Rafa... Have a good day!