I see Sengaija as one of the more interesting bands in Sweden. They mix hard rock with punk/hardcore and all this is singed in swedish. Fredda in the group have answered some questions as I had and please read it down below . MARCH 2001.
---
The history with Sengaija started with that Danne(drums) and Ekan(bass) decided to start "the best band in the whole fucking Sweden". Fredda(vocals) came in a s a third member and they was having that group for some months and theyīwere seeking after a good guitarist all the time. They met Christian after a Deftones concert and after some rehearsals with him he was a member of the group. After the first demo(Detta är Hardcore)(This is hardcore) they decided to that it must sound better with a second guitarist and they asked Patrik and that group today si the same group and it have been it for three years. Everything have been floating on good and now itīs only the record labels who must understand...
Have you done anything more worth to mention? -I and Danne played together a year in a local hardcoreband which was named Prohibit, really hard but out of fantasy. Patrik have been a Kurt Cobainfreak and he had his own grungeband, Aloe Vera, what to say?`Yeah, it was... grunge. Itīs some dem os somewhere by both bands but itīs nothing you want, or we let you to get.
You havenīt heard anything from any label? -Weīre on two compilations, one from a small Lund-company , "Halvfabrikat Records" and an american label called "Thrue this eyes records". otherwise I must say that the record labels in Sweden are really chicken and they donīt dare to release anything if it isnīt sound like Britney Spears. we thought that the thing with Close Up and Hultsfred would help us but we havenīt heard anything. Soon is only kidnapping and blackmail which is the thing.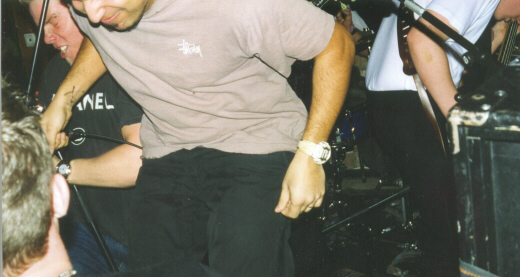 I understand that you have being compared to LOK, what other bands does people compare you with when they write about you ? - Itīs a fucking talking about LOK. Hello? We donīt see the likening between the bands ourselves. I can remember bands like Limp BIzkit and Slipknot but I maybe have dremt it...I donīt know.
You have Martin Westerstrand on Fetansikte on vocals, howcome? -We know him.
Fetansikte(Fatface) ,who the hell is it? -Every people which have been so fat in the face so you canīt see the expression of feelings in their face, have I heard. It was Christian who came up with the idea.
The white overalls you have on your record, where does it come from, an old group which was called Devo had those overalls too? -Devo? In hell? Maybe Beastie Boys or Slipknot but it was most for the thing that Patrik complained that it wasnīt so fun to play in his own clothes. That and the thing that weīre not everybody else.
The name Sengaija ,where does it come from? - The splattermovie "Braindead". In that they shout Sengaija when they cut off the arm from a scientist.
To play this sort of msuic in swedish is really unusual, how did you came up with the idea? -We started with english lyrics but when Petter came the thoughts came that it would be really cool to do it anyway. When we saw LOK on the Stora Dans in Hultsfred we decided us to sing in swedish. That is one other thing that put us out from the crowd.
Where do you come from, is there any other good bands there? In Sweden?? - I and Patrik come from Tidaholm. The other one comes from Falköpings suburbs. Christian lives in Stockholm bowadays and Ekan in Grythyttan(Östersund). We have Liptones from Tidaholm who plays ska and Beneath from Falköping(trash). If you check the other parts of the country we like Painfield(neo metal) from Gothenburg and Cheap Bars & Good questions from Sandviken (hardcore) to mention some.
To do lyrcis in swedish is more difficult than do it in english I have heard, is there any good lyricwriters in Sweden do you think? -Martin Westerstrand, Petter, Jocke Berg and Bo Kasper
Whihc is the firt the last and the most expensive record you have bought? -My first record was "Vanilla Ice-Ice,ice baby" I choose not to comment that, the latest was, "Systems of a down" at last I was forced. And the most expensive ....I donīt know really but I bought the Slipknot video on import for 298 sweish krona or something like that and now the price is 89 or something.
Idols when you were small? - I was a schoolexample of musically distrubed. I started to listen to Guns N Roses when they came.
How do you think musiclife in Sweden is and how is it to be a small band in Sweden? - Itīs difficult to get gigs and many people promise and promise but then you never heard anything from them. All record labels is so smallthinking and the only thing is profit who is the thing. Itīs fucking hell difficult but itīs worth it all.
How is a good concert with Sengaija? -Blood,sweat and pain. To run around so you bleed isnīt unusual. But it must hurt, otherwise you havenīt done any good gig.
You have been chosen as the demo of the number in Close Up have it helped you something? -We were really proud but it havenīt given us anything(except some STIM-money) j
Do you care about reviews?- W have always said that we donīt give a dman about what people thinking but of course youīre glad when people think our music is good.
What do you want with your music, what is the purpose with it? -We want to reacy all people, and we want to live on our music but the purpose is to have fun.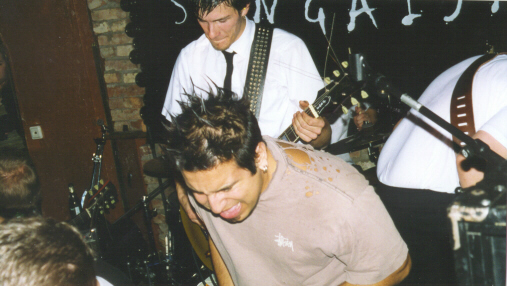 Who came up with the superb title on the record "Kanske så hårt att det inte kan kallas musik"(maybe so hard that it couldnīt be called music?)? -When we were playing on Hultsfred we get interviewed by the local TVstation and when the man who lead the program should introduce us he had talked to two of the Gladiators before and then he said...and now from 2 to 5 hard guys who plays music, or yeah... maybe so hard that some people wouldnīt call it music" and then I thought it would suit our record.
What do you think about the new way to communicate with email and all that? -I donīt own a computer but I think itīs good, I really think so.
You have an own website, is it important to have one? - Itīs Danne who does it and itīs good to have it because many people have surfed in there without hearing us before. We have got many fans that way.
Is it many interviews, is it boring? -Itīs have been some the latest time, but the only thing which is boring me is the questions about LOK.
Which is the question you never get and want to have, please ask it and answer it? -How is it with groupies ,is it many, do you have any? - I donīt want to comment that right now.
Which are your futureplans? -Recordcontract and worlddomination.
Your own futureplans? -Recordcontract and worlddomination.
Wisdomword? -Everything have itīs time.
Something more to add? -Buy the record, and see us live....for gods sake
Please check out their website down below