Self Abuse was a band which I only had one single with but what a single. Now I have got their new material and they sound so good. Andy Nazer was so kind that he wanted to answer some questions in the end of april 05
History? Why and when did you start to play the first time?
-Dave and I were at school together and we wanted to start a punk band-that was in 1981.We met Roger and Steve who had both left school via a local studio and we hit it off straight away.We actually started rehearsing in January 1982
Members then and now?
-Andy Nazer [vocals,bass],Dave Brown [guitar,vocals],Roger Smale [guitar],Steve Ridgeway [drums]-the same line-up same then as now!We did have a keyboard player for a couple of gigs back in 1984,but it wasn't happening.
Are you playing fulltime now or are you only playing once a year?
-I wouldn't call it full time.We've all got,families,jobs,other bands etc,so we play when we can fit it in,and if we're offered anything-We all still live around the Bournemouth area,except Steve who lives up in Derby, we do what we do when we can!
What´s the difference with playing nowadays if you compare with playing when you started?
-Blimey!loads of things.Obviously the scene's a bit different,and we're somewhat older,wiser,more stupider,busier etc for a start.Back then everything was new-we just threw ourselves into playing and enjoying ourselves,although sometimes the enjoying maybe took over from the playing,somewhere along the line!But when we got back together,there was still a great feeling of 'wow!we still sound like Self Abuse!'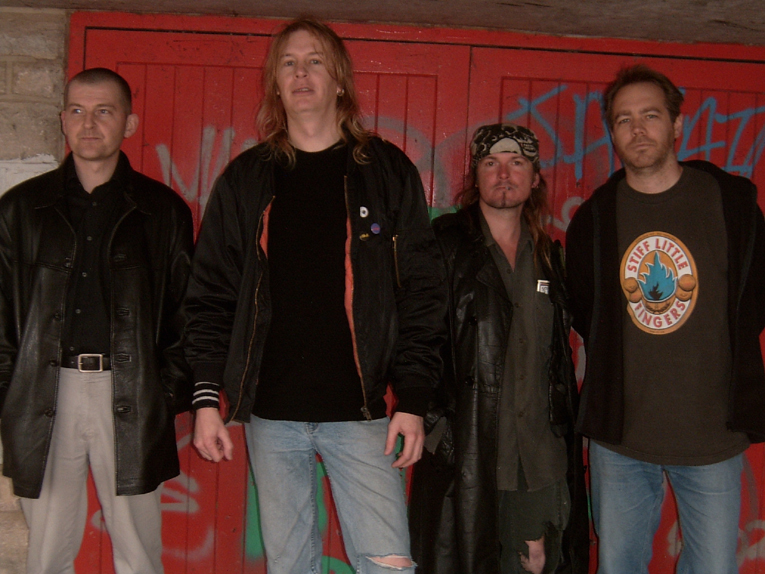 The name Self Abuse where did it come up from?
-A friend called Gavin of ours from school suggested 'Sexual Self Abuse'-so we shortened it.[thanks Gav!]
You´re going to play on wasted festival, how does it feel?
-Great actually-there's some other great bands playing that we wanna see,mainly Subhumans-and I want to see the Undertones-they we're the first band I went to see back in 1980.We really chuffed Wasted want us to play.
Isn´t it pathetqiue that so many old punkbands is gathering for this sort of thing?
-Yes,No,dunno-well,if a band that gets back together and there's still a great dynamic,and it works well then fuck it,why not?
Some old bands suck,some don't.Some new bands suck,some don't.Make up your own mind.
Do you have any new stuff that wou will play? Record?
-Yeah,we've got 2 new songs that we play live at the moment,they're both on
the new e.p. 'No Change'-and we are writing new stuff here and there.
Which is your own favourite song of your own stuff?
-Personally,'Pills'-it's the first proper song I ever wrote,and I really like playing it to this day.I sure all the other guys have got their favourites as well.
Do you do any covers? Why or why not?
-Yeah,we do sometimes.Why not?If it's fun.[and if we can play it of course!]
What does punk mean to you, is it only a word or is it a lifestyle?
-Be Yourself.DIY.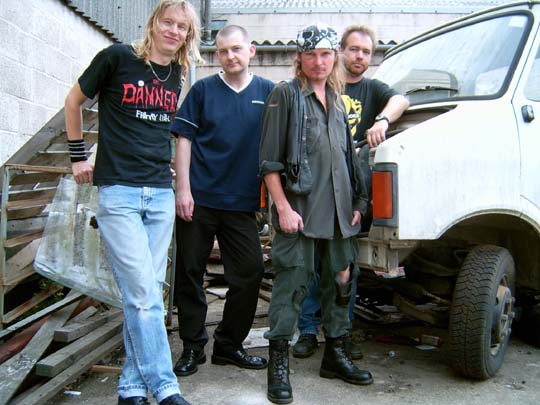 What about the new punkbands which are around today?
-Yeah,good luck to 'em!
Any good bands otherwise in England right now?
-Probably!Locally-the Demonic Upchucks,Spitroast,the Stand-Ins,Sludgefeast and I'm sure there's loads across the country I'm. My faves that are still gigging are the Damned, Subhumans etc.
What do you know about Sweden what is typical swedish?
-At risk of sounding like a complete ignorant sod,not alot!Abba,expensive alcohol and it's dark alot of the time.Suffice to say i've never been to Sweden.
have you heard any good swedish bands?
-The Hives,Turbonegro-i know they're the obvious ones,but they're the only ones I know!
A concert with you, please describe it?
-Fun,sweaty and mad.
Which type of fans are coming to a concert with you?
-Young punks,old punks,in-between punks,non punks-all sorts of people.
You have an own website, is that important for a band to have?
-Yeah,it is these days-people can find out what your up to a lot easier,and get in touch easier.We've also had loads of interest from all over the place.
Do you have many visitors there?
-I really dont know!I'll have to ask the guy who does the site for us.
Which is most important when you do/did a song , is that the lyrics, the melodies or is it to have a refrain that people remembers?
-They're all important,but it's good to have a good tune to hang the lyrics off, something people can remember that sticks in the're head.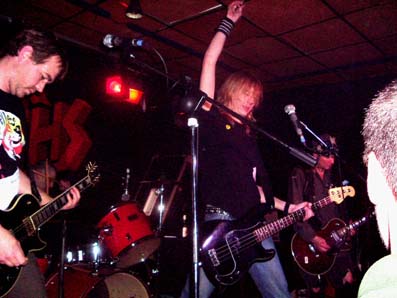 Please rank your five favourite records, five favourite concerts and the five most important things in life?
-Personally-Albums?
Never Mind The Bollocks-Sex Pistols,
Machine Gun Etiquette-the Damned,
London Calling-the Clash,
The Day the Country Died-Subhumans,
The Crack-The Ruts.
Concerts;Undertones-Winter Gardens[Bournemouth]1980 [my first gig], Subhumans 1983,
The Damned [lots of times]
Queens of The Stone Age [L.A. 2000],
The Dickies [L.A. 2000]
Important things?Love,Peace,Friends/Family,Rock and Roll,Good veggie food and beer [sorry if that counts as thats 2!] Gawd,i sound like a right hippy1
First, last and most expensive record ever bought?
-The Sweet-Blockbuster [first]
Queens of the Stone Age-Lullabys to Paralize [last]
Sex Pistols Box Set [most expensive]
The most embarrassing record in your collection?
-Theme from 'Prisoner Cell Block H' by Lynne Hamilton-I got it in a charity shop for 10p! Believe me,there's more embarrassing records in my collection as well!
How is the political climat in England right now?
-Well,we've got a general election coming up very soon and it's the usual bollocks.
Politics and music does it goes hand in hand?
-Sometimes.
The best political band?
-Subhumans,Conflict.Dead Kennedys when Biafra was in them.
Futureplans for the band?
-Keep on keeping on,hopefully!
For yourself?
-See above!
Wisdomword?
-Norman.
Something to add?
-Yeah,thanks for taking the time to interview us for your zine Peter,and to anybody out there for being interested in us.If anyone wants to get in contact with us,you can do so via www.selfabuse.co.uk
The new ep is available from the website,and our old recordings are being released as a 'best-of' CD by Grand Theft Audio this year.
Cheers!-and mine's a pint!