I think this group comes from Greece from the beginning but I don´t know. It´s a little bit hard to understand how it is but it´s not the important thing. I think they live in England now. The important thing is that they play really good punkmusic and this interview was done in November 2015.

Please tell me a little bit history of the group?
Astren: The band started in 2012 from the ashes of mine and Nicks old Oi! band. The group broke up and I had a few songs going round in my head, 4 to be precise! I got in touch with Nick to see if he would be interested in recording the songs under a new name. What followed was a kind of studio project with Nick laying down drums, guitars, backing vocals and me doing bass lines and vocals. We recorded the songs Changing Times, Wrong Or Right, Thrill Of the Hunt and Shadows Of the Past. They were only released online with some sketchy artwork shortly after they got mixed and mastered. Almost 3 years later and due to the interest of Contra Records and Longshot Music those 4 songs were released in Europe and America on a 7" vinyl titled Changing Times.. This made us an active band by recruiting our good friends Alex, Bimche and Thanos to complete the line up! We started playing shows and shortly after we hit the studio for the second time in the bands sort life. Last month saw the release of our second, and in my opinion better, release titled "When Their World Ended, Our Story Began" on CD, tape and 10" vinyl format! That brings us to today, booking gigs, releasing videos and going from strength to strength!
Please tell me a little about every member in the group right now, age, family, work, interests and something bad about everyone? Earlier bands?
Thanos: The band consists of 5 members. Astren, Nick, Bimche, Alex and Thanos who is the latest addition to the band's line up. I won't get into personal details about everyone but I'm more than happy to tell you something bad about each of the members. Astren is extremely disciplined to the point that makes you feel guilty about having fun and relaxing. Nick is never happy about the amount of time we spend rehearsing. Alex never pays attention when you talk to him. Thanos likes to moan all the time and then he just falls asleep and lets everyone else deal with everything. And Bimche is just a nice guy. Always happy, positive and smiling. Earlier and current bands would include, Oi AskimOi, OMIXLH, Jungle Fever, Booze & Glory, Cellbound.

I can hear much different influences in your music oi, punk, Street Dogs, rancid,? Am I right? Favorites from the past?
Thanos: There are many different influences in the band. With the exception of a few classics I think we all like completely different stuff.
Seaside rebels are you satisfied with the name? How did it came up? You werent´afraid that someone else had taken the name? Which is the best bandname you know?
Thanos: Of course we're satisfied with the name, it's not like someone forced us to name the band like that innit? Do YOU like the name Peter? :)
Best band name is Throw Bricks at Coppers! Great band too!
What´s the best thing with playing live?
Thanos: Best thing with playing live is getting your music across to new people
And where is best to play? And the worst place?
Thanos: We have been lucky enough to have good gigs only so far under our belt. No bad experiences thankfully.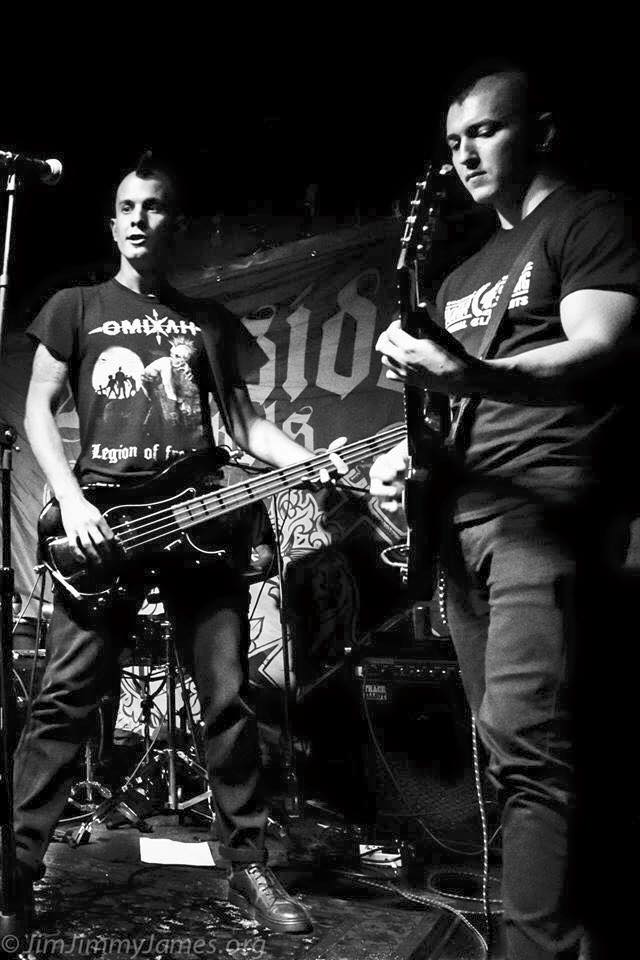 How would you describe your music in three words?
Punk Rock Motherfucker!!!
What does punk mean to you, is it only a word or is it a lifestyle?
Thanos: it is a word that defines our lifestyle
How do you see on downloading, mp3 and that stuff?
Thanos: The music industry had become very complacent before downloading began. Personally (Thanos) I find the current situation very refreshing. It made me turn to the underground scene again.
How is it to live in your homecountry now? Politically?
Thanos: If you by homecountry mean where we come from it's shit. If you are referring to where we currently reside I'm afraid the answer would be the same. Tory cunts.
Is there any good bands from homecountry now? Is the punkscene big? How is it in your hometown?
Thanos: If by homecountry agin you mean where we come from, there are a lot of good bands.
Antimob is my personal favourite.
What do you know about Sweden?
Thanos: We know you guys eat a lot of Herring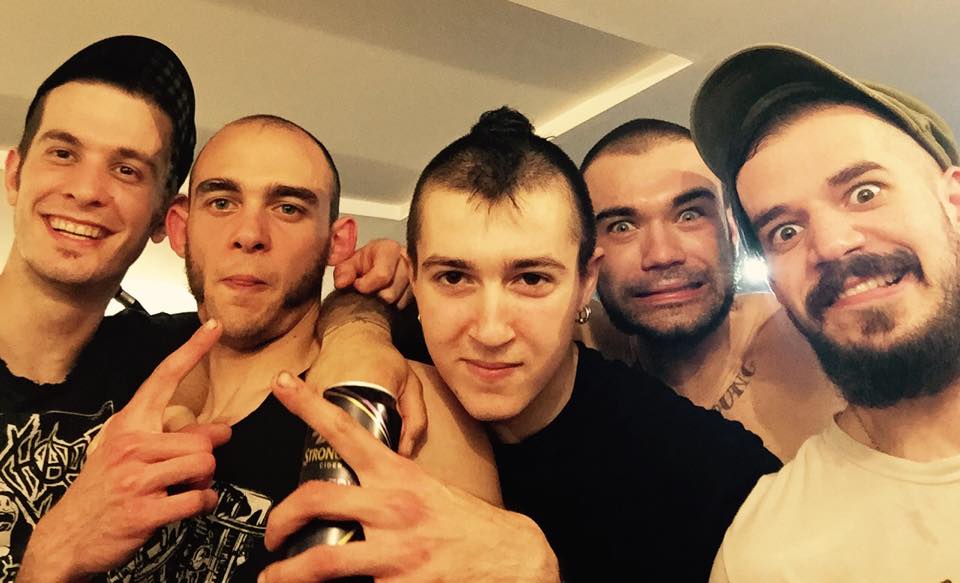 Have you heard any good bands from Sweden?
Thanos: Yes, Misantropic are a fucking great band! A good friend in London introduced me to their music and I've been a huge fan from the first EP!
Is there any subject that you never will write anything about??
Thanos: Yes, extra terrestrial chocolate fudge cakes. We don't care about that shit!!
Politic and music, does it goes hand in hand? Which is your most political song?
Thanos: It doesn't have to go hand in hand. There are equally important topics that need addressing.
Best political band/artist?
Thanos: Best political artist? So many, it would be unfair to name just one.
Do you think that music(lyrics and so on) can change anyones life, I mean people who listens to music?
Thanos: Yes. It has changed our lives. We are very passionate about it and that is why we chose to get involved. I think any musician would give you the same answer.
Your cover on your CD looks really nice, is it important to have a record cover which shows people which type of music you play? Your favorite recordcover? Who does your covers? And do you have any good recordstore in your hometown?
Astren: Indeed the artwork of our latest release is pretty damn stunning! Thank you for saying so. It was put together by 4 different artists. Ramon BC did the two logos, Matína Art Tattoo designed the front and back covers, our good friend Underdog did the inlay art and our mate Halastras put it all together and took care of the rest of the graphics.
Good records store here in London hey ? Well there is quite a lot! Just off the top of my head I'll mention All Ages Records and our great friends Bill, Sarah and Tony at Oi Oi the Shop!
Is it important to get out physical records of your stuff? Why or why not? ?
Thanos: Of course it is. It is the way we first came in touch with music when we were kids. Call us romantic if you want but you can't smell an mp3
Please tell me a funny thing which have happened during your career and under some gig?
Thanos: A swedish member of the audience opened a can of herring, offered some to our bass player Alex (who politely refused as he was in the middle of a 12minute bass solo) and then ate the whole can at once. Haha, I'm sorry but I can't recall a real incident right now.
How does your audience look like? Which people do you miss on your concerts? Which is the biggest band you ever have played together with?
Thanos: They look great and they smell even better. We usually miss the people who are not there. It must be GBH and Booze&Glory last July in Derby for the MacMillan benefit gig.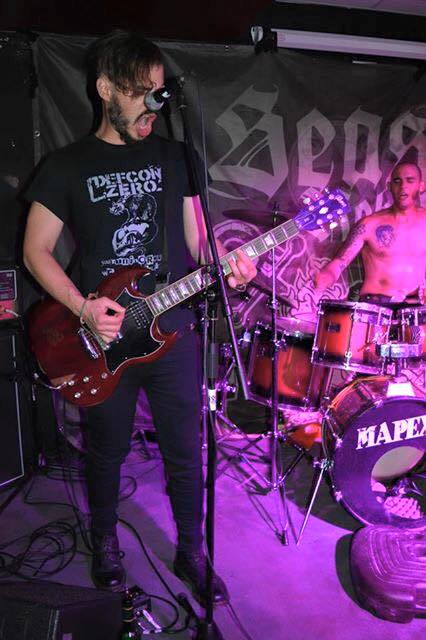 Please rank your five favoriterecords, five favoriteconcerts and five most important things in life?
Thanos: It's really hard to name 5 favourite records, since everyone's musical taste changes all the time and as people grow older they open their ears to different kinds of music.
However I can name the best four gigs I've seen
Slayer in 98
Black Sabbath in 2005
Bauhaus 2006
Chaos UK 2014
Five most important things in life? I guess I'll stick with the usual. Sex, drugs, Rock 'n' Roll, food, films!!
<![if !supportLineBreakNewLine]>
<![endif]>
Is it boring with interviews? Is it much interviews??
Thanos: I've always found interviews a bit wrong. It's a bit like job interviews, you have a limited amount of time and questions to prove something about yourself. And no one should have to prove anything for themselves. :)
If you could choose five bands from the past and the history and nowadays and both dead and living bands to have a concert together with your band. Which five have you been chosen?
Thanos: I'm sorry to let you down once again, but I'm not going to name any bands in particular. After having gigged with a few bands, I've realised that what matters the most is playing on the same bill with cool people who are there to have a good time. I've played with some really bad bands over the years and I've become really good friends with them!

Is music a good way to get out frustration and become a nice person outside the music??
Thanos: It is indeed.
Which is the most odd question you ever have got in an interview?
Astren: Probably when Annie asked us while on camera to name our favourite pornstars. Odd and interesting at the same time !
Which is the question you want to have but you never get. Please ask it and answer it?
Thanos: As I've already mentioned I'm not the biggest fan of interviews, so I'm not going to put myself in the position to ask me a question. Unless that question is "what's for lunch?" And actually right now I don't even have the answer to that!
Futureplans for the band?
Thanos: Future plans for the band include releasing our full length album sometime early in the new year. We have a few gigs planned already for 2016 and hoping to get a lot more!!
For yourself?
Thanos: Personal plans would include getting a better day job, and finding a nice flat. I think the same goes for everyone in the band right now actually!
Wisdomword?
Thanos: Always brush your teeth at night and be nice to people
Something to add?
Thanos: We would love to play in Sweden very soon! Thank you for the interview!