Screeching Weasel isnīt anymore a band, they broke up 5 years ago and Ben Weasel isnīt so much into music anymore. Here he answers some questions from me anyway and I hope you enjoy it. This happened in the beginning of December 2005.
Whatīs up right now, is there any Screeching Weasel or isnīt it becoming anymore of that stuff?
-The band broke up almost 5 years ago. Nothing's happening with Screeching Weasel.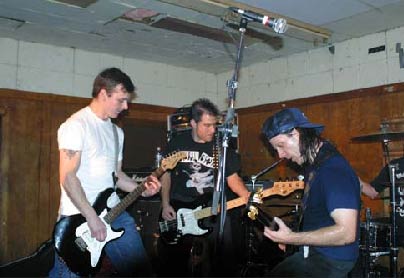 You have done a lot of records, which is your own favourite record, song with Screeching Weasel?
-My favourite album is "Anthem For A New Tomorrow." My favourite song is probably The Science Of Myth or maybe Cindy's On Methadone.
<![if !supportLineBreakNewLine]>
<![endif]>
Which is/was the most frequent asked song on your concerts?
-I don't know, I never listened to the crowd.

How is musiclife in USA right now, any good bands?
-I don't know, I don't really follow music too much anymore.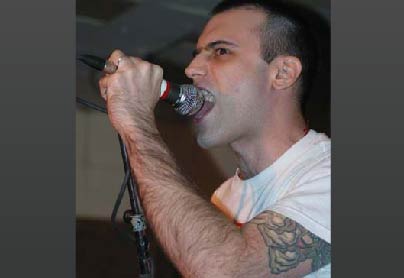 What do you know about Sweden, what is typical swedish?
-I was in Sweden for a few days in 1995 with the Riverdales. It was fun. We met an old guy from up north who had been in the Swedish air force. We played cribbage with him on the ferry ride to Denmark.

Have you heard any good swedish bands?
-Were Asta Kask Swedish? I remember liking them but I don't have any of their records. I'd like to find them though.

You did a cover on a Ramones LP, how did that idea came up?
-Some guy called up and asked us if we wanted to do it so we said yes.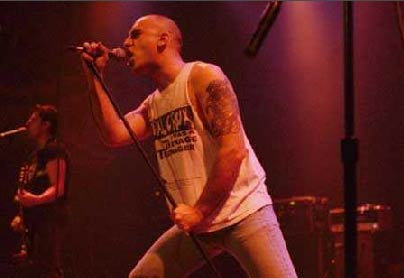 Ramones, was it the worlds best band? Which other bands have been influenced you much?
-Dickies, Fastbacks, Buzzcocks, Rezillos, the old stuff like Chuck Berry, Dion, Buddy Holly, Ohio Express, 1910 Fruitgum Co., the usual bands.

Did you do much covers, any more examples on covers you played? Why do a cover?
-I don't know why. I don't like doing them most of the time. I'm not very good at doing covers. Usually we did them to bring attention to other punk bands that maybe our fans hadn't heard.


You have done a book also,pelase tell me a little about and how can I get it?
-It's called "Like Hell" and it's about a guy in a punk band from the late 80s to the late 90s. It's about what it's really like to be in a working band. You can get it from Interpunk.com or Amazon.com. I'm working on a new one right now, which is why I haven't been doing music for a while. The new one is about a juvenile delinquent in the early 1980s who gets sent away to a bizarre sort of drug rehab.

Which is most fun, to do music or to write books?
-At this point I've made so many records and had so many of them not turn out the way I wanted that I like writing more. With music you can only do so much with talent. Unless you're famous, you can't get anywhere near the kind of money for a budget that you need. So you end up cutting a lot of corners and making compromises that negatively affect the quality of the recording. I can't get a proper budget for a record anymore so I'm just not going to try to do it for a while. But with writing, there is no budget. If you have a computer or a typewriter and paper, or a pen or pencil, that's all you need to spend any money on. So if you fail from a creative standpoint, there's nobody to blame but yourself. So it's more challenging, and also I haven't been doing it for twenty years straight, so it hasn't gotten boring to me the way music does sometimes.

When you do your songs, is the lyrics really important or what?
-Yes, of course. That's another thing that a budget can't affect. You may not be able to afford to make a record that sounds as polished as Britney Spears or Coldplay or whoever is that popular, but you can write better lyrics than them if you have the talent - you can't use lack of money as an excuse for writing poor lyrics.

Politics and music does it goes hand in hand?
-No. More like oil and water. Almost nobody does good political music and almost all musicians have pretty stupid political beliefs.

Best political band/artist?
-I have no idea.

Please rank your five favourite records, five favourite concerts and five most important things in life?
-I can't do that. I don't know how to do that. My favourite records change all the time. The best show I saw was the Ramones in 1986. The most important things in life are to try to live with dignity, honor, courage and humility and to treat others as well as you hope to be treated.

First, last and most expensive record ever bought?
-My first record was a K-Tel compilation called "Goofy Greats" that featured some great bubblegum bands and novelty songs. I can't remember the last record I bought. I sold all my records so I'm replacing the vinyl with CDs. The last CDs I bought were a Buzzcocks CD and an Ohio Express CD to replace some records I sold. I don't remember ever spending a lot of money on a record. I probably did but I don't remember.

Most embarrassing record in your collection?
-I'm not embarrassed about anything I listen to.

Have it been many interviews during the years? is it boring?
-There have been a lot lately and yes, they're usually pretty boring. But the interviews are just because of "Weasel Mania." Most of the time people aren't asking for interviews.

Which is the question you never have got but you want to have, please ask it and answer it?
-I don't have a specific question but it's always nice if people ask questions about my songs and songwriting.

Which is the biggest band you have been support act to, and which is the biggest you have had as support act?
-Green Day, on both counts.

What does punk mean to you, is it only a word, or is it a lifestyle?
-It's a subgenre of rock music. Whatever it means as a lifestyle is just silly comic book stuff.

Futureplans with the band?
-None.

For yourself?
-I want to finish my novel and maybe someday do another solo record.

Wisdomword?
-?

Something to add?
-Nope.