Scheisse Minnelli is a group that I have heard before once but this time it took a longer time to get the record because it was lost on the post office for some month. But in the end it came back and sam from the group was asked a lot of questions in february 2015.
Please tell me a little bit history of the group?
-Sam: Well I met this guy Thomas in Kassel, Germany when I was traveling around with a backpack. We exchanged numbers and like 6 months later I met up with him to party in Aschaffenburg. That weekend I met our drummer and it went from there. I recruited a friend from the USA to play guitar and he got Dash to play bass. That was in late 2003. Our first show was a house wrecking party and 11 years later we are still wrecking it.

Please tell me a little about every member in the group right now, age, family, work, interests and something bad about everyone? Have you been in any other punkbands before?
-Sam: I am from Northern California but have lived in Germany for a little over 11 years. I grew up in the punk scene in the SF Bay Area. I played in a band called The Dead Smurfs when I was a kid and also played in a bunch of other bands like Oppressed Logic. I am in my late 30s and run a silkscreening shop with our guitarist Mikey. I like to surf, skate and snowboard when I get a chance. And I was in jail once for almost a year.
Our current and best guitarist Mikey is also from the Bay Area. He moved to Europe almost 4 years ago. He has played in a million bands including Your Mother, Swinging Utters, Filthy Thieving Bastards, and Oppressed Logic. He is a few months older than I am. He also works at the silkscreen shop with me. He also likes to skateboard, read and drink a lot. He also went to jail for a few months.
Dash our bassist is the youngest in the group. He is still in his early 30s. He is from Aschaffenburg and plays in a band called Sbasstic. He builds and repairs guitars and basses for a living. He also skatebaords. He can be really bad about being on time.
Dudel plays drums and is a couple years old than Dash and a couple years younger than Miky and me. He drives meat for a living. He has also been a million bands. He currently plays in a Judas Priest cover band. Is that something bad? Haha...

I can hear much Bad Brains and Dead Boys and other early punkbands? Am I right? Favorites from the past?
-Sam: We also big fans of the old school punk and hardcore scenes. Especially bands that really tried to push the music instead of just playing 3 chords. Or if they did play 3 chords they did it with style.

Scheisse Minnelli are you satisfied with the name? How did it came up? Any deeper meaning with it? Which is the best bandname you know?
-Sam: The name starte as a joke. A friend of mine that lived in Europe and came back to California always said it when he had to take a shit. So I used it when I settled in Germany. At this point to us at least it means to live free. I think the name has hurt us a points but it has also become part of us in many ways. People need to listen to the music and not judge the name.
What´s the best thing with playing live?
-Sam: The best part of playing live is when you hit it note for note in a packed club and the place just gose off. Its a feeling that is hard to match.
And where is best to play? And the worst place?
-Sam: I like clubs with short stages that are packed or house parties. But I am down to play where ever. The worst spots are empty places and clubs with shitty sound.
How is to play this sort of music in Germany right now?
-Sam: We are sort of the odd man out in the scene. We dont fit in the tough guy new metalcore stuff and we can fit with the 80s stripped down punk but not always. But we just do what we like and worry about things that really matter like paying the bills. Haha...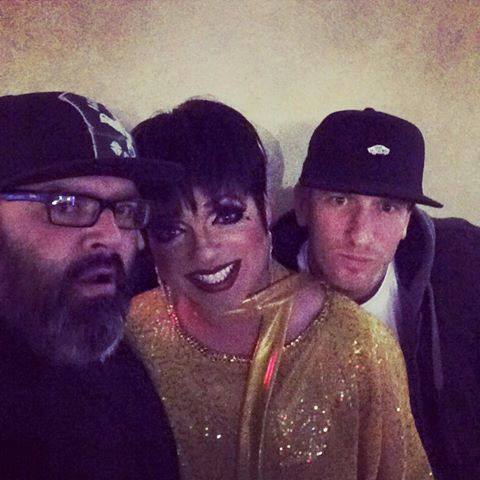 How would you describe your music in three words?
-Sam: Seeing is believing

What does punk mean to you, is it only a word or is it a lifestyle?
-Sam: Its what you make of it. For me it was a safe haven when I was young. I did not fit in with all the clicks in school. I was beat up and pushed around. Punk gave me confidence to fight back and stand my ground.

How do you see on downloading, mp3 and that stuff?
-Sam: Regarding big rich bands I dont care. I just think if you like the smaller bands that are struggling and you want the scene to survive then it helps if you buy the records and CDs. But I dont care if people steal our music. As long as they come to the shows and tear it up.
How is it to live in Germany now? Politically?
-Sam: I like living in Germany. I have the freedom to walk the streets drinking a beer. That alone makes me feel at home. I also lvoe that the Germans are active politically. When something is wrong or the people are unsatisfied they stand up and demonstrate or fight when needed.
Is there any good bands from Germany now? Is the punkscene big? How is it in your hometown?
-Sam: Germany has some great bands depending on what you like. Modern Pets do great 77 style punk, der Fiend if you like fast old Deutsche Punk, Tankard for old school Thrash, Sniffing Glue for some 80s hc punk and more. The scene in cities like Berlin and Hamburg is pretty big. I live in Frankfurt, a banker city. So we have a lot to bitch about, but our scene is small but strong. We get loads of touring bands since we live next to a major airport.
What do you know about Sweden?
-Sam: My first european girlfriend was from Sweden. So I went there a few times. She is from Sveg a small village but a beautiful area. I know you have great moonshine and really nice landscape and its really expensive!
Have you heard any good bands from Sweden?
-Sam: There are almost too many to list! Of course bands like Wolf Brigade, Disfear, and Sista Sekunden come quickly to mind. I think we played with Nitad once and they ripped. I even liks old Entombed and Hellacopters.

Your lyrics, who does them and what influences you?
-Sam: I write 95% of them. They are mostly from my life experiences and things in life that upset or frustrate me. Things like politics, religion, money problems, and drug addiction are all topics.

Is there any subject that you never will write anything about?
-Sam: I have never written a love song. For some reason most of my liyrics are either a little funny or negative.

Politic and music, does it goes hand in hand?
-Sam: I think if you have a voice and something you want to express then more power to you if you use it. If that voice is put to music and people like it then also great. It is just sad sometimes when the message is totally lost.

Best political band/artist?
-Sam: I have to say I think Jello does it really well.

Do you think that music(lyrics and so on) can change anyones life, I mean people who listens to music?
-Sam: I would hope so, but I have often seen people that either take lyrics out of context or misinterpet them completely. I have also seen cases where people know the lyrics but do not really think about them.

You sing only in English, why not in deutsch??
-Sam: I sing in English cause its my native tongue.

Is it important to get out physical records of your stuff? Why or why not?
-Sam: I think there is still a certain amount of people that want the physical records and as long as they are there I think it is important to feed that hunger. I also really like to have something in my hand and to read the lyrics and the thanks list and such. It give you a view into the band that you might not get if you only have the songs digitally.
Please tell me a funny thing which have happened during your career and under some gig?
-Sam: Once at a gig I was pretty drunk and on some other stuff. I made the smart move of sliding on my ass down the stair's handrail. I bailed and did a complete flip and landed 2 stories down on another handrail between my legs if you know what I mean. Like on the skate videos when the ysmach their nuts! Well I tried to just drink the pain away and we still had to play. We played the set and when we started the last song I looked down and saw a giant bluge in my pants. It was my balls! They ballooned up like to grapefruits. I freaked and then the kids at the show started to go crazy for the song and jump on me. Not a nice situation. After we finished I went straight to the hospital. I had to have a surgery. Everything is ok now. But that was a fucked situation.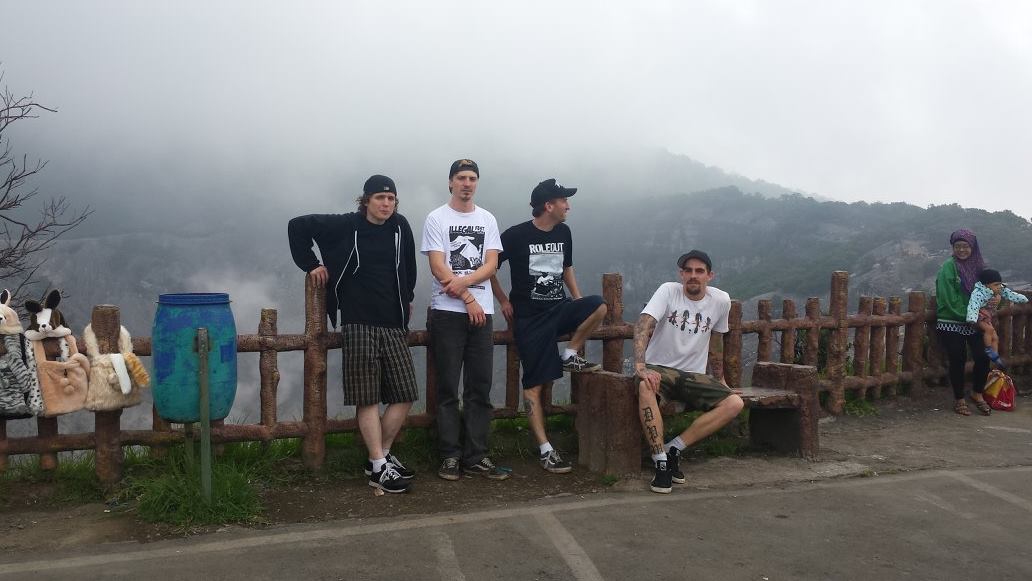 How does your audience look like? Which people do you miss on your concerts?
-Sam: It´s always different. I sometimes wish there were more young people and younger skaters. We play a type of punk that the older punks love. The younger kids sometimes come but not enough.
Please rank your five favoriterecords, five favoriteconcerts and five most important things in life?
-I love all kinds of music so this is always hard so I will do my favorite punk albums and concerts
Punk Records:
1) Fuck Ups - FU82
2) RKL – Keep Laughing
3) Bad Posture - GDMFSOB
4) Special Forces – World Domination
5) DRI - Dealing with It
Punk Shows:
1) Verbal Abuse (with both singers doing a set), Fuck Ups in the mid 90s
2) The Dickies in the late 80s
3) The Insaints in the early 90s
4) RKL in the early 90s
5) Flag in 2013
Things in life:
1) family and friends
2) music
3) knowledge
4) traveling
5) board sports
Is it boring with interviews? Is it much interviews??
-Sam: They can be fun. It can get boring when you have to do too many. But this is only my second this year so it is ok.
If you could choose five bands from the past and the history and nowadays and both dead and living bands to have a concert together with your band. Which five have you been chosed?
-Sam: Once again I will list punk bands since they would fit better with Scheisse Minnelli on the bill. I guess RKL, Insaints, Fuck Ups, Bad Posture and Special Forces.

Is punk a good way to get out frustration and become a nice person outside the punkmusic??
-Sam: It helps for sure. It is a bit like therapy. And a great way to meet like minded people.
Which is the most odd question you ever have got in an interview?
-Sam: I was asked if I still had both of my balls after the handrail accident. Well I do...
Which is the question you want to have but you never get. Please ask it and answer it?
-Sam: Can you play an instrument or do you only sing? I grew up playing bass in bands.
Futureplans for the band?
-Sam: Tour, record, party, play shows and enjoy life

For yourself?
-Sam: Travel, surf, snowboard

Wisdomword?
-Sam: Live free and never stop learning

Something to add?
-Hope we finally make it to Sweden someday. We have never played futher north than Copenhagen.