Itīs not many times I interview a group just after only four songs but SCared was a band which went to my heart at once so I was forced to do the interview with the group. I did it with Bob and this was taken place in January 2015.

Please tell me a little bit history of the group?
-We used to be in The Sanity Clause until we parted ways with our former singer/guitarist in March 2013. At that point we hadnít intended reforming as another band but jammed and decided to go for it and played our first gig in early May that year.

Please tell me a little about every member in the group right now, age, family, work, interests and something bad about everyone? Have you been in any other punk bands before?
-Bob- bass and backing vocals. Iím the oldest at 52. I read a lot, love camping, breadmaking and languages.
I played guitar in a couple of local bands that never made it out of the bedroom. The first band I was in that played gigs was Potential Victims back in í83 but I was only in them for about a month on bass. Then the late 80ís I played guitar in a local band called Barf, we were a drunken shambles to be honest. Then I played guitar in Raw Veg who were mostly from Preston. I joined the Thought Police on bass around 1990. They had been a duo with Iain on guitar and vocals and we recorded a cassette EP before splitting. I wasnít in bands for about 15 years after that until Iain asked if Iíd play bass for The Sanity Clause in 2007 or 08 I think? That lasted 5 or 6 years until it fell apart and Scared rose from the ashes. Iím supposed to be playing bass for a band with Doddy from Total Bloody Chaos and others too but our first practice isnít til this weekend so who knows . . . (we will see if the other ones will be answering this soon)

You have listened a lot to older 77-punk? Am I right? Favorites from the past?
-I started with 77 punk but also like later stuff. We do sound 77-ish which is probably Neilís influence as he writes the songs. Iím crap at picking favorites as they tend to change depending on mood etc.

Scared, are you satisfied with the name? Other bands named it? How did it came up? Which is the best bandname you know
-I donít know of another band call Scared. We are named after a song we did in The Sanity Clause, the singer brought it to a practice and we turned it into a Discharge style number with me shouting the lyrics. He really didnít like what we did with it, so of course we kept playing it! In part it led to the break up of that band. He later claimed he wrote it to take the piss out of us, things got a touch acrimonious. When we needed a name I think it was my suggestion plus spelling it as SCared meant we kept the initials of Sanity Clause just to twist the knife . . .

Whatīs the best thing with playing live?
-Just getting up there and doing it. If people like what we do thatís even better but weíd probably do it anyway.

And where is best to play?
-Star and Garter in Manchester is a great venue but the Council want to knock it down, weíve played there twice and really enjoyed it.
Snooty Fox in Wakefield has a really good set up.
The Bath in Morecambe is a good venue too.
Weíve played the Napier in Blackburn a few times but the turnoutís declining so donít know if thereíll be many gigs there now.
Probably our best gig was at the New Vic in Penrith with No Thrills amongst others.

How is it to play this sort of music in England?
-Most gigs we play tend to be bands playing to bands but thatís partly because so many punks form bands, DIY J. Thereís always a crowd for the Ďbiggerí bands but weíre not on that circuit . . .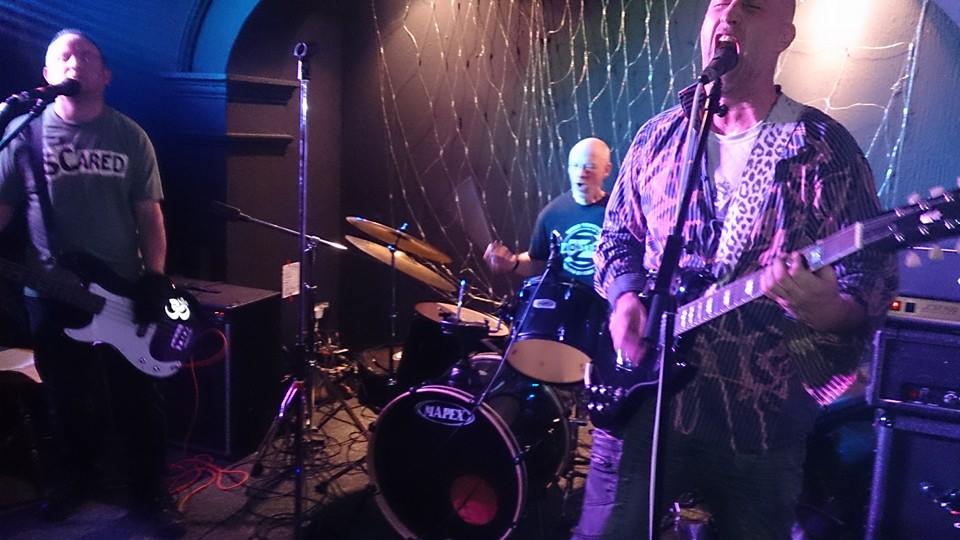 How would you describe your music in three words?
-Melodic 77ish punk

What does punk mean to you, is it only a word or is it a lifestyle?
-Lifestyle and I donít mean a uniform or just music. Itís a mindset and attitude to living. Not being subservient, asking questions, thinking for yourself not afraid of being out of step.

How do you see on downloading, mp3 and that stuff?
-Itís OK but itís not the same as having a physical artefact. You only get the music not artwork, lyrics and stuff.

How is it to live in the England now? Politically?
-Quite depressing politically and Iím not sure itíll get any better. If people donít unite and stand up for themselves in this climate Iím worried they wonít until resistance becomes all but impossible. Too many people blame those around them for their problems rather than those who run things. Hence the rise of UKIP.

Is there any good bands from England now? Is the punkscene big? How is it in your hometown?
-Thereís no scene in my hometown Darwen and if turnout at local gigs is anything to go by thereís not much of one in Blackburn either.

What do you know about Sweden?
-I holidayed in Sweden in 2001 in a log cabin near Virserum. We drove from Goteborg to Virserum and also visited Kalmar and ÷land. Thought it was a lovely country and probably the best holiday we ever had, though it might have been because it was a blistering summer and it might not always be like that?

Have you heard any good bands from Sweden?
-Totalitšr is about all I can think of, but I donít have my finger on the pulse.

Your lyrics, who does them and what influences you?
-Neil writes the lyrics so Iíll leave him to answer that.

Is there any subject that you never will write anything about?
-I doubt weíd write songs in favour of white power!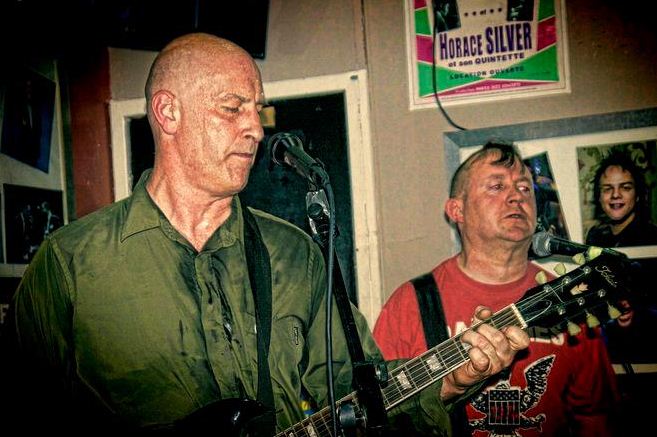 Politic and music, does it goes hand in hand?
-Iíd say itís very difficult to separate politics from any part of life. How you live, behave, think are political, perhaps not along party lines but the way you treat others is political.

Best political band/artist?
-Itís Crass for me although with hindsight it looks like things werenít as together as they seemed at the time. It does make you wonder whether their ideals could work in practice?

Do you think that music(lyrics and so on) can change anyoneís life, I mean people who listens to music?
-It might be clichťd but itís true, Fluxís Neu Smell EP prompted me to go veggie. Maybe if I werenít punk Iíd not have stopped eating other animals, who knows? So I reckon thereís a potential to make people think and maybe change the way they act.

Have you only done the demo/CD Jennys social suicide?
-The CD is all weíve done so far, weíd like to do more but Iainís been ill lately. We were going to get it copied and printed professionally but with Iain being ill weíre unlikely to be playing many gigs to sell CDs at so released it DIY instead of spending money we might not recoup.

Is it important for you to get out your records physical also?? Something new on itīs way
-Who knows? When Iain recovers we should have enough songs to record again. Iíve not enjoyed recording in the past but this time it went much better think we work together better as a trio, less tension. Too many guitarists spoil the broth?

Please tell me a funny thing, which have happened during your career and under some gig?
-We played a gig in a pub near Wakefield and when we arrived at 6.30 the landlord was already pissed as a fart and walking like he was on a ship. Us and No Thrills played to one guy and the bar staff with the landlord joining No Thrills Ďonstageí at one point. He wasnít going to pay us either but it wasnít our fault heíd not publicized it and drunk any profits his pub ever made.

How does your audience look like? Which people do you miss on your concerts?
-Mostly middle aged. I think itíd be good to have younger people at our gigs but they probably donít want to watch some old blokes shouting?

Please rank your five favorite records, five favorite concerts and five most important things in life?
-As I said Iím crap at picking favorites. Went loads of gigs years ago but because I was usually off my face canít remember many of them, which makes it even more difficult to pick favorites. Maybe the other two can answer this one better . . .

Is it boring with interviews? IS it much interviews??
-This is the first interview weíve done, we only did one as The Sanity Clause plus one on a radio show which was a bit chaotic but fun!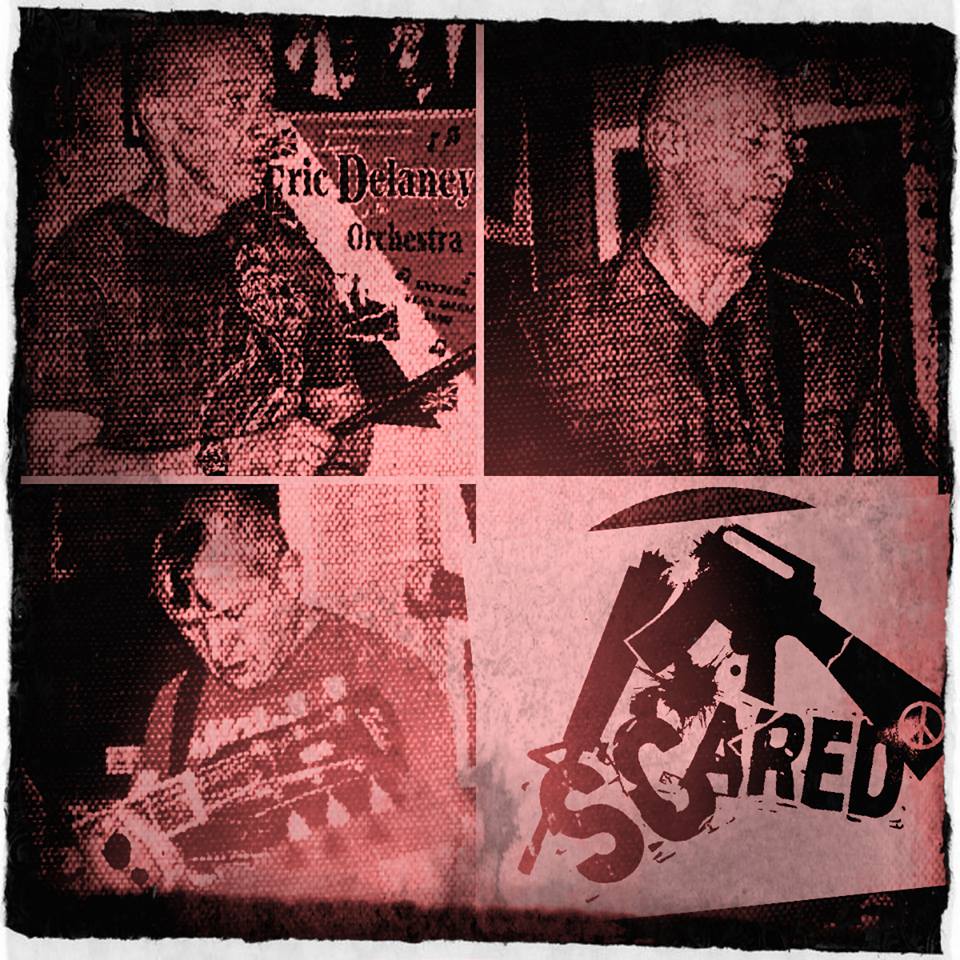 Futureplans for the band?
-Wait for Iain to get better then start gigging again and maybe record some more songs.

For yourself?
-Work out what to do with my life.

Wisdomword?
-Love trumps hate every time

Something to add?
-You can contact us on Facebook www.facebook.com/SCaredband
Our four track CD is just £2 inc postage in the UK or £3 in Europe via Paypal.
Thanks for the interview Peter