A litte bit fun with Samurai Attack from Japan because they have answered in swedish because the vocalist girlfriend is from Sweden and she have translated everything to swedish. Itīs Taisei Mabuchi who sings which have answered the questions in the end of v november 2004.
Please give me a little history about the group??
-SA was formed 1985/when I was 16 years) That times members was my old childhoodfriends. Today itīs only me who is the only originalmember.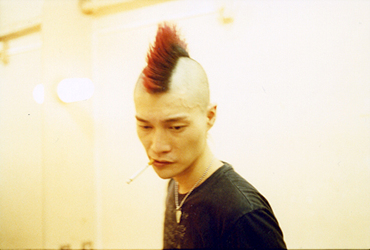 Please tell me a little about every member of todays band, age, interests,
family, and something bad about every one??
-1985-1988 I played together with the first members for about three years. It was 20 years ago so I cannot really remember but I think I changed members really often.
2000:I started again with SA and with new members.
Taisei(vocals 37 years), Naoki(guitar) He was guitarist in the wellknown band Laughin Nose, KEN(Bass) 37 years married, Shojei(drums) 27 years and newly married.
Something terrible:We love to drink beer and to party but weīre all grown up…so we donīt fight anymore, unfortunaly(hahaha)
How is it to play punk in Japan today? And how was it in the beginning of
your career??
-When I started to play punk not many people knew what punk was. But today is punk really wellknown but the youth is listening more to american punkbands than on European bands I think. .
You donīt play the same style as many other japanese punkbands, youīre more
melodic and you have some popmelodies in your music??
-I donīt know which sort of punkband you listen to from Japan so I cannot compare us to any other bands but Iīm influenced by 70-80īs punks from England and bands like Clash, Stiff Little Fingers and 80īs oi-punk.
But you like hardcore also?
-Yeahm sure, the influences is Discharge, GBH but I donīt like shouting highsounding hardcorebands. …
Many japanese people like swedish punk, do you have any favourites??
-Asta Kask, Anticimex. I got an she comes from Gothenburg) so I listen really often to that.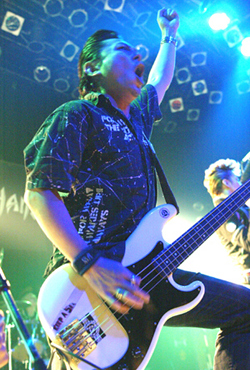 What do you know about Sweden otherwise??
-Swedish bands(pop, rock, punk) is very popular here in Japan, for example, Hives, Mando Diao and so onv.
You look much like a punkband in your clothes, hair and so on, is that
important to show who you are?
-I think that the hairstyle and clothes are really important to punkrock, they belong to each other.I donīt buy clothes from the punkshop, I do the design and let my mate sew. Naoki(the guitarist) havenīt changed in 20 years, he have had the spiky hair all the time.
What does punk mean to you, is it only a word or is it a lifestyle??
-Punk is there all the time in my heart, I struggle the whole time foreward. The punk is admirable and forever.
Which have been the most important rockband through all times?
--Oi punkband as Cockney Rejects, Blitz, Sham 69 osv.
If you could choose five bands to have a big concert with SA, which five
bands (both dead and alive) have you choosed?
-Generation X, SLF, Blitz.
Is there any big punkbands who have been to Japan??
-The most known punkband have been here I think as Sex Pistols, Clash, Psychobilly Band(who is that???)
Is there any good bands in Japan right now?
-Laughin Nose, Cobra, Assfort, Genbaku Onanies. Thatīs old and wellknown punkbands here in Japan and we use to play with them.
How is it to live in Japan right now and then I mean politically?
-Politics here in Japan is influenced by USA. Weīre ashamed for our Primeminister because heīs an YESMAN to USA. But we have our self to blame, many japaneses isnīt interested of politics and donīt want to vote
Politics and music, does it goes hand in hand??
-My songs have no political meanings but I try to sing about what I think is right and what is wrong.
How is a good gig with you??
-When we do everyone happy.
How does the middlefan look like?
-Thereīs a lot of diffirent styles:
70 īs and 80īs punksimilar people. Very common people with T-shirts and jeans.
Please rank your five favourite records, five favourite concerts and five
most important things in life?
-Favoritskivor: Cockney Rejects 2nd record, Generation X:s first record, Oi-albums amd Stiff Little Fingers Hanx
Favoruiteconcert: Jellyfish in Tokyo.
Mots important things: My life, Iīm happy to come from Japan, that I met the punk.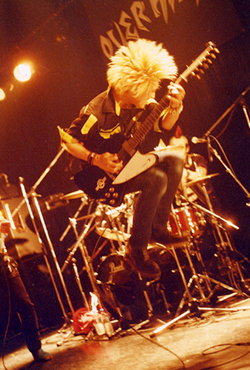 First last and most expensive record ever bought??
-First:Grease soundtrack, latest: Circles(Neo modsband), Most expensive:Led Zeppelin Remastering collection.
Most embarrassing record in your collection?
-Mötley Crue.
Is it many interviews? Is it boring?
-Yeah…
Your questions is really long I think.
Which is the question you never get but you want to have, please ask it and
answer it?
-There is none.
Have you been outside Japan and played, if you have that, where and have you
been outside Asia?
-No, we havenīt been outside Japan and played. But next year I want to go to Europe and even to Sweden.
Can you live on your music or shall a punkrocker donīt do that, I mean live
on the music?
-A funny qustion.Almost impossible!
Futureplans for the band??
-To write a cool song which I can feel proud of when I die.
Futureplans for yourself?
-I wan to live long. But I think I die early !.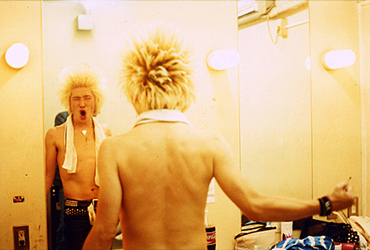 Wisdomword?
-Keep the faith!
Something to add?
-Too much(Hahahaha). I cannot answer more.
See you in Sweden.