Saidi och Kollektivet is a really nice group with their swedishsinged music which gives me really much. Daniel Saidi was the man who answered my question one day in march 2004 and he answered really much
History?
-I started to wrote this style of material in the middle of the 90´s, when I still was living in Söderhamn and singed with the contracted metalband Misfortune. In that time the material was colored of swedish softpunk and I was mixing between swedish and english lyrics. But the Swedish language was the one who won because I wrote English lyrics in other bands I played in. To learn to write good Swedish lyrics is a funny challenge and I have tried to come up with different ways to rhyme than the traditional way. "Word one, Word two, Rhyme one, rhyme2" isn´t a structure that I prefer or even can do good either
However. After recording the first wholeswedish demo "Glömd" home at with a mate and then I have a hard halfyear doing Misfortune first fullength so my own material was lyin on ice. A half year after "Glömd" I moved to Norrköping to study and I started to play in different bands. In Dog the Bone and New wave Stoner I finally get out mmy grungeambitions but I continued to write Swedish lyrics in my apartment. They have changed character now and they hadn´t the real hitfeeling as you can find in "I skuggorna dold".
To make a long story shorter I realised year 2000 that I was forced to do something with the swedish material and there for I recorded some preliminary songs in Jönköping. It took a while til I recorded a real demo(2001) and tried to find people to play with. From the beginning it was Fredrik on drums and Johan on guitar but after my my longtrip it changed a bit to the set is the one which became the first Kollektivet-a bunch of students who gives the songs life together.
Have it been many personalchanges through the years? Please tell me about todays members , earlier bands, interests, family and something terrible about every one?
-The first band was as I said only two guitars and drums but it was in the startingperiod. The first real Kollektivet had 8 members like– me on guitar and guitar, Magnus on bass, Olof on guitar, Erik on drums, Martin on piano, Maria Norén on cello and Marika/Anna on backgroundvocals.
Studentcircles are really chaotic so after the summer Erik and Martin went out travelling and in the same time the girsl had so much to do in school so we come up to the point and found out it is better to have some new members. We reformed around the same set with two guitars and bass and in the autumn 2003 Kollektivet hade the following personal:
Daniel Saidi – song/vocals Earlier: Misfortune Band on the side: Sgt. Black
Magnus Andersson – bass Earlier: Fat Dragon Band on the side: Sgt. Black
Olof Gustafsson – guitar Earlier: Lena & The Fearsome Orchestra Band on the side:
Sgt. Black
Mathias Carlsson – drums Earlier: New Wave Stoner
Maria Asplund – Cello Earlier: Bad Communication
Rasmus Ewehag – Piano Earlier: Mary had Triplets Band on the side: skitSKÖNt
Erik Svansbo – Violin Earlier: Carrington
It´s so much to tell about every member but I have chosed to only tell you one earlier band and if they have a band beside of Kollektivet. It's better if I let you read on the website (http://www.saidiochkollektivet.com ), where I write about all members who have been and is in the group.
Norrköping seems to be a really good musiccity. Once upon a time you had 23 Till; you have Eldkvarn, Clockwork Crew and now Saidi och Kollektivet.
Is there any other bands there?
-The biggest dilemma is that I live here as a student, which do that I haven´t come right into town really. The student life is like a little bubble, there you can go for about 5 years without knowing the city. Have I been born here or started to study in a local schhol , I had surely get into the musiclife much earlier. .
Norrköping is a living town musically, even if many people don´t agree. There´s a lot of small bands everywhere even if the places not are so many. But if we talk a little bit more wellknown band we have the hellarockband Nifters and we have Spånka NKPG, and we some example of bands who fight their way up like Plusgrader and Tha Rhyme Fanaticz. And then you have Sgt. Black; a ridiculous good grungeband ;-)
If you like football there, which team do you support then, is it Sylvia, Slepiner or is it IFK(me myself support GAIS)?
-That thing with me and sport isn´t really compatible. But I will give you a more deeper analysis, are you coming from Norrköping and like bigger events so is IFK the most natural choose – this citys proudness together with the Dolphins. IF Sylvia feels a little bit more true and it´s smaller and It´s something for the working mate which comes home, take a beer and then go down and looking on the lads" on the footballground. The only Sleipner I know is Odins horse, but it says more about them than of me. I have the heart in Sylvia most because of their incredibly fine website.
But can you imagine being on a tribute to something or to be on any political record which it´s about something you believe in?
-I can definitely think of being on a tribute-CD- it would be really fun to do an own style on a wellknown song. Should somebody ask me being on a tribute I would be flattered. And when we talk about political records so have I not any problem with that as longs as I share the opinion and everything is done in a good and mature way. It´s too many examples with people who kill good opions with to much aggrevissity or to be too naive . who listens when you see a shouting young lad without any lifeexperience? Then it´s better to calm and sober try to get foreward the ting you say so don´t people feels threatened. It´s a reason why man people thinks that feminism is the same thing as shorthaired angry bitches and leftwing youth with masks and throwing stones. It´s so dumb, and it´s sad and unnecessary.
I can imagine that punk is something which is warmth around your heart? What does punk mean to you, is it only a word or is it a lifestyle?
-I´m the one who have the more punky party of Kollektivet. Magnus got some blues in the mothermilk and Olof have been feeded with jazz byu his dad. Mathias have his background in clubmusic, Rasmus in the electric, Maria I the classical and Erik in the folkmusic.
For me was the punk a sidestep from the metal and there was Dia Psalma my housegods. I was with the Söderhamnpunks a lot and I listened to a lot of punk. Of course it have influenced me but I will say that metal have been mean more to me as an human being, because it´s there I have my youth.
How have the reviews been on the latest demo?
-I have been really bad at sending out "Fem berättelser från kammaren" so reviewers haven´t got it. Except Ingemar Ragnemalm in Linköping, who bought a record and reviewed it without that we saying that he should do it. He wrote a long and deep review there he gave every song a individual analysis , which is impresseing. He writes among others:
"Skivan is musictechnicually very well done with rich arrangements and close comp. Stylish it´s nothing unusual but it have a personal feeling and that depends much on acoustic instruments like cello and piano." "it´s a nice demorecord which maybe the Winnerbäckfans should listen to. It´s not like Winnerbäck style but I think it can please the same public.
en trevlig demoplatta som kanske speciellt Winnerbäckfansen ska titta på.
He comment the lyrics as follows:" You can see Saidis songs as pure pop and the the lyrics do come to you in the length, find a point here and there and get together the bits after some listenings. It made me happy-it´s precisly like that! I put a lot of time in my lyrics and try to get a complete structure there same pattern comes many times, but with new words to see in it a different way. I want that , as you do with the music, will find new things in the lyrics and do so after some listenings
Do you care about reviews?
-Absolutely! Constructive reviews are really good value, then you get a honest opinion about your music from someone who´s not knowing you. But a review must be just like that, constructive. A reviewer must say and justify what wasn´t good, he cannot only say "this is a useless record" it doesn´t help either artist or recordbuyer.
Some mates from Söderhamn – Wolverine – got in an issue of Close-Up hear that they really good newreleased record was a big lie. There you can talk about an useless review, the reviewer have really got into say that they are shit , it would have been Ok if he had said what was wrong. Then you could have seen on the review as a persons honest and objective opinion. And in the same time the recordbuyer have got some more info and got the chance to get a own personal opinon and the band maybe something to think about.
Misfortunes fullength wasn´t popular everywhere but when you knew why the reviewer didn´t like it- that the production was too thin and so-you could take the critics to yourself instead of being in a defensivestyle and said that the reviewer is really stupid. i alla läger, men när man fick veta
varför recensenterna inte gillade
Which is the most peculiar you have got?
-Wow, we haven´t got any because we haven´t sent out so much record and then i can´t say that we have got any peucliar. But I promise to send out a lot of demos to papers and we can come back to you when we have got a really odd review. ;-)
You´re 6 in the group , isn´t it hard to get all together to gigs, recordings and so on with so many people? What´s th best and what´s the worst of being so many in the group?
-Yeah, it´s really hard to get gigs where everyone can be in the group,especially now when we´re 7. Local gigs is okay but as soon as you will go outside Norrköping is the cars five places really limited. This autumn we was having gigs in Borås and Nässjö and then we were only 4 and 5 members on those gigs. The things which is really good with this set is that I write all music and everyone else do the things they´re best on, is that all things is freestanding parts which can be done on their own. It´s why you can have a gig with only guitars, drums and bass-in many ways the gigs in Borås and Nässjö the best one we ever have done.
To see Kollektivet live two times isn´t often the same thing because it can be different from time to time. I don´t see that as a bad thing because I sit with different parts of Kollektivet and we some rehearsals there everyone is there.
The best ting with this set is the amount of people-it´s really fun with much people and with the right arrangements it sounds really good. The worst thing is that it´s too much writing and arrange the songs in the same time as you study a lot. And then we have only managed to have the whole Kollektivet together for a photosession.
How would you describe your own music in three words?
-Melancholy, beautiful , acousticrock.
How do you think it is to live in Sweden today, then I mean politically? Is it Göran or Anitra which is the deciding part?
-´m being diturbed on the political-correct thing, that you don´t dare to say what you think right out. Ny Demokrati was a painful antithing against the political climat but it was for a long time ago. Nothing seems to have been changed. You se Bodström come in to the government and he´s really think after before he says a word not to be unfriendly with someone. It have been a little bit more fun with russian politic, there they throw water and they fight when they´re angry. Maybe not so much to depend on, but so much more….alive.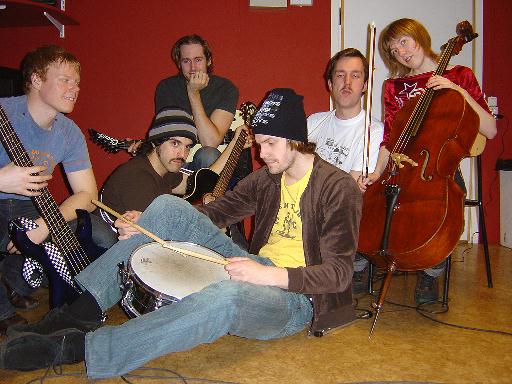 What inspires you to do lyrics, is it varying or is so that you do them after a special form and in a special way?
-I have actuallt have really big problems with writing lyrics in the last time, even if some good ones rolling through sometimes. It´s difficult to find inspiration when the brain is destroyed of a lot of knowledge from studying. An engineereducation isn´t the most inspiring ground to stand on. The lyricwriting is a process when I write a little, goes back and change and do this to it´s getting absurd, and it goes on so til someone or myself says stop there and hit the fist in the table. I strive after as I said earlier after a complete structure, often with returning patterns and that take time.
Is it easier to do lyrics when you´re angry?
-maybe not angry, but it´s easier when you have some feelings. Only you feel something and then it´s up to me to find the right fragments of this feeling and describe it in words.
Now when Winnerbäck have been so wellknown so it´s time as the neighbours to Linköping get the same success
-Ha ha ha! A tenth of his success would be more to demand. In the beginning it would be fun to notice that people know who you are but it takes time to come there. Locally we have begin to do us a name. It´s many gigs sometimes and a big change is that it´s not we who take the initiative many times. People phone us. And that's a change in the right way.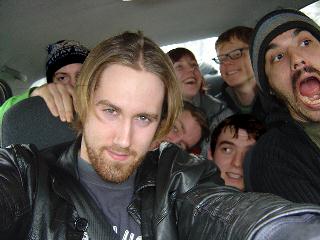 How is a good gig with you?
-It depends which set were doing. Fullbandsgigs is in the best times a like a released energyshower with many laughs but with the music in focus but a calm gig comes out in another way. I hope that a good gig with us is a musically varied and impressing composition, with words which touches, but not in the deadly serious way.
I have a difficulty in my talking between the song, I talk to much and it can be many minutes of nonsense but it´s appreciated sometimes but still something I try to change. More music, lesser Saidi.
How does the average listener look like?
-He/She is discreet and listens to us but without letting us know, which makes go around and don´t know anything about that we´re liked by people. It comes foreward on parties , that these song is so good and that the website have many visitors – but we don´t hardly know it. (Laugh)
Please rank your five best records, five best concert and five most important things in life?
-Five favoriterecords , wowowowow. Instead of taking the ones that I play the most I take the ones which have changed my view on music in chronological order:
• Judas Priest – Painkiller
Make me LISTEN on music and was my first serious idols. Kiss and Europé was idols for the thing only, but this was TRUE
• Cat Stevens – Tea for the Tillerman
I discovered Cat Stevens when I after a schooldisco came home and said that Mr. Bigs "Wild World" was so good. My dad became dark and said something about "covers" and then he played the fantastic original
• Pearl Jam – Ten
Pearl Jam throwed me into the more nuanced rock and a sidetrack is Panteras "Vulgar Display of Power" – which took me to the metals wonderful world- but the grunge have been left here in a different way.
• Kent – Verkligen
Kent was a proof that it was done swedish music beside of all black metal which was really worth listening to. After that I have make fun of them as costumenerds I was the one who was mocked by my friends from the heavymetalworld.
• Lars Winnerbäck – Med solen i ögonen
One day my mother forced me down in a chair and said hat I must listen to a record. I didn´t want to sit down but I heard something which changed everything-thanks!
Five conecrts – it´s even more difficult; actually!
• Pantera – Hultsfredsfestivalen 1995
Even if Phil was high and did a fucking long intro, which was about how cool it was to come to Sweden and fuckin get hiiiiigh was the hour after with the adrenalinefilled infernojourney with 30000 shouting Panterafans behind me so it´s hard to forget
• Dia Psalma – Söderhamnsfestivalen 1996
The last gig – it was fucking good. Folk came from many places in Sweden to see them but then had Nazareth made it late and it was an hour too late and then came DP on 00.40 and they got throwed off the scene twenty minutes later because the municipality didn´t let bands make noise after 01.00. A black day in the human history.
• Kent – Mässhallarna, Norrköping 2002
Sickly wellpolished. For the first time Kent really looked like they seems to enjoy being on stage- earlier gigs they have seemed to thinking about something else. Even if it was a little bit short , every minute was a pure enjoyment!
• Winnerbäck – Göta Lejon 2003
An unforgettable evening, just the right intimity, the second row in the middle and with Elin Sigvardsson on stage before Hovet. The tourpremiere on Konsert and Kongress in Linköping was in the same class.
• Håkan Hellström – Kalasturnén, Norrköping 2003
Energi!
Five most important things?
• Family, girlfriend and the relatives
• The friends
• The music
• That you´re feeling well
• Larson!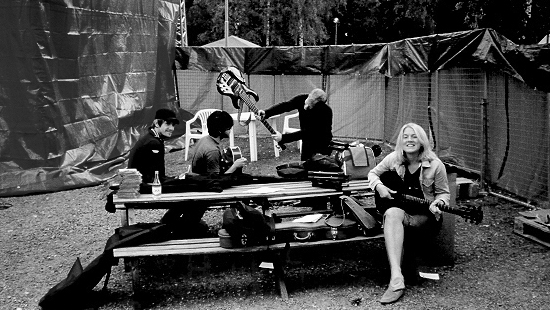 The first the last and the most expensive record ever bought?
-I don´t count LP-records – it´s too far away and the first one was some childrecord. We begin when the CD-player came into my life:
The first: Metallica, "The Black Album"
The latest: Bad Cash Quartet, "Midnight Prayer"
The most expensive: Some for 189:-
The most embarrassing record in the collection?
-I´m not ashamed for anyone of my record even if I have some really bad black metal records which is there and collect dust. Fimbulwinters "Servants of Sorcery" is a big joke but that´s one of the things why I have it in my collection. My LP-collection shouldn´t we talk about.
When you do music, which is most important, is it the music, the lyrics or the refrain?
-I must say that it´s both the music and the lyrics which I prior the most, because it must could be played in all different sets. The refrain gets what it gets, it´s a natural process with the wholeness in the center.
How is it when you do a song, is it someone who does everything or is it so that everyone helps out a little?
-I do all songs,and then can all come with their contribution to the song. The latest song which all Kollektivet have rehearsed together "Allt tar slut" was written by me and Mathias and it was the first song that someone else have been writing together with me. But I have been helped with the arrangements. Without Olof so had songs like"En plats…" was lot of more boring.
To sum up so write I always the grounds and have a whole song ready when I present for Kollektivet. Then, when all have been in and make their thing in it can the result end up in something completely different but with the same grounds. It´s really fun and it´s a really fruitful way to work.
Is it many interviews, is it boring?
-This is the second one I do with Kollektivet, so it´s not so boring hahaha. I did an interview with a fanzine after we recorded "En röd debut" but that´s everything. More interviews – send.
Which is the question you never get? Please ask it and answer it?
-Do you want to have a big contract with a big label which really cares about you, they support you in your work and they do everything for you as a band so you grow and you will earn enough money on your music? Answer: Yes!
How do you look on the mp´3 thing? Do you download yourself?
-Wow, this is a hot area. MP´3 is really good. It let demobands to have a real good possibility to come out with their music(even if not many people seem to care nowadays) And the format is really good and it have been forming inventions like the mp3-player.
Downloading? Yeah, but only demomusic and not commercial music. I´m honest! Now it sounds like hypocrisy when I said that I don´t download music but I don´t do that except with unsigned artists who have put their songs on the net. I haven´t put downloading in system which many people have done and I don´t have DC or some similar program installed.
But I don´t buy new records very often but I´m buying a whole lot of yesterdays news for 99:-. And for me that´s not a thing for me to download the records because I think a record is worth 99:-. A record bought as fools when it came and then the prize was 99:- and I can surely pay so much for a record I will listen to again and again.
The worst thing is that I´m being bored by people who thinks that I waste my money on music. Waste it on music? I live for music. And it´s so odd that it's many musicans which is spokesmen for downloading. I don´t wanna be with the ones who murder the musicscene, because that it was going to happen- both big and small companies- if the downloading is increase.
Will the labels murder them self?
-It´s maybe crash, because of the fact that it has been so legitimated to download MP:3:s but it´s not totally their fault. OK, they should have approached the technique before it went so wrong but the attitude which have been growing foreward among usual people is unacceptable.
Yeah, let people download records if they want – I actually got Moneybrother copied from a friend – but it´s really embarrassing to justify the fact, that you use the things that people have worked in with years, to say that the records is too expensive. I don´t steal a car only because of the fact that I don´t have the money to buy one.
Futureplans for the group?
-We must come out and gig more, try to spread our new demo as fast as it´s ready. Right now we send out"Fem berättelser…" all the time to a lot of summerfestivals and we hope that people will open their eyes and see us. It would be fun to come out and play a little in the country and that we can maybe get more than one writing in the guestbook every month
Futureplans for yourself?
-Complete my studies and it will be done to christmas and play a lot more, more and most and develop both as a musican and lyricwriter. I must try to get in more creativity in my life and don´t let the anxiety for the future, work, apartment and so on destroy my lust and will to do music.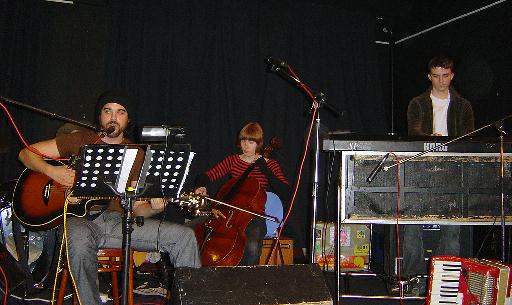 Wisdomword?
-A little insight is all the stress I have felt to come somewhere in everything I have done. Don´t stare yourself blind on the endgoal and the long way to it, try to be happy during the journey. You don´t maybe don´t want to go where you striving and then it´s important to have fun and that you have enjoyed everything you have done, so you can change track without that you feel that you have throwed away many years of your life.
Something to add?
-Thanks a lot for the interview, I don´t hope the answers got too long. Hen this have been written we have put cello into the new record and we will put on the vocals and do a the last mix during next week. I send a record to you when we´re finished. I precisly read your review of "Fem berättelser", and got really happy – I hope that "Allt Tar Slut" is apprecaited as much as the last.
Feel good
Daniel Saidi
----------------------------------
http://www.saidiochkollektivet.com
----------------------------------