Rykers is an old hardcoreband which is on the streets again and playing their fast, hard and aggressive hardcore for us. Here they tell me in some words their story….june 2014
Please tell me the history of Rykers?
G:I guess it takes too long to tell the whole history on that way,Please check out our website for all details. www.rykershardcore.com
Have you played all the time or do you have had any breaks?
G:We had a break from 2000 till 2008. 8 fuckin Years.
Have it been many changes in the line-up?
G: Back in the nineties we start playing with a second guitar player for a while…Right now we had a new drummer and a new second guitarist.
Have you ever been doing any songs in any other language than english?
G: No we don't, I think nobody in RYKER'S speaks any other ;-) we're dumb.
What are your lyrics about, what inspires you?
G:Live for sure,things we see everyday,handle with whats going on in the worldissues.
Is it important to have lyrics which is about something important if you say so(I mean not only lovesongs or so)
G: When you have something so say…say it.! if not ok.We always have something to say in our lyrics…check them out!
Which is the most political song you ever have written?
G: I just can't name one most political Song…there are Political Stuff in so many…Most political song from our new record is "The World as I see it today"
The best political band you know, I mean which band writes the best political lyrics?
G:Dead Kennedys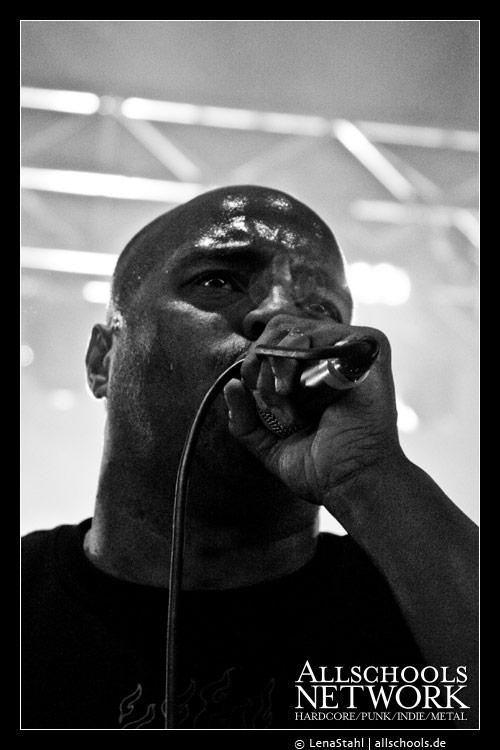 Please write down all the records you have done?
G:Ground Zero,Lesson in Loyalty,Life's a Gamble…so is Death,From the Cradle to the Grave,Hard to the Core.
You´re on a new label now, is that a good label?
G: Yeah,we're on BEATDOWN HARDWARE right now…a small but growing Independent Label from Germany. and it's awesome, these Guys do a lot for us…Thanks to Toni on this way;-)
How much do a record with Ryker´s sell today?
G:Enough
What do you think about downloading and all that stuff?
G:I think it's a sign of the time that we living in right now…
Is it good or bad for a band like yours?
G:For the making money thing it's bad for bands getting ripped by the Internet. Personally I don't give a fuck.
I know this is a boring question, but what is Ryker´s mean?
G: It came from the Prison RYKER'S Island ,based on a punisher comic scene… you have to be in Comics to know what I mean.
Is it important to have a good name on the band, which is the best bandname you know?
G: I Guess it's more the music…but a good name that people can remember was not the worst thing.
Is there any good bands in Germany right now?
G:For me as a person who grow up with Metal it's Scorpions,Kreator for all the years, in Hardcore at this time… I like NASTY,FINAL PRAYER.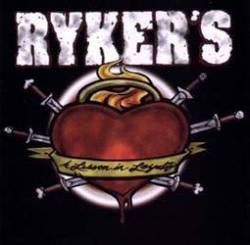 In the world?
G:Wow,in the World…KISS, Iron Maiden,Slayer these Band had most inspired me. Later when I came to Hardcore Cro-Mags, Agnostic Front, Leeway, Crumbsuckers. Right Now definitely Hatebreed.
What do you know about Sweden?
G:Nice Girls.
Have you heard any good swedish bands?
G: Oh yeah,ENTOMBED, DISMEMBER, BATHORY…a lot of good Metal Bands.
Have you been outside Germany and played anytime?
G:Yeah,we play a lot outside Germany. Touring whole Europe thru all these Years, best thing for us I think was the Legendary CBGB's in NYC!
Where is the best place to play?
G:It's hard to say,we love to play festivals in summer but also club shows with 100 People is a nice one. Being on stage it's the best place!
If you compare to be a punkband/hardcoreband now and when you began to play, what's the biggest difference?
G:I Don't think it's a big different, it's more like an evolution for me. Starting with punkrock like Ramones going more to the heavy guitars like the Cro-Mags did. Every hardcoreband I grow up with starting listening to Punkrock!
What does punk mean to you, is it only a word, or is it a lifestyle?
G: It's always a lifestyle for me it starts in the mideighties when I listening to bands like 7 Seconds, GBH, Exploited. Hangin around with friends and people had the same attitude.
Please rank your five favorite records, five favorite concerts and five most important things in life?
G:Kiss-Alive II, Overkill-Feel the Fire, Cro-Mags-Age of Quarrel, S.O.D.-Speak English or Die, Exploited-Troops of Tomorrow.
Maiden Live in 86, Helloween 86, Murphys Law, Agnostic Front, Quicksand.
Stay healthy, Girls with nice Boobs, German Beer, Gibson Guitars, Friends.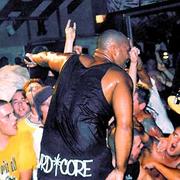 First, last and most expensive record ever bought?
G:First Suzi Quatro-Single, Last Black Label Society-Catacombs of the Black Vatican. Expensive was a W.A.S.P. Shape (Blind in Texas) back in the 80's for 120.- Marks
The record you bought for the cover and you got so disappointed on?
G:New Kids on the Block ;-) muhahahahaha
Is there any band you really want that they shall do a new album(I mean a band which isn´t playing together anymore or which haven´t done a record for a very long time?
G: Wehrmacht!!
Futureplans for the band?
G: Yeah, going on as long as we have fun and writing good songs together.
For yourself?
G: Get married to a pornstar;-)
Please tell me a little about ever member in the band, age, family, interests, work and something bad about every one?
G: Kid D.-Vocals, Grobi-Guitars, Fusel-Guitars, Chris-bass, Flo-Drums
Wisdomword?
G: I don't give a Fuck
Something to add?
G: Hardcore Lives!!!!!!