Please tell me a little bit history of the group?
-Rum Rebelion started as an all-acoustic project (fiddle, bouzouki, Irish whistle, acoustic guitar) in January 2005. We drank and busked around our hometown. We added electric bass and drums and played our first venue show in January 2006. We recorded our first album in the end of 2006 and did our first tours in 2007. Greg joined on electric guitar in 2008 which changed the sound dramatically. Since then we've had various band members come and go. It's taken awhile but we finally feel like we have the exact right people in the band now. We leave on our sixth US tour in a few weeks, in support of our 3rd full album release "Another Round".

Please tell me a little about every member in the group right now, age, family, work, interests and something bad about everyone? Earlier bands?
-Dave-acoustic guitar and vocals.
Dave is 40 years old, has three teenage kids, is an original member of the band, and is an elementary school music teacher.
Greg - electric guitar
Greg is 39, has one young daughter, and works as a pipe fitter. Greg played in All Out for several years in the early 2000's and has played bass for Beerzone and Control during their US tours.
Tyler - Irish whistle
Tyler is 29 years old, is an original member of the band, and works at a printing shop.
Jon - drums
Jon is 26 years old and is an auto mechanic.
Hyatt - bass
Hyatt is 22 and works at the same shop that Tyler does, where they have secret band meetings without the rest of us.
We are all into outdoors type stuff like whitewater rafting, camping, hiking, and having BBQs. Most of us are in relationships but none of us are married.

I can hear a lot of folkpunk in your music? But also a lot of old punk? Am I right? Favorites from the past?
-Yes, you nailed it! We listen to a lot of bands like Cocksparrer, Booze n Glory, Perkele, Street Dogs, Stiff Little Fingers, and The Pist, along with more celtic-influenced bands like Blood or Whiskey and The Pogues.

Rum rebellion are you satisfied with the name?? How did it came up? Which is the best bandname you know?
-Rum Rebellion was an actual historical event that happened in Australia in 1808. William Bligh, the conservative asshole governor of New South Wales territory, tried to put a stop to the common practice of using rum like money…people traded with it. When he tried to stop it there was a popular uprising, the the army turned on him. They found in cowering under his bed in the governor's mansion and send him back to England in a rowboat. Mutiny, one of the bands we were strongly influenced by, wrote a song about it which we covered on our new album.
Best band name: Raw Dog and the Close Calls. They're a local band in our town, they play dirty rock n roll…the name is hilarious and it fits them perfectly!<![if !supportLineBreakNewLine]>
<![endif]>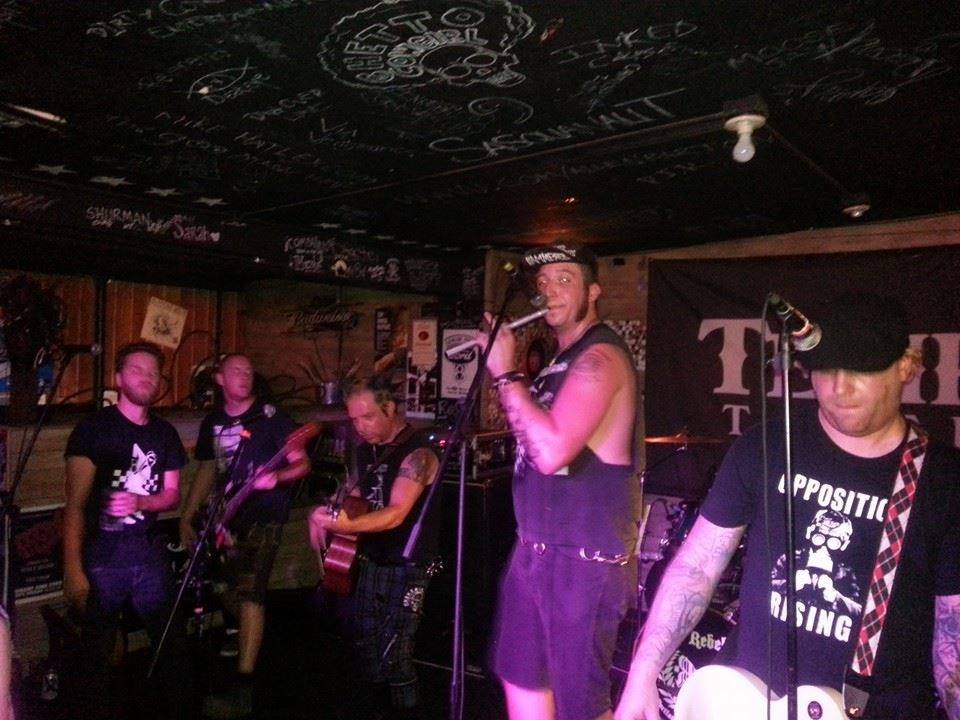 <![if !supportLineBreakNewLine]><![endif]>
What´s the best thing with playing live?
-The best thing is going to a city we've never played at before and having people know the words to our songs and singing along. It's pretty cool to know that all our hard work over the years is paying off. Rum Rebellion shows are always a party!

And where is best to play? And the worst place?
-Portland Oregon, our hometown, has an awesome scene and everyone is very supportive of us! We've had a lot of fun in Salt Lake City UT, Boston MA, Austin TX, and tons of other cities. Worst place is probably Spokane WA. Cincinnati OH has been rough for us too.

How is to play this sort of music in USA right now? The difference from when you started to play and now?
-When we started there were a lot of bands playing celtic-influenced punk in our region of the US but now there are very few. Most of the folk-punk scene has gone more towards a gypsy-type sound or Americana string band sound. We've moved more toward street punk and oi!, and those are the types of bands we usually play with.

How would you describe your music in three words?
-Anthemic Celtic Oi!

What does punk mean to you, is it only a word or is it a lifestyle?
-It's very much a lifestyle. My ex-wife divorced me when we finally discovered that punk was not something I was going to grow out of.

How do you see on downloading, mp3 and that stuff?
-The internet has changed the way the music gets out into the world. Nowadays it's probably the biggest way. It has both good and bad sides to it. You can't fight it. All the illegal downloading definitely makes it hard for smaller bands from a financial view, but it also makes it easier for people to hear your music.

How is it to live in USA now? Politically?
-Portland Oregon is a mecca for the strange. It's a very progressive city compared to most of the US. Marijuana is legal now in Oregon (we are growing in our backyard and the cops can't arrest us!) State laws seem to be more important than national laws. The US is very different from region to region - the West coast of the US is the most forward-thinking part of the country, while the Southeast is the most conservative. All of us in the band are hoping that our next president is not another conservative religious douche like George Bush or Reagan, although people like that have inspired some fucking great punk songs!

Is there any good bands from USA now? Is the punkscene big? How is it in your hometown?
-There are hundreds of good US bands! We've built a pretty strong relationship with Opposition Rising from Boston even though we play totally different styles. Some strong up-and-coming bands are Sniper 66, Avenue Rockers, and Evacuate. Portland Oregon, where we are from, has one of the best scenes in the country - we have a huge local scene but also a lot of well-known bands who tour nationally & internationally, such as MDC, Defiance, Poison Idea, Tragedy, Wehrmacht, and PROBLEMS. We have a big metal scene here too.

What do you know about Sweden?
-Unfortunately not much. None of us have ever been to Europe before! We are trying to change that. The metal scene from Sweden is legendary as is the D-beat scene (bands like Anti Cimex).

Have you heard any good bands from Sweden?
-Perkele is huge favorite of all of us. A few of us listen to Opeth.

Your lyrics, who does them and what influences you?
-Dave writes all the lyrics. Rum Rebellion shows are parties, so we try to write songs that will get people singing along and moshing in the pit. Often times our lyrics are just about drinking and having fun. Sometimes we write songs about unity and against racism since racist people can sometimes be a problem in our city. Other times our lyrics tell stories.

Is there any subject that you never will write anything about?
-We stay away from love songs…that has been done far too many times. We also don't want to get too political.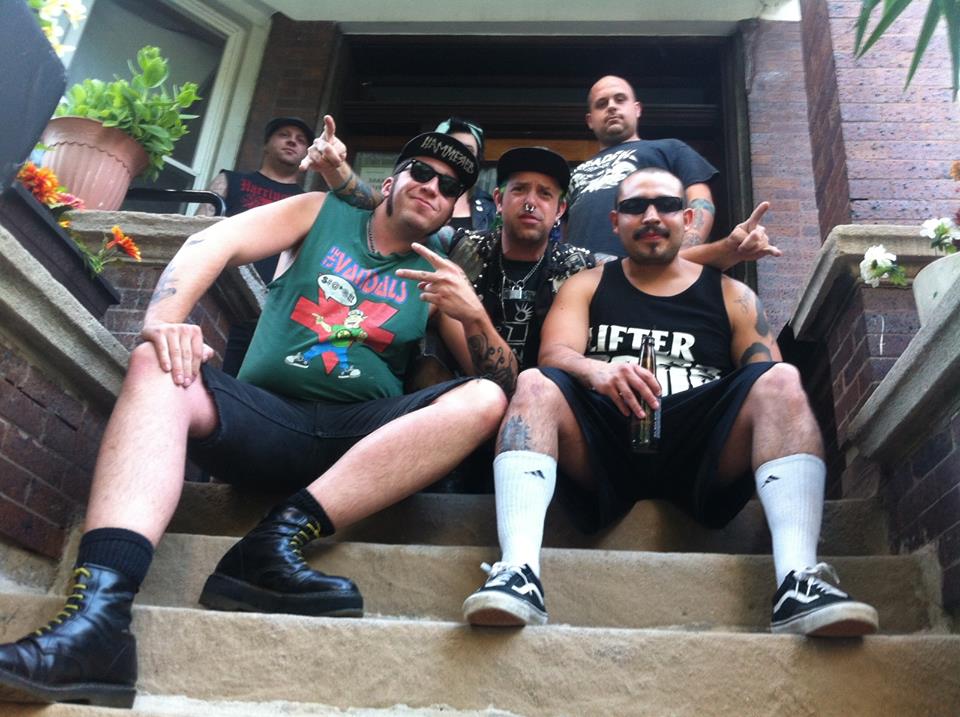 Politic and music, does it goes hand in hand? Is it important like you do take a stand against think you don´t like and like?
-We try to write more about what we are for than what we are against. We are all about punks and traditional skins unity so we write about that. We don't write much about current political situations, war, bullshit laws, stuff like that. There are a lot of bands that already do that. We want our albums and our shows to be about having a good time so we write about that. Most of our songs that have a more angry feel are about standing up against ignorance as a whole. We don't want to tell people what to think, just encourage them to be intelligent and not be selfish bastards or ignorant pricks.

Best political band/artist?
-Aus Rotten

Do you think that music(lyrics and so on) can change anyones life, I mean people who listens to music?
-It can't necessarily change anyone's life but it does push people toward the things they already identify with or want to identify with. Whatever you want to believe you can find music out there that will reinforce that belief. If someone wants you to believe something they can use music to strengthen their argument but it seems really unlikely that music alone can truly change someone's path in life.

Your cover on your CD looks really nice, is it important to have a record cover which shows people which type of music you play? … Your favorite recordcover? Who does your covers?…
-We've never done an album cover like this one before but we are all really happy with how it turned out. Every album cover should somehow represent the music contained within the album. Our album covers are about the music and not about the band members...I don't think we will ever put our pictures on a Rum Rebellion album cover unless it's a live photo for a live album. Our friend and tattoo artist Dan White draws our album covers and does most of our graphics for us. I think every one of us has at least one tattoo by Dan!

Is it important to get out physical records of your stuff? Why or why not?
-Definitely. Vinyl is making a huge comeback and honestly vinyl has the best sound. Digital copies of stuff can get lost easily when technology doesn't work right, and a lot of people collect vinyl and CD's.

Please tell me a funny thing which have happened during your career and under some gig?
-One time we were playing a festival inside a huge automobile junk yard in Washington state. The stage was made of cheap plywood. Our whistle player Tyler is very tall and he was very drunk, dancing around onstage. Suddenly one of his legs went right through the stage and he got stuck there, right in the middle of a song. People from the audience came up and yanked him out. The song never stopped.

How does your audience look like? Which people do you miss on your concerts? Which is the biggest band you ever have played together with?
-Our audience is usually a mix of street punk kids in spiky vests and mohawks and traditional skinheads. A lot of different ages of people come to our shows which is cool. We have fifteen year-old fresh cut punks rocking out next to sixty year-olds. We are very grateful to have played with many well-known bands. The biggest band we've played with is probably The Misfits although it was a terrible show!

Please rank your five favoriterecords, five favoriteconcerts and five most important things in life?
-Oxymoron - Fuck the 90's
Stiff Little Fingers - Inflammable Material
Cocksparrer - Shock Troops
Flogging Molly - Drunken Lullabies
Street Dogs - Back to the World

Punk Rock Bowling festival in Las Vegas Nevada is a huge party that we love going to!
Watching Neurosis perform their Through Silver in Blood album while on mushrooms was an experience I will never forget.
One time we played on the Navajo Indian Reservation in Arizona. The culture there was so different…most of the people there had never left the reservation in their entire lives. By the time we left the reservation they declared us honorary members of the Navajo Nation.
The coolest show we ever got to play was us, Krum Bums, The Tossers, and Street Dogs. That was the first sold-out show we ever played.
Seeing the Rancid and Cocksparrer concert in San Francisco - two of the biggest punk/oi bands in the world together!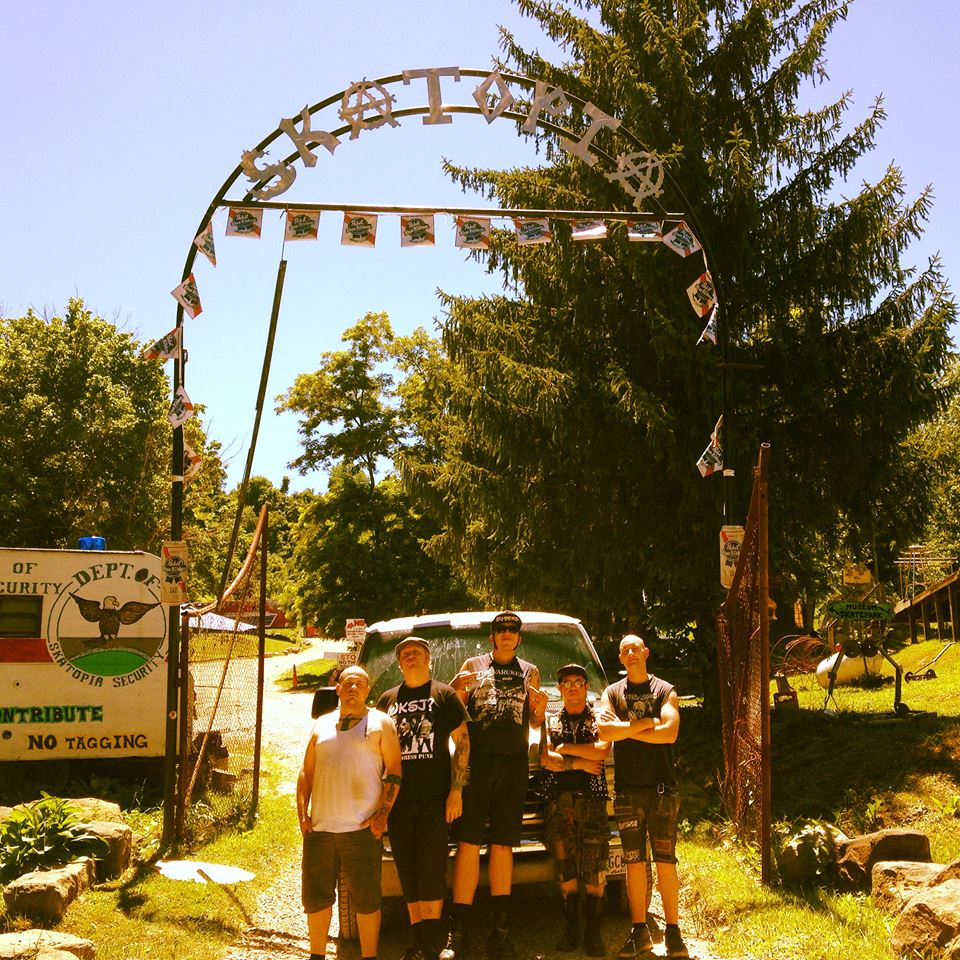 Is it boring with interviews? Is it much interviews??
-Sure interviews can be tough sometimes. Sometimes we do a lot of interviews, then sometimes we do none for months. Live interviews can be strange because you usually don't know what the interviewer is going to ask you. One time an interviewer was asking us about favorite cities to play and two of our bandmates who were really stoned answered based on which cities had the best Mexican food.

If you could choose five bands from the past and the history and nowadays and both dead and living bands to have a concert together with your band. Which five have you been chosen?
-Oxymoron, Cocksparrer, Perkele, Filth, and The Pist.

Is music a good way to get out frustration and become a nice person outside the music??
-Music definitely helps alleviate frustration unless you've got a deadline to have a certain song ready and you're struggling with a section of it at practice, in which case playing music can become a source of frustration. But when you're on stage it's always fun and you feel exhausted but great when you are done playing.

Which is the most odd question you ever have got in an interview?
-What products do you use to charge your mohawk with?

Futureplans for the band?
-Tour Europe!!! We also are planning our next record release, which will be a double-album: one record with a more traditional sound and using more traditional instruments, the other record a balls-out punk album.

For yourself?
-Get my neck and head tattooed once I retire from teaching. Too many tattoos can make it hard for my kindergarten students to learn and I don't want to deal with conservative parents judging me on my abilities as a teacher because they don't like how I look.

Wisdomword?
-Results NOT Excuses. You want something out of life - make it happen! Get out there and enjoy your life!

Something to add?
-We didn't know anyone in Sweden had ever heard of us before! Hopefully we will make it there in 2016!
Cheers!
-Dave / Rum Rebellion