It´s really funny how I managed to get Lasse in Rude Kids for an interview. Of course of a chat I get contact with him, he tried to downlaod a concert with Rude Kids live on Fyran. I asked him there if it was possible to interview him. He gave me his mailadress and then it was shown that it was his 16 year old son who have answered me, not the interview but that it was Ok to interview Lasse. This happened in November 2003 and here´s the interview.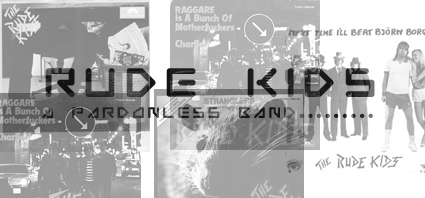 How did you start to play and why?
- I and Lasse (Throw-it) the drummer was grown up together as neighbours and we started to listen to heavy metal in the early 70´s with groups like Zeppelin,Sabbath,Uriah Heep,Alice Cooper and so on. And already there we felt that we must begin to play ourselves. It was around 76-77 somewhere. Another mate have precisly heard the new punkstyle which we didn´t get at all. He came home to me with Ramones first LP and it was enough with one listening and then we were sold to punk. It grow and grow and then we started to buy punksingles as much as we could. It was Lurkers Shadow which I remember as my first punksingle. Throw Its mate Ola(Space) have been to a languagejounrey to Brighton and was musicinterested and he became the bassist. We got a rehearsalroom in Hagsätra-school and there we began to take some heavymetalriff mixed with punk. Böna was another guy who was neighbour with us and he knewed everything about rockmusic and he had travelled and seen the most already then. He knew everything. We wanted to have him come to us and see os rehearse and he did so. I started to play hey ho let´s go Ramones. Böna took the microphone and started to yell. And then it was ready, we had found our singer and what a singer! HAHA!
And how did you get your contract with Polydor?
- After we had written Raggare is a bunch of motherfuckers in a studio in Örby which we have paid ourselves Böna said that we must have a record contract. Ha was around to a lot of labels but the most only wondered what the hell he had and what is was for shit he came with. But on Polydor we met a guy which was awake and his name was Bengt Eklöf /Esa) He went into the recordlabelmanager and said that this was something which could be a hit. The boss said yes and they took the demo and pressed it in 5000 and then we sold it and we did a single and LP also on Polydor.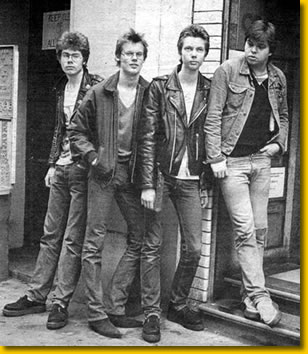 Did the punks thought that you have been a sellout now?
- yeah, it was some politivalpunks who tought we have been a sellout now but we didn´t care about them. We played at Oasen anyway. It was Ebbas and Grisen Skrikers surroundings. But it was some englishsinging bands like Pain,Cathy & the heat which never said anything.
The punkmovement then was so that yiou couldn´t earn any money on punk, did you ehar that a lot and did you work in this time or weas the music your job?
-The music was´nt anything we could live on. I was a plumber, Böna was a baker and Throwit and Space was in the school.
What do you do today and what does the other members do?
- You, were middleaged "normal" people now. I and Space is sellers. Throwit does advertisment and have his own firm. Nisse who came into the group 1980 we don´t have any contact with him. He became religious in Jehovas witness and we didn´t saw him more.
Was it someone of you who continued with music after Rude Kids?
-We played together a little 86-87 and record a poppy demo where I was singing. Halkan Hallqust was in the studio with us. I have the music on CD at my home.
You were one of the first swedish bands which became famous in England(nowadays it´s more common), please tell me?
- Böna was really good to come in everywhere. He took the train to England with some Raggare-singles which he gave every paper in England, on Melody Maker, NME and so on. And then we all travelled to England and did an interview with Tony Parsons on NME. I have the article home. Two whole sides and really good critics. I don´t know why but the single became this years single in the paper Bomp and it got really good critics in UK if you compare with Sweden. It is maybe so that you can be a prophet in your homecountry.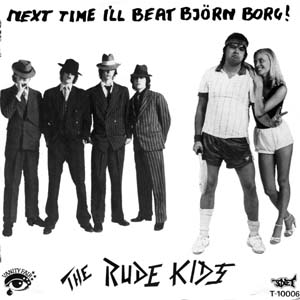 Did they understand what raggare was/is?
-.HE HE, we tried to explain for Tony P what raggare was. Tony wrote in NME: The raggare = imagine the ku klux klan without the omo man duds and instead tarted-up to resemble extras in Grease and you got it ! HE HE really fun I think!
You was beaten down on open streets, or was it more than once?
-.Beaten down on open streets was to say too much. We have been hunted by raggare many times. We had to cancel one concert in Västervik once because of the fact that the police couldn´t promise or safety.
What did Stranglers thought about your "hatesong" to them? And what did Björn Borg think about "his" song?
- I have heard that Stranglers Hugh Cornwall liked us as a fan and he wanted to have us a support act. Unfortunaly it didn´t went out so. Björn Borg was a har dot get icon then but we were om Stockholm Open-80 and we gave him the single after the match outside Kungliga Tennishallen but he didn´t react so much.
You did Safe Society, the mini-LP and four singles or how was it? No thought about get out the whole shit on CD? It´s maybe enough with a double CD to get it all out
- That´s right. We have done a compilation CD Worst of…a pardonless collection which came out on Dolores Records 1998. Now is the record hard-to-get. I can burn it to you if you want. Do you want it in original you must find it on some record collector store or something like that.
It was a punkgig which was called Swedish Punk 25 years some month ago, you wasn´t asked about being on that? What do you think about gig like that anyway?
-We wasn´t asked. But it was a rumour somewhere taht we shall do a gig in Hultsfred with Ebbot on vocals. HAHA it had been fun!!Ebbot is king…
What was the most funniest to be in a punkband in that time?
- The most fun was that we could do own songs and the livegigs which was really sweaty and fun, we had so much fun at that time.
Isn´t it a little bit unfair for the youth today which must have very hard to chock their parents and people around, in our time it was enough to shave your hair or something similar to make people look after you? What shall they do today to chock people
-You can surely chock today too but it was a different time then.
What does punk mean to you today and what did it mean to you before? Has it formed your life today?
- The punk have been very important to me. But I must admit that it´s only muscally. It was so many good bands. I´m not more affected than I get very happy when my kids listen to punkmusic.
How was a good gig with you?
-A good gig was when we were really tight. Unfortunately we was boozing a whole lot before the gigs but it was really messy in front of the stage.
You was a little bit different to other swedish punkgroups because of the fact that you singed in eglish? Why english?
-We though that english suited us best. But we wasn´t alone about it.
What happened after that, you started to sing in swedish and sounded a little like Gyllene Tider?
- Then I wasn´t in the group. I get tired 1982 when the guys wanted to sing in Swedish and started to pop themselves up. I left and Janne Stridlund came in on guitar and keyboard. Throw-It and Space isn´t proud of those last two years.
Böna died(in a car acciden,wasn´t it) and you hadn´t any thoughts of continue without him or?(
- When Böna died 1983 Rude Kids died, that simple was it.
How long do you think you have been playing if he´s have been alive?
- I don´t think the band have been going on for so long after that. The records didn´t sell and noone wanted to listen..
Many old rebels like Joe Strummer, Joey Ramone, Dee Dee Ramone and so on have died, do you think punks lives a harder life than other people?
- I don´t think punks lives harder than other people.
Please rank your five favourite records, five best concerts and five most important things in life?
- My 5 best record in no particular order is. Ramones-Ramones. Behind the music-Soundtrack of our lives. The Smiths- The Smiths. Never mind the bollocks- Sex Pistols.
Lust for life- Iggy Pop.
My 5 best concerts without any particualr order is. The Who-Wembley -80. Springsteen- Ullevi -85. Ramones- Domino-79. Iggy pop Domino-79. Jesus & mary chain- Brixton Academy,London.
First, last and most expensive record ever bought?
- My first record was Deep Purple- Made in Japan. My latest Bo Kaspers orkester latest. Most expensive?? An Areomsith box I think..
Which is the best swedish punksong?
- Va skaru bli, Ebba grön. What a song !!!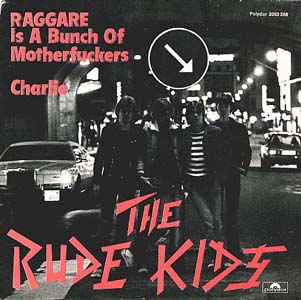 The most important punkband in Sweden except Rude Kids?
-.Ebba Grön!
I´m thinking about in the past when you played, what did your parents like it?
- Our parents thought it was OK. I have always been encouraged. They realised that we were young and angry.
What was the difference between the gothenburg-stockholm-northern and southern Sweden punk?
-It´s hard to say. In Gothenburg have it always been more political. And in Stockholm there was glampunks. Northern Sweden have woke up more nowadays with bands like Wannadies and Shara Hotnights which I really like much.
You can maybe think that your lyrics was a little bit naive but it was some thoughts behind them, or?
-Yes, they were naive. And it was just because that they were so typical swenglish. But I think that Böna was a really good lyricwriter.
We got polarbears on our streets, where did that title came from?
- It was a fun thing. Böna meant that people abroad had a certain picture of Sweden and therefore the title. Do you read further in the lyrics so comes more myths and what is "typical" Swedish. "We got blond girls they never say no. Very high taxes and no beer !
How do you think it´s to live in Sweden today?
-.Yeah, we have it good.
How did you react on the following things, The terrorattack, The Iraqwar, The murder of Anna Lindh and the murder of Sabina 5 years?
- The troorattack-cruel, really unreal, Iraq-it´s to fucking wronmg that a big power take any rights and do as they want, The murderers- awful, but it happens everey weeked but it´s not so big in media and that´s maybe lucky.
Which are your future plans? Or shall an old punkrocker say no future?
- He he- My futureplans I have behind me. No, that was joke. I have a family today. I follow Djurgården soccer very much. Listen often and much on music.
Wisdomword?
-Have fun when you have the time.
Something to add?
-It´s fun to hear from you and that you could much about Rude Kids. Maybe we see each other in Gothenburg when GAIS have reached the Swedish Premier League and Djurgården comes and visit you. ROCK ON!!!!!