Rotten Ponies plays hardcore/punk in a pleasant way. They comes from Italy and here have three of the member been answering the questions in May 2016.Marino (MR), Francesco (F), Mattia (MT). Where it´s not noted, it's Marino answering.
Please tell me a little bit history of the group?
-This project was born in 2011-12 as a sort of joke between me and a good friend of mine, Gabriele. We started recording a few songs at home with him playing drums and guitar and me playing bass and singing. After a while and going to a few gigs together we thought we could try doing something more serious so we found ourselves a drummer (Jack) and started playing local shows with good reception from a lot of people. After a while things became too much of a burden for Gabriele and Jack so we brought in Francesco (guitar) and our newest member Mattia (drums) who's been with us just for a few months now. We are located in Ivrea, a little town near Turin.
Please tell me a little about every member in the group right now, age, family, work, interests and something bad about everyone? Earlier bands? Other bands on the side?
-MR: I play bass and do most of the singing. I'm 28, I work in a call center. I love travelling around the world, playing football and of course music! No past band experiences besides a few temporary projects when I was younger. I can't really say bad things about the other guys, mostly because they are here with me right now… -
F: I play guitar and I attempt to do side voices; I'm 23 and I study as a professional educator at the university of Turin, I work here and there when I get the chance, and the rest of time I spend trying to compose drum and bass and hardtechno music. Also I help to run a little squat in our town, the CSOA Castellazzo. I had a melodic HC group when I was a teenager with Mattia called Ameba Skid with a single EP released. –
MT: I play drums; I'm 22, I studied as a game designer and I am looking for a job in that area. I practice crossfit, I played in Ameba Skid as well, then I played also in a rockabilly band and in a blues one.
I can hear much different influences, much raw music but not the usual itailan hardcore, ….american hardcore? Favorites from the past?
-I will answer this one cause I did most of the writing on the album. I've always loved american punk, my favorites growing up were Rancid, Circle Jerks, The Forgotten, Black Flag, Dropkick Murphys, Leftover Crack and a ton of other street punk and skacore bands. For many years I was never much into italian hardcore actually (that came later on with the years), and I guess it kind of shows in our work. Then again of course there's much influence from italian bands as well, specifically Nerorgasmo and Skruigners - in this album I tried to mix a bit of everything.
Rotten Ponies are you satisfied with the name? How did it came up? You weren't afraid that some other band would be named like this. Which is the best bandname you know?
-MR: It came up as a demential name cause in the beginning it was all kind of a joke, it started with Cani e porci e pony marci (dogs and pigs and rotten ponies), then just Pony marci, and then we just translated it into Rotten Ponies. I like it! I think it's very unique, and I don't see likely that someone would take the same name. The coolest bandname I can think of right now is definitely Nido di Vespe, who are an Italian band. It translates into "Wasps Nest". I also like Black Flag. Last Resort.
-MT: I love our name, it's fun! As for the best band name I know, that would be "NOISIA", which is a d'n'b trio.
-F: I like the name of our band, it's peculiar even though honestly I would have preferred and Italian one. I like "L'invasione degli omini Verdi" (the invasion of the green little men).
What´s the best thing with playing live?
-Probably the energy, and the empathy between us and the crowd that can only be generated in that unique, beautiful moment when you're screaming your anger and feelings at the top of your lungs and there's people dancing and slamming to it. It's a pretty cathartic experience. When you see someone can actually relate to the lyrics, too. And getting to meet old and new friends of course.
-MT: Drinking lots of beers during songs breaks, cause I sweat a lot!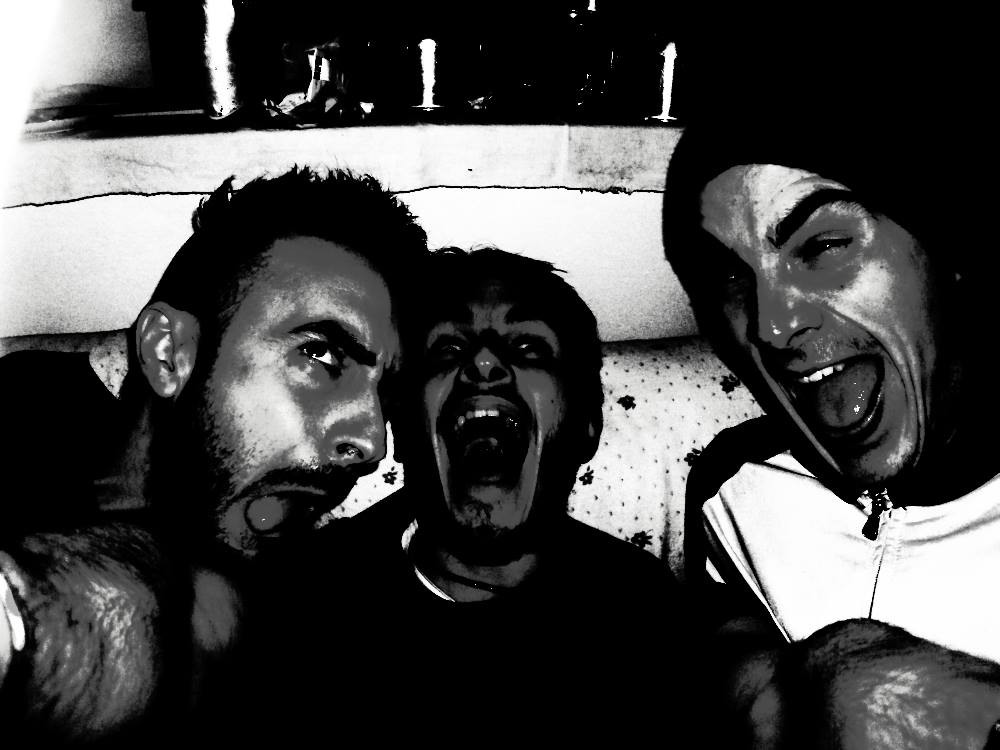 And where is best to play? And the worst place?
-The best places to play in are often squats or TAZ parties. We've played in a few clubs in the past and it's not always been as much fun (even if the sounds are usually definitely better!). Maybe this could change in the future, i don't know. We haven't played THAT many shows.
How is to play this sort of music in Italy right now? Which types of bands do you have concerts together with?
-Luckily there's a core of people who strongly support the scene here in Italy, we'd say there's definitely something going on in the underground, even if at times things can seem stagnant. Of course we're not talking about anything mainstream, there've been a few famous bands in the past but the fad is gone. Not that we would care much about, anyway. We mostly play with other hardcore and punk rock bands, usually bands that come from Turin and the surrounding area.
How would you describe your music in three words?
-MR: Fast, mean, angry.
F: Simple, short, fast.
MT: Powerful, sweat, beer!
What does punk mean to you, is it only a word or is it a lifestyle?
-Definitely more than a word, and definitely more than a lifestyle. Growing up i always felt like the weird kid in the bunch, so I've always seen punk as a world where I could be accepted. I can say safely it completely changed my life around, so. The music is a huge part of it of course, and "looking the part" is another piece of it, but i wouldn't say either of those are or would even be necessary to "punk". It's a complex mix between music, attitude, fashion, it even has something spiritual I might say.
How do you see on Italy now? Politically? Have the mafia big influence?
-Everything going down the drain, the economy is crumbling and there's no jobs. What else can I say? Of course there's bound to be something rotten in the upper spheres. Politics are a terrible category anyway.
Is there any good bands from Italy now? Is the punkscene/hardcorescene big? How is it in your hometown?
-Our favorites from Italy are definitely Congegno, Attrito, Sud Disorder, Plakkaggio, Inganno, but there are a lot of other great bands, some of which we've played with. Turin has one of the biggest scenes around, not so much in Ivrea where besides our CSOA Castellazzo there's absolutely nothing going on.
What do you know about Sweden?
-I've been there a couple of times and travelled it by car one summer a few years ago. I loved it. I loved the places and the people, there's only one terrible thing in your country: the abomination also known as "beer sold outside systembolaget". I also know this: "dra åt helvete!"
Have you heard any good bands from Sweden?
-Honestly I don't really know any Swedish bands, I could bet there's one or more I listened to that I liked, but I can't recall right now. I remember seeing a Grindcore band called Femtekolonnare in Uppsala once. They were fun.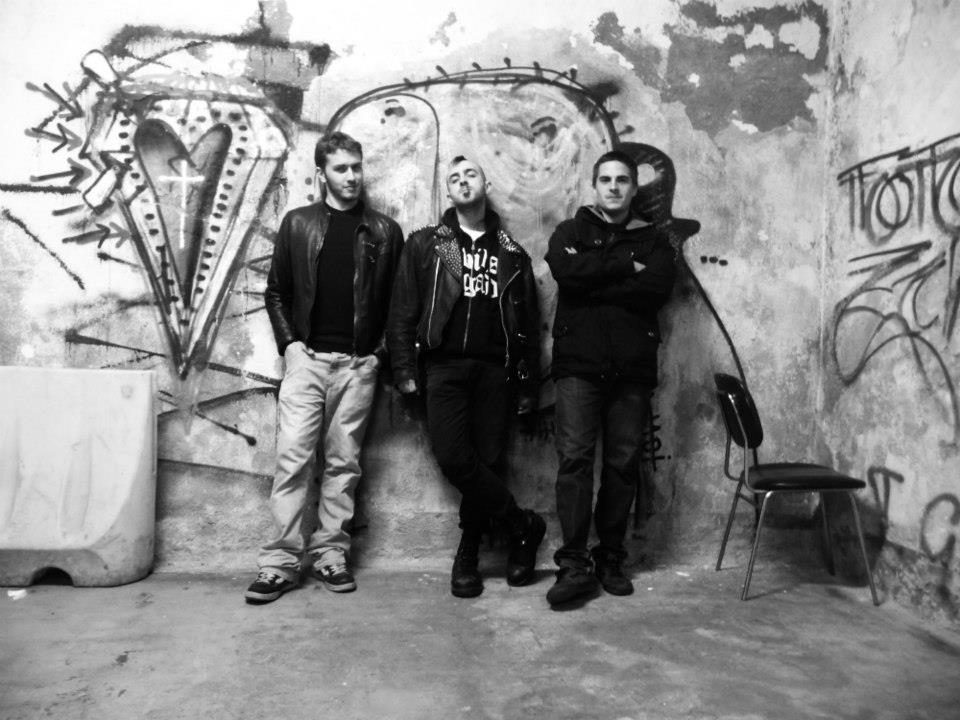 Your lyrics, who does them and what influences you? Is it easier to do lyrics now or was its easier to do it when you was younger? Always in Italian?
-I write the lyrics. Usually they are about personal experiences and thoughts, or something that happened to me or to people I know, which I elaborate on. And no, when i was younger I'd always write in English, since pretty much all of my favorite bands did that. Rotten Ponies is the first project where I started writing in Italian, simply because I thought it would help carry more meaning to the people listening (ironically, with an English band name).
Is there any subject that you never will write anything about? Do you do any covers?
-Probably politics in an overly explicit way. Not that I don't have my own political views of course, but i think there's already a lot of bands doing exactly that and doing it way better than i could. When i choose to write about it, it's usually in metaphors. Yeah, we've covered Heroes by David Bowie in the past, right now we have two: Distruttore by Nerorgasmo, and I don't Give a Fuck by Zeke.
Politic and music, does it goes hand in hand? Which is your most political song?
-Not necessarily, I think. Music has always been there, way before composers or songwriters chose to carry political meanings to it. And I'm not saying it's a bad thing, cause political music raised a lot the bar of consciousness for many people actually; and many of the bands I like could be defined "political bands". Just saying, these two things shouldn't be *necessarily* tied.
Best political band/artist?
-Above all and for their relevance, I'd say The Clash.
Do you think that music(lyrics and so on) can change anyones life, I mean people who listens to music?
-MT: of course, it did change mine. Life without music would really just be hell.
-F: I believe that a right approach with music could really turn your life upside down, influence your friendships, completely change the way you see the world.
Your cover on your CD looks really nice, is it important to have a record cover which shows people which type of music you play? Your favorite recordcover? Who does your covers? And do you have any good recordstores in your hometown?
-MR: Thanks! The cover subject is a friend of ours, we took the photo and edited out his face with the help of a couple of friends. It's got a meaning that relates to the lyrics in the album. Nowadays i don't think a cover really shows which genre you play anymore, unless there's a close-up of the singer's face on it (in which case it's probably shit music, ha). One of the best covers must be Rancid's Life Won't Wait. And i'm afraid my favorite record store here closed a long time ago.
-F: I like Heavy Petting Zoo by NOFX.
-MT: Split the Atom by NOISIA.
Is it important to get out physical records of your stuff? Why or why not? Vinyl, CD, cassette, what do you prefer if you could choose whatever ?
-Yeah, I think it's very important. I grew up with cassettes and then later with cd's, as far as I am concerned a record doesn't really exist until it's printed out. We'd love to print some Vinyls, but they're much more expensive than cd's, maybe in the future.
Please tell me a funny thing which have happened during your career and under some gig?
-MR: A couple of years ago we played with an Australian band called Hailgun, during their set I was completely drunk and managed to rip out one of the bassist's strings while he was playing. Best thing yet, I didn't even realize until he told me after he finished the song. I guess I was lucky he wasn't mad at me. –
F: During our last concert both me and Marino broke our shoulder straps. I managed to fix it, he didn't - so he had to play and sing while sitting on a chair!
-MT: In that very same concert a friend of mine in the crowd broke his very expensive teeth brace...
How does your audience look like? Which people do you miss on your concerts? Which is the biggest band you ever have played together with?
- Well we get all kinds of people really, of course most are people into the punk scene and our friends. I'd say we miss simply MORE people. We haven't played many shows and definitely not with "big" bands, but the best known are definitely our friends My Own Voice, Occhi Pesti, Rauchers.
Please rank your five favoriterecords, five favoriteconcerts and five most important things in life?
-MR records: Life Won't Wait (Rancid), ST (Nerorgasmo), Hell's Ditch (Pogues), Smash the Windows (Mischief Brew), Niente Dietro Niente Davanti (Skruigners) concerts: Pogues, Gogol Bordello, Dropkick Murphys, Nerorgasmo reunion, Devotchka. five most important things... music, love, friends, adventure, experience.
-F records: Americana (Offspring), Pictures at an Exhibition (Emerson Lake & Palmer), 18 Tracks (Springsteen), Lo Spirito Continua (Negazione), Curre Curre Guaglió (99 posse). concerts: Ska-p, Nerorgasmo reunion, Africa Unite, 99 posse, Indigesti
-MT records: ST (Misfits), And Out Come The Wolves (Rancid), Punk in Drublic (NOFX), Hard Times and Nursery Rhymes (Social Distortion), 4x4=12 (Deadmau5) concerts: Nofx , Green Day, Skruigners, Ska-p, Punkreas.
First, last and most expensive record ever bought?
-The first would be some terrible Italian pop band or compilation when I was 7 or 8, I don't really remember! The last one was a few days ago, I bought a cd from a local band called Silvacore. I don't think I've ever bought any *expensive* records.
Is it boring with interviews? Is it much interviews?
-This is the first one actually!
.If you could choose five bands from the past and the history and nowadays and both dead and living bands to have a concert together with your band. Which five have you been chosen?
-MR: LFATB, Nerorgasmo, Dreadnoughts, Black Flag, Germs
F: Negazione, Grandine, Bad Religion, Operation Ivy, Bad Brains
-MT: Skruigners, Motorhead, Bad Religion, Offspring, Foo Fighters
Is music a good way to get out frustration and become a nicer person outside the music?
-Why not! I know gigs and playing help me get out a lot of anger and violence I'd have to keep in otherwise.
Which is the most odd question you ever have got in an interview?
-MT: Once I was asked about our town's carnival, which is pretty famous 'cause of the traditional Battle of the Oranges. The question was pretty much: "does an orange on your eye hurt?"
Which is the question you want to have but you never get. Please ask it and answer it? –
MT: "Do you want free drinks for the evening?" yes!
-F: "Do you hear everything well onstage?" no.
Future plans for the band?
-To start playing more and more, getting outside of the usual territory, maybe tour other countries... and recording a second album!
For yourself? –
-MR: Playing music and travelling until i'm too old to do either. –
MT: I'd love to find a job in the gaming design industry.
-F: I want to go living somwehere in South America, maybe Argentina.
Wisdomword?
-"Vive a vida ao maximo, pelo bem ou pelo mal, mas vive!" which was passed onto me in Lisboa a couple of years ago: "Live your life to the fullest, in good and bad times, but live!"
Something to add?
-Thanks everyone who supports us and the scene, and thanks Peter!