Adriano from Rotten Flies have a record label and he plays in Rotten Flies. Here he have been som nice and talked a little with me about the Brazilian punkgroup Rotten Flies. Feb-2018
Please tell me a little bit history of the group?
-Well, Rotten Flies started in 1990 but I wasn't in the band then. Before I joined the band in 1994 there were other guitarists. In 2013 it was the turn to change the singer and start a new era of compositions and more gigs. We played in places that we had never played before, we travelled to several cities in the country, we took part in festival that was highly regarded in São Paulo, called Punk at Easter (Punk na Páscoa), another Festival with GBH and Ratos de Porão.
Please tell me a little about every member in the group right now, age, family, work, interests and something bad about everyone? Earlier bands? Other bands on the side?
-Beto (drummer) and Cecilio (Bass) kick the band together 'cause they lived in the same neighborhood for years. Beto work at a music store call Música Urbana (Urban Music), Cecilio is an engenieer, Francisquinho (vocal) is radiology technician and I'm a editor of an independent zine newspaper that I created since 2010 and producer of a radio show and gigs. Beto is the only one who had another band, completely different of Rotten Flies sounds.
I can hear much different influences but mostly hardcore 82 etc? Favorites from the past?
-Well, there're a lot! GBH, Varukers, Exploited, Sick on the Bus, Ratos de Porão, Cólera, Olho Seco.
Rotten Flies are you satisfied with the name? How did it came up? You weren't afraid that some other band would be named like this? Why an English name when you sing in portugese? Which is the best bandname you know?
-Man, as I said I'm not there when the band started, so... but there was a "wave" here of putting English names in the bands and singing in English too, but we did not follow that "wave" and the guys prefer to sing in portuguese 'cause the lyrics are much more close to our reality. It seems to me that at the time it was the best name that came up.
What´s the best thing with playing live?
-The public 'cause we never know how it goes! And the vibration to play live isn't compare to anything else. And it's always a surprise, sometimes good, sometimes not so good...
And where is best to play? And the worst place?
-I think that the best it was at Hangar 110 and a small bar at suburb in Brasilia called "Bar da Paulinha", two places completely different but the energy was both amazing!
How is to play this sort of music in Brazil right now? Which types of bands do you have concerts together with?
-Brazil is experiencing an uncertain and very complicated political, social and economic moment. We've never been through this before, and we have no idea what might happen. And nothing better than punk/hardcore to purge it, but unfortunately it's not the music of the masses, there are a lot of good bands making that kind of sound, but in the underground. We have concerts together with Ratos de Porão, Cólera, Devotos, Mollotov Attack, N.T.E (a good punk band from Natal), GBH, Flicts, Ódiosocial, Karne Krua
How would you describe your music in three words?
-Angry with system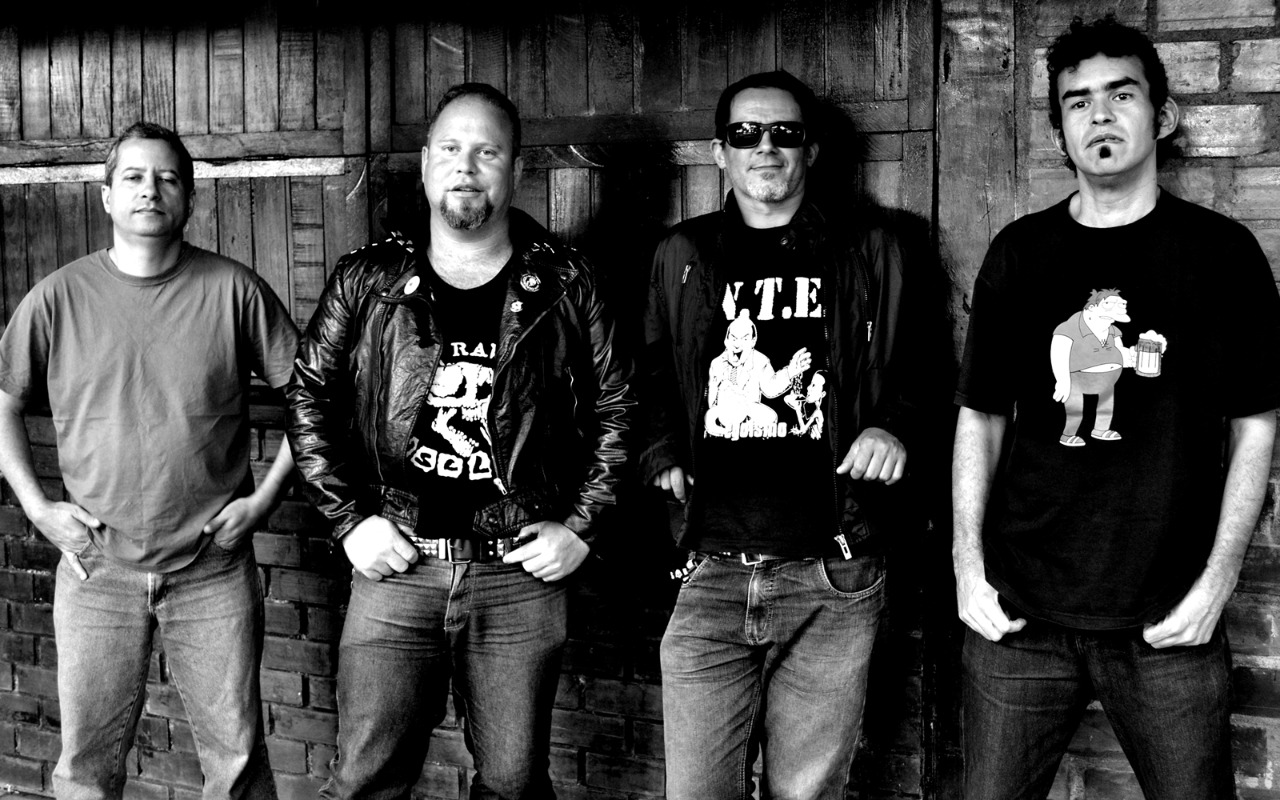 What does punk mean to you, is it only a word or is it a lifestyle?
-Punk is attitude, I know people without punk outfits who have more attitude than a lot of people with extreme visual punk. Punk is subverting the establishment, in my opinion. It's my life!
How do you see on downloading, mp3 and that stuff?
-The internet provided this and in the beginning was a very punk anarchist idea, unfortunately today we have censorship in the network and is not as exciting as in the beginning, but still valid because the music reaches spheres that we could never imagine before!
How is it to live in Brazil right now? Politically? Fascists?
-It's not easy. As I said we never have lived like that before. A lot of unemployed people, starving and crime has grown in a scary level. This year there will be elections and I can't see who gonna to stop everything that's happening right now. Very complicated and uncertain, the people are apathetic, without action. I really do not know what can happen...
Is there any good bands from Brazil now? Is the punkscene/hardcorescene big? How is it in your hometown?
-In Brazil there are a lot of good punk/hardcore bands, but theren't in the mainsteam. The music of the masses today is something difficult to my ears and that's the kind of music that plays on most radios stations
What do you know about Sweden?
-Sweden has a great scene!
Have you heard any good bands from Sweden?
-Oh yeah! Anti Cimex, Fear of God, Abba, The Hellacopters, Wolfbrigade...
Your lyrics, who does them and what influences you? Is it easier to do lyrics now or was its easier to do it when you was younger? Never in English?
-The lyrics influences comes from my village, my street, my neighborhood. I talk about what happens here to play to the world the local issues that at some point differs to Sweden or another corner of the world. I think that when I was younger I wrote everything without think too much, I think more today, so it's harder to write now. We never made lyrics in English, ironic, because the band's name is in English.
Is there any subject that you never will write anything about?
-Futilities looks good in the others bands. Rotten Flies doesn't have time for nonsense.
Politic and music, does it goes hand in hand? Which is your most political song?
-Indignation is a great fuel for our music! So we have plenty of reasons to be outraged by the politics in our country and the world, of course. In the general context, the lyrics have a political approach, so I can not say which is the most political.
Best political band/artist?
-It's hard to say 'cause I like the bands which break paradigms established by society. Punk is for that.
Do you think that music(lyrics and so on) can change anyones life, I mean people who listens to music?
-Oh yes, completely! Music is attitude! Both for the author and the listener.
Your cover on your CD looks really nice, is it important to have a record cover which shows people which type of music you play? Your favorite recordcover? Who does your covers? And do you have any good recordstores in your hometown?
-We always think about the whole set, good songs and a good cover. Today we're working with us is an design artist from Natal (RN) Maxwell Sousa. He understands a lot about the concept that we are looking for. Answering the question about record companies, we have 3 labels in our town that work with many rock styles.
And you have an own recordlabel, tell us about that?
-Yes, probably you know that story that you send your music to a lot of labels and no one cares? That's how it was! So I created a label of my own to release my songs and to support some bands of friends that's why today we have a lot of people not only from my city, like Mollotov Attack, for instance. We have 16 releases and we're not interested to stop.
Is it important to get out physical records of your stuff? Why or why not? Vinyl, CD, cassette, what do you prefer if you could choose whatever ?
-I'm a collector, I really like the stuffs, but I also like music, and for me it doesn't matter how it comes, LP, CD, Cassette, Streaming, what's important is the music.
Please tell me a funny thing which have happened during your career and under some gig?
-There's a lot, gigs have been canceled when we arrived at the place until bellyache on stage, car broke in the middle of nowhere ...well, we laugh a lot with this kind of troubles.
How does your audience look like? Which people do you miss on your concerts? Which is the biggest band you ever have played together with?
-It changes from gig to gig. Our audience is a mix of 40-year-olds and 18- 20-year-olds. There is always somebody new on the concerts. I think the biggest band was GBH.
Please rank your five favoriterecords, five favoriteconcerts and five most important things in life?
-Five favoriterecords:
1. GBH -City Baby Attacked by Rats
2. Anti Cimex - Country of Sweden
3. Ratos de Porão - Crucificados pelo Sistema
4. Cólera - Tente Mudar o Amanhã
5. Terveet Kädet - The Horse
Five favoriteconcerts:
1. GBH
2. Ratos de Porão
3. Cólera
4. Invasores de Cérebros
5. Exploited
Five most important things in life:
1. Daughther and son
2. Firebird Epiphone
3. Marshall amp
4. Travels
5. Good beers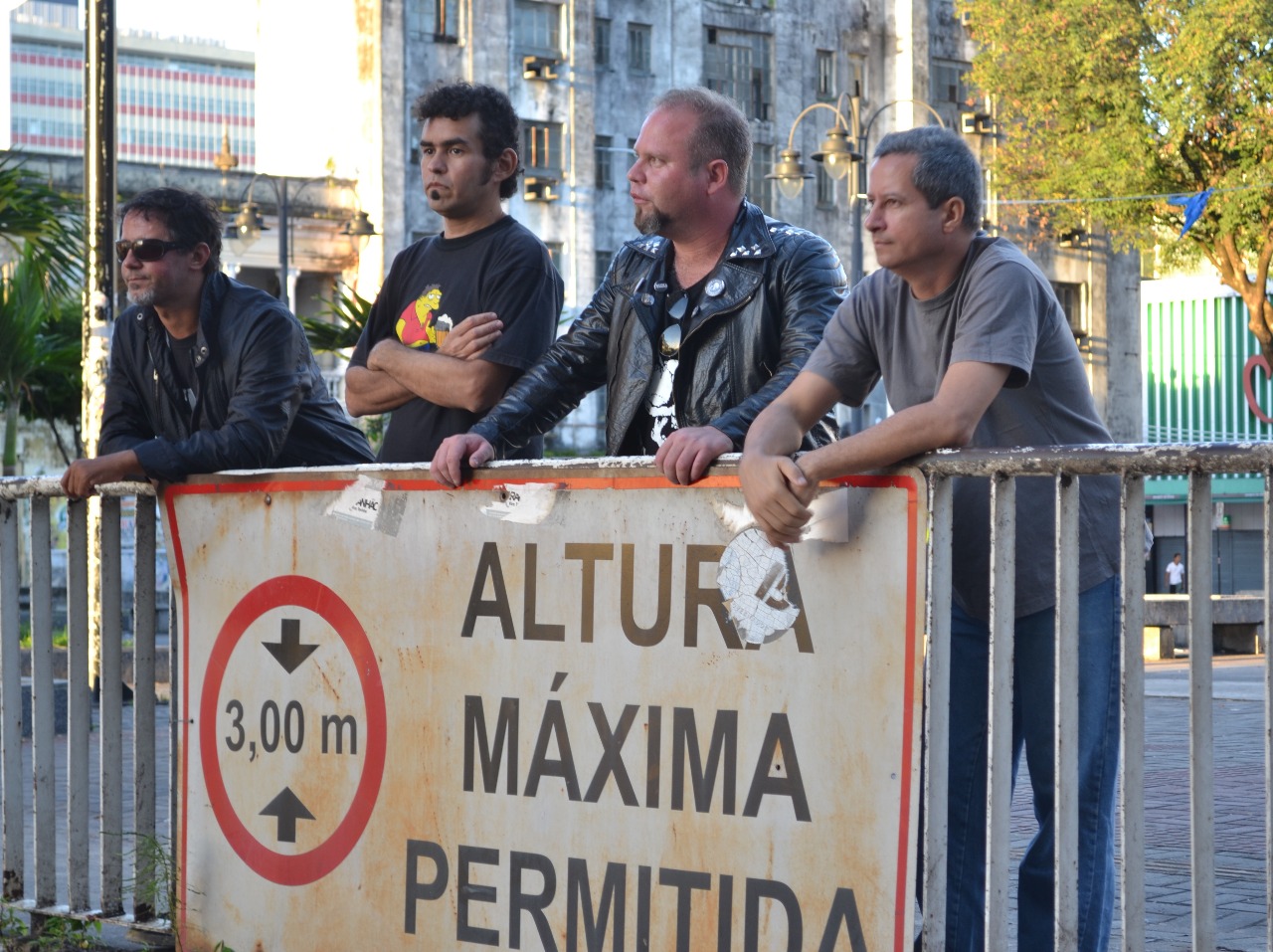 First, last and most expensive record ever bought?
-Terveet Kädet - The Horse
Are you interested in football, what do you think about world championship this summer?
-I'm Brazilian but I have no interest in football, I'd have been born in Sweden.
Is it boring with interviews? Is it much interviews??
-I'd like give more interviews, it's always good to expose ideas. Thank you for the opportunity.
If you could choose five bands from the past and the history and nowadays and both dead and living bands to have a concert together with your band. Which five have you been chosen?
-The only thing that came up my mind right now is Motorhead and Anti Cimex, it would be sensational to see those bands together.
Is music a good way to get out frustration and become a nicer person outside the music?
-Yes, sometimes this kind of therapy works. Sometimes it's hard to talk about things that happened in my whole life, I mean, it's the repetition of the same situations with different people. It's a kind of a ferris wheel, but it's never boring.
Which is the most odd question you ever have got in an interview?
-I don't remember any right now
Which is the question you want to have but you never get. Please ask it and answer it?
-Why did you choose punk/hardcore? Cause there isn't anything better!
Futureplans for the band?
-To launch a documentary-dvd with a little bit of our history, a split with two bands of Germany, a cassette with an american band and some gigs, of course, there are always welcome!
For yourself?
-Buy another electric guitar and an acoustic guitar!
Wisdomword?
-Relax
Something to add?
-Life will never be complete until you lose your beat