Rosita Y los Nefastos is the first which comes from Colombia which I have interviewed and that I´m proud of.. To have more countries on my interviewsite and now this Colombian band too.. This was done in june 2015.
Please tell me a little bit history of the group?
-The band started as a study group in 2012, Rosita (drums), Carlos (Guitar), Andrés (Guitar) and Mauro (bass and sing) he was the "tutor" but after one month he quit and Andrés took the bass and started to try to sing, we played covers until the end of December and we saw a good results so we started to work in our own-music, our first songs were "Justicia divina" and " Crisis Social" at that point the study group turned into what it is today, but we still had rehearsal every Friday to break up our routine.
Please tell me a little about every member in the group right now, age, family, work, interests and something bad about everyone? Earlier bands?
-The group is formed by Rosita (Drums), Carlos (Guitar) and Andrés (bass), we are in the early thirties, we share music and punk as a common interest, a bad thing about everyone that's we have jobs that have nothing to do with music hahaha, but at the end is a good thing.
Rosita started to play drums in 2012
Carlos played the drums in the nineties for Lokekeda (Punk band) and started to play the guitar in 2012 too
Andrés played the bass in different bands before RYLN, the most relevant was Estoyputo and started to sing in 2012, his first band was Dankkoma in 2000.
I can hear much old punk in your music? Am I right? Favorites from the past?
-Yeah is true, some of our favorites are The Adicts, Eskorbuto, La polla records, Die toten hosen, EUKZ, Bad religion, The Casualties; IRA, Nadie, Dos minutes, Sex Pistols…
Rosita y Los Nefastos are you satisfied with the name? How did it came up? What does it mean? Which is the best band name you know?
-Yeah, now we are, the name came up when we started as a study group, normally here you have to rent a place to practice, so when you need to book they ask for the band's name so Carlos started to say this name, we didn't like it at all but at the end was just something for fun so we didn't pay attention then we started to be recognized as Rosita y los nefastos and in that point we realized was a good name for a punk band.
Rosita is our drummer so we are the nefastos, hehehe Rosita is a little rose and nefasto is an adjective that you use for something that is very bad, unlucky, sad, hateful, poisonous…
Nadie is good one!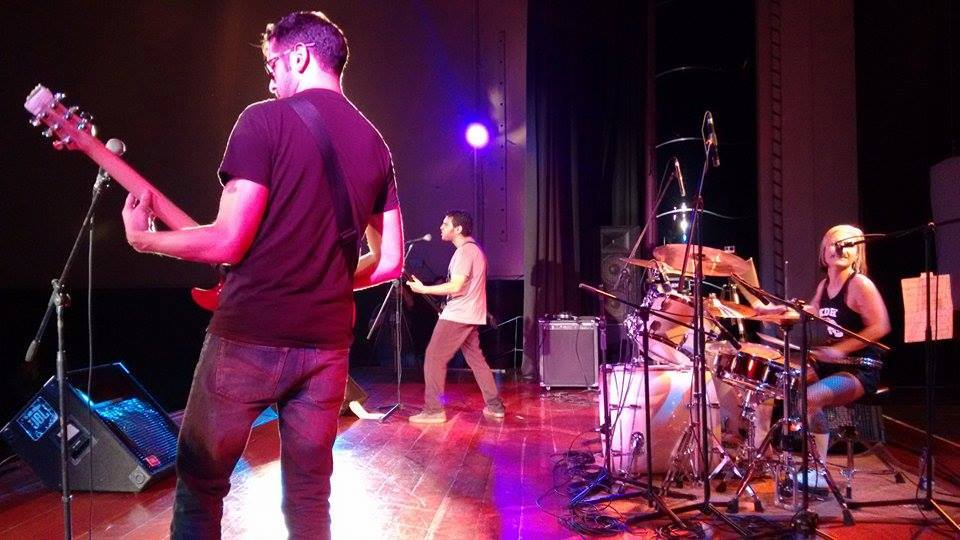 What´s the best thing with playing live?
-We love it. It is just amazing to be on the stage sharing with the people and the other bands and to see everybody having fun.
And where is best to play? And the worst place?
-Bars are very good, cuz they are fun and people are closer. Theaters are good but people are more sober there. Maybe there isn't a worst place but it can turn bad when you have bad technical conditions to play.
How is to play this sort of music in Colombia right now?
-Right now is a good moment, there are a lot of new bands, and old bands are playing again and some bands are playing out the country, like IRA that they are in a tour in USA right now.
We are living the festivals era that is good because we have had a lot of concerts and the opportunity to see bands like The Adicts, The Exploited, The Misfits, Vice Squad just to mention some of them and for free, in the other hand, the audience don't want to pay for local bands concerts and some bands just want to play in festivals, so for us as a local scene sometimes is a little bit difficult to make the concerts, but we still doing it.
just for the record check these festivals out: Rock al parque, Altavoz, Manizales grita rock and Convivencia Rock, Rock a la escuela, Del putas fest…
How would you describe your music in three words?
-A kick in the teeth (was that three words? ;-))
What does punk mean to you, is it only a word or is it a lifestyle?
-It is a lifestyle and means make yourself.
How do you see on downloading, mp3 and that stuff?
-These changed everything, is like the democratization of the music which is good but I'm not sure if nowadays we are really appreciating music, It's so different have the CD or the LP in your hands that just make a download, maybe a lot young people never have had the feeling to buy a CD read the lyrics , watch the pictures, the credits hehehe listen over and over...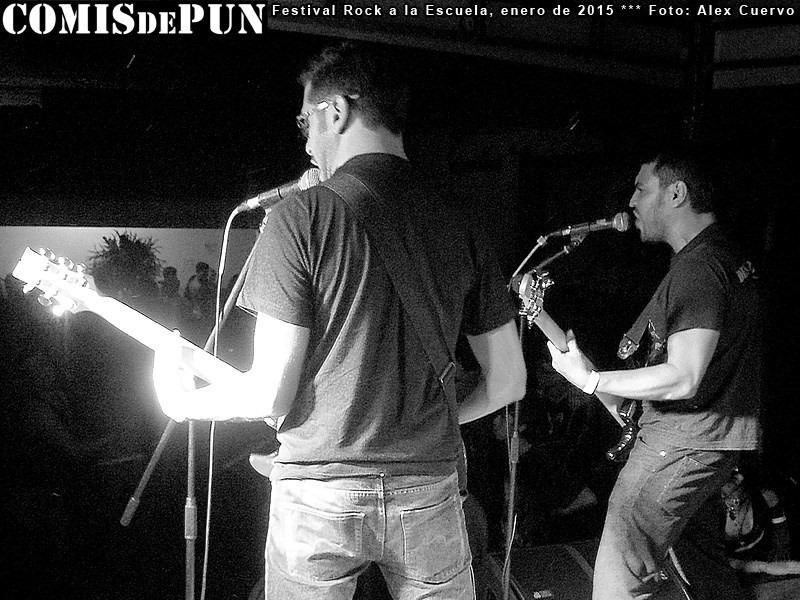 How is it to live in Colombia now? Politically? Drugs?
-About drugs just listen Drugland, track number 5 from " Punk rock sin pretensiones" now we have a lot of microtrafico that means there are a lot of local consumers and a big problem with sexual and drug tourism.
Politically you can see a lot of corruption; we have huge problems with the health and education system basically, government are trying to make peace with the guerrilla but the country is divided, at the end is always the same like the last 50 years, but is not that bad like the news want to show you.
Drugland video: https://www.youtube.com/watch?v=qipEawT4CLU
Are there any good bands from Colombia now? Is the punk scene big? How is it in your hometown?
-A lot of good bands and musicians, the punk scene is important but is not that big, still being an independent and underground movement.
We are in a good moment, we have earned spaces to play, independent bands are coming to play in bars in Medellin, I mean this is amazing, bands from England, Spain, France, Peru, Ecuador, USA, Mexico and bands from different regions of the country… and you can find a concert almost every weekend, and some Colombian bands are going out to Europe, Central America, South America, USA,. Bands like IRA, Fertil Miseria and Los Suxioz.
What do you know about Sweden?
-We have two friends from there one from Sundsvall and other from Gothenburg they describe Sweden as a very organized place, good education and good work opportunities, maybe some problems with immigrants.
Have you heard any good bands from Sweden?
-In your magazine I met Apes IQ, they sound really good and a friend showed me Sabaton and Nomy!! Also I have been following Club Deströyer in facebook, looks like a nice place for gigs, maybe someday! Hahaha
Your lyrics, who does them and what influences you? Why not in english?
-Andrés does them. Things that happen here and around the world and the behavior of the human being are good stuff for lyrics.
When the inspiration comes up in English we do it in English, is the case of Drugland.
Is there any subject that you never will write anything about?
-We don't say "never", but we aren't interested in writing trivial things as parties, getting girls and that stuff, other sorts of music are doing it perfectly.
Politic and music, does it goes hand in hand? Which is your most political song?
-Not necessarily, Music can express anything you want… we think we don't have a specifically political song; we just have a position in front of some situations so the lyrics are a question mark and they invite you to think about them. We don't have the answers but we like to suggest solutions.
Amigo policia maybe is the most "kick in the teeth" song that we have.
Best political band/artist?
-Bad Religion, Rage Against the machine and Reincidentes.
Do you think that music(lyrics and so on) can change anyone's life, I mean people who listens to music?
-Sure, we don't pretend that but if what we say helps to send someone to think that's ok! But the best is if the people can listen and create a critical thought about it, it's basically what we say in the song Aduladores:
"No me sigas mi amigo – que a veces reviento
No comulgues conmigo – no todo es cierto
Si me subes al cielo – viviere en tu infierno
Si alimentas mi ego – drogaras mi cerebro"
Your cover on your CD looks really nice, is it important to have a record cover which shows people which type of music you play? Your favorite record cover? Who does your covers…
-Thanks we appreciate that.
It is really important, the cover from the "Más punk, menos pretensiones" was made by CT, he is a friend from Australia who has been with us from the beginning and when we had the first premix for the new ep we sent him the music and the lyrics and one month later he show up with this incredible cover.
Favorite record cover mmm is hard to say cuz are a lot, but American Idiot (Green day), Master of puppets (Metallica), Give em enough rope (The Clash)
Is it important to get out physical records of your stuff? Why or why not?
We think is the way to materialize and finalize the album, we don't sell a lot but is a great feeling have the final "product" in your hands and share it with people.
Please tell me a funny thing which have happened during your career and under some gig?
-On January we were playing in the festival Rock a la Escuela and a girl flashed her tits to Carlos and she also drank all his beer, hehehe
RYLN have recorded three live sessions for tv and for us as a new band is curious that things like that just happen, we haven't forced anything, but we always do our best.
Registro Sonoro (Live sesión) : https://www.youtube.com/watch?v=YfmSsy_LO60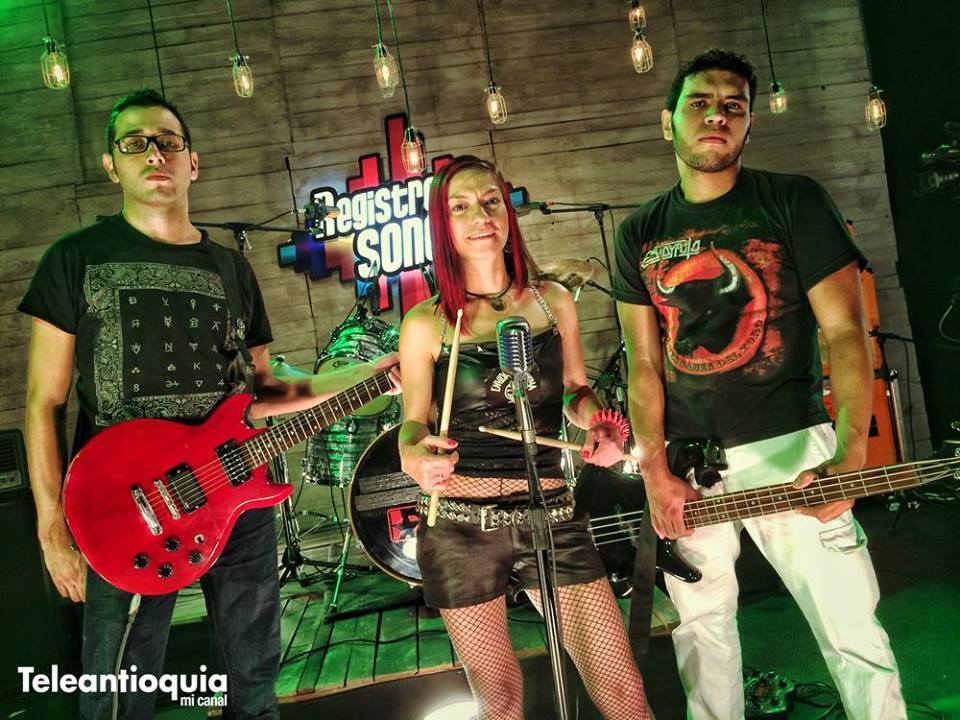 How does your audience look like? Which people do you miss on your concerts? Which is the biggest band you ever have played together with?
-It is a lot of young people now and the most impressive is to see a lot of girls in the audience and in the bands, we are a new band so the audience at the beginning were our friends and family, now the scene recognize RYLN and have started to support us. Sometimes we miss the people from the other bands.
We play Altavoz fest last year, the line up had international bands like The Exploited, Biohazard and Reel Big Fish, local bands like Masacre, Grito, Nepentes. we don't play "together" but were in the same festival, hehe
Please rank your five favorite records, five favorite concerts and five most important things in life?
Favorite records:
Rosita
· Salve (La polla records)
· Punk in drublic (NOFX)
· Songs of praise (The Adicts)
· Smash (Offspring)
· Más punk, Menos pretensions (RYLN)
Carlos
· Back in black (Ac-Dc)
· Appetite for destruction (Guns n Roses)
· Kalańa (Eskorbuto)
· Let's go (Rancid)
· Don vito y la revuelta en el frenopático (Kortartu)
Andrés
· Monologos de un perro con bosal (Nadie)
· Bomber (Motorhead)
· South of heaven (Slayer)
· Voice of anger (Perkele)
· Dianas Legales (Gatillazo)
· Bonus: Complete discography (Minor threat) and Cryptic writings (Megadeth)
favorite concerts
Rosita
· The Adicts (Bogota 2010 and Medellín 2011)
· NOFX (Bogota 2012)
· Green day (Bogota 2010)
· Vice Squad (Medellín 2013)
· Gatillazo (Medellín 2012)
· Bonus: The Exploited (Medellín 2014)
Carlos
· Rosita y los nefastos (Altavoz 2014)
· Israel Cachao Lopez (Medejazz)
Andrés
· The Adicts (Medellin 2011) https://www.youtube.com/watch?v=Ge4SN6Hr8Fs
· Gatillazo (Medellín 2012)
· Nofx (Bogota 2012)
· The Casualties (Medellín 2015)
· The Exploited (Medellín 2014)
· Bonus: Skindred (Bogota 2012) and Manu chao (Medellín 2012)
Important things in life:
Family, friends, music, thankfulness and inner peace.
If you could choose five bands from the past and the history and nowadays and both dead and living bands to have a concert together with your band. Which five have you been chosed?
-We can called "Los rockeros no son Buenos fest"
Line up
• Motorhead
• Eskorbuto
• Gatillazo
• Rancid
• Sex pistols
• Rosita y los nefastos
Is music a good way to get out frustration and become a nice person outside the music??
-I can't imagine a day without music.
We have shared with bands like P-ne, Peste Mutantex, KDH, they are playing since the eighties, Medellin at that time was very violent with all the mafia problem, music literally saved their lives, at that time was not opportunities to study or work so a lot of young people toke the wrong way. So yes, we think music is a good way to get out frustration.
Which is the most odd question you ever have got in an interview?
-Rosita y Andres are couple, we don't like when the interview turns out to this topic.
Which is the question you want to have but you never get. Please ask it and answer it?
-Do you like punk?
Mmm YES
Futureplans for the band?
-Keep promoting the new CD and playing.
We are in the process to be in Altavoz fest 2015 and Del Putas fest
Make split with KDH (Kaso de homicidio)
Make a video and keep having fun
For yourself?
-Keep playing , working and have a quiet life.
Wisdom Word?
-Constancy
Something to add?
-Thanks to listen and share our music, come to visit Colombia, you will find out that isn't what you see in the news.
Finally check these Colombian bands out:
P-ne
KDH (Kaso de homicidio)
Desastre Capital
IRA
Burning Caraban
Lokekeda
Peste Mutantex
Alkoholemia
Fertil Miseria
Unos Vagabundos
Grito
Cromlech
Athanator
Masacre
Triple x
Thanks
Rosita, Carlos y Andrés
RYLN
http://rositaylosnefastos.wix.com/ryln
www.youtube.com/rositaylosnefastos