Tell us a little about yourself .... age, family, work etc?
-I'm 45 years old, live in the country just south of Stockholm with my family consisting of wife and two children. Besides the music so I work as a youth and music teacher at a school in Stuvsta.

I know you been in Tuk Tuk Rally which more bands have you been in?
-Various bands when I was really young. The first serious band was Inferno and we were doing between the years 1983-87 about. Then I formed different band formations that eventually led to the Tuk Tuk Rally.

I find it hard to understand why you are not more well known given that you sound like many others in the same genre, but you have a bolder voice ... what do you think it is because you are not larger than type Winnerbäck or Hellstrand?
-Glad you like my singing voice, it's probably my main trump card in terms of my music! Many people have asked the same question as you do. What do you answer that?! We were going on a while to really break through with Tuk tuk rally. Then I made my first solo album, which many regarded as one of the best in its genre. But it was no space at all in the great music flood. I had absolutely no strategy for how it would be marketed. It kind of fizzled out. Then I got family and was about to completely stop the music. A long pause followed, which is not favored conditions to reach out to a larger audience. After Johan Johansson persuaded me to play at Nalen in Stockholm so I came out on the track again. Then I realized this the music is not a side job, but a life project for me. It became a springboard for future plates until today. I developed all the time, try new ways to record music and perform live. I have found my band is wonderfully talented and we thrive amazingly well together, both musically and socially. The genre I takes care of the is quite wide and it often takes time to convince, especially reviewers, if authenticity and originality. My music has, at least earlier trivialized and generalized some, like "he wants to sound like Winnerbäck, Staffan Hellstrand, Thåström ....". It is only in recent years that I have avoided that kind of perfunctory reviews and met more personal and unbiased. With all due respect to the aforementioned artists, we find ourselves in the same musical realm, I am not in the least influenced by them in my creativity.
What do you usually been compared to?
-Not infrequently trio I just mentioned, but as I say, not as often now as before.

What is the weirdest thing someone has said or written about your music?
-I do not actually think of something specific strange.

Do you care about reviews anyway? Are you such as reading reviews, or are you trying to help?
-I care absolutely about reviews, get renewed energy and desire of the good ones and becomes extremely upset by the negative. However, this is only a few days after I read, in both cases. Then all at zero again, as usual.

Have you ever changed anything for a review?
-No. If one were affected in this way, you lose enough course and misaligned. That said, this is a life project and I have a plan for this. Then it's not allowing themselves to be influenced by reviews. However, I am sensitive to the thoughts and advice from people I trust around me.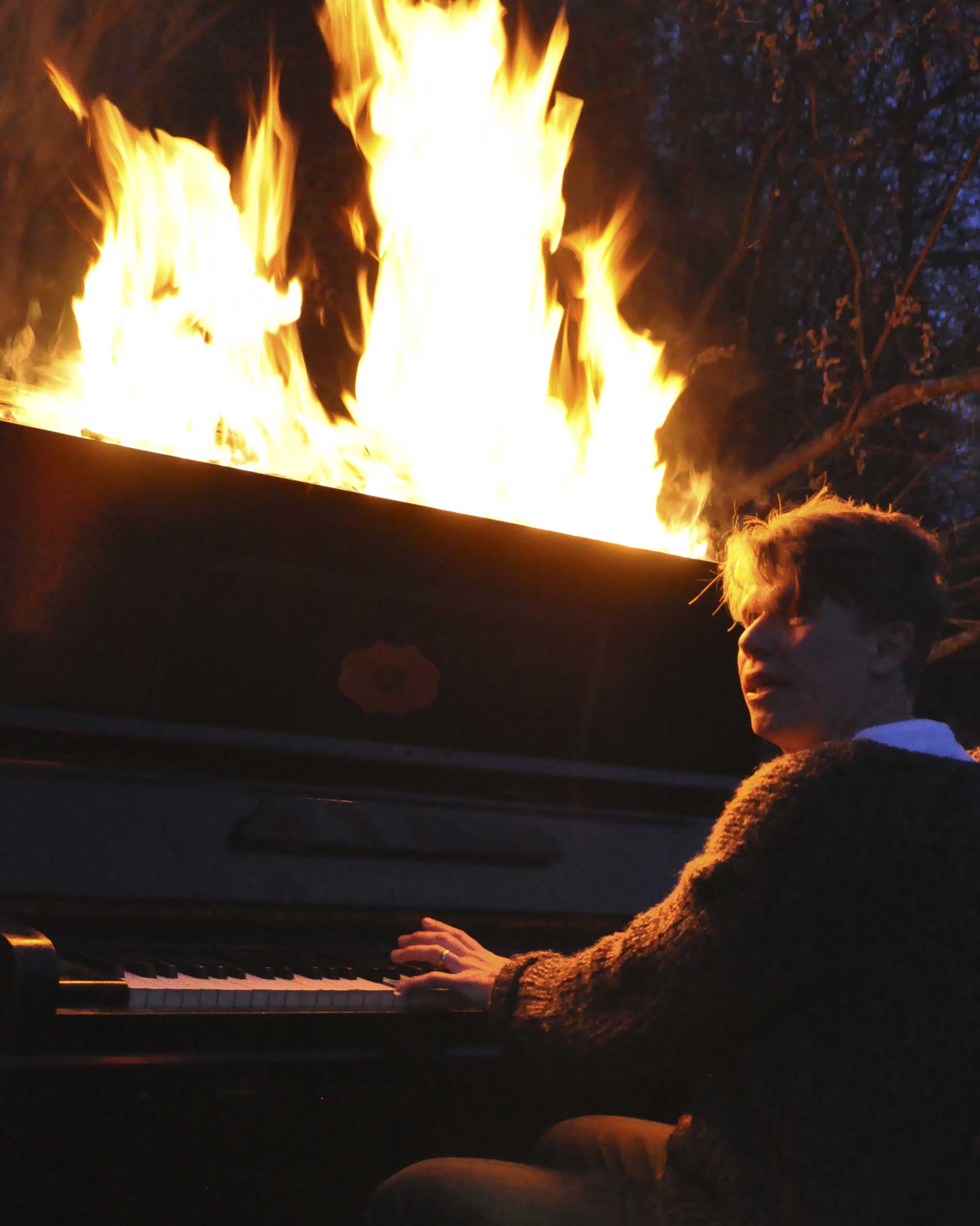 What inspires you to write the very texts you do?
-I'm becoming more and more interested to tell stories and to report on my not and external observations. Then I've also become more eager to reflect on society, growing inequalities, the deteriorating welfare. Then I had children of my own have such issues become more apparent and urgent for me. I also think that it is more fun to write lyrics today, it's more pleasurable and has a growing place in the whole writing process.
Politics and music, does that work?
-Politics and music can be heard together and they harmonize with each other. At best, the political message given another dimension and music more energy. However, it can also have the opposite effect, be magnificent, rigid and unswinging.

Best political band / artist?
-Dylan, Springsteen, Billy Bragg, Dead Kennedys, Timbuktu ...., not in so many do it well.
How do you think it is to live in Sweden right now ... I mean politically?
-There has been a tremendous change in our country over the past twenty years. The climate is more self-centered, selfish and cynical, invest in yourself and shit in the other. Conservatives call themselves Labor Party and the Social Democrats are stumbling into nothingness. The political landscape has shifted to the right, and we have probably all part in. You still have to be self-critical as well, even I who vote left, embraces some of the effects of this society. I'm well somewhere in the lower middle of the scale and watching like a hawk over the fund prices and interest rate changes. I save sometimes and cruise sometimes between the stores in the mall built this home. Class differences also looks different today than before. Previously it was the working class that stood at the bottom of the scale. Now it's immigrants, the single mothers, the unemployed and the sick who are lowest. The safety net for them have deteriorated sharply.

What is the best and the worst in Sweden do you think?
-Best is that, despite everything, there is some sort of solidarity basic idea of ​​most of us. Worst is the development I responded to the last question and the Sweden Democrats allowed to rummage as they do without question properly.
Is there any good music in Sweden right now?
-I am absolutely convinced that there are plenty of great new music in Sweden. I'm bad at checking out what's happening. My 12 year old daughter likes the SVenska Björnstammen, Veronica Maggio, Daniel Adams Ray and there's nothing I buy redords of myself but that I think is good in its genre.The Hives are a fantastic live band and Bob Hund. Robbie Williams makes brilliant good songs occasionally and Stefan Sundström last album I like.

What do you think about Spoitfy, download etc? Does it help you something?
-I like the availability of the artist and the band is more democratic, it is not the record companies' wallets to decide. Think we are many who served on be on such Spotfy. However, I think the physical disc presentation is unbeatable with textbooklet and songs holistic approach. I´m sad actually right about that CD is on its way to disappear.
If you buy any physical discs yourself?
-No, I rarely buy CDs. When I get something new it usually depends on the exchange of the artists and bands that played along with the festivals and more.

While we're talking about records, first, last and most expensive ever bought?
-The first record was a single by Dr. Hook I think. Last thing with Ron Sexsmith maybe. Most Expensive, certainly some double-lp in the 80's.

Best record to have sex to?
-Sofia dances go-go with Stefan Ruden, German marches, Finnish Jenka ...... no, just kidding. There you will get no serious answers.

You've been on Beat Butchers, how do you think it would have been if you were to type EMI or similar ... you'd been moreknown then?
-I do not think it would have been so very different if you hadn´t high priority of course. At that time, the music had a different distribution.

Describe your music in three words?
-Energetic, painterly, melodic.

What is the type of people who come to your concerts?
-Very mixed with a wide age span. Punks, bachelor son, costume helpers, ragamuffins, musicians, welders and unemployed. I am very proud of this mix!

Is there any type of people that you do not have at the concerts?
-No, the character of the audinece is complete!



Is it many interviews these days?
-There will be some interviews in the same time with the release. Like now for example when I release the new album tecken & Spår in the middle of april.

What is the weirdest question you've ever received?
-Don´t remember any special.

Future plans for you with music?
-Now we will try to play as much as possible after release. Then we will see if you get hungry for a new album. In this case, we take another step with the recording. The new disc which will come now was recordedd in a village outside Sundsvall where I lived for ten days. We recorded the whole record without preparatory rope which was a totally new experience for us as whetted the appetite. For any new recording we will probably run the recording method further to the extreme.

For yourself?
-To streamline and refine my songwriting, to strip away non-essentials, to channel my children out in life.

Words of Wisdom?
-Cannpt come up with anything.