With members from 88 Fingers Louie Rise Against was rise from the grave and here´s an interview ith them done in may 2001.
History? - Rise Against started in January of 2000. Dan and Joe from 88 Fingers Louie started to look for members to form a new band soon after 88 Fingers Louie broke up. After about 7 months of searching they managed to find Tim (singer of a local chicago emo band called Baxter) and Brandon (ex drummer for the punk rock band Pinhead Circus)

Please tell me a little about every member, age, interests,family and something bad about every one? -Tim McIlrath is the singer and is 22 years old, Brandon Barnes is our drummer and he's 22, Dan Wleklinski is our guitarist and he's 27, and I'm Joe Principe the bassist and I'm 26. Our biggest interest is music. Our lives revolve around it. As far as families, none of us are married. I can't say anything bad about anyone in the
band, I might get someone mad at me, haha.

I have The Unraveling, have you done some more records and if you have
how can I get them? -The Unraveling is the only thing we have released to date

How come, that you´re on Fat Wreck, are they good? -Fat Wreck Chords is considered one of the biggest punk rock indies out there. We feel very honored and lucky to be working with such a great and reputable
label.

How is to live in USA, is it violent? -I like living here. Some areas are better than others. I just try to saty away from the bad areas. I think most countries have there bad areas, ya know?

Is there any good bands there right now? -Hmmm, The Enemy (a chicago hardcore band) are really good, Strike Anywhere from Virginia are an excellant melodic hardcore band, and Death By Stereo are a great hardcore
band. I'm sure there are more but those three come to mind.

What will you Rise against? -We are rising against people asking us this question, haha. Um, We feel our lyrics express what we're "rising against".

Is it important to have a name on a group, did you put down much time to come up with a good name? Which is the best bandname in the world you think? -We had a really hard time agreeing on a band name. Rise Against
isn't the best band name but at least it has that "take a stand on something" feel. That's important to us, ya know........to make kids aware of fucked up things.As far as a best band name goes, I don't think I have
a favorite. Nothing really sticks out right now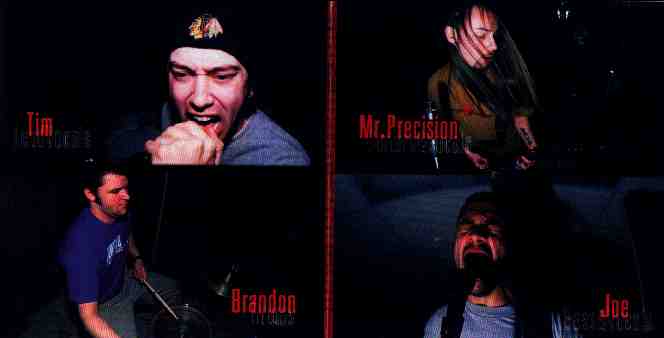 When you do your songs,which is most important, is it to have a good lyric, to have a good melody or to have a refrain that people remembers?
-It's important to have good lyrics and then write a good melody so people have an easier time remembering our lyrics and what we have to say.

Please describe your music with three words? -Energetic melodic hardcore


First, last and most expensive record you have bought? -1st record was AC/DC - Highway to Hell, last record was No Motiv - Diagram for Healing, and the most expensive was an Articles of faith 7 inch for 15 dollars

Idols when you were small? - I idolized David Lee Roth from Van Halen

Do you think music can change anyones life? In which way? -Yes, music can change people lives. I know countless people that went straightedge after listening to Minor Threat and Youth of Today or were exposed to
political issues after listening to the Dead Kennedys.

What does punk mean to you? -Being an individual

Is it many interviews , is it boring?- I like interviews, it gives people a chance to get to know us.
Have you heard some swedish bands worth to mention? -I love a lot of swedish bands. Raised Fist, Refused, At The Gates, Bombshell Rocks, and Satanic Surfers are a few of them.

How is a good concert with Rise Against? -We try to put on an energetic show. Tim, our singer, is a really good front man.

What is the most peculiar which have happened during a concert with you, on stage or in the audience? -Back in the early 90's Screeching Weasel used to play a song called "I wanna be naked" and most of the crowd would
get completely nude. It was the oddest yet coolest thing.

Do you have good contact with your fans, in which way?- Yes, we try to talk or write to our fans every chance we get.

What are your advices to a young band who wants to have a record contract as soon as possible? -Don't rush and do things in a half assed way. Really work hard at recording a good demo too.

What do you think about the new way to communicate with email and internet and all that stuff?- I think it's great. It saves a lot of time and money.

Any favoruitesite yourself? -www.supersphere.com

Do you have an own website, the adress , why and why not do you have it?- www.riseagainst.com. It gives information on the band, things like tourdates and stuff.

What do you think about your new president George W Bush, was it better with Clinton? Which are the differences between them?- I hate politics. I dont trust any politician.

Does music and politic goes hand i hand, why or why not? Who is
good to write poltical songs in the world? -I think using music to get a political viewpoint across is great. I think Bad Religion and Dead Kennedys were great at this.

Please tell me about Arlington Heights? - It's the town were our singer grew up.

Futureplans for you as persons? -To continue with our music

Futureplans for the band? -Same as above answer

Something more to add? - Thanks so much for the interview.