R.E.M.
Trädgårdsföreningen, Göteborg 21/6-2005
Jag är glad för tre saker, att inte folk tog upp tändare och lyste med(inte vad jag såg i alla fall) under de lugna låtarna Everybody Hurts och Nightswimming, att konserten blev av för Michael Stipe berättade att det var nära att den ställdes in på grund av allt regn och tredje saken är att jag var där för jag hade inga förväntningar på detta men det var riktigt bra.
Vi kom väldigt lång fram på konserten och detta utan att tränga oss förbi en massa folk. Ett förband som vi inte riktigt uppfattade namnet på spelade en musik som var en mix av det mesta inom i independentvärlden och ibland lät de som ett hårdare Aha för att i nästa stund låta som ett tidigt Cure, sångaren hade en mycket annorlunda röst, så mycket kan vi säga.
Efter någon halvtimmes väntan kom de då in på scenen, Michael Stipe för dagen målad blå i halva ansiktet, vilken smurf var han? Denne man kan verkligen domptera en publik för allt som han gör följer en hel del i publiken. Vinkar han gör publiken det också och så vidare. Skulle han göra en nazihälsning skulle säkert publiken göra det också( det hoppas jag inte och jag är ganska säker på att han inte skulle göra det heller).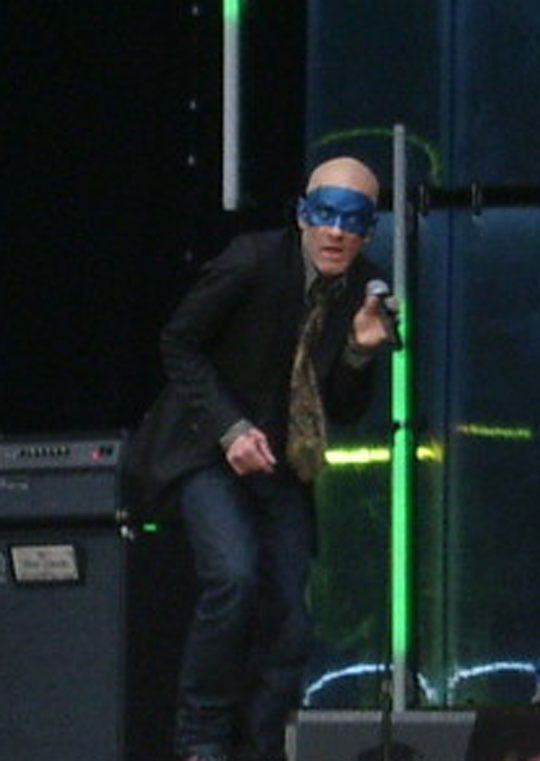 Jag hade som sagt inga som helst förväntningar på denna konsert som sagt och jag kände inte för att gå dit under dagen. Men jag satte på en skiva med dem när jag kom hem från jobbet och då lockades jag mer och mer av tanken att se dem live.
Efter konserten kände jag mig knockad och överraskad över att det var så bra. Bandet bjuder på sig själva och Michael Stipe lever verkligen ut och de verkar uppriktigt glada för att vara i Göteborg. Ken Stringfellow är med i gruppen på scen också. De spelar alla de låtar man vill ha som Losing my Religion, Everybody Hurts, Bad Day, Man on the Moon, What´s the frequency Kenneth osv och det finns inte några låtar som jag saknar och närvarokänslan i det de gör är mycket stor. Ibland blir de nästan lite punkiga som i den nya låten I am the DJ(eller vad den hette) och är lite tuffare live än vad de är på skiva. Publiken var bra med på noterna efter några låtar och även om Stipe började lite trevande i sitt prat så blev han mer och mer avslappnad efter ett tag. Skulle jag ge ut betyg till konserter skulle det bli ett mycket högt betyg till denna.
I´m happy for three things, first is that people didn´t use their lighters (not what I saw anyway) in the calm songs Everybody hurts and Nightswimming, that the concert was because Michael Stipe told us that it was close that it should have been cancelled because of all the raining and the third thing is that was there because I hadn´t any expectations on this concert but this was really good. We came to the concert late but we came really near the scene and this without hitting us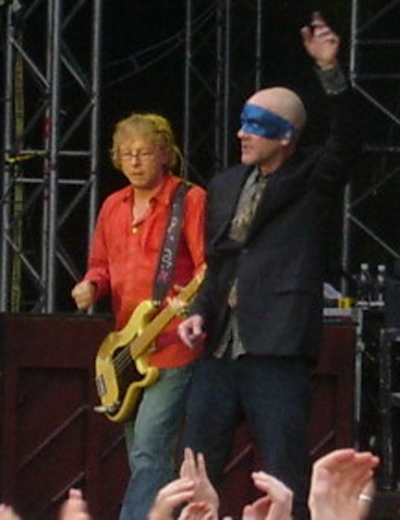 foreward. A supportact that we didn´t noticed the name on and they played a music which was a mix of all different indendent things and sometimes they sounded like a harder Aha and sometimes like an early Cure, the singer have a very different voice, that much can we say.
After half an hour they came into the stage, Michael Stipe, today painted with blue colour in his face, is a man which really know how to take an audience. Everything he do on stage the audience do the same things. Does he wave or something, the audience does the same thing. If he would do a nazisalute, would the audience do the same thing(I don´t think so but you know what I mean)
I had as I said no expectations on this concert and I didn´t wanted to go to it during the day. But when I put on a record with them when I came home after work I was more and more longing to see them live.
After the concert I was knocked and surprised by the fact that they were so good. The band is really dance with us and Michael Stipe really lives out and they seems really happy to be in Gothenburg. Ken Stringfellow is in the group also. They play all songs that we want to hear like Losing my Religion, Everybody Hurts, Bad Day, Man on the Moon, What´s the frequency Kenneth and so on and there isn´t so many songs that we miss and presencefeeling by the band and the things they do is big. Sometimes they´re almost punky as in the new song I am the DJ(or what it was called) and they´re a little bit tougher on stage than they are on record. The audience was also have a big prescencefeeling and even if Stipe was beginning a little bit rambling in his talking he became a lot more relaxed after a while. Should I give grades to concert would this one get a high one.
text och bilder Peter