I heard a band many years ago called The Rejects but they played more hardcore than this group. But now I got this CD from this Rejects and it was so filled with good ska so I couldn´t hold myself from sending an interview to them. This was done in the beginning of October 2003.
History? -Way back in 1997, Doozer and J got bored. So the quest for booze, girls and rock stardom began. After several drummers, bad albums, finally found Carl on the street wondering and taught him to talk and play drums. so we recorded a good album and went on tour. From Bristol to Aberdeen we went playing to people up and down the land. Then we recruited Nicki to play Sax, she provided some much needed sex appeal, and the music sounded better. Then we got Pretty boy Mikey on cornet for the ladies. Oh and the music got even better. Then carried on touring the world in search a kebab that wasn't mad out of dog. the quest continues... JOIN US! We believe.
Please tell me a little about every member? -Uncle J - beardy man people have been confused with a monkey be he likes that oh guitar and Vocals.
Doozer - the shortest member of the band and the most confused - bass and Vocals
Carlos - the one to have the mosted piss ripped out of him - Drum and Vocals
Nikki - Best girl in the band - Sax
Mikey - sweetest arse and cute looks - Cornet
When I saw your CD and your name I thought you played hardcore but so it wasnt´,haven´t it been a band around with almost the same name? -There was a band called the Rejects but they changed there name to the murder dolls, they have a member of Slipknot in them. Just before they changed there name we received emails telling us to change our name. J said fuck so they did and changed there name. This could all be coincidence but we like the story.
I compare you to Citizen Fish, what about that, any other comparions for you when you have been reviewed? -Doozer: Yeah that's nice, they cool band. J: We also haven't been compared to Anal cunt, Madness meets Motorhead, Lightyear,
Do you care about reviews? -J: We like hearing what people think, so yeah and no but maybe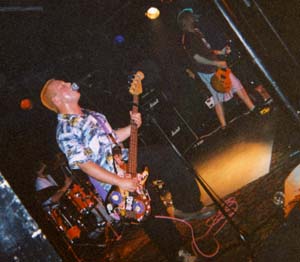 Which is the most peculiar review you ever have got? -Kerrang said we light our own farts. Never done this its all a lie.
How do you describe your own music in three words? -Super smashing great (copyright 1979 Jim Bowen)
How is a good gig with Rejects? -A good gig is when the crowd laugh, heckle, dance like monkeys and put in there place where they belong. that and blowjobs after the show,
How does the average fan look like? Do you have good contact with your fans? -Average fans look like average people. from kids with trousers too big to old dudes with mullets. yeah we have good contact to our fans, they chat to us and we listen, and chat back if there not too mental.
You have a side on your website with exmembers? Are you having good contact with them and what do they do now? -Glen we haven't seen in ages, think he's playing for an old style rock band. Most cool. Will plays for My Pet Monkey. They're cool. We also see him down the pub quiet a bit. The Guv'nor we haven't seen at all since he left. Though some of his old mates say he's now living with his girlfriend and has started to listen to dance music. We still can't confirm that he's gone though puberty yet.
Do you have any other bands beside of the Rejects? -Two words - Hell Yeah.
J - IK+
Doozer - IK+
Nickie - Ex-Cathedra
Mikey - Cisco In The Aquarium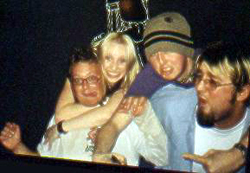 How is it to play ska in England right now? -The scene is a bit weird in England, anywhere other than London and Essex the crowd are really up for having a good time and dancing. But in London and Essex the crowd seem to like every other band but ours.
How is musiclife in England right now? -It cool, lots of good bands are knocking about at the moment. Check out the big (www.thebig.org), Operation Nailbomb, Resin, Engerica, Glueball and The filaments for starters. They'll lead you to the rest of the good stuff as well.
What do you know about Sweden? What is typical swedish? -IKEA, saunas, blond people, quiet cold, Olof Mellberg, Refused. Errrr and also your capital city is Stockholm. (I learn from a map)
Have you heard any swedish bands which you like? -Yeah Refused are fucking amazing
What does punk mean/meant to you, is it only a word or is it a lifestyle? -It´s a type of music and I think some people take it too far. Enjoy it have a good time and rock like a mother!
When you do songs which is most important , is it the lyrics, the music or is it to have a refrain that people remembers? -The music to start with, but the words are all ways good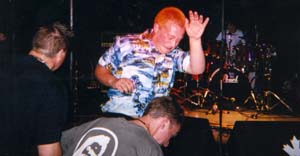 Do you do the music together or is it any special in the group who does it? -Doozer: Mainly its me and J who right the songs, but any one can. we all usually take some part in the arrangement.
How is it to live in England right now? And how did you felt after the 11th of september 2001 and how did you felt when you heard about that England would be in the war against Iraq? -Doozer: It was quite nasty, but I didn't really know any of the people. I don't really agree with what America stand for or what Iraq stand for. I don't agree with war, but like most i have no real idea of what it was all about. Bush and Hussein both scare me to death
How is Tony Blair, you don´t knew him personally maybe but how does he do his job, do you think? -I try to stay out of politics, it just annoys me. If there wasn't Tony Blair there would be some other dick doing all the same things.
How did you react when you heard that our foreginminister Anna Lindh was killed ? -Not to seem cold but I never knew her.
Is it more violent in England right now also? -There is alot of people confused and hitting out at the wrong people. As always never fighting the people who are pissing them off.
How about racism in England right now? -There will always be racism cause a lot of people are stubborn very stupid.
Please rank your five favourite records, five best concerts you have been to and five most in life? -Assorted Jelly bean - both albums
Suicide Machines - Defination by distruction
Voodoo Glow Skulls - Baile De Los Loco
Blood Brothers - Burn Piano Island Brun
Sultans of Ping Fc - Casul sex in the cinema plex
concerts
Centerfold queens Minvera Southend 1999
Lightyear - any show
Frigid Bedwetters - Soutend 1997
Milksnatchers and Tits (Bands that influnce the rejects)
Life
First time I saw South Park
Doozer and J teaching each other to write bad songs
1st gig in southend
Playing in Newbury having 250 kids danc like crazies
Discovering booze
First, last and most expensive record ever bought? -J - 1st record Ash Kung fu
Last - Poison the well
Most expensive - Suicide machines 3rd album which sucked
Doozer - Shampoo - Delicious
NOFX - 45 or 46 songs that weren't good enough for any of our other records
Mr Bungle on import
Futureplans for the band? -Take over the world, tour Holland, maybe France, England and eat cheese
For yourself? -Stay in the band, next years gonna rule
Wisdomword? -Dont eat yellow snow.
Something more to add? -Check out our site, listen to our song, buy, steal copy our CD. Come to our shows and eat cheese.
The pictures are taken from Rejects website.....