Red London plays a sorts of streetpunkrocknroll which I really like. They have been playing many years now and here was Gaz so nice and answered a lot of questions fom me in september 2020.
Have you been playing together since 1981 or have there been any breaks between 1981 and 2020?
-The band split in 2002 and re-formed a couple of years ago.
There have been many changes in the line up I understand during the years. What is the line up today? And what are you working with when you don´t play music?
-The current line up is….
The original singer, Patty Smith is in the new line up. Gaz Stoker (original bass player) is also in, along with drummer John Forster who is the brother of Matty Forster who spent 14 years as the drummer with the band. We've just added two new guitarists. Danny Collings from a Sunderland band called Symbient and Marty Jackson. They are both great guitarists and have brought a new dynamic to the band.
The band members have various jobs. I drive a van and collect and deliver furniture. Patty is a senior lecturer at a college in the countryside teaching forestry and environmental studies.
Kid Stoker is your brother, why did he leave the group? But he is still writing songs for you? I saw in the lines? Or is it old songs?
-Kid just decided to retire from Music. He's settled down in a different town and we never see him these days. I think he's been writing a few tunes with Steve Smith from Red Alert but he doesn't write songs for Red London anymore. The song writing credits you saw were from old songs that we re-recorded.
The song 'This is England 2020', are there any changes in the lyrics in the new version?
-No, the lyrics are the same and they are as relevant today as they were when they were originally written. There's a few old songs we wanted to re-record as the production on the original versions wasn't great. The new version of 'This is England' is a lot more powerful and dynamic.
When you took the name Red London, did you mean something special with Red in your name?
-We got the band name from a Sham 69 B-side but we liked the Red connection as we're socialists.
Now you´re on Mad Butcher Records, anyway the latest record, how is that?
-I personally think this new album (Symphony for the Skins) is the best record we've ever done. There was a lot of pressure on us with this album because we'd got back together after a 16 year gap and it's the first Red London album without Kid playing and writing on it. Me, John and Patty put a lot of time and effort into writing the songs and getting them just right. We knew we had to come up with something special and I think we've achieved that.
Is it important to get out physical records and not only be on Spotify and so on?
-I think it's very important. Spotify is good for checking bands out but you can't beat playing a good CD or vinyl record and turning the volume right up while reading the info on the cover.
Do you still buy records yourself? The latest you bought?
-I don't buy CD's as much as I used to.
The last two albums I bought were 'Easy Tiger' by Loudmouth and 'Blood' by Gimp Fist.
Patty's last record buys were a Northern Soul compilation and The Best of the Redskins.
Now it´s not so much live performances during the covid-19 time. But have you done any live streaming concerts as many other bands do?
-We haven't done that as we've been too busy writing and rehearsing for a new E.P.
I understand that you love playing in Germany and especially Berlin, how come? Any good countries to play in?
-We've played in a lot of different countries and they're all good in different ways but Germany was always special for us. We've played some great tours there and had a really warm welcome. Berlin is probably our favourite city. We've had some great gigs and great times there and have a lot of friends there who we hang out with whenever we return.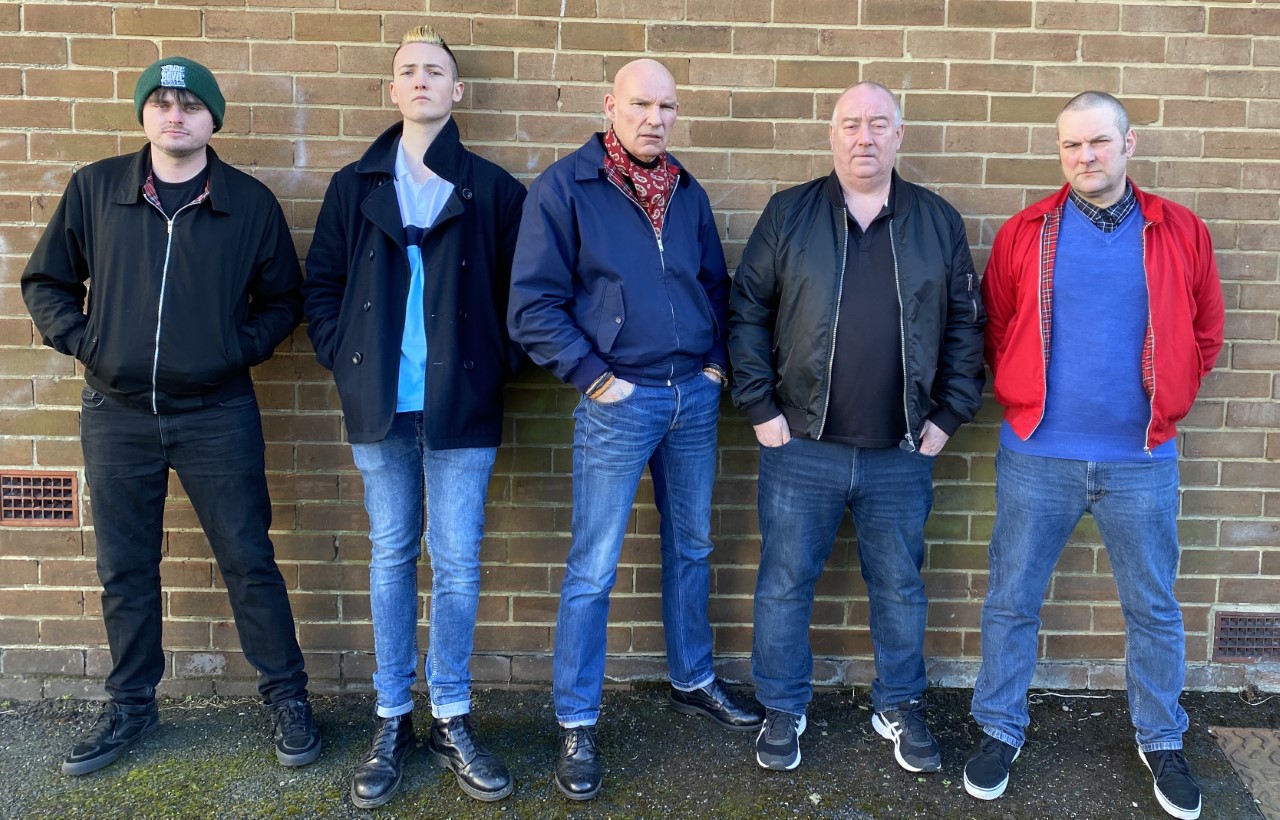 In your audience I can imagine that it´s both punks and skins, any people you miss on your concerts? Is it only old guys and women who comes?
-The last tour we noticed that there was younger people coming to the gigs as well as the old fans so that's great and very encouraging. It's the only way the scene will survive.
How is it to live in England right now? Covid, brexit and how about politics overall?
-It's a bit fucked up but so are a lot of countries. We're back with a shit tory government who only care for the rich so not much has changed.
You come from Sunderland, and you support SAFC I suppose. I have seen the Netflix documenatry Sunderland til I die and I recognize myself. My team GAIS is on the way to go down into the third division here in Sweden? What´s wrong with SAFC?
-I don't actually support Sunderland but I've watched both of the documentaries you're talking about and I know exactly what you mean. It's heartbreaking for the die hard Sunderland fans. The club has had some good, well respected managers over the last 20 years or so but nobody can make them successful. They've wasted a lot of money on bad players over the years but it goes much deeper than that. It's hard to know what keeps going wrong?
I really love beer and I do my own beer too. If Red London do a beer, which type would it be and what will it be called?
-This is a great question and I'm having to think hard for the answer?
It would probably be a strong premium lager called 'Days like These'
You do a Chelsea song, 'I´m on fire' on your new record, why did you cover that when you have so many good songs of your own?
-We love Chelsea, they are a great band and we've covered a few of their songs over the years and I always think it's good to include a cover song every now and again. It really fits the rest of the album as well.
Any other covers you play?
-As I said before, we've done a few Chelsea songs over the years. We've also done a cover version of the Attila the Stockbroker song 'Sawdust and Empire' which appeared on the album 'Days like These' and we've played it live a lot of times over the years. Our version is a lot different to his. For our version we punked it up and gave it the Red London sound but both versions are great. We've had a few covers popping up in the live set over the years and we recorded a version of 'The Harder they Come' which was on an album but we never played that one live.
When you play live, which is the songs all people want to hear except This is England?
-It varies from gig to gig but 'Revolution Times' 'Days Like These' and '48 Reasons' always go down well.
You have been playing with Red Alert, Angelic Upstarts on some record and other bands you have been playing with and do you play in any other band right now?
-Over the years I've played with The Rebels, Red London, Red Alert, Angelic Upstarts and The Dipsomaniacs. In my opinion they are all great bands but my heart has always been with Red London.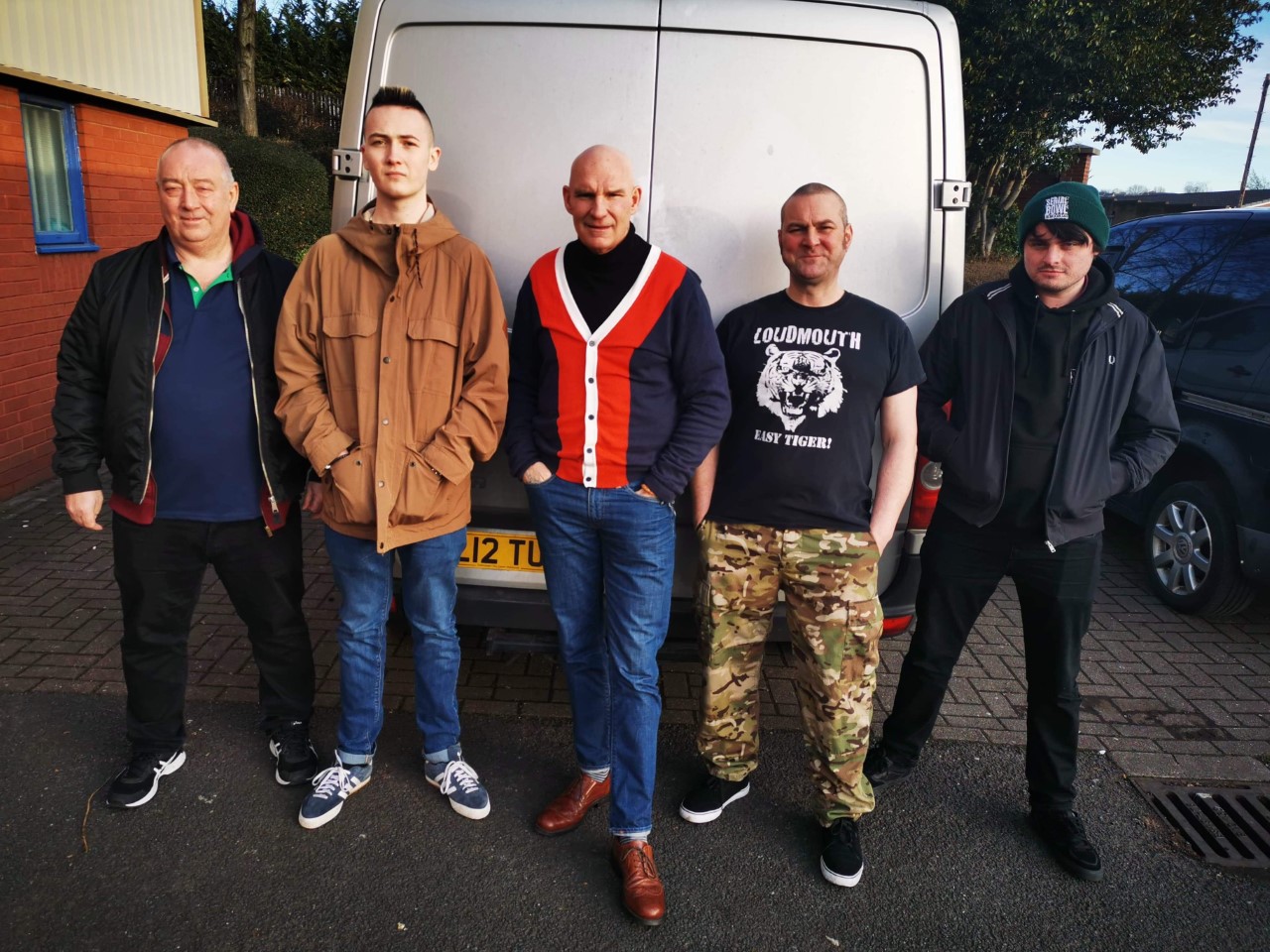 I'm 57 years old now. You're getting older too, what´s the biggest difference with playing punk if you compare when you were a Young punk/skin? I mean with Concerts and so on?
-I was a fan of punk music from the start and went to punk gigs as early as 1977 when I was 17 years old. I saw The Jam, The Vibrators, The Saints and Penetration live in 1977 in Sunderland.
It's impossible to get better than the original spirit of punk when it hit the UK in 1977. The first punk record I ever bought was 'Remote Control' by The Clash and that changed me forever. Punk is still great and it's lasted much longer than anybody thought it would, but the very early days were so special that you can't beat them. Don't get me wrong, I still love playing gigs and making records but it gets a lot harder when you get older especially the travelling.
The meaning with punk today if you compare how you saw it when you were younger?
-Punk will always mean a hell of a lot to anyone who has been involved in it. Whether that is buying records, going to gigs or forming a band and writing your own songs. It was a movement for the working class and spoke to my generation. It inspired so many people and still does. It was our music then and it's still our music now.
Is it important to get out opinions in the music? Politics and Music belongs together?
-This is a tricky one as I think politics and music go together to a certain extent but any form of extreme politics is fucked up. There's nothing wrong in getting your opinions across in music but don't try to shove politics down anyone's throat. Your opinion is after all your opinion and some people might have a different opinion. Political situations can inspire people to react against bad political times and hardship and injustice. At it's core Punk is a form of protest music and some great songs have came out of the punk rebellion.
Best political band/artist?
-There's been some great political bands/artists over the punk years.
Bands like The Clash, The Jam, Angelic Upstarts, Stiff Little Fingers, Tom Robinson Band,
The Ruts, Attila the Stockbroker, Redskins, Newtown Neurotics etc. All great. The list goes on.
I'd like to think that we're on that list as well.
Is there any good new bands in England today? Any good old bands which is still around?
-Symbient are a good new band from our home town of Sunderland. There's also a good band not far from us in Darlington called Boilermaker, but there's not many up and coming punk bands coming through that I know of. Loudmouth are a great band but they've been around for a long time now. The same goes for Gimp Fist. As for the old bands, I think Chelsea still sound great.
What do you think about Rebellion Festival and that sort of bigger events with so many bands? Is it like a family reunion?
-Yes, to me that's exactly what it's like. When we play Rebellion I love to go for the whole weekend. It's great to catch up with bands you know and bands you love. Also to check out any new bands and meet up with old friends, some of them that you only see once a year at Rebellion.
What do you know about Sweden, what did/does people says about our way to handle the Coronavirus?
-I don't know a lot about Sweden to be honest. I know the Stranglers had a song called 'Sweden' on their black and white album but the lyrics didn't do Sweden any favours. In the UK whenever you think of Sweden you think of beautiful blonde women haha, I know that's a cliché but it's still true in the UK. This whole coronavirus is fucked up and I know Sweden will be doing a better job of containing it than here in the UK where they are fucking hopeless and don't really know what they are doing?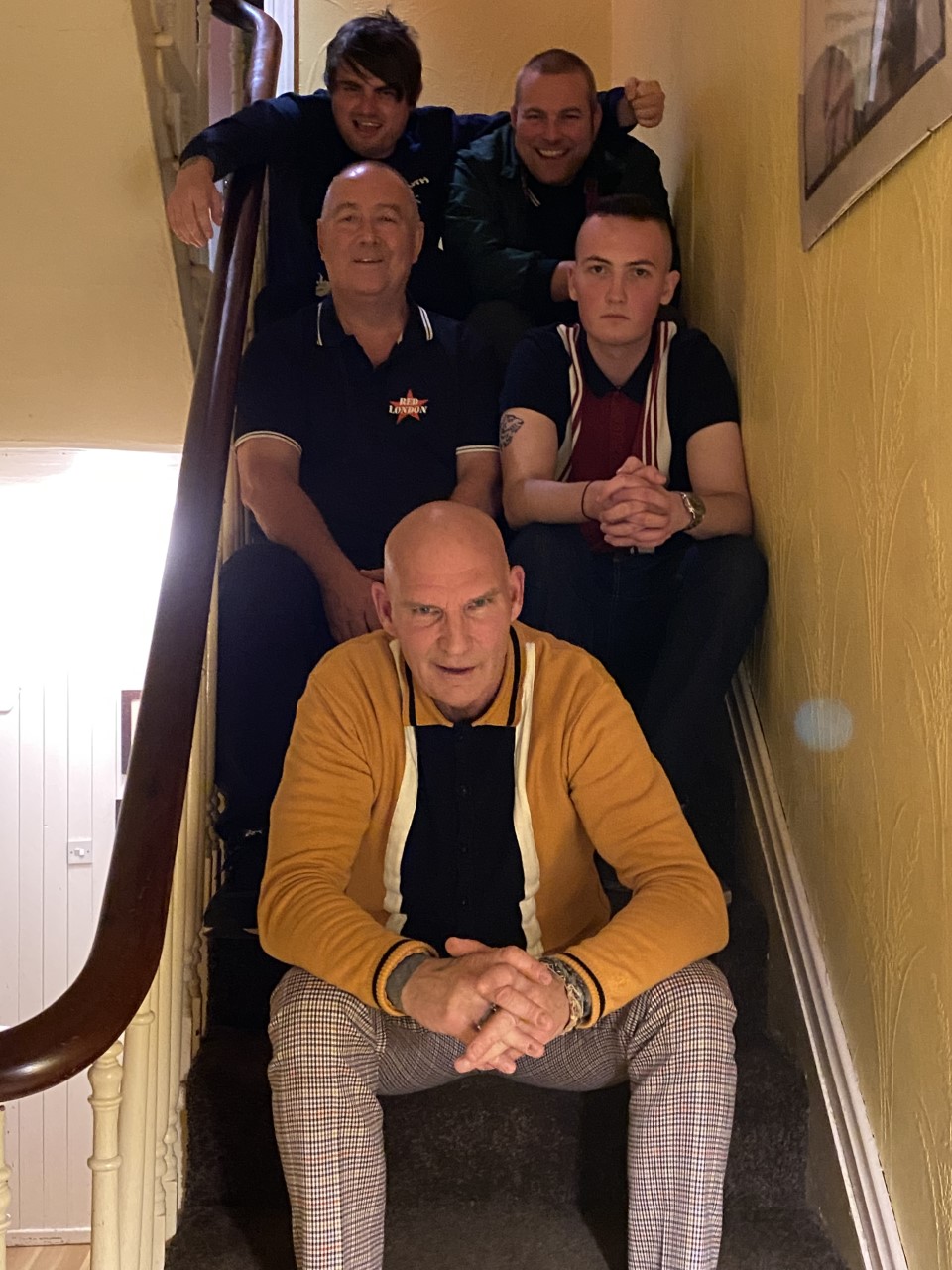 Have you ever been here and played? Do you know any good Swedish bands?
-I played a festival in Sweden with Angelic Upstarts a few years ago and it was amazing.
I think the festival was called 'Pretty Shitty Town' or something like that. Some of the gig was recorded and came out on a compilation dvd. It's the best quality Angelic Upstarts footage I've ever seen and I've got the whole Upstarts set on dvd which I'm proud of. Sorry but I don't know many Swedish bands.
Which are the future plans with the band?
-We've been writing and rehearsing for a new E.P. which we'll be recording in the middle of October. It'll be coming out on Mad Butcher Records. Like everyone else we can't wait to get out and start playing live again. We haven't even done a gig yet with the new line up but the rehearsals have been sounding great. It's gone up another level since parting with 'Rap man and Nothin'. The two new guitarists have really made a difference to the live sound. We've got a few gigs booked for early next year and hope to do a European tour in 2021 if things get back to normal.
For yourself?
-As long as Red London stay together I'll be there.
If there any questions I have forgotten to ask and you want to have, please ask it and answer it?
-To check the band out go to 'Red London punk band facebook page' To buy merchandise or the new recordings go to Mad Butcher Records website. There's the latest album 'Symphony for the Skins, the 'Kings of the Streets' E.P. and the new E.P. will be out on the Mad Butcher label probably early in 2021.
Wisdomword?
-'Don't eat yellow snow' (that's an old one. Have you worked it out yet?)
Any last words?
-If you know any good promoters who would fly us to Sweden to play a few gigs in 2021 tell them to get in touch via the Red London punk band facebook page.
All the best, Gaz Stoker.