Mary Jane´s Affair is a punkgroup which comes from Bolivia and it´s the firstone from Bolivia that I´ve ever heard. November 2008. Sometimes it´s a little bit hard to understand what they mean lack to the fact that they have a little bit to speak English.

History?
-MARY JANE'S AFFAIR is a group of punk rap that is formed at the end of 2005, determined to conquer the music market, more assured and mature than what they really love is music. The current proposal comes with more professionalism and greater conviction reaching a new record production in the studios of Pancho Straub (FXS Studio) in the city of Santiago de Chile recognized by the sound engineer for the city Joaquin Garcia who worked with Chilean groups high level, and mixed in Pro Audio studios in La Paz, Bolivia, where he completed the new album hey ho!, let's rock.
Previously members of the gang belonged to the group Mary Jane, with whom he recorded the album "Sweet Baby Jane" on the label of "Discolandia" (more important for Bolivia); subsequently formed the pop rock group Fresa Punch introducing her album PARTY 'S HERE. After a year of promotion, two of them decided to improve the standard of music outside the country, for that reason decided to break away and form what is now MARY JANE'S AFFAIR.

MARY JANE..S AFFAIR :
Elliott – batería y voces
Navil – guitarras
Danny - bajo
F Morgue – rap vocals

Please tell me something about every member, age, work, interests and something bad about every one?
-NABIL: 25 years old, musician and publicist, play guitar all day, impacient guy.
FARID: 22 years old, musician and film director, everything about rap and films, bad character.
ELIOTT: 28 years old, musician and publicist, music is my life, impacient guy.

Are you only two in the group?, anyway are you that on hey Ho let..s rock?
-In fact we are three brothers the shape of Mary Jane's Affair and participated in the cd hey ho!, Let's rock

Have you done anything more than that CD, if you have how can I get it?
-At the moment we have the EP hey ho!, Let's rock, and for any contact or whether they want to get the cd through our mail maryjanesaffair@hotmail.com or www.myspace.com/ maryjanesaffair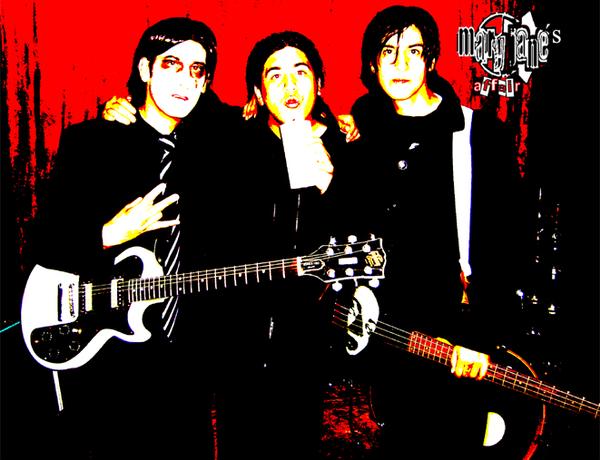 I describe you as a 77-punk sounding band and a little like the classic english punkrockgroup Boys? Comment about that?
-What we wanted to achieve when the CD was to capture the essence of punkrock of the late 70's, and q have great influence on British punk rock groups, and apparently we made it.

How is the punkscene in Bolivia? have punk been a part of Bolivia for a long time?
-The truth is that there is not a big punk scene in Bolivia in the last year grew due to strong output of new groups pop punk.

Is there any other good bands there?
-Existen buenas bandas de diversos géneros.

Mary jane..s affair, where do the name come from?
-The name arises because in school we had a friend named Mary Ann, she had an affair with another friend from another college and that relationship is born Jane, due to strong support from Mary Ann to the band, we decided to put the band Mary Jane ' s Affair.

How is your relation to punk, is it only a musicstyle or is it a lifestyle?
-For us it is just a musical style, but we respect very much the punk ideology.

Music and politics , does it goes hand in hand?
-Depends on what you want to express, there are many good bands that use music as a means of protest against the policy in their countries or worldwide, we think is very valid, we do not use such lyrics.

Best political band/artist?
-Rage Against the machine.

Is it easy to get punkrecords from othercountries in Bolivia or how do you get music to listen to?
-In our country it is almost impossible to create a unique record of punk rock, or any other musical style because of the very small market or piracy, the instrument most used by us is the Internet to publicize our music.

Have it been any big bands in Bolivia and played?
-No big bands come to our country by the above, very small market.

Which is the biggest band you have played together with as a support act?
-For the time being with no world-renowned band.

How is it to live in Bolivia, I mean politically?
-Living in Bolivia is very complicated, because we are in a confrontational political situation, and this makes the musicians we can not move as we wish our country by the blockades on roads or other social events.

What do you know about Sweden?
-We know it is a great European country in which we have relatives living in their country, in the city of Gothenburg, and thank them know their culture.

Have you heard any good bands from Sweden?
-What we hear are the bands most recognized worldwide as The Cardigans, or The Hives.

Please rank your five favourite records, five favourite concerts and five most important things in life?
-Favourite records: Nevermind the bollocks – Sex Pistols
Anthology - Ramones
Ten – Pearl Jam
Rage Against the machine - Rage Against the machine
Blood sugar sex magic – Red Hot Chilli Peppers
Vulgar display of power - Pantera

Favourite concerts: Pearl Jam
Oasis
Red Hot Chili Peppers
Beastie Boys
Snoop Dogg

Most important things in life: God, Family, health, love, and Music.

First, last and most expensive record ever bought?
-First: Ritual de lo habitual – Jane..s addiction
Last: Lacuna Coil – Karmacoide
Most expensive: Smashing Pumpkins – Mellon collie and the infinite sadness

Most embarrassing record in your collection?
-Spice Girls.

Is it many interviews? Is it boring?
-No, it..s fine.

Have you been outside Bolivia and played anytime?
-Yes, we had the opportunity to play in Mexico and Chile.

Futureplans for the band?
-Making the new album, make a tour to Bolivia and Mexico.

Futureplans for yourself?
-Making good music and keep on tour.

Something to add?
-Thank you for the coverage, and for taking the trouble to meet us. Hopefully not the last time they want to know things about the band and hope to have their support.