Real McKenzies looks like an interesting band when you see that they have bagpipes among theor instruments. This interview was done 23/9-2000
History?
-THE BAND WAS FORMED IN THE MID NINETIES SINCE THEN WE'VE TOURED NORTH
AMERICA AT LEAST 6 TIMES & PLAYED WITH SOME OF THE GREATEST BANDS ON THE
PLANET. THE HEAVY ROCK & VOLATILE NATURE OF THE FANS & SHOWS ARE TOO
MUCH FOR THE AVERAGE, UNSUPERHUMAN BEING, & SADLY, AS A RESULT, ONLY 2
OF THE ORIGINAL MEMBERS ARE STILL IN THE BAND. YET, THE EXISTING LINE UP
WILL ROCK TILL THEY DIE!

Please tell me a little about every member, age , work, family and so on?
-WE HAVE ALL DROPPED OUR SIR NAMES & TAKEN MCKENZIE
SINGER/WHISTLE, ETC.: PAUL MCKENZIE- 30ISH ROCK & ROLLER
LEAD GUITAR: DIRTY KURT MCKENZIE- 30ISH ROCK & ROLLER
GUITAR: BONE MCKENZIE- 30ISH ROCK & ROLLER
BASS: HAMISH MCKENZIE- 30ISH ROCK & ROLLER
DRUMS: BRAD ATTITUDE MCKENZIE- 30ISH ROCK & ROLLER
BAGPIPES: MATTHEW MCKENZIE- 30ISH ROCK & ROLLER
FAMILIES HAVE DISOWNED US FOR SHOWING OUR ASSES ON T.V., BEING PISSED
DRUNK, ALWAYS LAUGHING & CARRYING ON, & BEING IDIOTS.

Is it it much work to be so many in the group, whats the best and the worst of being so many in the group?
-YES, BEST- BIG FAMILY WORST-HAVING TO SHARE BEER, WHISKY, & MONEY.

How did you came up with the idea of playing this sort of music and have bagpipes on it?
-WE'RE ALL OF SCOTTISH/ IRISH HERITAGE. BLACK LEATHER JACKETS LOOK GREAT
W/ KILTS & JACKBOOTS. HATS ARE ALWAYS ACCEPTABLE TOO!

Have you got any reviews on your new album? Are they good?
-MOST OF THE RECORD & LIVE SHOW REVIEWS ARE EXTRAORDINARILY EXCELLENT,
EXCEPT FOR WHEN SOME HUNG-UP CRITIC DOESN'T LIKE WHEN WE SHOW WHAT'S
UNDER OUR KILTS & VOMIT ON STAGE & FANS. THE NERVE OF THESE
PEOPLE...SHEESH!

I compared you to Levellers sometimes and Motörhead sometimes and you look a little like Tenpole Tudor, what other bands do people compare you to?
-THANKS FOR THE GREAT COMPARISONS, THERE ARE NO OTHER BANDS LIKE US! (BUT
WE'LL KEEP LOOKING & LISTENING, & WHEN WE FIND THEM WE'LL KICK THEIR
ASSES!)
>
Do you care about reviews? Have you ever changed anything when you have got a bad review?
-YES, WE'RE VERY, VERY SENSITIVE, BUT WE DO WHAT WE DO FOR THE FANS &
OURSELVES. CRITICS CAN BE QUITE DETACHED & INSULTING TO TRY TO MAKE A
HARD-LINE FOR THEMSELVES. WE THINK THEY CAN BE QUITE CALLOUS & UNFAIR.
THEY SHOULD TRY TO TOUR, RECORD, ETC. SOME HAVE TRIED & FAILED! SO..THEY
TURN INTO ROCK CRITICS, POOR BASTARDS & BITCHES.

What have you done except Clash of the tartans, and how can I get it?
-WE'VE RECORDED LIMITED EDITION TAPES, ONE CD ON IFA, A FEW SINGLES (1 ON
FATWRECKCHORDS COMING OUT NEXT YEAR), A LIVE CD & THEY ARE ALL
IMPOSSIBLE TO ATTAIN--EVEN MY CAT DOESN'T HAVE ONE (OR MY MUM). I'M
BEGINNING TO WONDER IF WE ACTUALLY EXIST

Is Golf a good record label? Any other who have been interested?
-GOLF IS GREAT, THE LAST CD I HAD FROM THEM HAD A "HOLE IN ONE"

Are you often out and play gigs? In Europe in USA? Where is best?
-ALL GIGS ARE GREAT, TO SEE PEOPLE FREAK OUT & BE HAPPY MAKES US WANT TO
PLAY SO HARD WE SHIT OUR KILTS, REALLY!

Your adress is to Vancouver and your email is scotlandmail, where are you from?
-WE COME FROM CANADA (GOT ANY BEER?)

How is it to live in your country?
-POLITICS & IGNORANT PEOPLE ARE ALWAYS A TEST, BUT THE SCENERY IS GREAT.
(ARE YOU SURE YOU DON'T HAVE ANY BEER? HOW 'BOUT WHISKY?)
What do you know about Sweden?
-WE HEAR THE COLD KEEPS THINGS NICE. THERE'S ALWAYS SOMETHING TO BE SAID
ABOUT GOOD LOOKIN PEOPLE WHO'VE INVENTED THE SMORGASBORD & SWEDISH
MEATBALLS. WE HEAR THE VODKA IS GOOD TOO

Have you heard any swedish bands worth to mention?
-UNFORTUNATELY, WE'VE NOT HEARD MANY SWEDISH BANDS, HEY WAIT...AREN'T THE
HELICOPTERS FROM SWEDEN?

How does the average Real McKenzies fan look like?
-ABSOLUTELY FANTASTICALLY ATTRACTIVE, SLIGHTLY DEAF & A BIT TIPSY FROM
SCOTCH WHISKY & BEER

Do you have good contact with your fans, in which way?
-WE HAVE SO MANY FANS ITS HARD TO KEEP IN TOUCH, WE DO HAVE A WEB SITE,
ANSWER ALL EMAILS, HAVE MESSAGE BOARDS, AND AT A SHOW WE WILL ALWAYS
HANG OUT W/ A FAN, IF THEY'RE WEARING A KILT & BUY US A ROUND.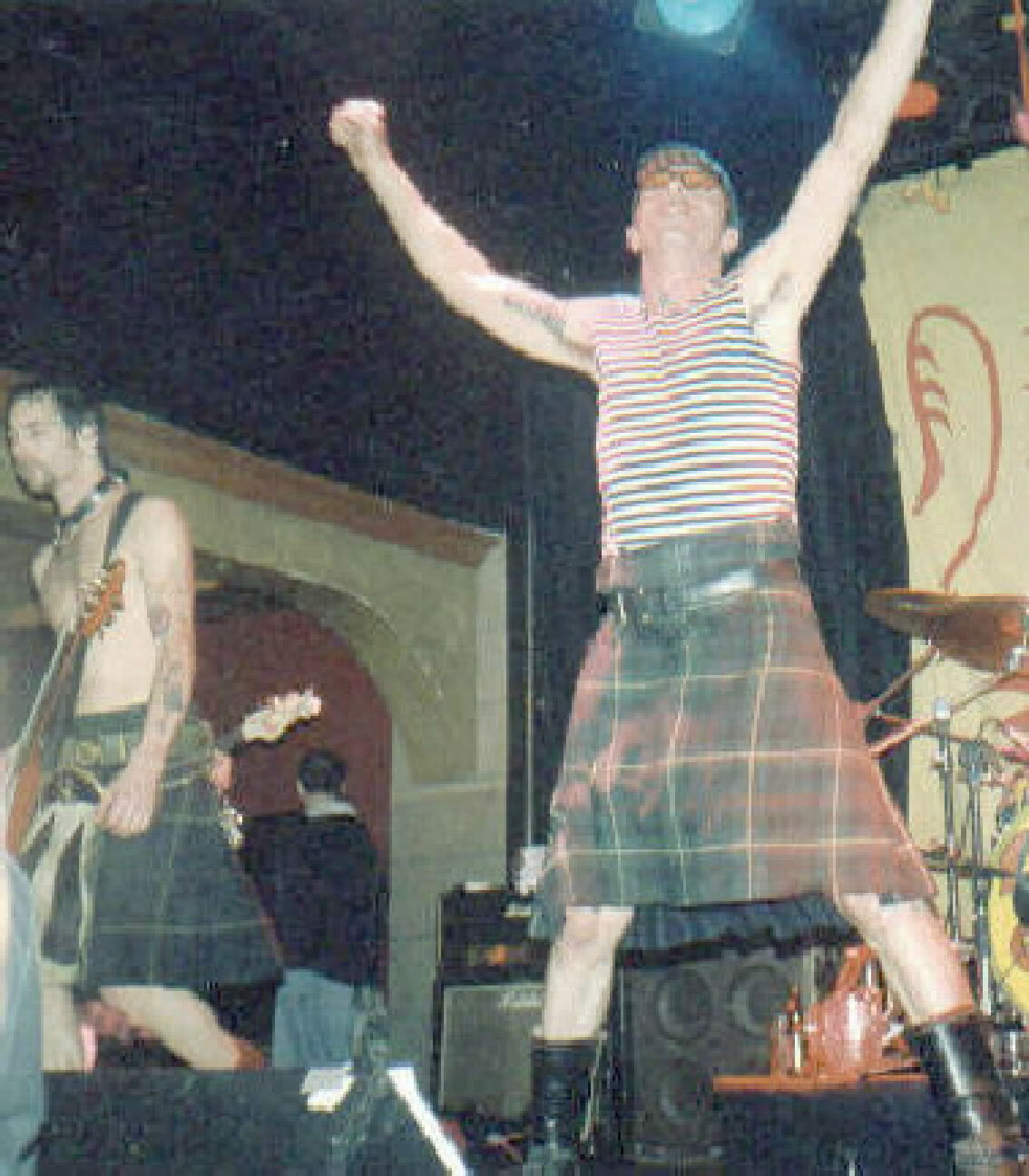 Is it many interviews?
-YES, BILLIONS & BILLIONS...

Which is the question you want but you never get, please ask it and answer it?
-Q: DO YOU THINK YOU'LL EVER DO A SHOW ON ANOTHER PLANET, OR WHEN YOU DIE
WILL YOU PLAY HEAVEN & HELL? A: OH YES, DEFINITELY!

What do you like the new way to communicate with email and internet and that stuff?
-ITS EASY & WORLDWIDE & VERY ACCESSIBLE FOR PEOPLE OF ALL NATIONS & AGES

Is it something you use much, any favourite sites except Skrutt-Official Homepage(http://www.surf.to/skrutt My homepage to this zine
-TO BE HONEST, WE'RE HANDS ON MORE THAN VIRTUAL, WHAT WAS THE QUESTION
AGAIN?

Whats the worst and the best with internet do you think?
-DUH- WHAT? INTER...WHAT?

First and last record you bought? The most expensive record you have bought?
-FIRST RECORD: SCREAMIN' JAY HAWKINS, LAST RECORD: SHANGRILAS
Idols when you were small?
-JOHN COLTRANE, CHARLIE PARKER, LOUIS ARMSTRONG & NEIL ARMSTRONG

What does punk mean for you?
-PUNK IS A RAUCOUS RELEASE. SUBVERSIVE, DANGEROUS, NOT AT ALL "SAFE",
HARD, LOUD, FAST & PISSED, & WOMEN LOOK EXCELLENT IN PUNK GEAR

What do you think when I write Football, Bagpipes, Booze, Music?
-THE REAL MCKENZIES, THE REAL MCKENZIES, THE REAL MCKENZIES
When you do a song ,which is most important the music, the lyrics or to have a refrain that poeple can remember?
-WE THINK THEY ARE BOTH EQUALLY IMPORTANT
It sounds much that you like folkmusic too, any favoruites there?
-WE LIKE LOTS OF CELTIC BANDS, THERE ARE MANY TYPES OF MUSIC WE REALLY
ENJOY- MOST ACTUALLY.

Do you do any covers except the ones on Clash of Tartans?
-YES, AND WILL CONTINUE TO DO SO

What does a cover good?
-TO LIKE THE SONG, TO ADD SOMETHING, TO MAKE IT "YOURS", TO COVER A SONG
& DO NOTHING TO DEFINE IT IS USELESS & NOT ADVENTUROUS

Future plans for the band?
-TO RULE THE WORLD & OWN OUR OWN DISTILLERY & BREWERY & LEGALIZE PUNK
ROCK

Future plans for you?
-SAME AS ABOVE

Something more to add?
-THANKS FOR THE INTERVIEW, WILL BE SEEING YOU SOON & KEEP UP THE GOOD
WORK. WE LOVE YA ALL! P.S. SAY HI TO THOR FOR US