Reach comes from Slovenia. They´re playing a really good hardcore. Not so different from others but a fucking good hardcore. Sep-2018

Please tell me a little bit history of the group?
-Luka (guitar) and Benjamin (drums) knew each other from shows and the local scene and they were both 'band-less' at the moment, so they started talking about starting a new one. This was sometime in early 2016.
We had a hard time finding other members but eventually Jan (vocals) and Jože (bass) joined and that turned out to be great. Everything just clicked between the four of us and so we started writing some serious material and really started putting all of our energy and efforts into the band.
Please tell me a little about every member in the group right now, age, family, work, interests and something bad about everyone? Earlier bands? Other bands on the side?
-Our ages ranges from 23 to 33. Three of us have jobs and one is still attending college. We share the same passion for the music, which we create. All of us had been in bands in the past, but none of them are still active.
I can hear much different influences but mostly hardcore and some metal etc? Favorites from the past?
-We are all into metal genre as well as hardcore, so we try to combine something in between that sounds good to us.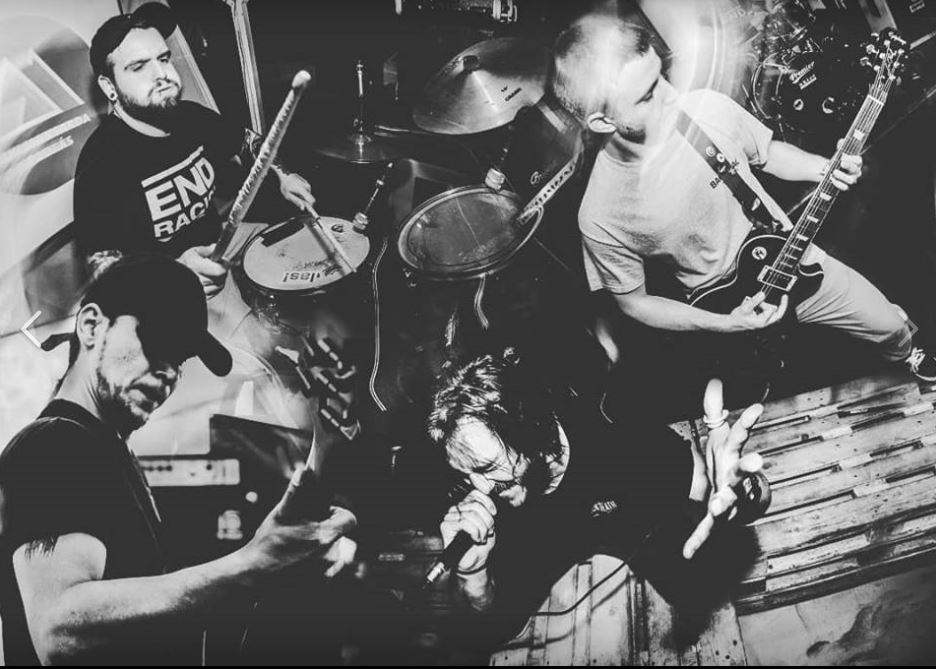 Reach are you satisfied with the name? How did it came up? You weren't afraid that some other band would be named like this? I think it already is a band with that name…Which is the best bandname you know?
-We were not too concerned about the name; we just knew that we wanted a short name. Of course, we had many ideas, but everyone liked 'Reach' the best so we picked it. It is also a good thing that anyone can interpret it in his or her own way.
We know there is a band with the same name, but they play a different style so we are not concerned that we will be accidentally mistaken for the other band.
What´s the best thing with playing live?
-That anxious, nervous feeling before the gig, because then we know we are about to do something that we really like and care about. But the nervousness is gone after one or two songs and then it's just fun.
And where is best to play? And the worst place?
-The best show we played was in Varaždin, Croatia. It was a backyard gig at some friend's house in his neighborhood. The vibe was very chill and laid back.
So far we did not have any bad experiences with shows and were very satisfied with promotors on all of our gigs.
How is to play this sort of music in Slovenia right now? Which types of bands do you have concerts together with?
-This style of hardcore is relative new in Slovenia so we are focusing more on the norther states (Austria, Germany...). Currently there are not many hardcore bands active in Slovenia right now, except our good friends in Laid to Rest. Punk and Metal bands are more common though.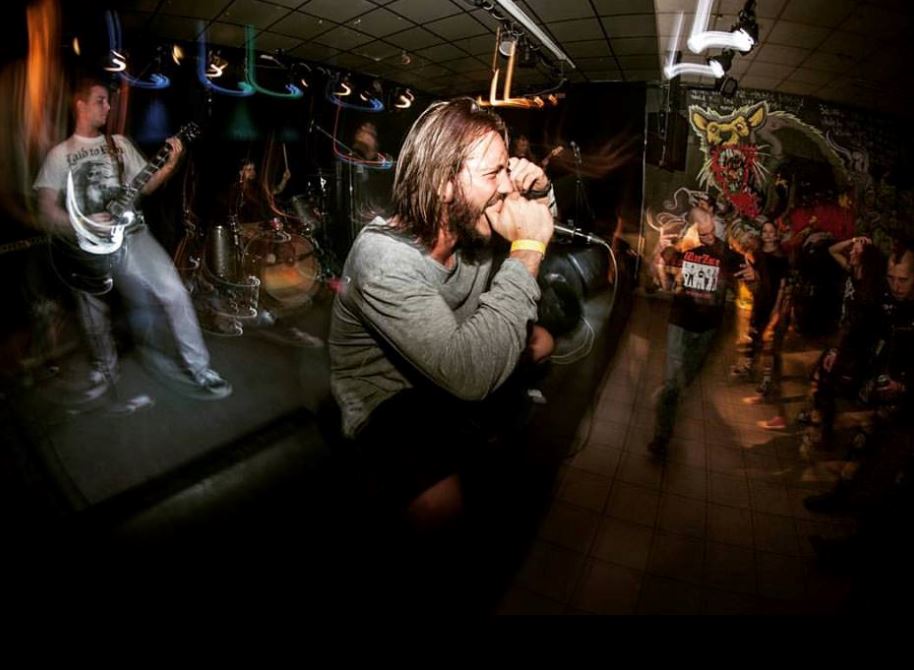 How would you describe your music in three words?
-In-your-face
What does punk mean to you, is it only a word or is it a lifestyle?
-We were born too late to experience the true essence of punk, but we adopted the idea (or mentality). We also want to stay on real and not to be too 'rebellious' for no reason. I.e. no matter how you look at things - you need a job to survive so it is stupid to think against that.
How do you see on downloading, mp3 and that stuff?
-We do not have a problem with it but we know there was a lot of controversy about this in the early 2000's. It is amazing to be able to share your music all over the world with such great platforms like BandCamp, Youtube, and Facebook. It is just a lot easier to get noticed by people that might be interested in what you are doing. How else we would be able to do this interview? ;)
How is it to live in Slovenia right now? Politically? Fascists?
-Social status of Slovenia is not good, but it's also not bad. It's tough at times but you can live a normal live. Situation has been improving in the last couple of years though.
We do not dive into the politics because, at the end of the day, it doesn't really matter who is leading the state or country, because they will always work towards their own self-gain.
Well the refugee crisis did make quite a stir among people and they started acting intolerant. That is just another proof of how much influence the media has on ordinary people. We don't have any extremist groups on the rise though.
Is there any good bands from Slovenia now? Is the punkscene/hardcorescene/metalscene big? How is it in your hometown?
-Currently the best band from Slovenia has to be Within Destruction. They are really getting their breakthrough right now, so congrats to the guys! Other good bands from Slovenia: In-Sane, Noctiferia, Srd, Elvis Jackson, Happy Ol' McWeasel…
The scene is not as lively as it used to be, but the people still involved are giving their best and are still organizing shows and festivals. We have two good festivals in our region: Tepih na Paleti fest and Breka Fest.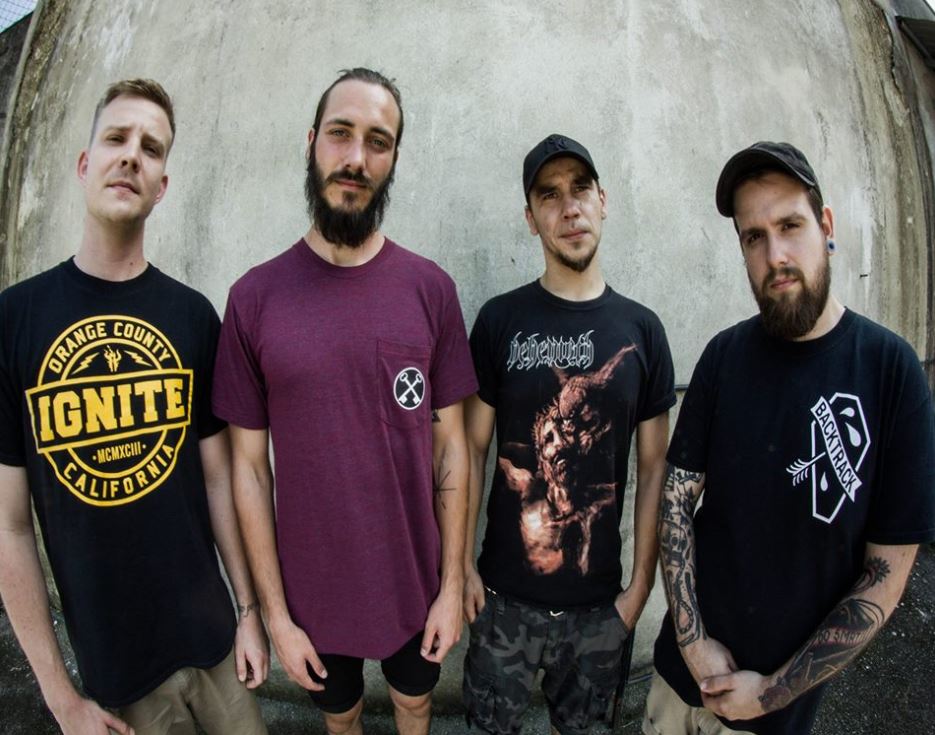 What do you know about Sweden?
-Ikea, Volvo, Surströmming? Haha, just kidding.
Have you heard any good bands from Sweden?
-Of course! We know many great bands from Sweden: Edge of Sanity, Entombed, At The Gates, Raised Fist, Marduk, In Flames, , Bathory, Opeth… - just to name a few!
Your lyrics, who does them and what influences you? Is it easier to do lyrics now or was it easier to do it when you was younger? Never in your own language?
-Jan writes the lyrics. Before Reach, I have never written a song. This is crazy if I think about it now, because I love the process of writing a song so much. I was always into bands with meaningful, deep lyrics. I can't really say which band or artist is my influence, probably all of them. I have never written a song in Slovenian language, it feels weird to me, I don't know why. But one day I will.
Is there any subject that you never will write anything about?
-Jan: I write about a lot of different things: state of world, society, our idols, about home, feelings, things we've been through... but we don't use all of them as a band. I will probably never write about dragons and armored hordes hehehe.
Politic and music, does it goes hand in hand? Which is your most political song?
-Hardcore was always involved in politics (some praised certain ideas and some criticized them). In our case - we don't have many political songs. We are focusing more on social criticism and personal stuff that happens within each of us.
Best political band/artist?
-Rage against the Machine
Do you think that music (lyrics and so on) can change anyones life, I mean people who listens to music?
-We are still a relatively unknown band to be honest, but if by any chance our music does have a positive impact on someone then we will be grateful for that.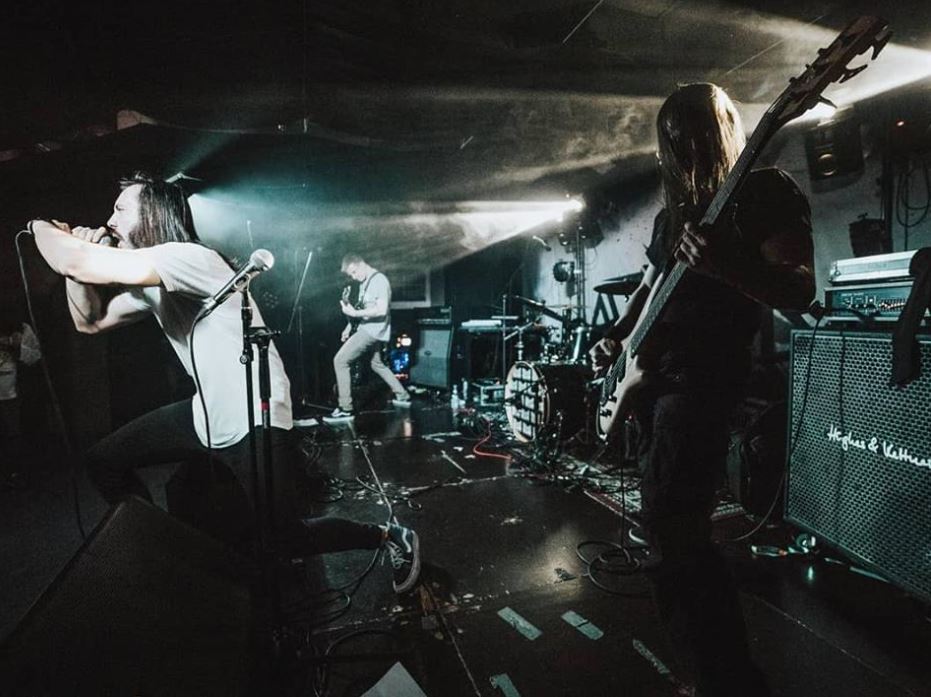 Your cover on your CD looks really nice, is it important to have a record cover which shows people which type of music you play? Your favorite record cover? Who does your covers? And do you have any good record stores in your hometown?
-Thank you. Honestly – we don't know. We think everything is okay as long as - it looks good, is in context with what the music is about and what the lyrics are about, and is nothing too dramatic. A friend of ours who is a tattoo artist did the graphic on the demo album and a different friend of ours took the photo on the split album. We come from a rural part of Slovenia so we don't have any special dedicated record stores. However, those are poorly stacked most of the time. Just your regular pop & rock artists, nothing fancy.
Is it important to get out physical records of your stuff? Why or why not? Vinyl, CD, cassette, what do you prefer if you could choose whatever?
-Yes of course. Especially in this day of age where everything has become digital and disposable. It's important that people buy physical media because not only do they support the band, they also support the labels, distros and printing places.
Please tell me a funny thing which have happened during your career and under some gig?
-Oh man, our show in Budapest - we'll never forget that…
As we arrived to Budapest suburbs Jože needed to go to toilet really much, really bad (couple of hours in a van while drinking beer takes its toll) but we were stuck in traffic for like 30mins. Poor guy was starting to go pale haha.
Then, two or three songs into our set - Benjamin's snare drum snaps! Thankfully, he got a replacement from one of the bands that played that night so we could finish our gig.
Nevertheless, the show was great and the crowd was amazing.
How does your audience look like? Which people do you miss on your concerts? Which is the biggest band you ever have played together with?
-Have you seen the crowd from This is Hardcore festival? Something like that.
We don't have a preference who comes to our shows as long as they like our music and are having fun it's cool with us.
Please rank your five favorite records, five favorite concerts and five most important things in life?
Luka
Records: All of the Misfits stuff, Pink Floyd – Dark side of the Moon, Slipknot – Iowa, Have Heart – Songs to Scream at the Sun, Children of Bodom – Follow the Reaper.
Concerts: Vitamin X at Fluff Fest 2013, Bane at Fluff Fest 2014, Rammstein at Arena Zagreb 2010 was insane, Converge & Touche Amore at Zagreb 2012.
Most important things: Most important thing in my life - when I discovered punk music, which later inspired me to start playing guitar.
Jože
Records: I don't have any top records, I like all of those I own. If it sounds good then it's good.
Concerts: Every Dimmu Borgir gig, Behemoth, Metallica always delivers, Motorhead (can't leave out Lemmy), Dream Theater (Musicus incredibleus)
Most important things: most important thing for me? Meeting theese 3 guys, and tearing it up on-stage with them. Yeah, that would be it.
Benjamin
Records: Linkin Park - Hybrid Theory, Kataklysm - In Arms Of Devastation, Turnstile - Step 2 Rhythm, Expire - Pendulum Swings, Metallica - Ride The Lightning
Concerts: Jesus Piece at Outbreak fest 2018, No Warning at The Sound of Revolution fest 2017, Trapped Under Ice at Fluff fest 2012, Lamb of God at Metalcamp 2009, Behemoth Ljubljana 2007
Most important things: Music in general. All the shows and festivals I went to and my girlfriend who helped me get my shit straight.
Jan
Records: Stick to your guns – Diamond, Touche Amore - Parting the sea between brightness and me, While She Sleeps - You are we, Rage against the machine - self titled, Linkin Park - Hybrid theory, Have heart - Songs to scream at the sun
Concerts: Touche amore/La dispute – Vienna, Stick to your guns - Ljubljana (Gala hala), Architects/While she sleeps - Ljubljana (Gala hala), Macklemore - Frequency festival, Prophets of rage/System of a down (Nova Rock)
Most important things: My girlfriend, music/band, festivals/traveling, time for myself, manga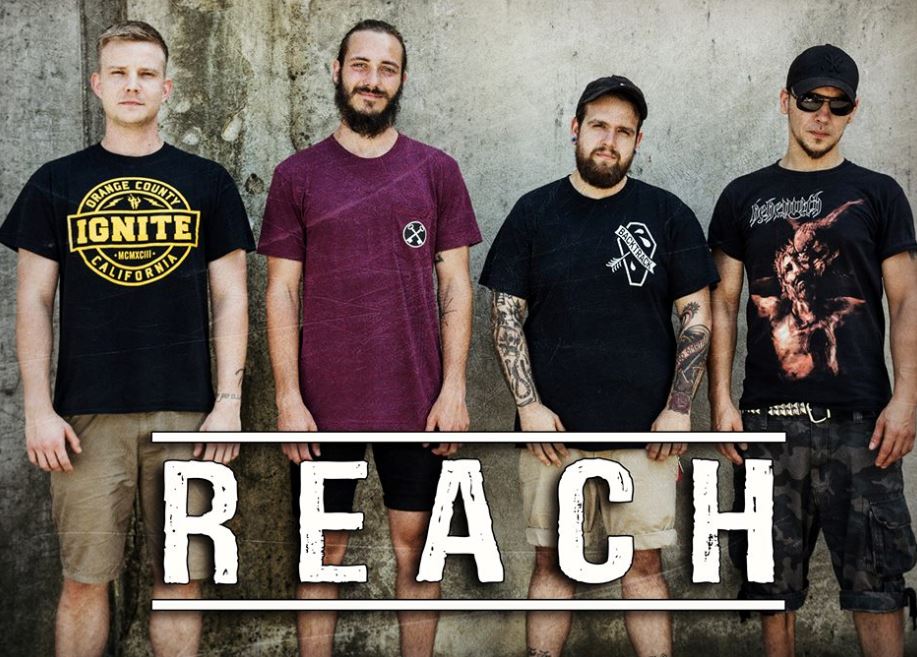 First, last and most expensive record ever bought?
Luka
First: Misfits – Famous Monsters, Last: Motorhead – Bastards. Can't remember which one which is the most expensive that I own.
Jože
First CD or in my case first cassette Metallica - Ride the Lightning. Last CD..signed IN-Sane record,from their 20.th anniversary show. Good guys, great music. Can't remember what was the most expensive record. Maybe Dimmu Borgir-Death Cult Armageddon Limited edition.
Benjamin
First: Blink 182 - Take Off Your Pants and Jacket, Last: Broken Teeth - At Peace Amongst Chaos. Most expensive: P.O.D. – Satellite
Jan
First record: The Offspring – Americana, Last: Stick to your guns – Disobedient, Most expensive: Green Day - LPs collection

Is it boring with interviews? Is it much interviews??
-No, not at all. It is always interesting do interviews.
If you could choose five bands from the past and the history and nowadays and both dead and living bands to have a concert together with your band. Which five have you been chosen?
-Misfits, Behemoth, Sepultura (with Max Cavalera), Stick To Your Guns
Is music a good way to get out frustration and become a nicer person outside the music??
-Yeah it works like a therapy. And it's much cheaper!
Which is the most odd question you ever have got in an interview?
-Thankfully, the questions we got so far were all normal!
Which is the question you want to have but you never get. Please ask it and answer it?
"So how was the U.S. tour?"
Futureplans for the band?
-Practice as much as we can, writing new material – we are currently working on an upcoming EP/LP - booking as many shows as we can, US tour someday hahaha…
For yourself?
-Every member has its own personal plans, but nothing extraordinary. Just basic stuff – career, music, family, home…
Wisdomword?
-Stay true to yourself
Something to add?
-You can find more info and news about us on our Facebook and Instagram pages. If you'd like to get in touch with us just drop us a message!
Thank you for the interview, and thanks for showing interest in us. Cheers from Pomurje, Slovenia!
reach.pomurje@gmail.com