Razor Sharp Death Blizzard is group with a long name and I have some difficulties to remember their name but the music is still in my head. Raw punk/hardcore is the thing with some metal too. Listen to them read this interview done in November 2015.
Please tell me a little bit history of the group?
-RSDB formed after Daz (guitar) filled in on bass for the final short tour of my old band Ridgeback in 2010. After the tour we decided to write some tunes and hang out. We jammed a couple of times then lost our longtime rehearsal space. After a hiatus of a year or so Daz and I (Jamie) got back together in a new space with a new drummer, Greg. That was it for a while, had numerous bass players, and not much happening due to work and university commitments. Then along came Graham (bass) which was a turning point in us starting to get our shit together. Started writing more, then gigging. We then recorded the EP we sent you (Riot Revolt Revolution) and have been playing here there and everywhere in Scotland and England.

Please tell me a little about every member in the group right now, age, family, work, interests and something bad about everyone? Earlier bands?
-Me, Jamie (vocals), I'm 43 married with two kids, run my own construction business, I take part in music, beer and travel, bad ;) I take things way too far, a bit of an arsehole really ha ha ha.
Daz (Guitar/vocals) is 42 separated with two kids and two grand kids, works preparing cars for sale and servicing, takes part in music, gravity racing, cider, bad, is a grumpy bastard at times lol.
Greg (Drums) is 24 and engaged, works at a supermarket part time and goes to university studying something ;), takes part in music, gaming, dogs, cats, sambuca, bad, nothing other than getting drunk.
Graham (Bass) is 42 and in love x, works as a technician at a vegetable processing plant, takes part in music and drinking Guinness.
I can hear much different influences in your music but mostly Anarchopunk and some metal? Favorites from the past?
-We have eclectic tastes in music from GBH, Exploited, Iron Maiden, Saxon, Slayer, Anthrax, Neurosis.

Razor Sharp Death Blizzard are you satisfied with the name? How did it came up? You aren´t´afraid that people don´t remember the name? Which is the best bandname you know?
-The name came from our original drummer Dean. Walking home in Edinburgh through a snow storm and he said it was like walking through a razor sharp death blizzard. Yes we're happy with the name, the music makes the band not the name. Look at Limp Bizkit, now thats a shit name and a shit band. best band name is The Wing Of Jazz Destiny.
What´s the best thing with playing live?
-We love getting in peoples faces, its the best feeling having folks enjoy what we do. We are uncompromising, political and opinionated. Brutal.

And where is best to play? And the worst place?
-Best: The Alma Inn in Bolton England. Worst: anywhere in Hawick Scotland.

How is to play this sort of music in Scotland right now? Which types of bands do you have concerts together with?
-It's pretty damn good in Scotland. Edinburgh is thriving just now, we've been playing in Bannermans and Banshee Labyrinth with Dog Tired, Lucifers Corpus, Sapian, Blackened Ritual, Filth Pact etc.

How would you describe your music in three words?
-Political, Rage, Uncompromising

What does punk mean to you, is it only a word or is it a lifestyle?
-Punk to me is being who you want to be. Being able to voice your own opinion. Living by your own rules. To not be dictated to by others.

How do you see on downloading, mp3 and that stuff?
-Me personally, I don't like it. I like to have physical copies of Vinyl or CDs

How is it to live in Scotland now? Politically? Was it good or bad that Scotland still "belongs" to England after the voting?
-Ha ha ha i love how you say "belongs" to England lol. Yes the Conservative government certainly likes to think that way. Living in Scotland after last year's referendum is extremely frustrating. It was so close. A lot of the no voters were just scared of change and are now regretting there vote. A good thing that came of the referendum is a lot of people are now politically aware and now aren't scared to speak out on issues of government. I and the rest of the guys will be at the front of The Revolution.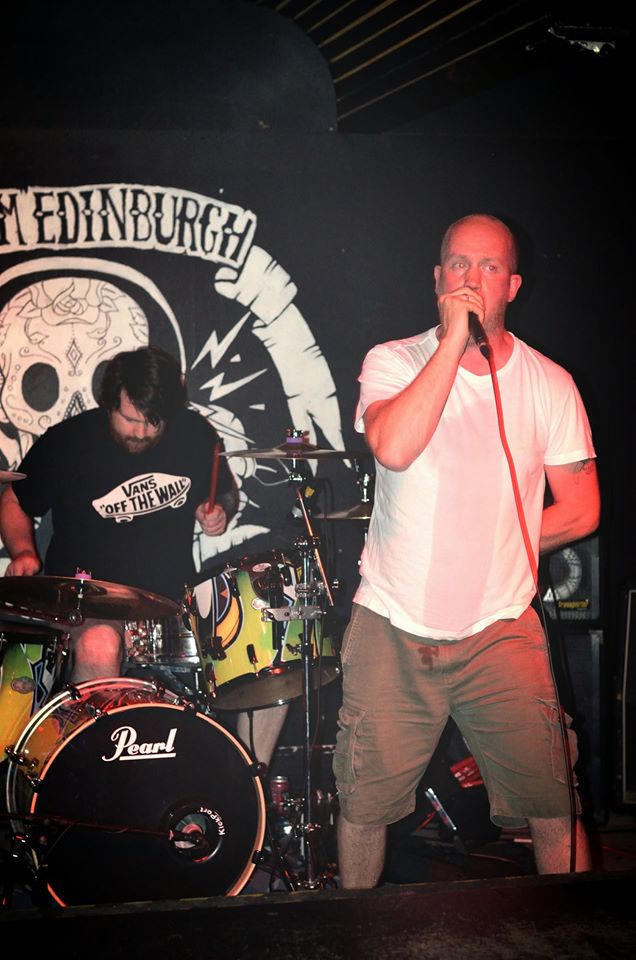 Is there any good bands from Scotland now? Is the punkscene big? How is it in your hometown?
-Hmmm, best band we've played with recently are Sapien, a kind of doomy band, good guys, Dog Tired also good bunch of blokes. The punkscene is pretty good in Edinburgh plenty going on, we played with Happy Spastics pretty damn good band. Our home town Galashiels or Hawick is shit.
What do you know about Sweden?
-I've been to Stockholm and loved it, very chilled and chilly ( i was there in November) My buddy Gareth (Victims) lives there he took us around some nice places and went to see Kvelertak when I was there much to my wife's pleasure (sarcasm)

Have you heard any good bands from Sweden?
-Yes, Cult Of Luna, Victims, Burst, Diagnosis Bastard.

Your lyrics, who does them and what influences you?
-Lyrics are written between Daz and I. Politics, war and injustice.

Is there any subject that you never will write anything about??
-No

Politic and music, does it goes hand in hand? Which is your most political song?
-Totally. Our song Riot Revolt Revolution( Tory Bastard Scum)

Best political band/artist?
-Minor Threat
Do you think that music(lyrics and so on) can change anyones life, I mean people who listens to music?
-I don't know about changing people's life's but definitely music and lyrics can influence and wake people up to what's going on.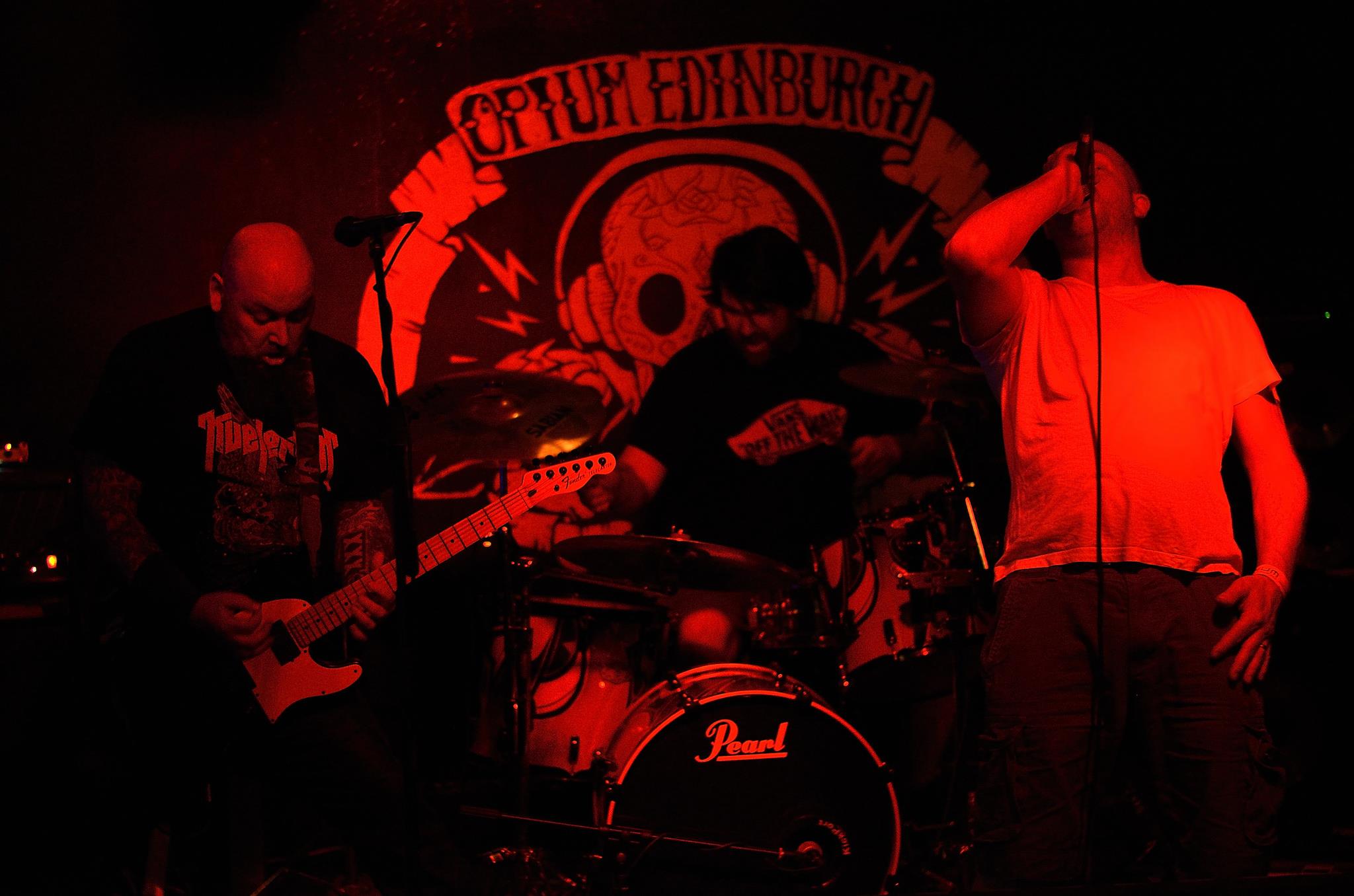 Your cover on your CD looks really nice, is it important to have a record cover which shows people which type of music you play? Your favorite recordcover? Who does your covers? And do you have any good recordstore in your hometown?
-I don't know if a record cover says what music you play as such but it can definitely make a point. Our covers are done between us, Riot Revolt Revolution was Daz's idea and Greg put it together.

Is it important to get out physical records of your stuff? Why or why not?
-Yes. We've kept it personal. As in we sell them at shows or by contacting us through Facebook or email. I deal with the sales through email. You can also download if you must via Bandcamp

Please tell me a funny thing which have happened during your career and under some gig?
-After our show in Stoke on Trent in England, helped with several Sambucas, Greg slept on top of our Van. Why? We will never know.

How does your audience look like? Which people do you miss on your concerts? Which is the biggest band you ever have played together with?
-Our audience looks like a crowd or reprobates. I miss having close friends and family but its maybe for the best :). Biggest bands so far are Horny Bitches and Anti Clockwise.
Please rank your five favoriterecords, five favoriteconcerts and five most important things in life?
Records:
1. Iron Maiden- Piece of Mind
2. Faith No More- Real Thing
3. Cult of Luna- Vertikal
4. Dillinger Escape Plan- all of them
5. Bongripper- Satan Worshipping Doom
Concerts:
1. Dillinger Escape Plan
2. Fugazi
3. Will Haven
4. A Perfect Circle
5. Raging Speedhorn at the Alma
Important: Peace, Love, Respect, Good tunes, Good books.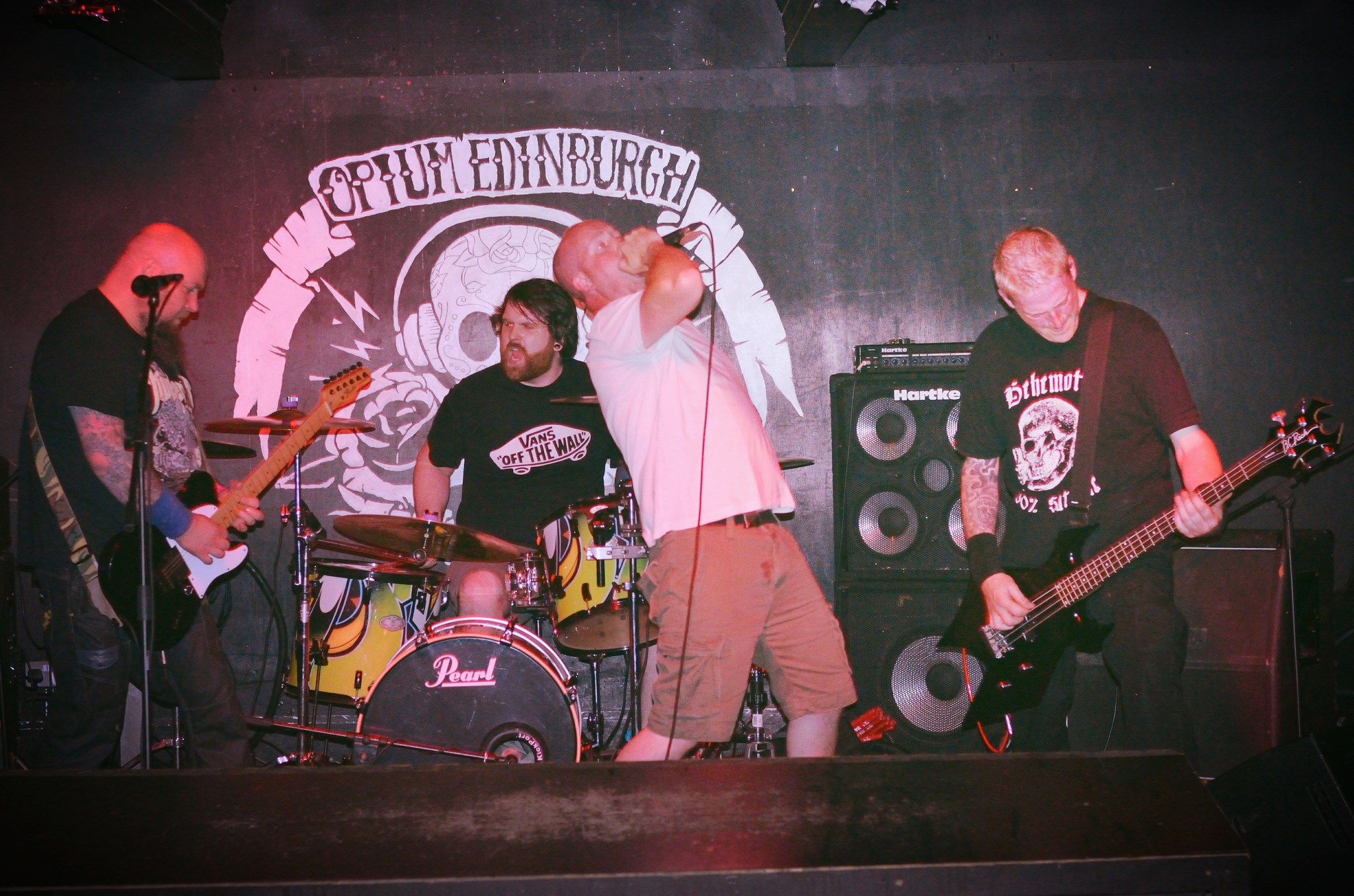 Is it boring with interviews? Is it much interviews??
-I like interviews, radio ones are fun they keep you on your toes. We don't do many interviews but it will change next year when our album is out.

If you could choose five bands from the past and the history and nowadays and both dead and living bands to have a concert together with your band. Which five have you been chosen?
-The Doors, Melvins, Iron Maiden, Dillinger Escape Plan, Slayer.
Is music a good way to get out frustration and become a nice person outside the music??
-The kind of music we do, definitely vents our frustration at the way the world is going. As for being a nice person, I'll let you answer that when we meet one day ;)

Which is the most odd question you ever have got in an interview?
-Have you ever shaved your balls?

Which is the question you want to have but you never get. Please ask it and answer it?
-What beer would you like on your rider Jamie? Joker IPA and Punk IPA
Futureplans for the band?
-Record album in January 2016, release it, tour Europe and Scandinavia.

For yourself?
-Create a new business

Wisdomword?
-Peace Love Respect
Something to add?
-Sort out some shows in Sweden and we will come xx
Hope that's okay for you Peter. Keep in touch and its been a pleasure. Hope to meet you sometime soon.
Take care
Jamie