Rats Don´t Sink comes from France and plays mostly punk and hardcore but they also have elements of rapmetal in their music. I think they sound really good. Why don´t check out them! Okt-2018
Rats Don't Sink are:
Alex: Lead vocals, lyrics
Donovan: Drums
Seb: Guitar, vocals, additional lyrics
Vince: Bass, back vocals
Please tell me a little bit history of the group?
Alex: I founded the band late 2013 but Rats Don't Sink really started in January 2014 when I met Vince, our bass player. We made a lot of shows in the South of France and released our first EP in December 2015.
However the music we played sounded too much Metal to me, and when we had to face an important line-up change during spring 2017, I insisted to come back to something more Punk Rock, still with a strong NY Hardcore influence, and I that's what you can ear with our new album "From Sewers They Come".
Please tell me a little about every member in the group right now, age, family, work, interests and something bad about everyone? Earlier bands? Other bands on the side?
Alex: I am the singer and lyricist of the band. I'm 30yo, I live with my girlfriend and my two cats, and I work ashore in Marseille for a Japanese shipping company, after years spent sailing around Europe, Middle-East and Asia.
I have always been part of the local Hardcore/Punk scene, singing in bands like 13Fight, Taken By The Tide, Straight In Your Face, HSA or Watch Your Back.
Donovan: I'm the drummer, I'm 31 years old, I'm single and I work as a storekeeper for an accessories and sportswear company. I played in several bands before including Metal, Stoner Rock, Grunge and Punk bands. I currently also play in another Hardcore Punk band called Apes Brigade.
Seb: I play guitar and I sing too. I'm 32 and I work in a after-sales department in a little (dysfunctional, crazy) familial company. I love graphic design and I aspire to become freelance. I first sang and played guitar in a punk band called Lazy Bastards and then I played bass in a Hardcore band named Mal Barré.
Vince : I play bass guitar, I'm 42 years old, I work as a carpenter and occasionally as a luthier. I used to play in a band called Les Pingouins Verts and 2 or 3 ephemeral bands but Rats Don't Sink is my first serious project.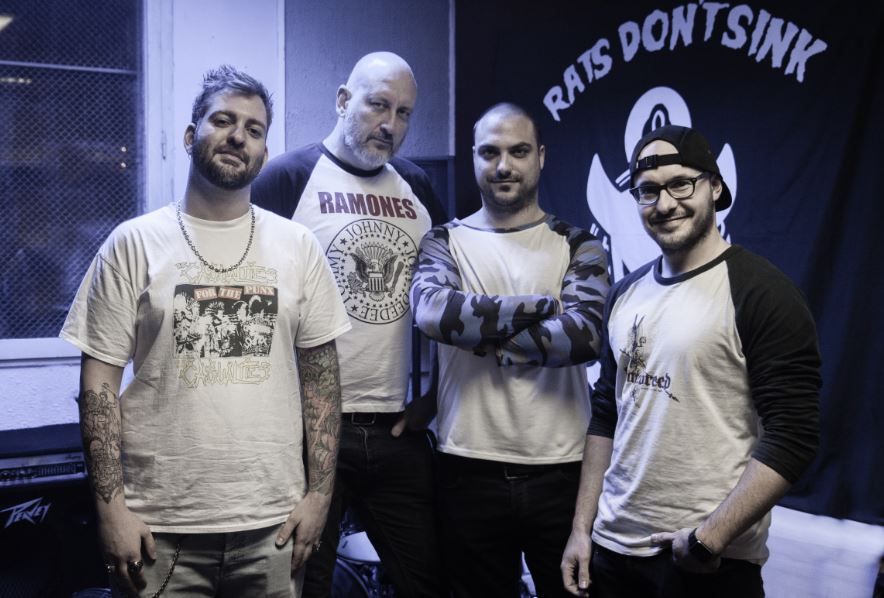 I can hear much different influences but mostly punk and and some hardcore(almost some rapmetal in Rats among snakes) etc? Favorites from the past?
Donovan : Yes we all have many influences and I guess it makes the band's identity.
Seb : Each of us listen to many different genres and when we compose, we try to not stick to just one style. In a way that's why we do Hardcore Punk. It has a broad spectrum and it allows us to be creative.
Rats Don´t Sink are you satisfied with the name? How did it came up? You weren't afraid that some other band would be named like this? Which is the best bandname you know?
Alex: "Rats Don't Sink" has both a maritime and social meaning. It comes from the phrase telling that rats are always the first ones to abandon a sinking ship, and also refers to the fact that when you're a "rat", outcast from society, you cannot go downer and do not have to sink with the system. I am sure we are the only band named like this, I admit I made searches before choosing it ahah.
The best bandname I know is also about rats! It's an Italian Hardcore band named Council Of Rats, I think it kills it!
Donovan : For the best band name, I don't know...Maybe any Grindcore bands, they all have funny names ! So if I have to choose one I'll say Agoraphobic Nosebleed, their music is good even if there's no drums in it hahaha
Seb : I like Ultra Vomit haha it's a very good, funny french metal band.
What´s the best thing with playing live?
Donovan : The adrenaline, the contact with the crowd when you're on stage. It's like you're in a trance ! Making live music is the goal for almost all the musicians, every show is different, that's very interesting to share your passion with people.
And where is best to play? And the worst place?
Alex: I love playing at the Secret Place near Montpellier, it's a great venue with an amazing level of professionalism, but I also love smaller DIY places like the KJBI, also in Montpellier, and iconic local venues in Marseille like Le Molotov or La Machine A Coudre.
I think the worst place we played was a biker club in the South-East of France, where there was almost only "members" who were not interested at all by the show.
Donovan : I played in some good places but also in shitty ones...No names, no problem!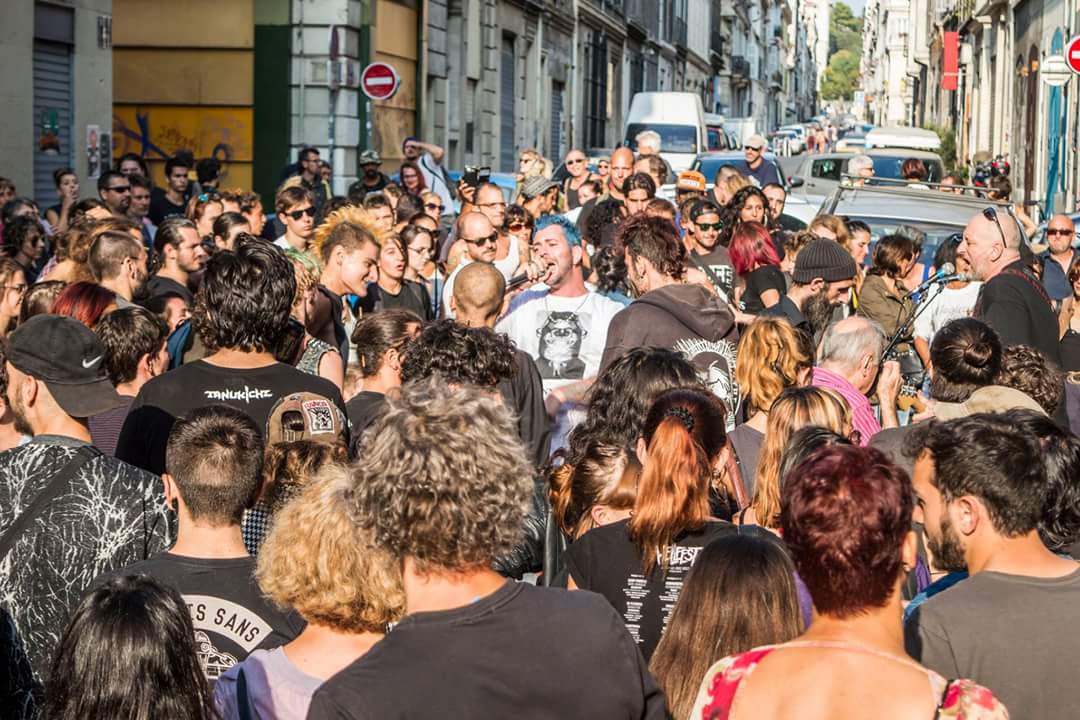 How is to play this sort of music in France right now? Which types of bands do you have concerts together with?
Donovan : Maybe some years ago I would say that was quite hard, but now you have so many underground places to play this kind of music so it's becoming easier to find gigs than before and play this music in France. Moreover there's a lot of big festivals now like the Xtrem Fest which is a big Hardcore Punk festival in the south west of France and obviously the Hellfest festival which by its fame, has made our kind of music more accessible and therefore more popular in France.
We are mainly used to playing with Punk Rock or Hardcore Punk bands like us.
Alex: But we have already shared stages with Death Metal, Grindcore, Black Metal or Garage bands as well!

How would you describe your music in three words?
Seb : Angry, fun... drunk!
Donovan : We are rats!
What does punk mean to you, is it only a word or is it a lifestyle?
Alex: To me Punk means freedom of mind and rejection of rules, hierarchy and any sort of prejudice. It is more than clothes, music, or else, it's a way of living.

How do you see on downloading, mp3 and that stuff?
-Alex: I am personally not against downloading, I think it's convenient, space-saving (fuck those huge and heavy cartons you must lug at each relocation!), and we have to accept the progress.
This doesn't mean I don't buy CDs and vinyls anymore, of course, but I more often download albums, buying music from unknown bands on Bandcamp for example.
Donovan : I used to download a lot when I was younger and I never understood big bands who complained about downloading especially when you're already world famous and that's not such a loss of money finally. Anyway when you play punk rock music you can't be against downloading. We're playing underground music and the free downloading is a good way to get listened all around the world. And I'm not talking about streaming platforms which is actually the best way to broadcast your music.
Seb : Generally speaking, downloading is a great thing for culture. When you're broke it gives you access to professional softwares, movies, music that you wouldn't be able to reach without internet. I discovered many classic bands that way that I couldn't find in stores.
How is it to live in France right now? Politically? Fascists? Here we have problem with that people voted here for a Swedish right wing party(17,5 %)
Donovan : It's actually a bit hard to live in France now if you don't have so much money. The thing is our president who was banker for a big and famous bank favors the rich by taxing the poor. Some of our privileges and social assistance are in danger and the price of life is constantly increasing. About fascism there's a rise of racism in recent years. It started in 2002, the elections were held a few months after the terror attack on the World Trade Center in the US and the far right party finished at the second place. Since that, racism grew more and more in France especially against Muslims until the terror attacks in Paris in Charlie Hebdo and the Bataclan, and the arrival of migrants from countries destroyed by wars which were a kind of gift for the far right to manipulate people and influencing them for the elections and they finished second again last year, thanks to the medias...The country of the human rights seems far away right now ! But I think we must stand together to find and eradicate racism !
Seb : Yeah, with the recent terrorist attacks it's like everybody lost their minds. The last presidential election, the national front scored 33,9 %. We could see the shift and people are not ashamed anymore to share racist thoughts on social medias. The far-right rising in Europe lately is really concerning.
Is there any good bands from France now? Is the punkscene/hardcorescene big? How is it in your hometown?
Alex: There is a lot of talented bands in France, even if the scene is not this big! In Marseille we currently have great Hardcore bands like Wake The Dead, xInquisitionx, Butcher Project, Dirty Wheels, Downhill, Walk Away... and Punk Rock ones like Nun's Violent Dance, Nebraska, Hyperactive or The Muddy Paws.
Donovan : Of course there are good bands in France like Gojira, Inspector Cluzo, Black Bomb A, Tagada Jones and many more...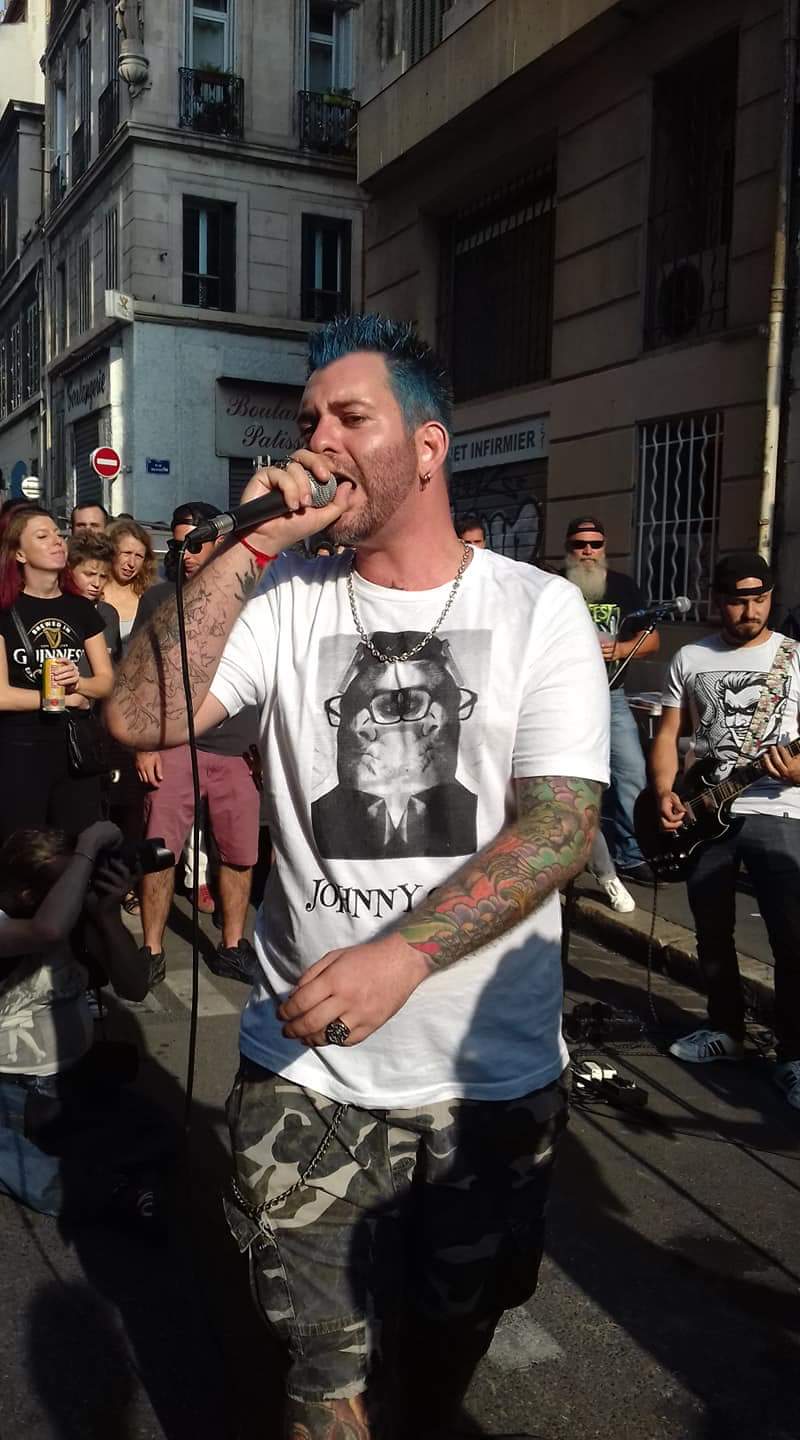 What do you know about Sweden?
Alex: Ikea and Zlatan? Ahah just joking!
Donovan : Beautiful blonde girls and I'm not joking !
Seb : From afar it looks like a beautiful land populated by friendly Vikings
So much clichés in so few lines, sorry.
Have you heard any good bands from Sweden?
Donovan : Hell yeah !! Almost all my discography is made of Swedish bands ! Just a few of them I love, Soilwork, The Hellacopters, Opeth, The Hives, Truckfighters, Backyard Babies, Ghost, Katatonia, Arch Enemy, Graveyard, Meshuggah, In Flames, Entombed....
Seb : I'll add Satanic Surfers and Millencollin.
Your lyrics, who does them and what influences you? Is it easier to do lyrics now or was its easier to do it when you was younger? Never in French?
Alex: I am the main songwriter but Seb, our guitar player, often helps me and adds his own singing parts.
Our lyrics are influenced by our everyday life, so it talks about social injustice, alcohol, and our way of seeing what's around us.
Seb : With my previous bands it was exclusively french. With RDS I had to adapt and I find English writing easier now.
Is there any subject that you never will write anything about??
Alex: I am not really comfortable with love songs ahah! And I don't like to write negative, hateful lyrics too, or at least I always add a touch of humor like in our song "Daily Hate Dose".
Politic and music, does it goes hand in hand? Which is your most political song?
Alex: I think that when you're playing Punk Rock, not Skate Punk or Pop Punk but genuine Street Punk, you cannot avoid politics. We are not flagged under a political party or whatever, but we clearly fight for our class and our opinions.
Our most political song is Pay Again, which is about paying taxes to support the luxurious lifestyle of the governing class.
Best political band/artist?
Donovan : Probably Dead Kennedys or Rage Against The Machine.
Seb : For me CRASS is a good model of ethics and integrity. They embodied a real anarchist spirit at the time and still now you can see the inheritance with DIY and alternative lifestyles in the punk scene. I like it but their music was pretty bad though haha
Do you think that music(lyrics and so on) can change anyones life, I mean people who listens to music?
Donovan : I'll be happy if our music does ! Music can affect your mood, so it helps but I don't think it can really change your life.
Seb : Lyrics comes often with messages that comes from ways of thinking. Good music can fire you, gives you confidence or helps you to let go. And if you are curious enough it pushes you to look for more in other bands, books, movies,... It can change your way of seeing things. So clearly yes !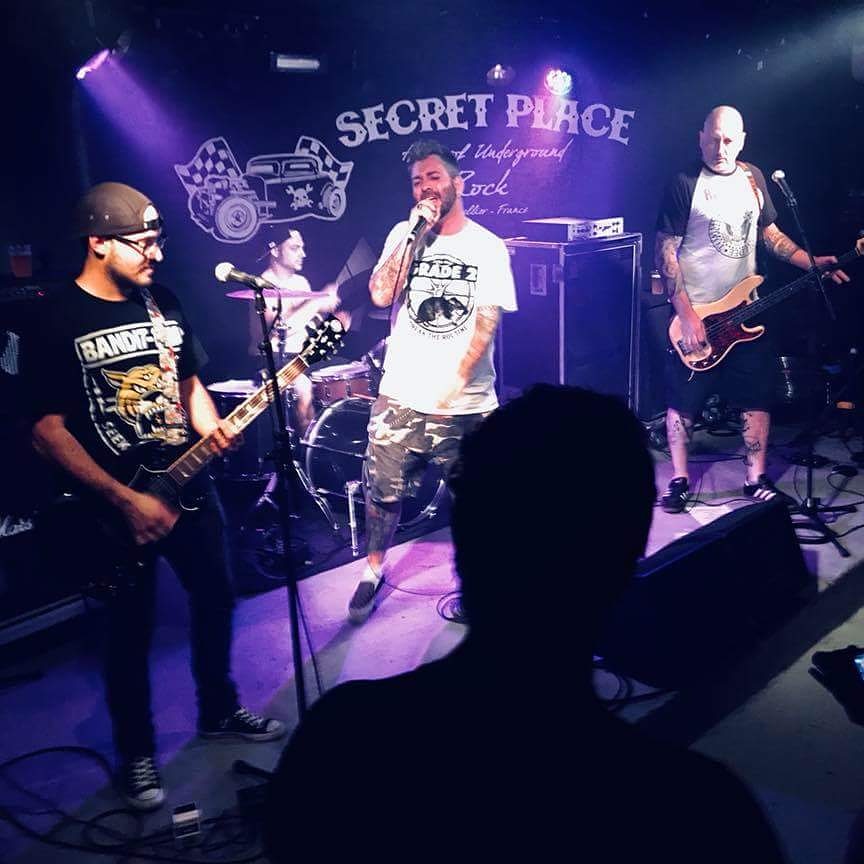 Your cover on your CD looks really nice, is it important to have a record cover which shows people which type of music you play? Your favorite recordcover? Who does your covers? And do you have any good recordstores in your hometown?
Alex: I think covers are really important because it's the first thing you see.
My girlfriend, who is a tattoo artist and graphic designer (Gakirules), made this cover and almost all our artworks. Seb is also working on artworks for us, he did our last flyers and designed our last shirt visual.
In Marseille we have two main alt recordstores: Sabertooth (Metal/Punk/a bit of Hardcore) and Lollipop (mainly Garage/Punk).
Is it important to get out physical records of your stuff? Why or why not? Vinyl, CD, cassette, what do you prefer if you could choose whatever ?
Donovan : Yeah to me it's important to release physical stuff, because some people like to gather albums or band t-shirts as well. If I could choose, I would like to release a vinyl because I think that's the perfect sound quality and that's fucking beautiful !
Please tell me a funny thing which have happened during your career and under some gig?
Donovan : Is that magazine rated R ??!
Vince : When our singer Alex slipped and fell on a puddle of beer during our first gig! Moreover his very first words to the crowd were "Hi we're Rats Don't Sink and we're pretty drunk" ahah
How does your audience look like? Which people do you miss on your concerts? Which is the biggest band you ever have played together with?
Alex: Our audience is quite eclectic, from 16 to 60yo, boys, girls, Metalheads, Punks, "normal guys"...
Some of them play in local bands, others are not at all into the musical scene.
The biggest band we played with is Bishops Green (Street Punk, Canada), last spring at the Secret Place near Montpellier.
Please rank your five favoriterecords, five favorite concerts and five most important things in life?
Donovan : The first album of Rage Against The Machine, "Animals" by Pink Floyd, "Songs for the deaf" by Queens Of The Stone Age, "If you want blood you've got it" by AC DC, "Party Animals" by Turbonegro. My 5 fav concerts were Dream Theater, Chemical Brothers, Muse, Kiss and Sick Of It All. And the 5 most important things in life are family, love, sex, booze and rock'n' roll !
Vince : "How Could Hell Be Any Worse ?" by Bad Religion, the first album of Rage Against The Machine, "From Anger And Rage" by Verse, "Ace Of Spades" by Motorhead and "Blue In Green" by Miles Davis. My best concerts were Motorhead, ZZ Top, Suicidal Tendencies, FFF and Queens Of The Stone Age. The most important things to me are my girlfriend, my friends, music, parties and my job !
First, last and most expensive record ever bought?
Alex: I think the first record I've ever bought with my own money when I was a kid is "Nevermind" by Nirvana, and last one is "God Of Slaves" by Purgen, a Hardcore Punk band from Moscow, Russia. And the most expensive was "Voice of a generation" by English legends Blitz, I bought it in a dusty recordstore in London.
Donovan : I'm not sure about the first record I bought, it was probably "Bloody Kisses" by Type O Negative or "Rising" by Stuck Mojo, I'm not sure. The last one is "Wilderness Heart" by Black Mountain and the most expensive was a collector edition of "The Hunter" by Mastodon.
Seb : My first record ever was the "Roots Bloody Roots" single by Sepultura, the last one was "POST-" by Jeff Rosenstock and the most expensive, certainly one of the Machine Head LPs.
Is it boring with interviews? Is it much interviews??
Alex: Interviews are always interesting because it forces us to question ourselves, our roots and motivations, and allow us to show everyone our opinions and who we are as persons.
If you could choose five bands from the past and the history and nowadays and both dead and living bands to have a concert together with your band. Which five have you been chosen?
Motorhead, Led Zeppelin, A Wilhelm Scream, The Casualties and The Ramones.
Is music a good way to get out frustration and become a nicer person outside the music??
Donovan : When you play drums sometimes it helps! But I don't think I'm a nicer person outside!
Which is the most odd question you ever have got in an interview?
Alex: "What is the brand of the last beer you have drunk?" ahah, made me wonder whether this interview was about music or of commercial nature, or just if the guy already knew that I'm a barfly.
Vince : The question above !
Which is the question you want to have but you never get. Please ask it and answer it?
-Donovan : How do you call a fish without an eye ? Fsh !
Future plans for the band?
Alex: I am currently working on a tour in Spain next Spring, and another one in Italy on June 2019.
Donovan : Record more songs and of course touring a lot ! Play in Sweden ?
Vince : Make a split album with the american punk rock band Johnny Cab next year.
For yourself?
Vince : I'd like to develop my woodwork company "Dino T&S", and also the success of "Ici Marseille", the cooperative place where I work.
Wisdomword?
Alex: Always brush your teeth when you're touring. If you don't do it for yourself, please do it for the others.
Something to add?
Alex: Go to shows, support your local scene, it's the only way to keep Punk Rock alive!
And listen to Rats Don't Sink guys!