Its very fun to present an interview with Germanys swedishsingers Rasta Knast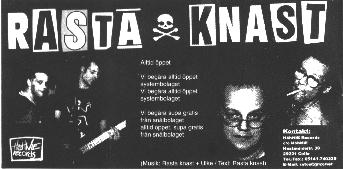 History of the group!
- Please look at or website.(adress is down below)

Please tell me a little about every member?
- Phill (Drums): I play in Punk-bands for 12 years, soon I'm getting 26, 3
days ago I joined RASTA KNAST!!!
- Martin K. (Guitar + vocals): I play in punk-bands since 1981, am 33 years
old and am in RASTA KNAST from the beginning!
- Konrad (Bass + Vocals): 38 years old, play in punk-bands since 1979
without interruption, mostly in two bands at the same time, joined RASTA
KNAST during the recordings of "Legal kriminal" LP!
- HöhNIE (Guitar + Vocals): 35 years old, played in the first punk-band in
1980! Martin and me founded RASTA KNAST !!!

Have you been in any other band worth to mention?
- Martin K.: WONDERPRICK, LOCKJAW!
- Konrad: famous ABSTÜRZENDE BRIEFTAUBEN, KLISCHEE, KONDENSATORS and still
in CRASSFISH!
- HöhNIE: PISSED SPITZELS and PSYCHISCH INSTABIL!
- Phill: still play in ANTIKÖRPER and RIO BENI, formerly in SISSIES!

Why this fascination for Swedish singing Punk?
- HöhNIE: For me it's the best melodies!
- Martin K.: Because the old Swedish bands made the best punk and the
melodies harmonize perfectly with the Swedish language!
- Phill: For me Finnish is the best!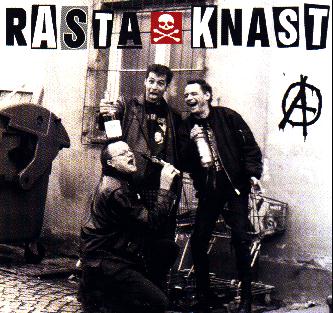 Who is helping you out with the translation?
- HöhNIE: Some ASTA KASK-songs we did by ourselves with the dictionary, my
friend Göran Lind from S.O.D. was helping us with "Alltid öppet" and "Ronka
med rapport"! Now

You also do songs in Swedish, why?
- HöhNIE + Martin K.: Because it's funny, sounds great and our roots are
classic Swedish Punk!

I only have Legal kriminal and the song on "Röjarskivan 4", what have you
done more? And how can I get them?
- Please look at our discography on the English info-sheet! Most of the
stuff is available through the mailorder of HöhNIE Records!

Have RADIOAKTIVA RÄKER and ASTA KASK heard your songs, what do they
think?
- HöhNIE: We sent them the records and they told us that they like the songs
very much! As COSA NOSTRA and RADIOAKTIVA RÄKER played on my
birthday-parties in 1998 and 1999 we did a few songs together, everybody was
totally drunk, KULT TOTAL!!!

What do you know about Sweden?
- HöhNIE: Since 1992 I go to Sweden every year at least one time, mostly to
visit my friend Göran (S.O.D.) in Linköping and my friends in Motala! But I've also been to
Gothenburg, Stockholm, Mariestad, Köping, Karlskrona and some other places!
In summer 1997 Martin K. and me went to the punk-festival in Bollnäs and
visited RADIOAKTIVA RÄKER in their little town Hofors! All three years I
have been to the now legendary "Bollnäs Punken"!!!
During my trips in Sweden I usually find a lot of great records and I saw
bands like DLK, DIA PSALMA, THE PAST, TOTAL EGON, COSA NOSTRA, ATTENTAT,
CHARTA 77, TROUBLEMAKERS and many more!!!
- Phill: Very expensive beer! Arrogant people in Stockholm, friendly people
in Gothenburg!

Any more bands you like except RADIOAKTIVA and ASTA?
- STREBERS, THE PAST, TROUBLEMAKERS, EBBA GRÖN, RUDE KIDS, early ATTENTAT,
DIA PSALMA, SÖTLIMPA, DLK, TST, TREDJE KÖNET, LIVIN' SACRIFICE etc. From the
HC-bands the best for us were HUVUDTVÄTT, MOB 47, SHITLICKERS and
MISSBRUKARNA! There are so many Swedish bands that did some great songs that
it is impossible to list them all!

How is the punk-scene in Germany?
- Martin K. and HöhNIE: At the moment we have only a few good bands and
unfortunately a lot of punks don't think, they just drink and destroy! But
it's still a lot of great to places to play and at least there is hope
because you still meet nice people everywhere!

Any good bands there?
- Phill: HEIMATGLÜCK, P.S.R., EA 80, BOXHAMSTERS !
- Martin K.: FUCKIN' FACES + NOVOTNY TV !
- Konrad: TERRORGRUPPE, DIE PRINZEN !
- HöhNIE: POPPERKLOPPER + VERSAUTE STIEFKINDER !

Which type of music is the most popular in Germany right now?
- Martin K.: Techno-shit & Dancefloor-scum (Cheap music without innovation!)!!!
- Phill: Daily soap-stars try to sing!
- Konrad: TV-presenters, too!

Are you often out and play?
- Yes, we are! We have nearly played in all parts of Germany!

Where is the best place to play?
- Mallorca, because we have a lot of very good friends there and the party
is the best!

Have you been outside Germany and played?
- Mallorca (Spain) and Estonia !

What does punk mean for you?
- All: To use your brain! It's not difficult! To be the most free and
independent as possible! A certain amount of tolerance! No moustaches (ha,
ha, ha)!

You have an own record label HöhNIE records, please tell me a little
about the label, which groups are on it and so on?
- HöhNIE: I started the label back in 1991 together with the guys of Nasty
Vinyl! For a long time we were working together but since January 1999 we
have totally split up things! HöhNIE Records is known for East German Punk like SCHLEIM-KEIM, MÜLLSTATION and "Sicher gibt es bessere Zeiten..." Compilations!
In 1994 I issued my first Swedish punk-record, an 8-song EP by K.U.K. (=KURT
URBAN KARLSSON) from Katrineholm! I met them on a punk-festival in Svärtinge
in September '93 and I traded their second tape for a PISSED SPITZELS-EP!
They played great "trall-pünk", but nearly nobody in Sweden liked them! They
told me that their gig in Germany on my birthday-party in 1994 was the best
they ever had! So in the middle of 1994 they changed their name to ADHESIVE
and played (and maybe still play) quite boring BAD RELIGION-type of music
with English lyrics! The latest records that I issued are:
ASTA KASK - Rock mot svinen LP (Best of with 22 studio-songs!)
ASTA KASK - Till sista droppen EP (6 old songs, never issued before!)
RASTA KNAST & MALLORCAOS PUNX - Turistas alemanos asesin@s EP
POPPERKLOPPER - Alles wird gut LP/CD (classic German punk similiar to
CANALTERROR & VKJ)

Which group do you the most want to have on it?
- HöhNIE: I have it already - it's ASTA KASK !!! A dream became reality!!!

How is it to release your own records on your own label?
- Martin K. + HöhNIE: Great, because we can decide by ourselves what, when
and how things happen!

How did you come in contact with BIRDNEST in Sweden?
- Per Granberg of BIRDNEST phoned us!

How much do you sell of your records?
- HöhNIE: The "Probegepogt" EP and "Legal kriminal" LP have sold 2000
copies, both CD's about 1600 copies!!!

Is it many interviews?
- Yes, quite many!

Is it boring to be interviewed?
- Sometimes, when you always get the same questions!

What do you think about the new way of communicate, with e-mail and
internet and all those things?
HöhNIE: Internet makes worldwide communication much easier! In some Eastern
European countries people don't receive mail by the ordinary postal service!
Martin K.: I had a chat with a girl from North Korea! Very interesting!
HöhNIE: But there are also some dangers that a lot of people only sit in
front of their computer and don't leave their flat very much anymore so they
lose the contact to real life!

Do you have an own homesite of the band or of the label?
- RASTA KNAST homepage is www.rastaknast.de! For HöhNIE records we didn't
find the time so far to organize an homepage!

Is it important to have that?
- Nowadays yes! We were very surprised that more than 1000 people visited
our home-page in less than three months and a lot of people contact us only
via internet!

How is it to live in Germany right now?
- Money plays a bigger and bigger role in our society! Minimal service for
maximum payment! But for sure there are a lot of countries where
circumstances of life are much much worse than here or most European
countries!

How about nazis and that stuff?
- Martin K. + HöhNIE: It's still a problem due to the stupidity of a big
part of the population!
- Phill: The acceptance of right-wing politicians is very dangerous!
- HöhNIE: Stoiber, the leader of the CSU (conservatives of Bavaria)
tolerated the new Austrian government with FPÖ members, he seems to be a
friend of Jörg Haider!!!

What shall we do with them?
- To fight the thing from the roots, for example more information about
fascism and the "3rd Reich" at schools! "The Hardcore-nazis must be send to
Siberia" (old song by PISSED SPITZELS)

Idols when you were small?
- HöhNIE: Jesus, as I was a member of the catholic youth-group of my
home-town!
- Konrad: Punx have no idols! Except "Tarzan"!
- Martin: Luc Skywalker!

The first record you ever bought?
- Phill: "Die Deutschen kommen"/German Punk Compilation LP
- Konrad: GARY GLITTER - "Leader of the gang" 7 inch
- HöhNIE: SHOWADDYWADDY - "Under the moon of love" 7 inch
- Martin K.: STATUS QUO - Live LP

The last record you bought?
- Phill: BÄRCHEN + DIE MILCHBUBIES LP
- Konrad: HARRY BELAFONTE - "Greatest hits" LP
- Martin K.: COMMANDO 9 MM - 1. LP (Spain)
- HöhNIE: RUSSIA BOMBS FINLAND - LP (Finnish HC Compilation from 1982)

Five records you can't be without?
- Martin K.: MISFITS - Static age LP + Walk among us LP
ASTA KASK - Plikten framför allt EP
STIFF LITTLE FINGERS - Nobody's heroes LP
AC/DC - Highway to hell LP
RAMONES - nearly everything

- Konrad: TOY DOLLS - Dig that groove baby LP
CLASH - nearly everything
DESCENDENTS - All CD
SHAM 69 - Tell us the truth LP
SPECIALS - First LP

- Phill: ANGESCHISSEN - 1. LP
BLACK FLAG - The first 4 years LP
EA 80 - 202 LP + "7
KLAMYDIA - "Klamysutra" LP + "Los Celibatos" LP
BRUTAL VERSCHIMMELT - dto. LP

- HöhNIE: ASTA KASK - everything
THE PAST - everything
RADIOAKTIVA RÄKER - everything
VENNASKOND - nearly everything
SCHLEIM-KEIM - everything
and many more !!!

Are you buying many records?
- Konrad: No, cause of no money!
- Martin: Sometimes!
- Phill: Yes!
- HöhNIE: Yes, but luckily I can trade a lot with people now!

The most expensive record you bought?
- HöhNIE: WIDOWS-LP from Finland, I payed around 90 DM for it!
- Martin K.: MISFITS - 3 hits from hell "7 (Bootleg)
- Konrad: BUZZCOCKS Live-Bootleg LP
- Phill: "Pultti!" EP-Sampler (Finnish-HC)

What do you want to say to the Swedish people?
- All: "Vi begära alltid öppet systembolaget!"

Wisdomword?
- Phill: "När katten är borta dansar råttorna på bordet!"
("Is the cat away, the rats dance on the table!")

Future plans?
- Phill: To translate Swedish books into German! (I'm studying Swedish and
Finnish at university in Hamburg!)
- Martin K.: To play in other countries like Brazil in June! Maybe Japan
next year!!!
To combine holidays with playing punk-rock is the fucking best in the
world !!!
- HöhNIE: To issue great records that I like very much and to have a good
time with RASTA KNAST and THE BRATBEATERS (where I play bass)!

Something to add?
- All: "Punken lever!"


All the best and thanx for the interview,
HöhNIE + RASTA KNAST