randyrandyrandyrandyrandyrandyrandyrandy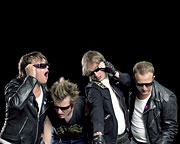 Johan in Randy seems not to be the right to interview, anyway not via mail but we take a revenge on this some other time. This interview doesnīt say so much but itīs out anyway. It was done in the end of October 2005.
What have happened since the last time I interviewed you back in 96-96, have it been many memberchanges?
-We have only have one memberchange and it was when Johan replaced Putte after Rest in Silence and that was about 97. after that it have happened a lot of funny things and some boring things. It would be odd otherwise…
You didnīt thought when you begin to play that Ginza should have competitions there they have your signed shoes as a prize?
-No(here bubbles the happiness to write/editor)
What was the ambition then and what is the ambition now?
-Have as fun as possible have always been the ambition with Randy. Release good music, play and tour is still fun.
It feels like if punk is beginning to be a bigger influence in your music and they I mean the old punk? Favouritebands from the past?
-We like both old and new punkbands. But of course we like the Damned, Ramones, Sex Pistols, Misfits and Dead Kennedys mand so on but we listen also to newer punk as NOFX, Rancid, Hives, Blink 182 also.
Some years ago I thought you were the perfect mix between Thinlizzy and punkrock, where did that style went
-Randy have always have tendencies to be renewed between the records and I can understand that it can be frustrating for the listeners. Without feeling that something in our material is new and fresh so wouldnīt we be left as a band. The new record Randy the Band feels like if it sounds very much Randy, without any flourishes.
What does punk mean to you, is it only a word or is it a lifestyle?
-Itīs a lifestyle.
The new record reminds me about the cover of Damneds first record ,was it with consciousness you did that or was it only the way it became?
-Both.
Randy the band, why are you calling yourself so?
-For me there isnīt so many band which are like us, I believe. I am with my bandmates more than I am with my girlfriend.
Have you got many comments on your name Randy during the years?
-Yes
Many old punkrecords is being sold really expensive on Tradera/Ebay and similar, is it any of your old records which is sold really expensive?
-I saw some Heffaklump demo (Fredrik and Stefans band before Randy) which was sold really expensive on Tradera some while ago.
Do you play in any other bands than Randy? Or do you donīt have the time with that?
-Only Randy right now.
Do you live on your music?
-Sometimes.
You have been playing on a lot of different places around the eorld, which country is most fun to play in
-I liked USA a lot. It was cool to come to California and play. Canada, Spain, Germany, Norway and Switzerland is also good countries to play in. .

How would you describe your music in three words?
-Fast, fast, fast
Do you care about reviews? Have you got many reviews on the new record and how do they sound?
-We have got many on the new record. Itīs mostly 4 of 5 everywhere. Yeah, we care us a lot. Especially if theyīre bad, then you get angry.
Which is the most peculiar review you ever have got?
-Yeah, the latest in Expressen was really bad.
Which reviews do you belive most in, the bad or the good ones?
-I donīt know
What do you being influenced of when youīre doing lyrics? Is it easier to do lyrics when youīre angry or when youīre happy?
-Itīs Stefan who write the most of the lyrics, so you must check with him.
How does your audience look like? Which type of people comes to your concerts? Is it differences between different countries?
-Yeah, it can be really big differences between different countries, Sometimes small punkkids, sometime grown up rockers.
Please rank your five favouriterecords, five favourite concerts and five most important things in life?
-Anthrax-Among the living, Ac/Dc-Powerage, Metallica-Black Album, Rolling Stones-Exile on main street, Sex Pistols -Never mind the Bullocks.
I donīt like livemusic.
Important things: Food, rock, alcohol, snuff and fishing.
The first, last and most expensive record ever bought?
-I havenīt bought anyr ecords the last years.
The most embarrasing record in your collection?
-I donīt say it
The best record to have sex to?
-I want it to be quiet.
The record which is always in the tourbus?
-Eddie Meduza
How do you think it is to live in Sweden? Politically? ī
-Could have been better but I like Sweden as hell, itīs my home.
Is there any good bands in Sweden?
-Some.
Is it many interviews, is it boring?
-Itīs boring, especially these ones via mail because then you must write down your answer and that takes time.
The question you never get but you want to have, please ask it answer it?
-Can I buy you a beer? Yes, thank you!
Futureplans for the band?
-Europetour with Millencolin, Flogging Molly and Unseen innovember, Sweden in december. The I donīt know. Play play play..
And for yourself?
-Avoid being broke.
Wisdomword?
-No
Something to add?
-No