Rabid is an old band which only done a mini-LP and a single I think back in the 70-80´s. They´re reformed and here they are again with force to tore down the society… November 2014.

Please tell me a little bit history about the band? Why did you start the band again
-The band started in 1979, at this time pretty much everyone was in a band and we wanted to channel our energy and enthusiasm of punk into music - the bands we were seeing were kids like us and that punk attitude of ' why not?' started it off. We had some success in the early 80's. We were signed to Fallout records and supported bigger bands such as GBH as well as doing small tours of the UK ourselves. Although we changed some band members, we were always true to the type of punk music we liked to play. By the mid '80's things started to go wrong. We had amassed a large skinhead following and this tended to cause trouble at gigs away from home. Eventually no promotor would put us on and any wages we were paid ended up having to be paid out to the venues for damage done by our fans. In the end it was our success that killed us off.

Please tell me a little about every member in the group right now age, family, work, interests and something bad about everyone?
-There's me, Dean Grant on vocals, 54 years old, married to Carol who I have known since 1979, we met again 4 years ago and have been married now for 2 years. I have a daughter age 21 from a previous relationship. We keep chickens, grow vegetables, make out own wine and beer and try to live in a responsible environmentally aware lifestyle. Bad thing about myself, nothing mate I'm perfect * although the others may say my huge ego gets in the way!!)
On Guitar is Col, age 47, 2 kids from previous relationships, currently single, likes to chill out with a Guinness and a spliff - spends too much time at The Donkey which is the pub next door to where he lives.
Gaz on drums, Gaz is 51 and has played drums for all his life. Spend the wilderness years playing clubs and pubs in a wide variety of bands and different music genres. Likes fast thrashy punk music. Married an American lady and lived in the US for a while until they broke up in a messy way - one daughter - likes to ride horses in his spare time. Has spent time in a jail in Nashville!
Ajax, 50 years old, is rock n roll personified. Lives with his rock chick and is a grandad! Can do impressions of any type of accent, cannot stop talking - gets drunk on 1 can of Polish beer!

What´s the difference of playing live nowadays if you compare with when you started to play?
-There is no trouble at our gigs now -funnily enough some of the original skinheads still come to the gigs and are the most law abiding guys you could want to meet - definitely the type of guys you want at your gigs nowadays!

Is it better to have come up in age and know more things about both life and the musicbusiness?
-I think it's difficult for kids to break into the business these days although there is no shortage of really good bands around. A lot of kids don't go to gigs like we used to and need to appreciate the buzz that going to see live music brings - too much manufactured bands out there these days - but....if that's how you can get a kid interested in going to gigs then there's a place for them too.

What´s the best thing with playing live?
-The buzz of being on stage - there's nothing that can describe that.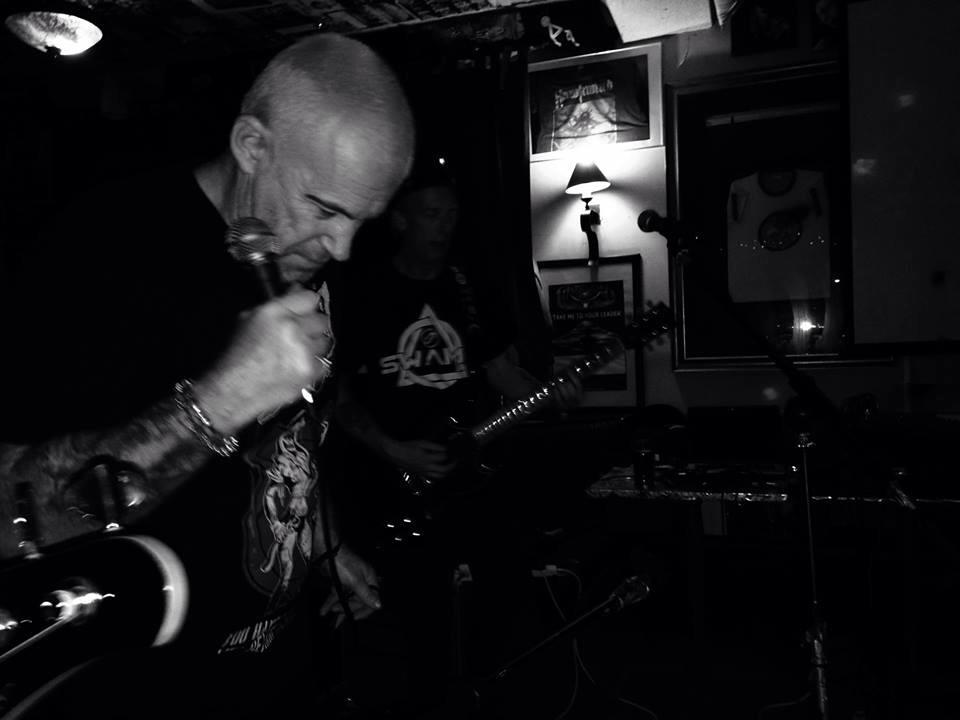 And where is best to play?
-A home crowd is nerve racking as you feel that everyone is there expecting a good time and you don't want to f@@k up -having said that though it's great to see your mates dancing a way in front of the stage!

How is it to play this sort of music in England?
-Punk is still good in England but not as popular as it is in Europe or the US,

How would you describe your music in three words?
-F@@cking Great Man

What does punk mean to you, is it only a word or is it a lifestyle?
-It's a do-it-yourself attitude -it's a lifestyle choice although I wouldn't wear a mohawk anymore!

How do you see on downloading, mp3 and that stuff?
-Downloading is great, music on your iPod or phone is so handy, however there's nothing like the sound on vinyl or the sheer joy of owning a record collection.
How is it to live England now(where do you live)? Politically? Or do you don´t give a damn?
-We live in Leicester which is the centre of the Country - very multi-cultural and diverse. Is this a good thing? I wouldn't want to be drawn into a political argument as my views can be quite radical on certain subjects. We don't talk politics within the band, we are all opposing views it could cause arguments - when we are drunk we just take the piss out of each other we don't do any soul searching or putting the world to rights.
Is there any good bands from England now? ?
-Yeah lots, we are still mates with GBH and Drongos so we all still support each other. As a band we like lots of different other bands and types of music. Carol drags me to the Opera every now and again, it's not bad!

What do you know about Sweden?
-Not a great deal, Stockholm is a pretty cool city, the original guitarist Steve Alcock lives there, he married a Swedish girl and Col had a Swedish girlfriend once.

Have you heard any good bands from Sweden?
-Weren't Abba from Sweden?

Your lyrics, who does them and what influences you?
-We all have a go at the lyrics although I tend to change them to suit myself ( that's my huge Ego), what influences them? Life in general, things that piss me off, love, women, sex, - I don't write political songs, I used to write about War but now I don't watch the news, I should write about chickens -they are my passion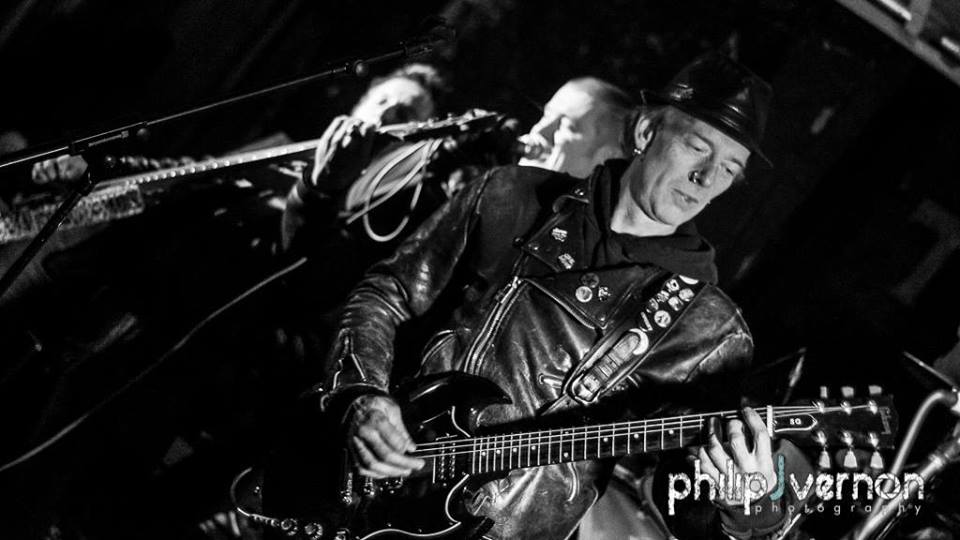 Is there any subject that you never will write anything about?
-Did I just answer that? Politics, War, Religion - anything that can be misconstrued - some people will try to paint you as a fascist/ sexist/racist - life's not that one dimensional- we are here to have a good time and give the audience a good night out - not preach to them

Politic and music, does it goes hand in hand? Which is your most political song? And your most unserious song?
-Second Coming was written in 1982 and was an anti-communist song -we still play it now -think it has a different meaning now though if you listen to the words and interpret them as you will
Our most 'unserious' song is KNT, written this year - we have a laugh playing that and always get audience participation - its not been recorded yet you may have to see if you can youtube it

Best political band/artist?
-Bob Dylan

Do you think that music(lyrics and so on) can change anyones life, I mean people who listens to music?
-Everyone has some lyrics they can relate to and may say that a certain song changed their life.
Yes I would say that music can shape your life maybe not change it
Do you have any label to your new songs that you sent?? When does the new fullength see the light?
-We are not signed to a label, we put the 12" out ourselves. An album will be recorded in the new year - once we have done enough gigs to pay for it!
Is it important for you to get out physical records? ?
-Yes everyone loves vinyl - we sell a lot at gigs
Please tell me a funny thing which have happened during your career and under some gig? I can imagine that it´s wild
-The early days are a bit of a haze, too many illegal substances cloud the memory! We did play one gig though when the whole PA system was brought down by the skinheads. Recently one of them came up to me at a gig and asked if I remembered that night - he said there ' was a bit of a fuss' - to put it mildly - I think we were chased out of the venue and have never been back to this day although it's still there!

How does your audience look like? Which people do you miss on your concerts? Is it the same type of people as on your old concerts?
-We get a lot of people our age - fans from back in the day and some new fans, our kids are of an age where they can come to gigs with their mates - hopefully we have some 20 something's that can relate to use now too!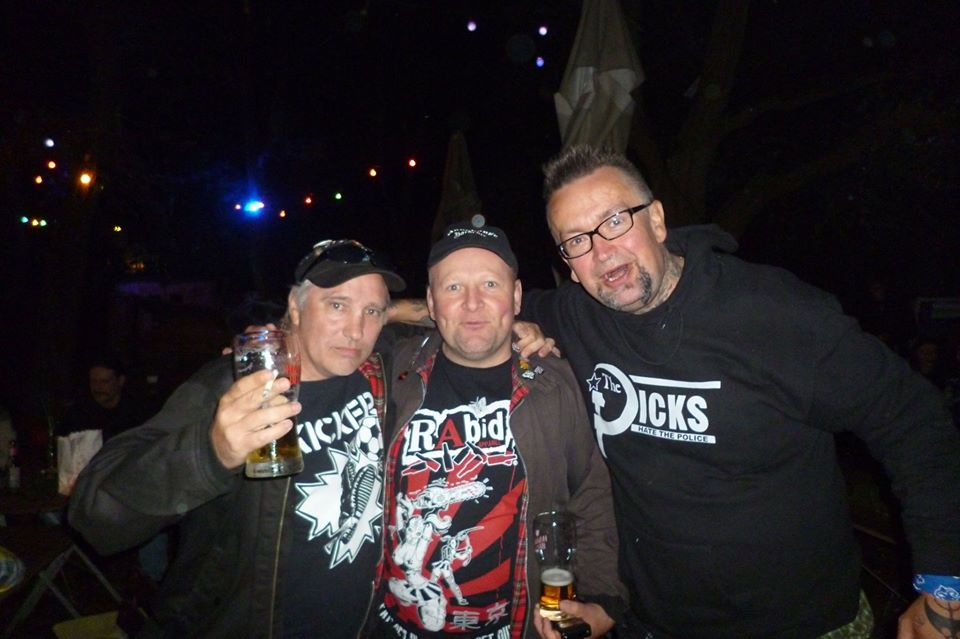 Please rank your five favoriterecords, five favoriteconcerts and five most important things in life?
-I can't say for the rest of the band but mine are as follows:
Al Wilson - The Snake
999 - feeling alright with the crew
Dead Kennedys -California uber allez
Crazy Town - Butterfly
Slipknot - wait and bleed

Sham 69 - Leicester 1978
The Ruts-Leicester 1979
GBH - Nottingham 1983
Rob Zombie - Download Fest - 2014
Paradimes -Leicester 2014

Carol -my wife
our chickens
being true to yourself
enjoying life
respecting other people

When you play this angry music, do you think people who plays angry music like this are calmer people otherwise because you can get out your anger in the music??
-We don't play angry music but the energy people use up at our gigs by dancing or having a good time must be a release for a lot of people. If you have no outlet then you can become like a coiled spring - something is going to trigger that off somewhere –

Please ask the questions you never get but you want to have, ask it and answer it?
-I'm going to the bar what do you want? - make mine a large one

Futureplans for the band?
-New album and to carry on playing - we would like to do a small European tour next year -have some tentative dates in Holland in February -perhaps we will get as far as Sweden?

For yourself?
-I have everything I ever wanted - as long as I keep what I have I am a happy man

Wisdomword?
-Don't make money your God

Something to add?
-If someone had told me in my 20's I would be doing this again in my 50's I would have shook their hand and said 'dream on' and here I am - doing alright with the crew.
cheers Peter, hope this is enough for you!!
Dean :)