Pukes plays punk with ukuleles and they do it so good so I was so fascinated so I tried to get an interview with them and here it is now. October-2019
Please tell me a little bit history of the group?
CLARA: I first picked up a ukulele in 2010 and quickly fell in love with it. I hassled my mates into getting one too and then we put a shout out on Facebook asking other people to join us. We called the group The Pukes and met once a month in the local pub to play together. Soon after we started getting offered gigs, then it kind of snowballed into this big thing where we playing lots of gigs and festivals and recording an EP for Damaged Good records. We never intended to be a performing band, it just sort of happened. More recently we've slimmed down to a five-piece because it was a nightmare trying to get 15 plus people to practice and turn up for gigs.
Please tell me a little about every member in the group right now, age, family, work, interests and something bad about everyone? Earlier bands? Other bands on the side?
DEBS: Hmmm...now where to start....Saul is our drummer, he used to drum for Haywire and the Sporadics, now having the time of his life drumming with us! He loves cider and his favourite colour is purple. Chris plays bass....he's a busy boy cos he also plays bass with Infa Riot and guitar with Dogtown Rebels. He excels at terrible impressions and his favourite colour is blue. Then there's Emily, she plays semi acoustic ukulele and sings backing vox. She's the youngest band member, she makes fab vegan food and her favourite colour is leopard print. Clara plays lead electric ukulele and sings backing vox. She has played bass for several bands including the mighty UK Subs and PMT. She is chief Pukes cat herder...miaow.... aka Chiefy....and her favourite colour is red. I sing lead vox and play electric ukulele. I used to sing with anarcho band the Lost Cherrees many years ago. I can juggle and my favourite colour is black.
I can hear much different influences but mostly punk but in a different way? Favorites from the past?
EMILY: What I love about the Pukes is being able to rediscover punk songs I love through our covers. I loved playing Social Distortion – 'Ball and Chain' and currently really enjoying Dead Kennedys 'Holiday in Cambodia' which was so much fun to play at Rebellion. In the future I would really like us to have a go at some Rancid.
Pukes are you satisfied with the name? How did it came up? You weren't afraid that some other band would be named like this? Or isn´t it a band who have been called this before? Which is the best bandname you know?
CHRIS: Clara came up with the name, short for Punk Ukes. When we started out we had no idea we'd become a gigging band so we didn't think it mattered if there had been other Pukes previously. We did suggest to the guy who wanted to sue us that we should hold a Pukes Fest and get all the bands with that name from around the world together to play a show. He wasn't amused!
What´s the best thing with playing live? And you play some covers live also or (I think of that you have done some covers before in your career on record)?
CLARA: The plan at the beginning was to play well known punk songs on the ukulele so it was all covers, but our own quirky versions of the songs. Then when Damaged Goods invited us to do an EP we thought it would be good to include an original song on it so I wrote Will I Learn. It's great fun going on the road with the band, we do it for fun, not to make a living, so every gig feels like a mini-adventure. Best thing about playing live is going away for the weekend with good mates.
And where is best to play? And the worst place?
DEBS: We are lucky to have played in some awesome places. Rebellion is always a highlight and great fun...it's like the biggest yearly family reunion! We love playing there and it has beautiful venues, plus we get the opportunity to share a little bit of ukulele love at our workshops.
A few years ago we had a gig at Monkeys Club in Hamburg. In the afternoon Sam, who owns Monkeys, arranged for us to watch the St Pauli match - very exciting - and then we got to play an impromptu set at their opening season party outside the ground - there were hundreds of people there and we had a blast!
There is no worst place - all gigs should be fun wherever they are. I remember a weird one though - once we played at a tattoo convention. The stage was set up quite close in front of the tattooist stalls...while we were playing all I could see was a guy lying down getting tattooed.....let's hope he liked ukuleles or else that might well have been his first and last tattoo!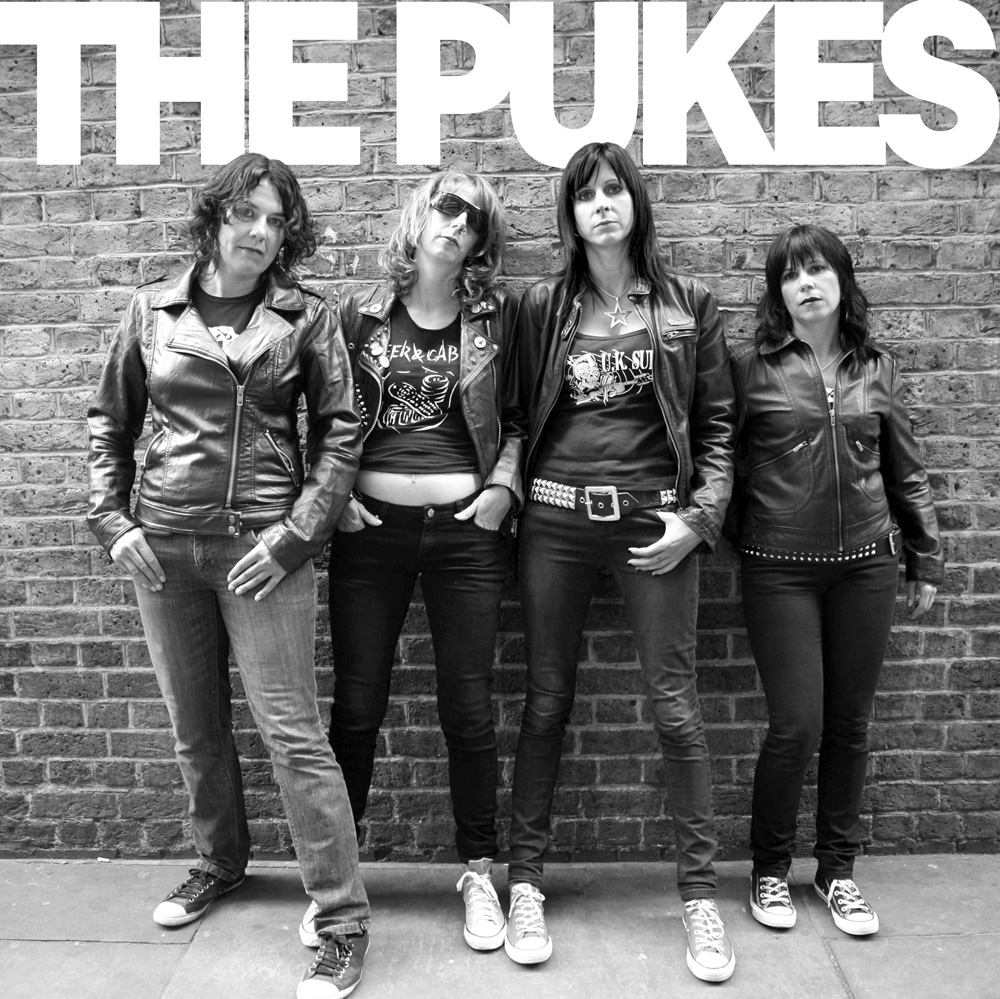 How is to play this sort of music in England right now? Which types of bands do you have concerts together with? You played on Rebellion, how was it? And you play as Ukesparrer (or what it is called) how did that idea came up?
EMILY: We get asked to play all sorts of gigs and some unusual venues, from the Tate Modern to a very unusual house boat. And with a mix of bands, we're playing with some fellow ukulele bands this weekend which is always fun. I think because the Pukes are quite unique we can fit into all sorts of shows not just traditional punk shows.
CLARA: Rebellion is always great fun to play. This year we were in the Opera House which has the best sound of all the venues. We walked on stage ready to belt out our first song, but there was no one there. Not one person….turns out they'd forgotten to unlock the door! Thankfully there was a long line of people waiting to get in, so we exited the stage and come back on once the audience had arrived. Phew! Uke Sparrer was a short project that me, Debs and Emily did while The Pukes were having a break. Cock Sparrer songs are ace on the ukulele cos they're all C F and G.
How would you describe your music in three words?
CHRIS: UPLIFTING, FUN, PUNKASFUCK
What does punk mean to you, is it only a word or is it a lifestyle?
CLARA: Well it's changed a lot over the years, it's become a much friendlier place. I first got into punk as a teenager cos it was dangerous and rebellious and was full of misfits like me. Now it's a big family of people united in their love of music, gigs, beer and good times.
Which song/album or group was it who took you into punk?
DEBS: Killing Joke, Ian Dury, Siouxsie and the Banshees...they were my early soundtrack.
What shall a young guy do today to shock their parents as the way we did when we were young? They have already seen everything <![if !vml]>

<![endif]>?
EMILY: Me and my husband joke about this a lot now we have a son… I think for us it would be if he didn't like music!!! Music is such a big part of our life but kids tend to rebel against their parents interests!
How is it to live in England right now? Politically? Fascists? Brexit?
CLARA: If you're lucky enough to own your own house and have a well paid job it's pretty cushty, but for everyone else who's on a low income, or disabled, or got mental health issues etc it's a shitshower. We've got more homeless folk on our streets than I've ever seen before and even people with jobs are relying on foodbanks cos rents are so high compared to wages. We've had austerity for more than 10 years now, vital support services have been shut down and reductions in benefits have fucked people over. Meanwhile Parliment has gone on a fuckin holiday for six weeks. Our politicians are a complete embarrassment.
CHRIS: It's all very confusing. No-one knows what will happen with the whole Brexit thing. Politicians have no time for anything other than Brexit Brexit Brexit. It's very divisive.
Is there any good bands from England right now? Is the punkscene/metalscene/hardcorescene big? How is it in your hometown?
CLARA: I live in Norwich near the east coast, home in the past to Serious Drinking, Disrupters, Goober Patrol, Braindance, Short'n'Curlies and a few others. It's a great place to live, apparently it's one of the most tattooed and vegan friendly cities in the UK and it's only two hours from London. We have a small but excitable punk scene here. Lots of our venues have shut down - either turned into posh pubs or houses so there aren't many places for DIY gigs. It's not just Norwich, this is happening all across the UK. My favourite bands at the mo are Lovely Eggs, Dream Nails, Wonk Unit.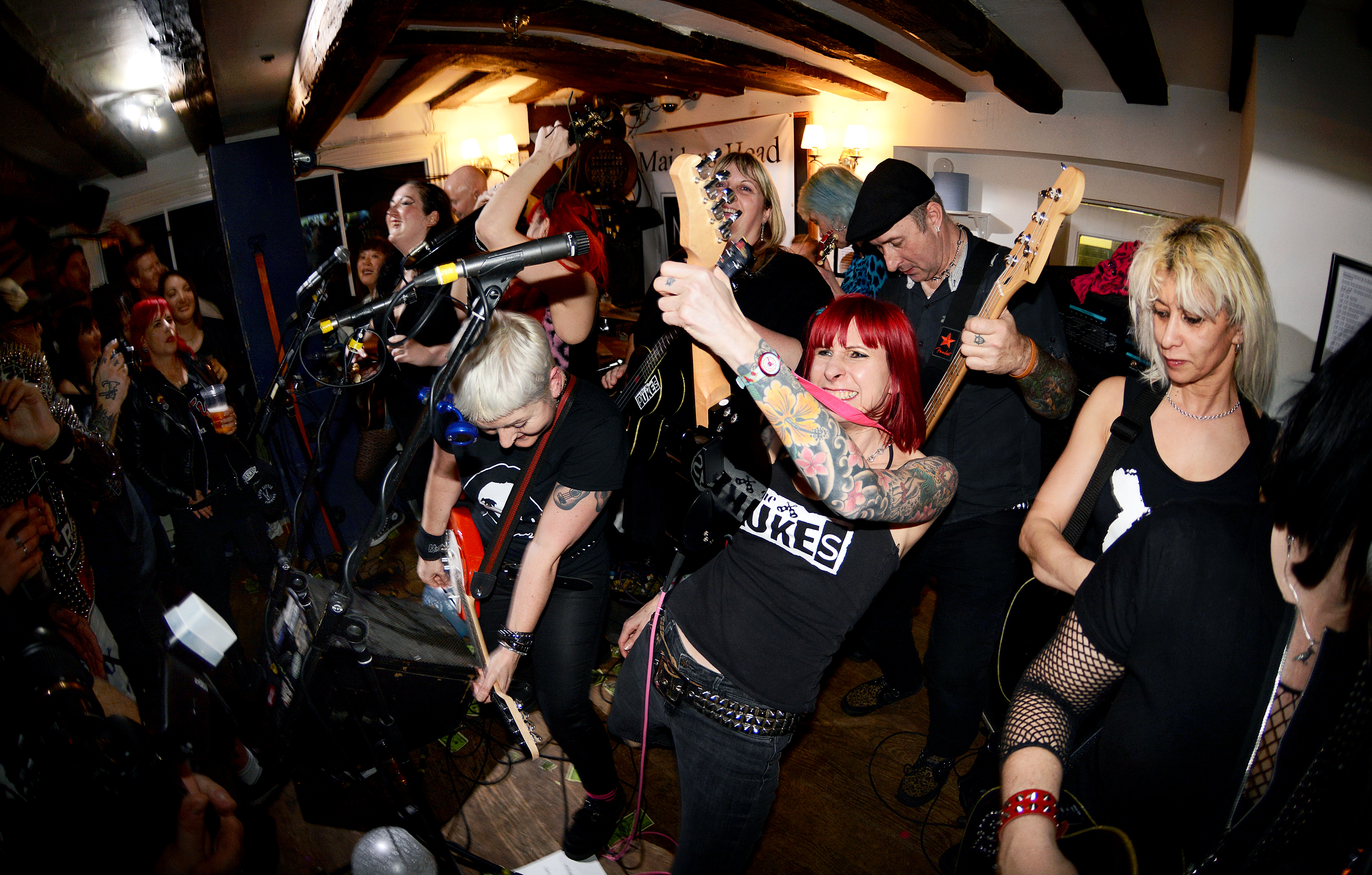 What do you know about Sweden? Have you been here sometime?
DEBS: I've never been to Sweden but would def love to visit and play some gigs...can you sort that for us please :-)
Have you heard any good bands from Sweden?
CLARA: Er The Hives? Sorry I should definitely check out more bands from Sweden!!
Your lyrics, who does them and what influences you? Please tell me a Little more about Google it bitch, Angel of the North and O.A.I.T.W.
CHRIS: Clara and I wrote the bulk of the lyrics but Debs and Adam our amazing merch man have contributed lyrics. In particular Debs wrote the words and music for All About You and Adam wrote the lyrics to Google it Bitch. Speaking of which, that song is about a guy from the States who decided to call his band the Pukes too and sent Clara some really nasty messages threatening legal action if we didn't change our name. When she questioned his rights to use the name he messaged back "Google it Bitch" . Five years later we are still waiting for the lawyer's letter ha ha. Angel of the North was written while on a German tour hence the use of German in the chorus. It was about a guy in Gateshead who at a moment's notice let all of the Pukes stay at his house after a gig. All 12 of us!! The legend that is Bob Noxious.
Old And In The Way is about when Clara went to a hip hop gig (Loyle Carner - he was playing downstairs at the same time GBH were playing upstairs at the same venue) and got told off by a kid for standing in the wrong place….
Is there any subject that you never will write anything about?
CLARA: Nope, nothing is safe.
Politic and music, does it goes hand in hand? Which is your most political song? Is it important to get out your opinions in music?
DEBS: Yes I think they do go hand in hand, but you don't have to be too heavy about it. We're not about preaching to people, but we do have some important messages in our lyrics. Zero Hour - Chris wrote this and it's about zero hour contracts, daily struggles and preying loan sharks....we live in sad times as that is reality for so many people. Music should have a message.....be more than just la, la, la..
Best political band/artist?
EMILY: Anti Flag have been one of my favourite bands for years and they are great live.. but also for me there are some fantastic female bands really stirring things up right now! The Svelanans, Petrol Girls and my current fav are Maid of Ace who are totally smashing it at the moment!
Do you think that music(lyrics and so on) can change anyones life, I mean people who listens to music?
CHRIS: Hearing punk music for the first time changed my life - it was exciting and there was an energy about it that I hadn't heard before. It seemed like everything changed over night, one day the kids at school looked normal the next day they were all punks and I wanted to look like them. I liked how older people didn't understand it and would cross the street rather than make eye contact with you. It belonged to us.
CLARA: Like many other punks I went vegetarian after reading Conflict's lyrics in the 80s and have been pretty much ever since. Music is powerful, it brings people together.
Your favorite record cover alltime? Who does your record covers? And do you have any good record stores in your hometown?
CLARA: I don't know if you know we made a calendar where we took 12 classic punk album sleeves and re-created them with us in the photographs. Lorna who used to be in The Pukes is graphic designer and she did an amazing job of making them look just like the originals. You can see them here https://thepukes.co.uk/iconic-punk-art/
For Never Mind The Buffet Emily drew the illustrations, Debs made the bunting and I did the design and layout. We like to do as much as we can ourselves. We have a great independent record shop called SoundClash plus a few second hand ones. Chris is always buying and selling records.
Is it important to get out physical records of your stuff? Why or why not? Vinyl, CD, cassette, what do you prefer if you could choose whatever ?
DEBS: It´s definitely important for us to release music on hard copies. People still want a physical copy of a CD or vinyl...mp3 and downloads are just not the same. The new album is out on CD, and we are hoping to release it on limited edition vinyl soon. I like the idea of a limited cassette tape release at some point too - I've still got a cassette player at home and think it's good that they're making a come back.
Please tell me a funny thing which have happened during your career and under some gig?
EMILY: I think the funniest moment for me was when we played a vegan festival and Clara accidentally drowned a wasp in her pint while on stage! The wasp thankfully made a recovery however there were some gasps from the audience as we waited to see if he was alive!
How does your audience look like? Which people do you miss on your concerts? Which is the biggest band you ever have played together with?
CHRIS: A mixture of punks, ukulele enthusiasts and general all round music fans who appreciate our quirky take on punk classics and our own self-penned tunes. Biggest band we've played with wow that's difficult.
The Buzzcocks and Snoop Dog are up there as are Bad Manners who we toured with for a number of years at Christmas along with our good friend Max Splodge.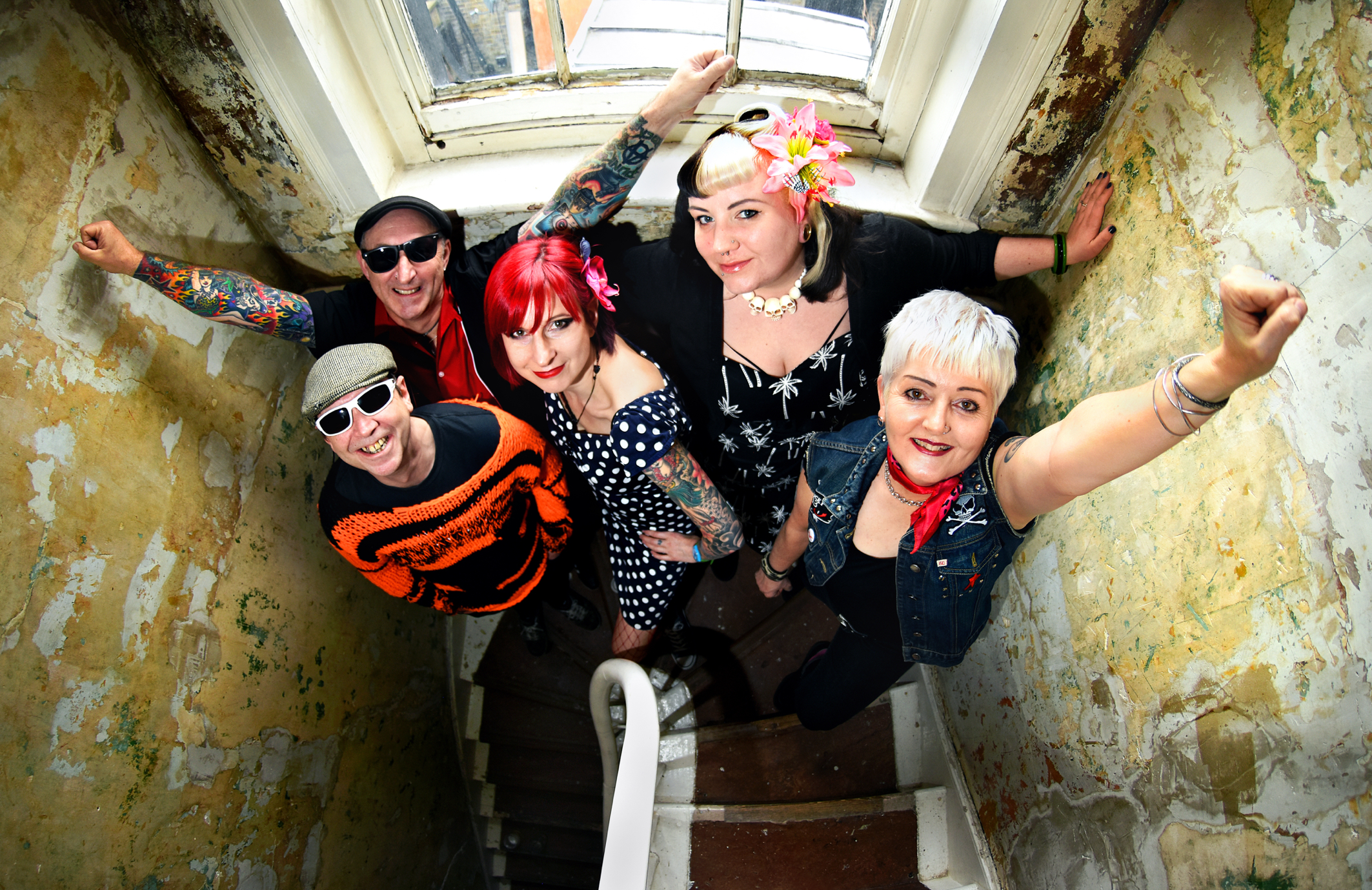 Please rank your five favoriterecords, five favoriteconcerts and five most important things in life?
CLARA:
Shock Troops - Cock Sparrer
The Specials - The Specials
Xray Spex - Germ Free Adolescents
Out Come The Wolves - Rancid
The Jam - Dig The New Breed
I don't really have a list of favourite gigs, so instead I'll say the last five I've been to
Neutrinos - Norwich
Madness - London
Clown Smash Everything - Norwich
Cobbler Bob - Norwich
Rebellion Festival - Blackpool
My kids obviously
Friends
Doing work you enjoy
Making music
Trying not be a wanker
First, last and most expensive record ever bought?
DEBS: First record was probably a David Cassidy album...I do remember saving up my pocket money for that one. The last CD I bought was The Bolokos album - they're the first and only Guadeloupe Punk band. We saw them at Rebellion and they were brilliant - plus they're Pukes fans too!
Is it boring with interviews? Is it much interviews?
EMILY: We love having interviews and it´s always fun seeing the creative questions we get asked.. their all so different!
CLARA: Only boring people get bored, that's what I tell my kids anyway.
Do you care about reviews? Which is the most peculiar you ever had, with this band or any other band you have been to?
CHRIS: Yes I do care what people write but it is not the most important thing. It's always good when your music is appreciated, but we write music for ourselves first and if others like it then that's cool.
I did an interview with an Italian fanzine where they asked me if it was true that Dave Vanian from the Damned has a wooden leg! That was probably the strangest question I've ever been asked apart from my answer to the question down below.
Which bands do people compare you to, is it boring that people compare you to other bands or is it understandable?
CLARA: We don't get compared to bands that often, I guess there's not too many other bands doing what we do. Comparisons are pretty useful I guess. I get really nervous about reading reviews, you put everything into creating your music and you want other people to like it. I used to review albums for Terrorizer and I said some harsh stuff about other people's music, probably trying to be funny. I regret that now.
If you could choose five bands from the past and the history and nowadays and both dead and living bands to have a concert together with your band. Which five have you been chosen?
DEBS: Cock Sparrer, The Poison Girls, Girlschool, Killing Joke, Johnny Cash,
Is music a good way to get out frustration and become a nicer person outside the music??
EMILY: For me playing with the Pukes is just a lot of fun! We always come off stage feeling upbeat and positive… it's drinking the rum which makes me a nicer person and gets out the frustrations of life!!!
Which is the most odd question you ever have got in an interview?
CHRIS: If you were an animal which one would you be? For the record – a Badger.
Which is the question you want to have but you never get. Please ask it and answer it?
CLARA: Who would you rather be? Lennon or McCartney. Lennon, but I know I'm McCartney really.
Futureplans for the band?
DEBS: To travel the world with our ukulele love, meet new friends and play lots more awesome gigs! So we'd better get cracking then...Germany, Spain, Sweden....
For yourself?
EMILY: Keep learning the UKE! I've not been playing as long as the other ladies so I'm constantly learning as I go. We did a workshop on Barre Chords last weekend at a Ukulele Festival and I walked away knowing something new!
Wisdomword?
CHRIS: Practice!
Something to add?
CLARA: Up the punks!
Here is our discography
Albums
Too drunk to Pluck 2014 Hoo Ha records
Never mind the Buffet 2019 Hoo Ha records
Singles and EPs
Will I learn 2013 Damaged Goods
London City Lights CD EP 2016 Hoo Ha records