Pug Uglies is a streetpunkband which comes from Boston as many other good punkbands. They were formed in 1997 and here it is the guitarist/vocalist Tom which is answering some questions about the group. This happened in the beginning of september 2005.
Please a little bit of history?
-The Pug Uglies formed around 1997, in Dorchester Massachusetts. Dorchester is a working class town inside of Boston. We have slowly been gaining some recognition from both the local, and international punk scene from our live shows, and our original sound. Since 1997 we have had some line-up changes, and these changes have proved to be instrumental in defining our sound, and meeting our goals as a band.
Please tell me a little about every member, age, family, interests,work and something bad about every one?
-Jim Burke(27), Lead gtr., and Lead vcls.
Tom O'Connell(29) gtr., vcls.
Dan Connolly(29) bass, backing vcls.
Pat Brundage(22) drums
Mark Doherty(29) vcls., and mayhem
We all come from tight knit families, our jobs vary from teaching to engineering . As far as something bad, I wouldn't know where to start.
Many people would say that you play streetpunk, what about that expression? How would you describe your music yourself?
-We have been labeled (for lack of a better term) as a "street punk band", but every song we create isn't necessarily a "street punk" song. Don't get me wrong , I love street punk, but labels have a way of narrowing a band creatively. I think our music is punk rock, it's rock n roll, it's a lot of things, but it is real, a lot of people overlook that, but the content in our songs match our lives.
Which other groups are you being compared to?
-I think recently we have been compared to "Rancid". It's an honor to be put in the same breath as a band like that, but at the same time, it's just an opinion.
How about skins and racism, that´s wrong because in the beginning it was both black and white skins but people thinks that all skins are racists, why do you think and what shall we do about that?
-I know that all skins are not racist, but you could never convince everyone of that. The whole race thing is such a loaded question, that I couldn't possibly give all my opinions with out someone reading in to something I say, as something totally out of context.
How many records have you done, I have only Minimum wage which other records have you done and how can I get it?
-We put out an EP called " Go For Broke", and that was released right around the time we got involved with "Rebellion Records", they wanted a full length record, we added some new tracks to "Go For Broke" and that became " Minimum Wage". We are also on a number of compilation albums, too many to list. The most recent, is a Johnny Cash tribute put out by Rebellion. We cover "Folsom Prison Blues", we were real happy with the way it came out. Pick it up!
Which type of people comes to your concerts?
-Our shows are always different. We have our regulars that are always around to support us, no matter where we play, but its always a mix, and they are all happy when they leave.
Is there any good bands in your home country?
-Yes! In the local Boston scene alone we have, "The Dropkick Murphys", "The Street Dogs", " The Blue Bloods", I could go on and on, were pretty lucky.
What is typical swedish? What do you know about Sweden?
-We know bands that have toured over there, and they say Sweden is great, the people are very kind. I know Sweden, like Boston (P.J. Axelsson), loves hockey! And I like your cheese.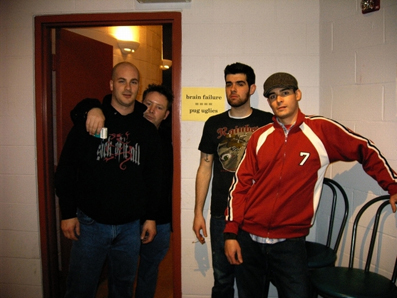 Have you heard any swedish bands?
-Abba.
Which reviews have you got on the new CD?
-All the reviews out so far have been extremely positive. Everyone seems to love it, I hope you do too.
Do you care about reviews?
-I'd like to say I don't (like most bands), but I do if it's a good review. If it's a bad one, fuck them because their taste sucks.
Which is the most peculiar review you ever have got?
-One person described us as a great opening act (Thanks!)
Your name Pug Uglies, where does it comes from?
-The Pug Uglies were an Irish gang from New York in the 1800's, there is a lot more history about them, too much to write, but the name fits us like a glove.
Is it important to have a name which sticks out?
-It can be. The music is more important, but a good name can get you noticed.
Which is the best punkbandname?
-THE CLASH
How is a good concert with you? Is it violent?
-My favorite shows have a lot of crowd participation, an active pit, people singing our songs back at us. Not necessarily violent, but a lot of energy.
When you do songs, is it important to have a lyrics which is about something important or is it OK to sing about love(I know that love is important but you know what I mean?)?
-I grew up on Bands like the Clash, The Sex Pistols, etc. the songs mean something, the lyrics related to your struggles and gave you answers or solutions. As far as love songs, and stuff like that , leave that shit for Good Charlotte.
Politics and music, does it go hand in hand?
-It can if it's done right.
Which is the best political band?
-The Clash
Which label have been releasing your albums? Is Rebellion a good label?
-We are on Rebellion. We love the people at Rebellion, they have done a lot for us
Please rank your five favourite records, five favourite concerts and five most important things in life?
-In no special order
1 London Calling( The Clash)
2 Never Mind The Bollocks ( The Sex Pistols)
3 Do Or Die ( Dropkick Murphys)
4 Savin Hill ( Street Dogs)
5 Death Of A Salesman ( The Blue Bloods)
Concerts: Rancid (Axis, Boston)
Sex Pistols + DKM (Boston)
Black Flag (The Channel)
Social Distortion (Boston)
DKM, Pug Uglies, Brain Failure (Maryland)
Family, Friends, Health, Music, Money
First, last and most expensive record ever bought?
-"The Snake"( Shane Mcgowan& The Popes) It was an Import, it cost me like $35.00, It was worth it.
Most embarrassing record in your collection?
-I had a Gin Blossoms CD in my collection, I don't know where it came from, but it was in my car, so I ended up throwing it at cab driver in a fit of road rage. So that album was good for something.
What does punk mean to you, is it only a word or is it a lifestyle or what?
-It's about a lot of things, having fun, anger, rebellion, anti main stream, and loyalty. But in the end it's all about the music.
It have been a lot of terroristattacks around the world lately, are you scared and what shall we do about it?
-No were not scared, pissed off , yes! The minds of most of these people don't work like that of normal people, they think they are doing these things for God, and that's kind of scary. But as far as doing something about it, it's time to start profiling people, this shit is too serious to be worried about hurting peoples feelings if we profile them, this world is becoming too Politically Correct, I say FUCK THEM!
Have you done any songs about this stuff?
-We haven't written anything directly about terrorism, yet.
What about the bands future?
-We are planning to get back into the recording studio soon, because we already have more than enough material for at least two more albums, but we don't want to front the money this time. And we plan on doing a small U.S. tour followed by a European tour.
And about your future as a person?
-I just want to be happy with what ever I'm doing
Wisdomword?
-Cover your Ass.
Something to add?
-Thanks for your time, I hope you like "Minimum Wage"
D.C from The Pug Uglies