Psychotic Youth has started to play again and I think their Some fun is one of the best records ever made. Jörgen tweaked a disc and Roine left it and was quick to respond, too. Quick as the music. January-2017
Why did you start to play again and it is a permanent solution or just a temporary such ...?
-I hope it is permanent. The reason I started Psychotic Youth again is that we got a request from the American artist Kurt Baker, to open for him and the Norwegian band Yum Yums on a tour. I was also pretty tired of the rockabilly thing when ploybands got the gigs. The whole scene seems unserious ...
Which members are left? Who are the members now, tell us about them? Other bands on the side?
-The current base is me and Lill-Ulf which run together in PY 1993. Since then, we have Tommy Olsson on drums and Roine Lundström on bass who also was a part of my solo project Red West. The good with this band is that even old members jumping in and out, like Gunnar Frick on the organ, Kent Sjöholm on bass and my childhood friend Anders Nordstrand who started this band with me around Christmas 1984. If someone wants to have a holiday from the band some old member jumps in.
You have played well in a rockabilly band or the like called Buckshots? Are you still playing?
-The group imploded into a fight about money, drunkness and prestige 2008. We reunited a few years ago and tested some gigs. All freaked out right away. So now we hang out as buddies off the stage instead. After Buckshots I drove solo as Red West & Hot Rhythm, which also included my wife then and Tommy and Roine. We are still (with another bassist) on but has taken a sabbatical.
You do not live on music nowadays, have you ever done it? Is it a dream or is it just a pain to have it pinched?
I "lived" on it during the first half of the 1990´s. Like all musicians I faked ALU job with The touring. Then lived for the day and moved in circles where a lot was free. But not the hell were you rich. I had to choose, I would not like to live on music today. Not for the money, but that all conditions fucks everything up when you are not present.
Will you continue to play with Psychotic now?
-Yeah. We have an extensive list of concerts - and then not even the disc have came out in the media. I´m writing a new album when things calmed down for the summer, so we go on again.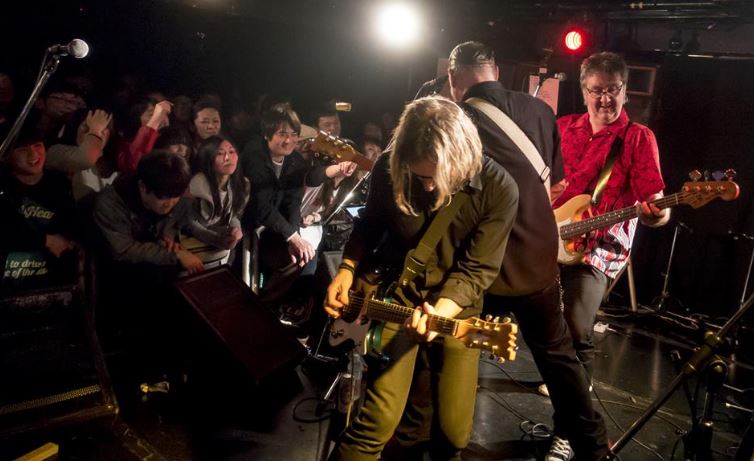 I rank the Some Fun as one of the best albums in the world ... which is your favorite album with the group except the last course?
-There is a collection of the album juice and the mini album Pop valled Bamboozle which came out in 1994. I think that it contains my best compositions ever. Some Fun is a small powerhouse, but a little too square for me today.
Which is the song that the audience always asks for? What song do you think is most fun to play?
-The audience usually asks for Let's Go. My own favorite is probably Nice girls but I'm looking forward to playing my favorite on the new album called Let It Go.
If you could pull together five bands, living and dead to have a gig together with Psyhotic Youth, which five would you have chosen?
-Yum Yums, Ramones, DM3, Eastern Dark and The Krispies + thousand more...
I seem to hear the punk somewhere in the background. What does punk mean to you?
-DIY. Cruel spur of musicians daring without being able to.
Is there any good bands in Sweden today?
-Ignore The Elephant is cruel. But the bands quit so quickly nowadays ... But Uddevalla had an awesome band called Ravendal which sounded like early Strindbergs. Otherwise it is the most ancient owls who resurrect as DLK, Fas 3 and stuff. Fezz is damn festive too :-)
Out of the country?
-We were recently was in Japan so we discovered a huge amount of great bands like Hum Hums, Pilotan and Felix! (The band). But the American Kurt Baker and Norwegian Yum Yums is great favorites. Fortunately plays we together occasionally, mainly on Easter Saturday in Benidorm / Spain.
Do you buy records still as I do?
-On tour it´s usually be one or more vinyl because we always seek out record stores and Roine is a crazy Ramones collector. Last was a live album with Plimsouls from the Whiskey A-Go-Go, I bought in Madrid.
Would you feel as if you have given out a record for real if you just gave it out digitally?.
-Absolutely not. Feels barely like a disc when it is only on CD
How do you think it is in Sweden today, M flirts with Swedish Democrats etc. What the hell is happening? US Trump?
-Because people just go about and reflecting in their fucking phones can get these abuses take place. Once they wake up in the Trump country without any rights left.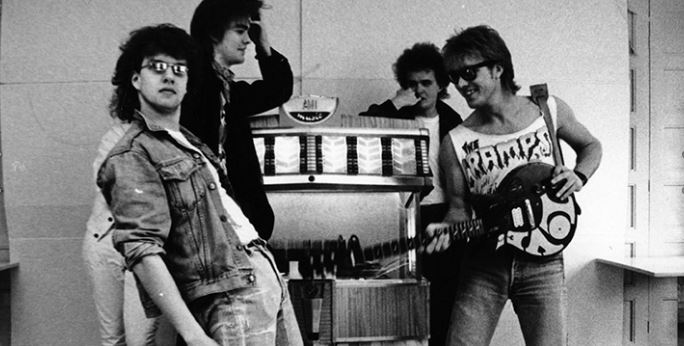 What is the most political you have done with Psychotic Youth?
-Played at the ANC-gig and stuff, but we've never been political, even though everyone in the band is to the left. I myself have opened for Stefan Löfven with Red West & Hot Rhythm after his first speech on the Götaplats for 1 May 2012.
Do you think that music and politics fit together if you do it the right way?
-If you touch inaccuracies in behaviors that KSMB etc. It seems to me to be political music in a good way. But not like prog area was in the 70s. Fucking sect that broke down on anyone who did not agree with 100%.
Best political artist?
-Tom Robinson.
I read somewhere that the singer of the Sonic Surf City hated summer and sun etc but played very summery music, it's something that you know well In itself, I think your music fits always and not just in the summer?
-Ha ha! Ola is just afraid to get sand in his beard :-) As a northerner, the sun is a hell to live with, brackish water and salt as hell and full of mosquitoes. Nah, I would agree with Ola anyway ...
Is it easier to make music today than it was 20 years ago?
-Technical, It is too easy when you can record with good results on a single computer = cheap. More difficult however to get the musicout when no one bothered to stop and engaged listening. Unfortunately, it's crap music with brain dead rappers that can take place today. Hardly any band noticed. Everything should be me-me-me.
What is the difference with playing with the band today if you compare how it was when you started? How is the audience today, just oldies, or are there any younger who are interested?
-First, we are great friends, the whole gang from the 80s and 90s to the present line socialize and thrive together. Audience-wise, it's people who have memories of us who come to the concerts, but with the new album, I hope that we can also can attract younger into destruction.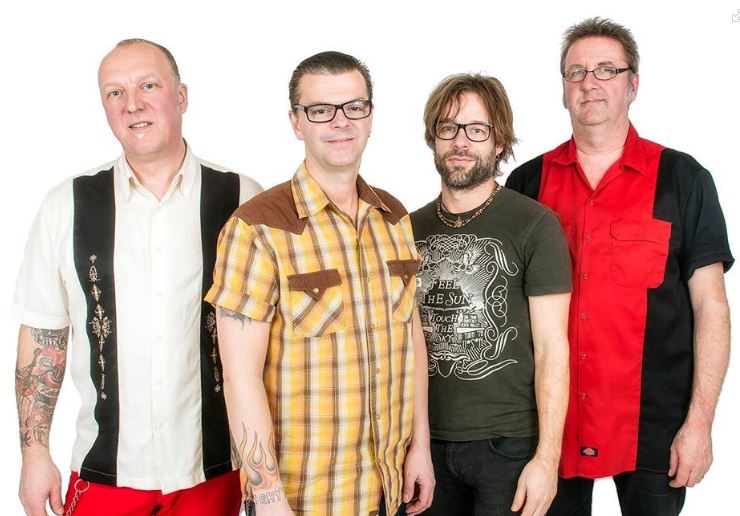 Five most important records in your life, five main concerts and five most important things in life?
1. Elvis - The rockin' days
2. Stray Cats - Stray cats
3. KSMB - Rika barn leka bäst
4. Nuggets - samling
5. The Nomads - Outburst
1. Boppers i Kramfors 1978
2. The Nomads i Sundsvall 1983
3. Psychotic Youth - Roskilde 1990
4. Elvis på Skandinavium 2000
5. Kurt Baker Combo i Moss 2015
1. The health
2. Bandmates
3. Guitars
4. Amplifiers
5. Microphones (30-50´s)
First, last and most expensive record ever bought?
-First Elvis - The rockin 'days (grandmother gave it to me when I was 9 years old)
Last was Plimsouls - Live at the Whiskey A-Go-Go, 1980 (vinyl)
The most expensive is probably Brian Setzer - Lonely Avenue Box for 1000 SEK
Which of your albums are the most expensive on Ebay, Tradera etc., or there may not be any such thingsr with you? Otherwise, the most expensive that you have been on?
- I guess it´s one of our early 7 "vinyls as Devils Train EP or Just like me released in two different versions in France and Spain. The most expensive I participated in is Thåström Explodera 2000. It was probably not cheap to record. I and Hasse in Sator did backing vocals on a couple of songs. Not so good disc.
If you had to describe your music in three words, what will it be?
-Energy / Choirs / Pop-Punk
Is it many interviews? Is it boring?
-No, it is always fun when someone shows interest in what you do. Pesky may be that I have to keep track of everything I say as organist Gunnar Frick is manic to details and point out the errors. He has horse memory furthermore, unlike me who forgot everything after an hour :-)
What is the weirdest question you have ever been given in an interview?
-A Japanese newspaper asked in broken English "Whät dass KRISTEN BÖGPUNK means?". We joked with the audience in Jönköping one time and shouted that we would run the hell out of them with Christian queerpunk. Noone thought it was funny in the capital of the free churches ... How the Japanese knew about this I don´t know ?!
Which is the question you are missing and never get, please ask it and answer it?
-Is it solely to manage a band, record label, studio and economy? Answer yes!
As I understand it, you work as a youth leader at the moment, what is the best and the worst with that?
-The direct positive estimation to be there as a sounding board for adult good youth. The back is the direct repulsion against an adult from the sounding board from the misbehaving. One should be a saint, police, social worker and inventor simultaneously. The world's easiest job :-)
Is there a lot or some unreleased with Psychotic?
-The only thing is the first 10-track cassette from May 1985 when we still was called Rat Fink A-Boo-Boo. The cassette "The Return of the screaming zombies" were printed in 60 copies and was sold at a record store in Härnösand.
Future plans with the band?
-Go out and play, have a beer and make sure that everyone is doing well during the trip.
For yourself?
-Newly divorced in an own apartment in Kortedala is a challenge. Have not had time yet to land.
Words of wisdom?
-Per Aspera Ad Astra
Something to add?
-Checkout www.psychoticyouth.com