Psychopunch with members from TST Wild Bunch, Grimjacks have done a lot of records now and I have thought for a long time that I should interview them. Now itīs finally have been done and here you get that interview. In the beginning of july 2004 it happened and check it out. Check also out their website www.psychopunch.com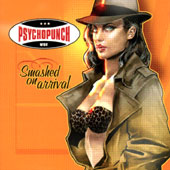 History?
(JM):Psychopunch was founded 1998 with members from TST,Wild Bunch,Grimjacks and so on. We have released 4 records on White Jazz Records and some split 7-inch and 10-inch and own 7 inch records on some foreign record companies as Stereodrive Rec/Green Hell (Tyskland),Bad Attitude Records (Finland) and so on. We have also been on some compilations. We have now changed label to Silverdust Records(Germany) and released our first record there "Smashed on arrival". We have played over 150 gigs,most of them abroad. We have done some gigs on big festivals like Wacken Open Air och SUMMER BREEZE Festival. We are booked on some of the bigger festivals in Germany this summer.

Please tell me a little about every member, age, family, interests, work and something terrible about every one?
(JM):The terrible things which is to talk about on every member we keep to ourselves. But this info you can get:
Joey:Lead gguitar and background vcoals. Some earlier bands is :The Union Flags,Grimjacks and TST
JM:Vocals and guitar. Some earlier bands::TST,Grimjacks and Dynamite Wasteland
Mumbles:Bass and background vcoals.Earlier band:Wild Bunch
Peppe:Drums: earlier band:Mourning sign

Some of you have been in TST, shouldnīt it come out some CD with that group?
(JM):Yeah, itīs Joey and me which have been in TST earlier. I was in the group from the beginning and Joey was in the group in the end of our career. The thought is that some sort of best of will come out but right now we have so much to do so we havenīt the time to go through the things with TST, but it will come out.

No reunion with TST?
(JM):No, there is no plans on that. Joey and I have to much to do with Psychopunch and Nalle (Nandor) plays in Revlon9.

No TST covers when you play live? Other covers?
(JM):No, we donīt play covers live, we donīt think itīs necesseary. The most songs we like is good as they are in the original style. But we have recorded 2 Ramones covers!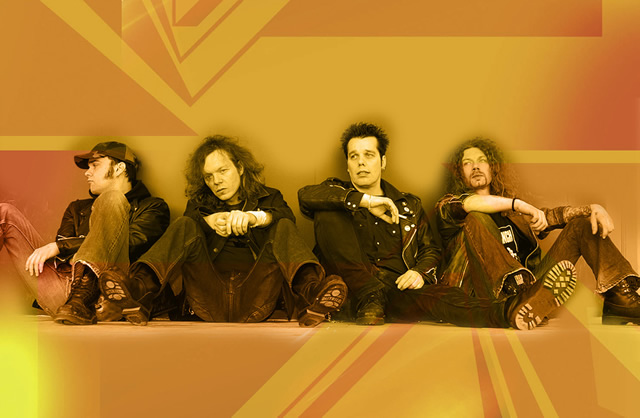 I compare you with Hellacopters, DAD; Psychotic Youth, Sator, is it tiring that reviewers always shall compare with other groups or is it something that you understand as a musican?
(Joey) No, itīs surely right if they hit the right target, especially if the reader never have heard the band before.

What do you want to be compared with (if you must be that) ?
(Joey) Ramones,Motörhead and Social Distortion.Mostly because itīs flattering to be compared with three of the absolutely best bands ever.

Do you care about reviews? Which do you trust the most, the good ones or the bad ones?
(Joey) Of course.Only the good ones, why should you care about bad critics from an arse which donīt understand what youīre doing.

Which is the most peculiar review you ever have got?
(Joey) That we sound as Hellacopters & Gluecifer only because that we have released record on White Jazz Records.Then you know that they havenīt even listened to the record.

Which is the most peculiar thing which have happened during your career, on stage or in the audience?
(Joey) We played in (Germany) some years ago and then it was two fucking swines which puked in front of the stage . I donīt know if they did it because they liked us, hated us or was drunk!

Psychopunch, is it the way it should feel when we hear you?
(Joey) Yes,with a little bit of love and respect ehhhh…!?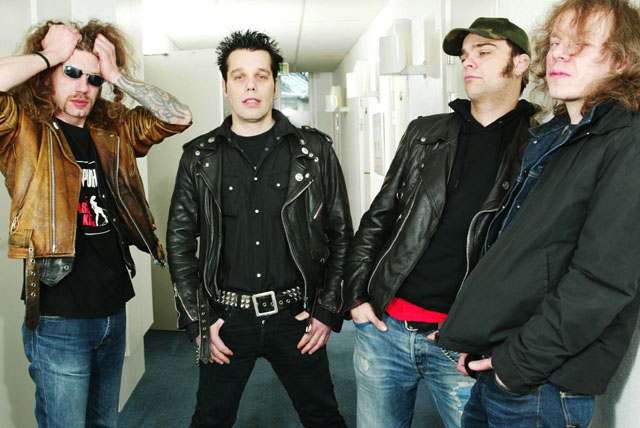 Are you interested in football, do you look anything on Eurpean Championship onn TV. Iīm work a lot for GAIS and they met VSK some days ago and it donīt look good at alla for you? What shall they do about it?
(Joey) Not too much. Hockey is cooler but it goes to hell there too. So itīs fucking lucky for you others that we are around, or !?

Now back to the music, how would you describe your music in three words?
(Joey) Really marvellous fantastic!

I understand that punk have meant a lot to you, how has it formed you as musicans and human beings?
(Joey) I donīt know for sure,"but I have a good check on cool leatherjackets, T-shirts, Converse and thos things. It havenīt meant so much politically. Punk is more a musicthing, itīs rock n roll bastards precisly as in the 50īs and the 60īs had in our eyes.
But musically it have been very important, incredibly musically.
(JM) Yeah, punk have meant a lot to me. It was through the punk I learned to play and then you understood that you havenīt been so good at your instrument just to be in a band. Much of the enrgy and the attitude we have still in our songs, some of the best bands which have been around is old punkbands!

Which is the best punkband in Sweden through all times?
(Joey) KSMB,especially during the two first albums.

The most important song?
(Joey) Itīs difficult to say , but Jag ska aldrig dö with DR.ZEKE is cruel!!

if you could choose five band to have a big concert together with, which five bands would you choose, but dead and alive?
(Joey):Johnny Thunders,Ramones,Sex Pistols,Cheap Trick,Social Distortion.Could have some more bands but….
(JM):Ramones,Sex Pistols,Iggy and the Stooges,New York Dolls and
Motörhead.
(Mumbles):Ramones,Motörhead,The Sweet,Graham Parson,Sex Pistols.... and Elvis should stand for the catering..
(Peppe):Meshuggah, ELO, Nine Inch Nails, TOOL and Frank Zappas band which he had around 72,73. It have been really cool.

You have chnaged label from Whie Jazz to Silverdust in Germany, why and whatīs the difference?
(JM):Yeah,we felt that after 4 records it was time to go on, taste something new and we have played mostly in Germany and have most fans there so was it a natural choice to try with a german label and the people we knewed before on White Jazz before have quit working there so it made the thing a little bit easier. The biggest difference between White Jazz and Silverdust is that weīre one fo the bands which have the biggest priority on the label and itīs noticed on the promotion now when the record is out. Silverdust really believe in us and it feels really nice. we have a really good cooperation.

Does your music sell more abroad than itīs sell in Sweden?
(Mumbles):Absolutely, the swedish audience have always been more hard to get into, as a swedish bands itīs really hard to win peoples hearts if you havenīt been seen and heard in media. Then itīs OK for the most people to think itīs good, except from some people who really dare to like rockmusic for what it is and donīt give a damn about which music which is cool right now.

have you been musch outside Sweden and played or how is it? where is best?
(Mumbles):We have toured Europe foreward and backwards after every record and itīs more for every time. Best is everything, that you go round and meet both idiots and people who thinks the smae as you...yeah shit happens but why take out someone special.

To play thi sort of music in Sweden isnīt really easy? Why do you think there is so many good bands in Sweden but not so much good audience?
(Mumbles):Because when you stand there with your conviction and no one listens you get so pissed at last and then you will show "the bastards" what you what you go for and in the end you get really good and then you stand there with something which is fucking good. Have you something in your head also so go every good band down to Europe insetad :)

When you do songs, which is most important? The lyrics,. the melodies or to have a refrain that people remembers?
(JM):I think itīs really hard to explain what is most important. The most important to us us is that itīs going to be a song which we want to hear ourselves if we went out to a good concert or going to a pub, a song that we feel for, to geel good to, a partysong......

Do you do the songs together , or how do you do them?
(JM):In the beginning it was mostly me and Joey who did the songs but that have we changed and that feels fucking good. Itīs always someone who have an idea or riff which we build on. Sometimes itīs so that someone have a whole song which we do a lyric too and do some small arranges with. Everyone in the group is doing something and that is the thing that does the band so fucking good. !

Please rank your five favoruite records, five favourite concerts and five most important things in life?
(Joey) Impossible, but what the hell, those things changes but itīs worth a try.
1.Sex Pistols/Never mind the bollocks
2.The Clash/London Calling
3.Johnny Thunders/So Alone
4.Iggy & the Stooges/Raw Power
5.Social Distortion/White light,White heat,White Trash
1.Social Distortion/Stockholm
2.Monster Magnet/Stockholm
3.Första spelningen med Rage against the machine I Sthlm va otroligt grym
4.Johnny Thunders/Stockholm
5.Nick Cave/London
1.Beer
2.Gibson guitars
3.Take away food
4.Music
5.Women
(JM)
Five favoruiterecords:
1.Ramones : Leave Home
2.Sex Pistols : Never mind the bollocks
3.Iggy : Raw Power
4.Aerosmith : Rocks
5.Turbonegro : Apocalypse Dudes
Five favoruiteconcerts
1.Ramones (i Stockholm)
2.Clash (i Stockholm)
3.Metallica (Med Cliff Burton I Solna hallen)
4.999 (Stockholm)
Most important things:
Be a good boy!
(Mumbles)
Thanks, but fify records have been easier!
1. Motörhead-Bastards
2.Nazareth-Raz ama naz
3.Sex Pistols-Never mind....
4.Ufo-Obsession
5.Eddie and the hotrods-Teenage Depression
Concerts
1.Motörhead/Tank-Isstadion-82
2.Dwight Yoakam-Morderna Museet-??
3.Motörhead-Malung-85
4.Georgia Satellites-Ritz-??
5.Zodiac Mindwarp-Ritz-??
1.Be a good human being, sounds christian but all the arses you hit oon the way up itīs the same you must kiss on the way down, and that sucks.
2.Never give up, because then itīs over. ,
3.Listen to yourself, not the ones "that knows how things should be"
4.You must have good music around, good mates and good beer.
5.Do your own race as long as you cand stand for it and not so it hurts others.
(Peppe)
1.The Downward Spiral, NIN
2.Destroy Erase Improve, Meshuggah
3.The White Album, Beatles
4.Master of Puppets, Metallica
5.The Wall, Pink Floyd
Five important things:
1.-Musik
2.-Sex
3.-Musik
4.-Musik
5.-Näshårstrimmer
The five best concerts(which I have seen I presume):
1.-NIN on Roskilde -00
2.-Meshuggah in Studion, Sthlm -96
3.-Psychopunch in Hafenklang, Hamburg -03
4.-Turbonegro in Hultsfred -97
-*** (No one else qualifies in among these amazing gigs yet)

First, last and the most expensive record ever bought?
(Peppe)
First: 'Hotel California', the Eagles (the single)
Latest: 'Death Cult Armageddon', Dimmu Borgir and 'Sin' with NIN (single)
Most expensive: I donīt know. I donīt have any very expensive record.

The most embarrasing record in the collection?
(Peppe)I bought a Dave Weckl record when I was younger and when I was impressed of technical drummers. Have hard to see why today but I donīt think itīs embarrassing.

is it much interviews? Is it boring?
(JM):It can be a lot of interviews , sometimes itīs fun and sometimes itīs really suck! But you shouldnīt complain, it could have been the oppositeway that it wasnīt any interviews at all.

Which is the question you never get, but you want to have, please ask it and answer it?
(Joey) Question:How does it feel to puke in a bucket which is hide behind the PA? Answer:Fucking bad!

Some favouritepaper on paper or on the net?
(Peppe)have no favoruitepaper. Close Up is really good but I shouldnīt namedrop them before we get some good reviews there..
But hey; I did it anyway. SHIT!!!

Some other favouritesite on the net to recommend?
(Peppe):Metal-sludge.com. Really fun if you like to read a lot of shit about hair-bands( the most of them still going on, unbeliavable but true) which trjhos shit on each other. But Iīm really easy to be pleased.

Futureplans for the band?
(Joey):Play on festivals in Europe, tour with the new record and so on. And then itīs a new year and new things on itīs way.
(JM) Futureplans for the band is of course that we could live on our music, that it rolls as you can say. We cannot live on our music right now.
(Peppe):Yeah, take over the world, make a revolution in the way of writing songs, earn a lot of unnecessary money, get hybris and release a lot of idiotic merch-stuff as Psychopunch-The toilet nrush, became enemies and split up reunion in succesful style many years after that and earn a lot of more money. It was everything.
And for yourself?
(Joey) Do absolutely everything to not going to a work vere. I hate to wake up 7.00 when I donīt want to do it.

Wisdomword?
(Joey) Drink always everything in a open bottle!No matter what!

Something to add?
(JM)Yeah, it could be taht weīre hoping to get some more gigs here in Sweden and that more people begin to listen to our music here in Sweden. But first of all , that the new record sell a lot of it worldwide.