Psycho Poetry is a band from Sundsvall with Terese on vocals and she don´t really like the comparision with Vice Squad and Sounds but otherwise she seems to be comfortable in my interviewercompany. Tis was done in the beginning of march 2004.
History?
-Psycho Poetry was founded in the autumn 2000, I and Roger have played in a weird band with another girl on drums. It was must for fun and I was really scared to sing and I hadn´t any big songwriterambitions but when the time was and we put down the band have I understood how fun it was to sing and write songs was really good that too. So we found a guitarist and a drummer, took the name Psycho Poetry and was doing that for some years. After the first demo we got really good and unexpected reviews, band of the month and a very high grade by Sörling in Close-Up, people asked is if we wanted to be on compilations. And a lot of funny gigs. We were really surprised ! Last spring our old guitarist moved to Nässjö and then came Simon and some months after that came the new drummer Thomas into the band. In November 2003m we recorded and now it feels better than ever.
Please tell me a little about every member, age, work, interests, family and something bad about every one?
-The guitarist Simon Olausson lives in a house with his parents as you should do when you´re 17 years. He´s studying in the gymnasiumschool and he study music so he can the things with qvints and all that that I don´t understand. Other interests is to do carpentry and girls . When I had a party some time ago Simon puked on my keyboard. It was fun.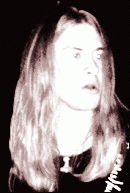 Tomas Björling, 20 years, is Psyho Poetrys drummer and the latest member and he have also study music but he didn´t make it allt he way. Now he works at McDonalds because then he can pay his apartment and he can eat hamburgers which is left. Tomas plays a lot of instrument, he is lefthanded and when he get a bassguitar he plays up and down. And he could talk away a rehearsal instead of rehearsing. .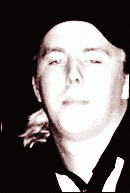 The bassist Roger Bergsten is doing many things for Sundsvalls musiclife, he works as a studioengineer and he does websites 25 years, almost too old and he have so bad songmemory that Simon after 2 weeks in the band was forced to show him the songs, haha! He plays in a heavymetal band too..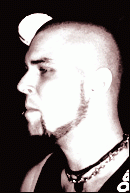 Me, Theresa Bystedt, 23 years, I´m an expert in burning me out in different projects which always is about music and gigs. Plays bass when I don´t sing and I´m always behind my computer when I don´t sit on a café. It´s nothing terrible to say about me but it depends on who you´re asking.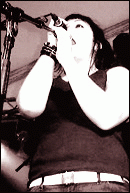 Sundsvall have always been a big musiccity, why do you think?
-It have always been much people and firesouls in Sundsvall which have been and still are very good and engaged in the music, it became rings of the water when they started and people have been doing the same thing after that, new bands, new labels and arranged gigs and so on.
Best Sundsvallband through all times?
-Rasta Hunden I must answer. The Kristet Utseende have always leaved me with traces and ll other people who have heard them. Of the new bands is the new trall(melodic) band Java best
Best band in the world right now? In Sweden?
-My favourite band right now is the Australian band The Living End which is a really cruel band. If I have understood the thing right they were jazzmusicans before they started to play punk instead. So we have classical favourites like Misfits, Ramones, X-ray specs. Swedish favourites are Voice of a generation, Coca Carola and a gang of bands which is no more as, Burning Kitchen and Cosa Nostra.
How would you describe your own music in three words?
-Playful, energic, lawless.
I say that you´re a mix of Vice Squad and Sounds? Comment?
-Haha, what an insult! Yeah that a classic thing that a band with a girl on vocals almost always is compared to other bands with a girl on vocals, it´s the nearest way. The singer in Vice Squad try to sound so angry and the singer in Sounds try to sound a little sexy and cheeky. Fuck, I want to sound a stough as Danzig. If you take away the vocals I don´t know what we sound like, in the bottom it´s only punkrock which is spreading to many ways..
What other bands are you being compared to?
-I think that many people don´t know what to write, in reviews have we heard everything from Ramones, raped Teenagers, Metallica haha. It´s not so right but the most writes that we have an own style.
Do you care about reviews? Which is the most peculiar you have got?
-In a review it didn´t was written something about us, more about the soundengineer which really was beaten but you haven´t so good sound if you sit 50 metres away on a veranda and drinking beer. It was a little bit weird. A netzine wrote that we sounded like "Nicke and Nilla on speed with a guitar " but that was mostly fun to read. He wanted to have shotmoney on us also, ha ha!
To be a demoband which is the best and what´sworst part with that? Do you send away your demos to many companies and papers
-It´s almost easier to get a gig for a halfgood demoband that an halfgood signed band. As demoband you can play on demoscenes on festivals, print demos and put all the money in your own pockets. Do as good advertisment as the signed band can via the net. The worst thing is that is really concurrency to the places to show up your band. It´s so much good bands everywhere, you must do your best and you can´t sit on your arse and wait to be seen. The most of the bands who get a record contract have really worked hard with their music. We will send out this demo to the places who suits our style, we have done a big sending before and that was some years ago.
How is a good gig with you?
-A good gig with us is when we´re really triggered because of the fact that is much audience and good audience. I like when we misses a little because then we can laugh a little and then it gets more releaxed. The ones that have seen us think we´re relaxed and personal.
Which style of people listens to you, is it only your mates or which style of people is it?
-Of course does our mates thinks we´re good, but it can depend on other things. Our audince doesn´t represent any particular style, it can vary from person to person. It seems like it is so that people like us much or don´t like us at all. We would have a bigger audience if we have a nisch , we´re too little punk for the punk, top fast for the rockers and to melodic for the heavymetalfreaks.
What does punk mean to you, is it only a word or is it a lifestyle?
-When I started to listen to punk and call myself a punk it wasn´t any change. Suddenly it was a name for people like me. Punk is in everything I do, punk is for me pure energy, to believe in yourself and stand for your opinions and ideals, to dare to put out borders and that I personally don´t do any more idiotic things in the society. Many people leave the punk behind them when they grow up without understand that is there they really can make a difference.
When we´re talking Psycho Poetry so is it me and Thomas who listens to punk and Roger and Simon mostli is hardrockers. But here is a little bit of punk in every one we will hope. !
Is it many interviews, is it boring?
-Interviews is fun, it have been mostly in the local papers in Sundsvall.
Which is the question you never got but you want to have, please ask it and answer it ?
-After all these questions I don´t want to have any more. Are you satisfied now? Haha!
Please rank your five favourite records, five favourite concerts and five most important things in life:
-The Living End - The Living End
Fabulous disaster - Put out or get out
Misfits - Static Age
Burning Kitchen - Confirmation
Charta 77 - Tecken i tiden
Concerts:
Asta kask on Vågen i Göteborg -03
Coca Carola on our own (it´s closed down) Underground -01
The five minutes I managed to see by The Nomads and Jello Biafra, Hultsfred -01
Misfits, Hultsfred -98
Charta 77 on Storsjöyran -97
Green day, Hovet in Stockholm -96
First the last and the most expensive record ever bought?
-Haha, Orup "Du rör inte min mercedes" on vinyl 7". The last i bought was Voice of a generations newest, the most expensive record seems to be Living End´s latest which I must buy on import.
The most nice record cover? Is there any record you have bought because of the cover was so fine??
-I like covers which have a clean style,as No Doubt compilation or Liberators new record. Black and white is most nice, I hate scrabble colourfol covers with ugly typeface as Tiger Army´s Tiger Army's "Power of moonlite". I cannot say that I have bought any record because of the cover.
The most embarrassing record in your collection?
-Which is most embarrassing , Robyn is here, Absolute Dance or the soundtrack to The Three musketeers?
What´s the best and what´s the worst of living in Sweden?
-The best with living in Sweden as a young person is that you have many different things to do and chances to do them. You don´t have to work as a slave to manage to live , you can go on the dole, you can study to what you want to study to(almost everything) you can start your own business and you can be interested in what you want and so on.
The worst thing with Sweden is that people get so nasty when they drink, the alcohol get the weekdaycowards apologize to be swines. Who stands and piss on the entry to Åhlens a tuesdaymorning?
Was is the right Robinson(survivor) winner? Robban then?
-Robban is an idiot, hater Robban, hate Robinsson. I would never go away to a selfpaining island and I don´t want to see people who does it either. Should I decide so will no one win, the boat who take them home after the recordings would never come and pick them up. Then it would be real Robinson-life. HA!!
Psycho Poetry , from where came the name?
-It´s a typeface.
When the saints, why a cover of that? Do you do other covers? Which?
-"When the saints" is really good! It´s really fun to play it live.
I like playing covers,we have played Lars Fredrikssens and The bastard's "Dead American", Operation Ivy's "Knowledge" and Misfits "Static Age".
We take often a cover in the middle of the setlist just to have a pause, just because that we can only do fast songs ourselves. As "The artist of the week" we recorded James Brown "I feel Good" on P4 Västernorrland last year. They had never got so many complains from older women and gentlemen as that week!
Futureplans for the band?
-Send out the demo to record companies, rockclubs, papers, zines. Have contacted some companies in japan most for fun. Rehearse, rehearse, rehearse and I hope we get a load of funny gigs this summer. And maybe be stear up a minitour.
For yourself?
-Win 200.000:- on a 10 krona lottery have paid 100 kronas but I have never managed to win anything yet.
Otherwise it´s the same , to arrange gigs and do a lot of musicprojects, and that´s fine for me that too.
Wisdomword?
-Think for yourself and be nice. It´s always right.
Something to add?
-No.