Protestera I have long been thinking about interviewing. Johan who used to do Pie Mag and now runs Flyktsoda where he writes and releases records and he also play guitar in Protestera and also scream out his anger. I let him speak out late in October 2017.
Thanks to IA HAMMAR for photos.
The new record Pengarna eller live(Money or life) comes out on CD and LP, I'm grateful because like CD but how's this in these vinyl times? You would never imagine only release it digitally?
-Yes, we want our songs to be available to everyone, so at least every record should be on vinyl and digital but now Danne (Halvfabrikat rec) would also release the new record on CD and that's just fine. Just releasing songs digitally, I do not think any of us are interested in that because we want to write things and do layout as we like. We spend a lot of time and effort on making the records a whole, partly because of taht it took over two years to get the album ready hahaha.
The title of the record Pengarna eller live(Money or life),does it mean something special or was it just a good title?
-It is a good title, we think, and it is based on capitalism's predecessor on our planet and on our entire social context as human beings. No human being owns the right to his own existence as it is now, but we are forced into constructive social contexts where we primarily have to slaughter for capital and consume and reproduce, instead of living our lives as free people. So the title is like choosing to be a slave for money or living the life, well then the answer is obviously to live.
You have, like me, been in punk for a long time, how do you think it has been developed / changed over the years? What are the good developments and what are the bad things that have become worse developed?
-Yes, I belong to those who do not think it was better before. I always find new bands that are great, the punkscene in Scandinavia is more open now and not only a lot of guys in the bands and in the organizer groups, and this has been a big boost because it has made more people feel welcome and dare to start own bands, fanzines, labels and playgroups. Those who look back to the late 80's and are nostalgic seem to have forgotten how limited it was then and how little people who came to the gigs, at least in most cases. Then there are trends that come and go, around the turn of the century, it was ok to be a political band, now it's more black-metal influenced and defiant in general, suppose that it follows societal developments in general where it is prohibited to convey any kind of left message . But trends come and go. When the so-called hardcore scene was the biggest in the 90's, I think it was most uninteresting; the bands did not play hardcore at all, they played more some kind of slow machometal that I could never identify with, hardcore should be fast and cool! I think ... Now it's even better on that front.
Protestera has lasted for a long time, how long is it and have you chaned many members?
-We started playing 1999 and at the beginning, members were exchanged quite a bit, when the set-up was done properly, I and Anders (guitar) had been around all the time, but Kalle (drums) came with -02 and Hanna (bass / song) -03 and we four have stayed together since then, then we have had singers who have come and gone and come back and stopped again but now we have been a quartet with the same staff for about ten years and when we've been together for so long and been so much together, we know each other before and before, so it would be difficult for someone new to join the group.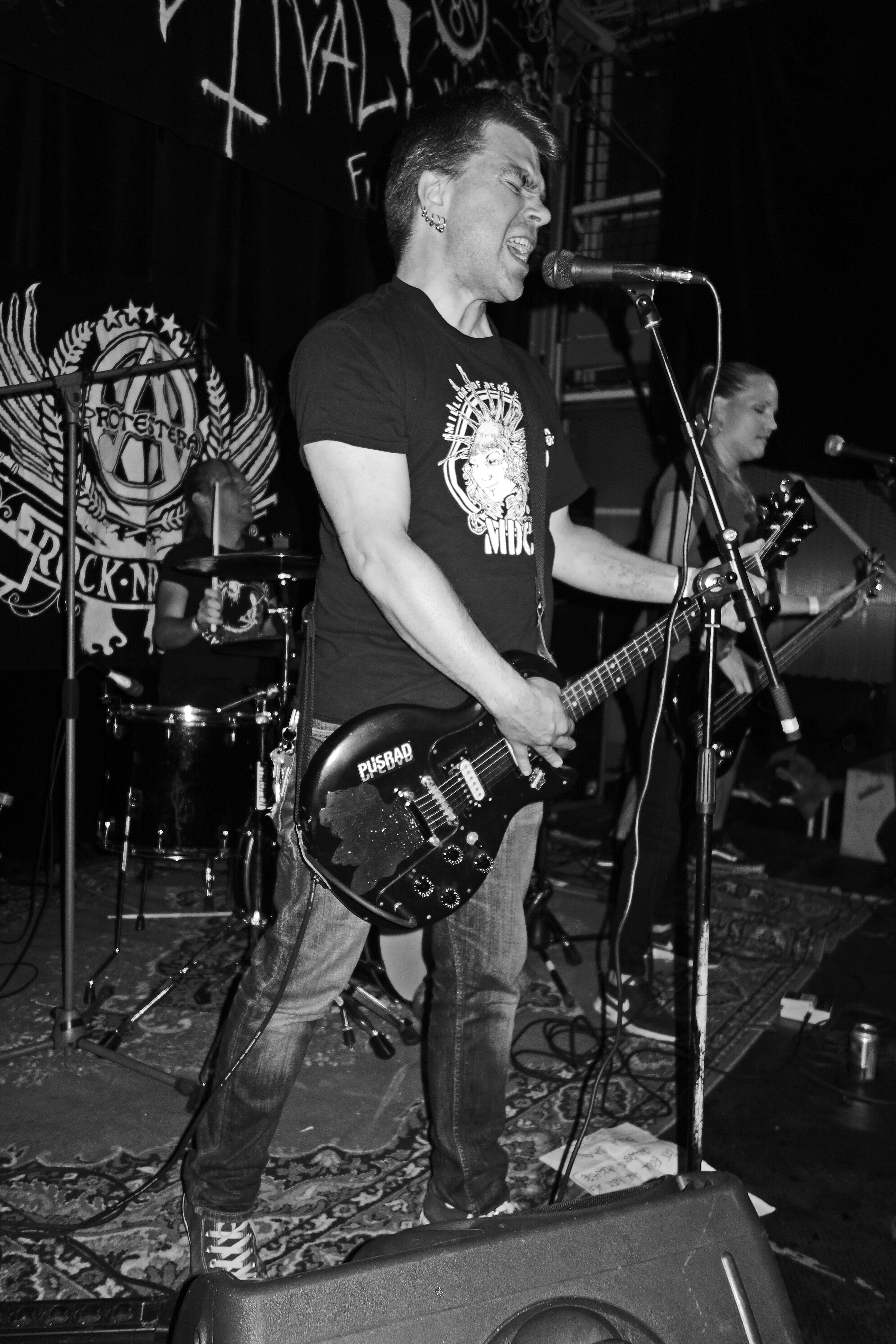 Tell us a little about today's members, names, age, family, jobs, other bands and something really fun, no-one knows about every person in the band?
-We all worh with care, school and care. Everyone except I'm born in the 80's, I'm born ... eeeeeh, before that we can say ... Everyone except Kalle has kids. Something fun about each person .... Well, Hanna brushes her teeth as soon as she gets the chance and is a real "doer" who gets things done. Kalle has a very good local feel; once when we played in Zûrich he sat asleep in the back of the bus and we went wrong(there was no GPS at that time and we had only been in the city once before) suddenly he shouted from the back seat "here we will turn right and then is it left ... etc "in the middle of the night ... how did you know that? I asked "I passed by when I posted a letter once". Anders is a personal trainer and has actually contributed to training an actor in the film about Håkan Helllström, also partly in charge of the national team in MMA. I'm really bad ffinding places and once I went wrong on the toilet on the German ferry ... followed a guy who would go out (I thought) but he pushed the door towards me and I pushed back, then he said "no!" And then I discovered that It was not the exit and the guy would go in to the toilet and obviously he didn´t want my company there.
You have done a lot of tours over the years and especially then in old Eastern Europe or how is it? I have read a lot about it in Flyktsoda about your tours, but do you have any really funny memory you did not share tjere and something really hard you want to tell us?
-Now, we have toured most in Western Europe, we have only done two shorter rounds in Poland and some gigs in the Czech Republic and in the Balkans. There are so many funny memories and we having a hard time. When it comes to bad stuff, there's no hit when we have a been in a car all day, finding out to the venue and it turns out they did not prepare anything at all, or type forgotten ... have just happened a couple of times. Otherwise, we almost always have fun and, as I said before, we feel so well and trust each other so it's seldom strange nowadays. OK, I can tell you a cool thing; We had to go away and play 3-4 gigs in Germany in the winter, meet early in the rehearsal room, it was cold and snow and one of our members came in a vest, stretch jeans and leg warmer and that's all, no packing, no sleeping bag nothing. This person obviously forgot that we should go away, but thought that we would only rehearse but did not want to lose his face and said carefree; "I go like this, nice with light package". Without sleeping bags on squats in Germany where there is not always heat. I asked this unnamed person did not want to borrow a sleeping bag from me ... "Well ... ok then, if you're nagging".
Is it very varied how those who book have steered things up before or does it always work?
-It works almost always good, now we have got a pretty good network of contacts, so we know about how it gets, it's mostly south of Germany where people do not seem to have the right breakfast, they eat a little white bread with possibly marmalade on which we think is hard ... we are the real breakfast people all, so a big breakfast and coffee is something that we really appreciate.
Which is the biggest band you played with?
-Big band ...? Hm ... yes, I do not know, I'm not so impressed with "big bands", that's subjective, I think Sara and Josefin / Burning Kitchen / Sju Svåra år/ Abductee SD etc are the best songwriters we have in this country and we have played with them. Then we have toured with Apatia No and played with so many bands that I have difficulty choosing a few.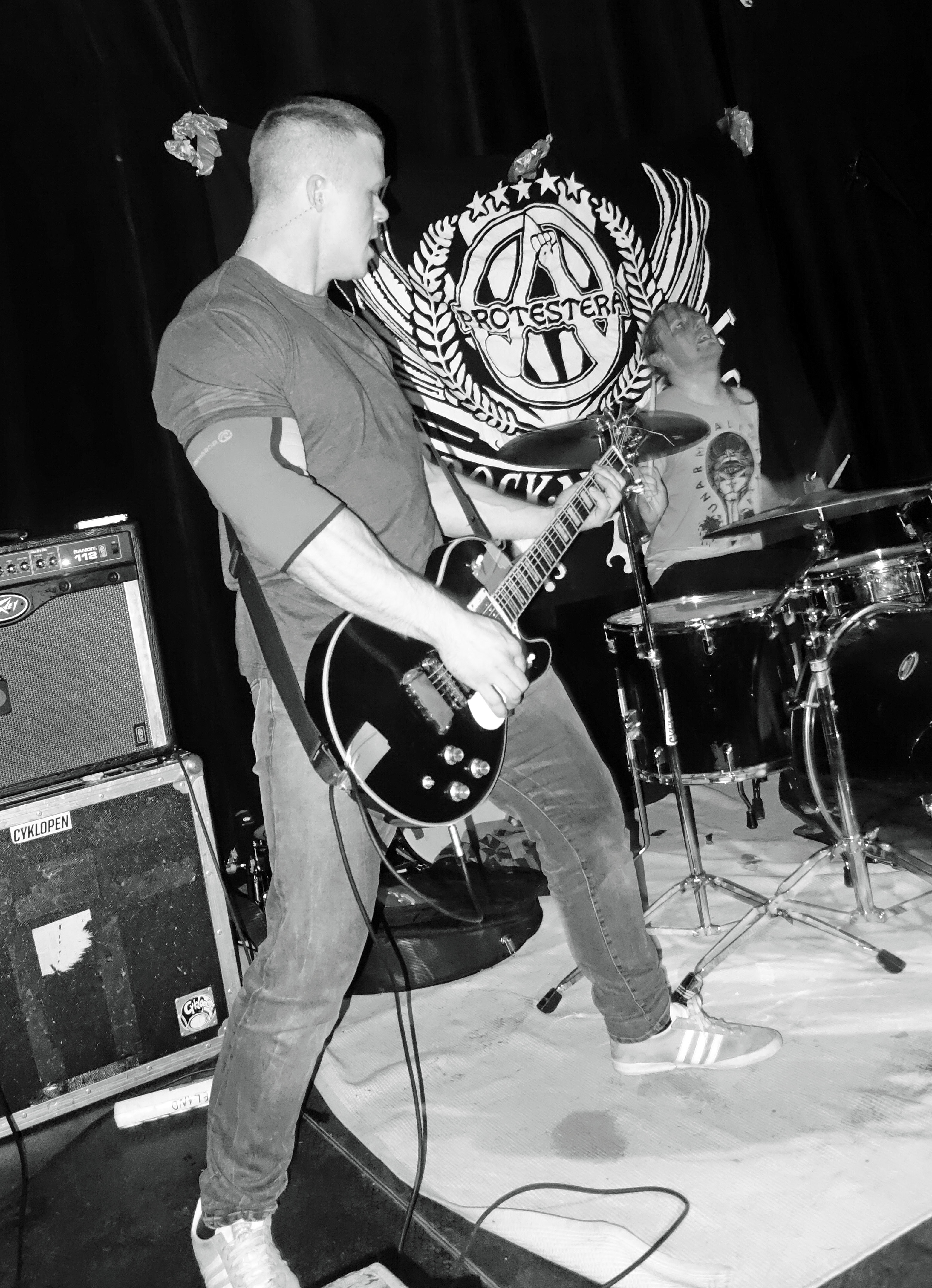 If you could choose five bands from history, living or dead to have a concert together with Protestera, which five had you chosen?
-Now it's only me who answer so I write what I think about right now:
Sju Svåra år
M.D.C
Bratakus
Witch Hunt
Asta Kask
Have you received a lot of complaints on your name or have you received it most positively. You were not afraid that any other band would have taken this eminent name before?
-Haha, at the beginning there were many who wondered and didn´t like but now we have been there for so long that people are used to it. No, we have never thought it's a great name, as anyone would like to snoop, but now there's a band called Protester, which is damn like, and that pops up when looking for our name. But now, that said nothing we think much about longer.
Did you have any other names you talked about when you were going to name the band?
-Ohh yeah .... All suggestions were pretty bad, so every person who joined the band then voted for two or three suggestions that they absolutely did not want, so the proposal that got the least votes "won" and it became Protestera.
It works well with Halvfabrikat Records I understand? What's the best about that company?
-Yes it works great! Skuld releases released our first album -00 and halvfabrikat Records released our first EP -04, since then it's mainly the two who released our albums and they have collaborated earlier when we released albums; Skuld has released the LP and Halvfabrikat the CD and almost all of our EP's. Then this terrible accident with Kleister / Skuld releases happened when he unfortunately went away (which I still find it hard to realize because he was one of our best friends) and now Danne / Halvfabrikat wanted to release the new disc on both LP and CD so there was never any hesitation. Halvfabrikat let us do what we want, but are still careful about how the editions look and he seems to have a large network of contacts so the discs are spread. Of course, it is also a DIY label, so nothing is paid for money here and there, we get a certain percentage of the discs printed as we can sell on gigs and when they sold, we can buy more at a fair price.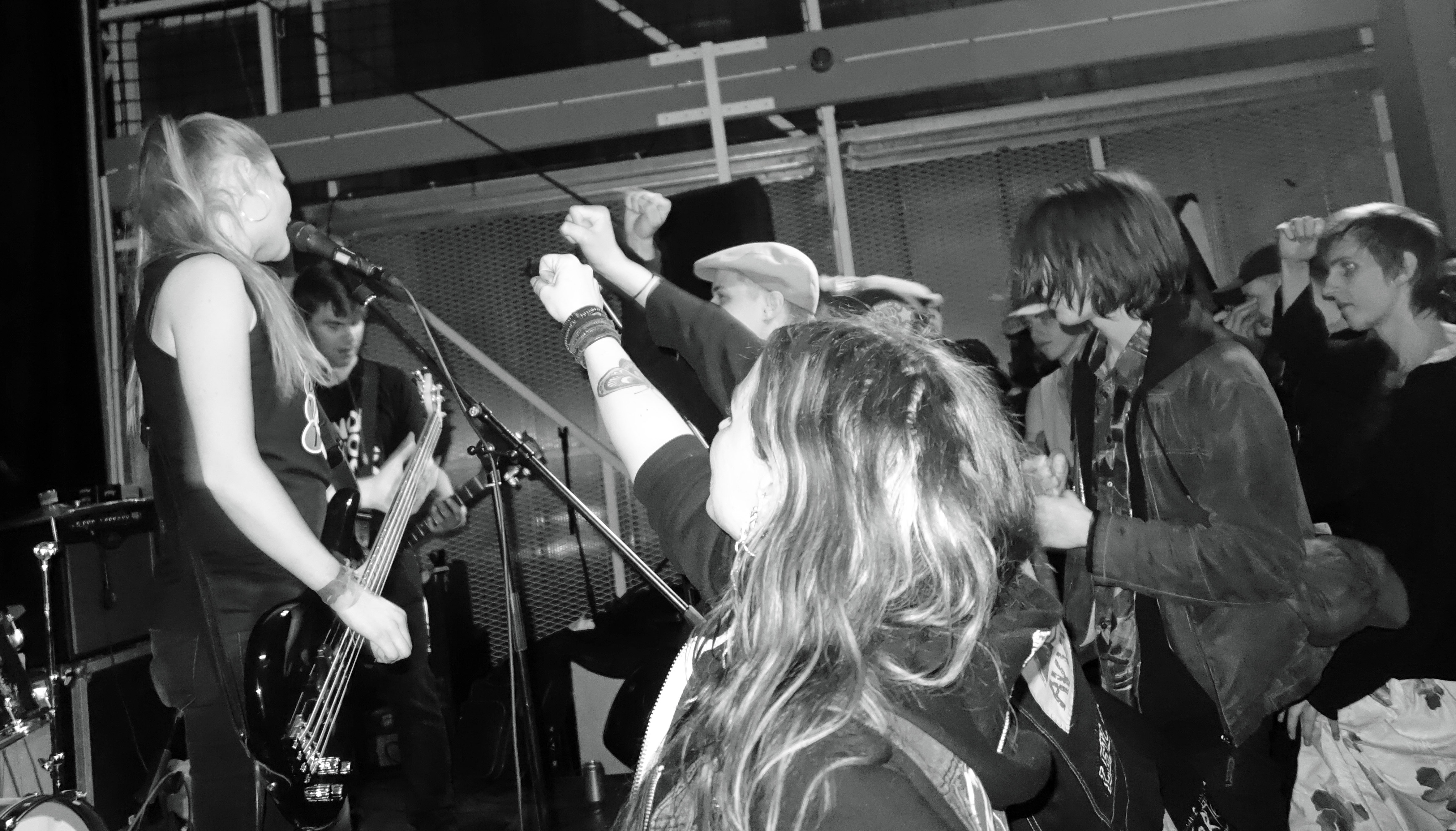 Is there a lot of unreleased stuffjust waiting to be released in a large LP / CD box with Protestera or is most of the recorded already released?
-Haha, as long as it takes for us to get out of our new songs there is guaranteed no not published material. By contrast, Halvfabrikat has been talking about releasing a collection of singles and other odd songs on a compilation-CD next year, so we have sent all the songs and lyrics to it anyway.
Who makes the lyrics and what are you most inspired of?
-All are well-involved in the texts, usually someone has written a text and we are filing the formulations together. I can not speak for the others, but a new disc with Thåström or Burning Kitchen or Sju Svåra År gives me a lot of inspiration to write, even though the lyrics are not influenced by the ones I mentioned, I'll be as peeped as I listen to them. Generally, in terms of texts, we try to write positive texts and avoid misery and pessimism, and there are enough people to do that, we want to make texts that people get pepped and create affiliation and struggle. That's our goal.
I understand you think politics and music belong together, but are there any bands that make music without politics that you like a lot?
-Well, I'm listening a lot to The Breeders and that fluffy indie, Hanna and Anders listen a lot to death and black metal, Kalle is listening to everything you can imagine.
Is there something you would never write a text about?
-Hm, what a difficult question, I do not really know what you actually mean. There is no phenomenon we could not imagine writing about.
I know you support AIK, are the others interested in football and, of course, what teams do they like?
-It's right, I'm probably the worst. Hanna is probably more interested than the others, and she is into GAIS, Anders support on all teams coming from Gothenburg but most I think IFK Gbg, Kalle, I have never heard talking about soccer ...
So a tribute to AIK is not applicable to Protestera?
-No, hardly it would feel ridiculous too and nothing that fits our band. Being a football supporter is more like a disease and nothing I recommend anyone else to become, get stuck in it, it's more anxiety than fun.(There I really agree as a supporter to GAIS/editor)
You also make Flysoda and are very diligent with releases there. What drives you to do it and get it out as often as you manage to?
-Yes it is true. I am currently doing a issue where the theme is fanzines and where I try to explain my love to fanzines and the total freedom it means to make a fanzine. I participated in a fanzine collective in the 90's and after we settled down, there has always been a sigh after making a new fanzine. Almost four years ago I started and now I have just released my 17th number. What drives me is mainly that there's so very much good music to write about right now. After all, it has always been that as soon as I get a new number from the printer, I am dissatisfied with something and want to get started immediately to do a better thing ... and then it will continue.
If you think about reviews you've received on your discs, do you have any really weird or odd reviews that you can share?
-Yes, the worst is still the review on the first LP in Close-Up, where they called us Stalinists. If anyone writes after reading the lyrics, then the person does not know a shit about what Stalinism is ... we thought it was entertaining. That's the only thing I can think of as being weird, but I do not like Close-Up, the commercial stuff they do so it was good in that paper.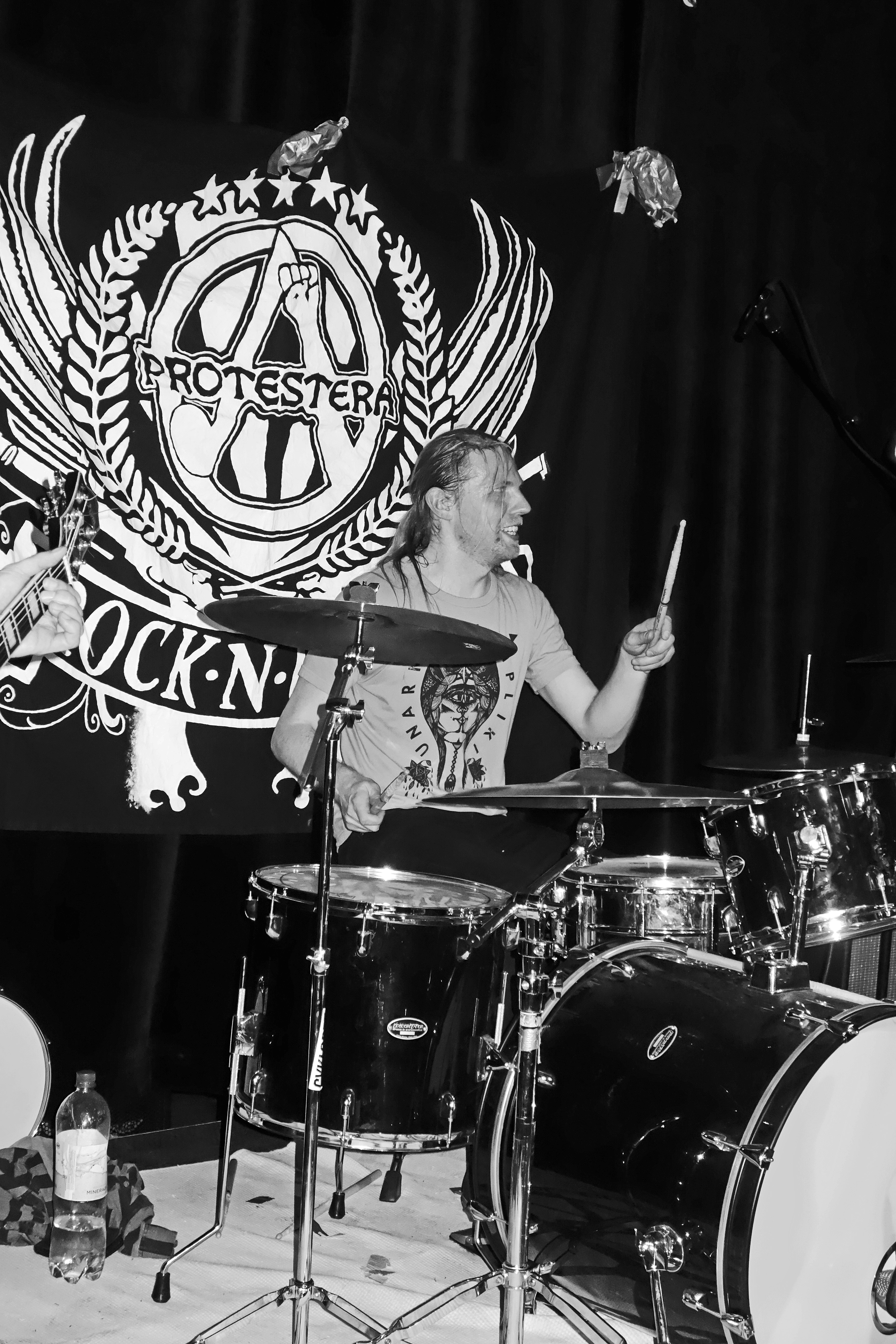 Do you care as a musician a lot about the reviews really?
-Most people say no to that question, but I think everybody cares ... we've laid down soul and heart on our records so if someone thinks it's shit, I'll be a bit sad at least, but soon it's over and there is always someone who likes what we do and then we get energy from them instead.
How do you think the punkscene in Sweden is right now? You are well aware of new bands, are there any bands that you can recommend to readers and please describe what style they play?
-Oh yes !!! The punk in this country has never been better! STRUL have just released a new 7 "called" Föredrar ju fest"which is a real damn fast hc record that is really recommended! TROTS self-titled 12 "is also one of the best releases of the year, punk / hc with aggressiveness as well as melodies, if it had come in the 90's, certainly Profane Existence had released it. SJU SVÅRA ÅR soon releases a new 7 " with threechord punk rock with the world's best lyrics, among the best I've heard. SHAKING HEADS self-titled debut album that I released along with Ken Rock garage punk with incredibly good record. The ISOTOPE SOAP-is mad synth-hc which have released a 7 "and a 12" both of which are totally sovereign. HEAVY BLEEDING is recording a demo that I am very eager to hear. So, there are so many good bands!
Five favorite records right now?
-Bratakus "Target grrrl" (12"), Strul "Föredrar ju fest" (7"), Shaking Heads s/t (12"), RAS "Entreprenad" (12"), Trots s/t (12")
Politically, it is turbulent in Sweden right now. What's the worst thing going on now in the country besides SD and NRM and the like?
-Yes it may be worse than ever, where all parties are in the same line more or less; an extremely neoliberal policy mixed with racist shit. Disgusting that the socialsparty, along with most of the Alliance and Nazis in SD, closed the borders in early 2016 while a humanitarian disaster is taking place in Syria. This racism such as SD and NMR is the extremes of being sanctioned by the government and the alliance-I feel bad when I see how racists question is mad over the government and call them "left elite, pc" etc when it's the exact opposite. That people are so blown that they do not see the connection with completely bizarre tax cuts for the richest (who have never done a handle throughout their lives besides owning things and moving money) and worsening in the public sector, but seriously believe that due to the fact that there are refugees here ... but it's all about brainwashing - when the rightwingghosts repeat their lies repeatedly, people finally believe that something is behind.
-How do you think the election will be next year?
-No idea, or I'm 100% sure that the richest ones remain in power and there will be no so-called democratic election to a parliament to change
Do you vote? Why or why not?
-I've done it sometime but felt dirty afterwards, as if I had approved this dictatorship we live in. However, voting or not voting does not make any difference.
Is there a lot of interviews? What do you prefer, mail, face to face or how do you want to be interviewed? Is it boring to be interviewed?
-Now it's not so often nowadays, it's easiest with mail, so one can think after a little ... But when I look at results when I interviewed people to my fanzine, it's face to face fun to read but that's the way is hardest to do, I think. No, it's not boring, this is the most fun I know to talk about so being interviewed about it's just fun.
What is the strangest question you received in an interview? Do you appreciate getting strange questions or do you feeling tired when people try to be fun and have idiot issues?
-Haha, well, we have not received so much strange questions. The strangest thing was when a couple of idiots tricked us and sent an interview where they pretended to be a girl from Spain with a fanzine and when we responded they thought they "put us there" and released it in their fanzine (Meskalin I think it was called ), it was really stupid because there were no strange questions and we did not answer strangely.
Will there be a lot of gigs now with the new disc?
-We will go on a short tour with Myteri now in late November to Germany and Denmark, then we will try to make three gigs in Scandinavia together with MASSMILICJA in the spring and I hope we will have a "real" tour of a couple weeks next year, if we can get it with all the small children and jobs and stuff, but we have managed to do that earlier.
Do you have any favorite place to play in Sweden?
-The last time we played in Umeå at the work was absolutely superb, Sicksounds arr at Sthlm Cyclops, as well, it's always fun to play here in our town as well.
Future plans for the band otherwise?
-It's good to go out and play as much as possible. We have always prioritized to try to thank yes to all the gigs we get and to tour as much as it goes, a little at the expense of writing new songs and it has always felt quite right. So, we'll try to continue the same way, but hope that it does not take long before we get out some new material.
For yourself?
-I'm quite pleased with what I have, the band I would like to spend more time on, especially in the rehersalroom but it's probably not possible right now. Otherwise, my plan is to continue with the fanzine, expand the distro I have and eventually bring together more money to release more records.
Words of wisdom?
- Do it yourself - together!
Easy to add?
-Thank you for the interest! See you in the corridors of the big hospital