Andi from the Swiss band Prisma was very fast when he answered my questions in the beginning of may 2012. An interesting group in the veins of Red hot Chili Peppers, Opeth, Audioslave…and these are only some of the bands they´re being compared to.
History?
-Formed in 2004
2008 first longplayer "Collusion"
2012 "You name it" (second album)
Gig Highlights:
Baja Prog in Mexico
Night of the Prog in Germany
Germany, Netherland and Belgium Tour
Opener for: Coheed and cambria, Mick Pointer, Pain of Salvation, Gotthard, Riverside, Waltari...
Please tell me a little about every band member, age, family, work, interests and something bad about every one?
-We are all about 30 years old.
One is married and has two children, one is married, one has a girlfriend and on is single at the moment. So, guess who is who ;-)
Valentine and Andi studied music and work in different projects now.
Michael is an excellent cook and Mark works as an engineer. Maybe now you know which two are not married...
Well, you know the saying: What happens in the tourbus stays in the tourbus. So, we keep the bad stuff in the bus!

To play this sort of music in Switzerland, how is that?
-The scene is very small. We don't know lot of Swissbands in this sort of music. So, we're looking over the border. Especially Germany and the North (like Sweden) is interesting for Prisma.

If you could describe your music in three words, which three words have you been chosen?
-Loud, loud, loud...
No, no ;-)
Energy, passion for the detail (that's just one word) and honest could fit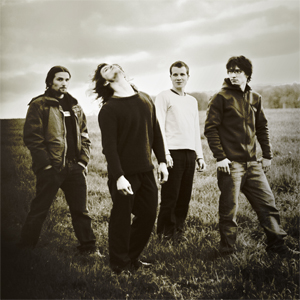 I compare you to a harder Red Hot Chili Peppers...comment on that?
-Funny! Other people already said that too. So, there must be something.
Maybe because Michael and Anthony Kiedis have long hair ;-)?

Other bands you have being compared to?
-Audioslave, Oceansize, Incubus, Katatonia, A perfect circle, Opeth, Tool, Riverside.....

Do you understand that reviewers compare to other bands?
-Yes.
Put music into words is very difficult. To compare with other bands is an easy way to describe the music.
The problem is, when 100 people think about Metallica, there are 100 different ideas of their music.
Which is the most odd comparement you have got in a review?
-Red Hot Chili Peppers ;-)
You write on your latest record Demo,,, is it really a demo with so many songs or did you mean promo?(I mean this is too good to be a demo) ?
-No, it's a promo CD. The music on it is the same as on the album.

Switzerland isn´t so wellknown musically for me. How is the musiclife in your country right now?Any good bands?
-Yes. More and more.
Evelinn Trouble, Sophie Hunger. They're not in our stile, but still great.

Are you noticing that people in the world mix Sweden and Switzerland together as the same country also?
-All the time! It's actually more, that they don't know Switzerland I guess.
Where're you from? Switzerland. Ah, Sweden, very nice. No, Switzerland. Hää?

What do you know about Sweden?
-You mean this little country between Germany and Italy ;-)
We know that there are lots of bridges, where you have to pay a lot (especially for a nightliner).
And the beer is expensive. But the people are great. Especially the tall blond girls;-)

Have you heard any good swedish bands?
-Years ago, we all listened to Clawfinger. And of course we know ABBA.
Opeth occured to me.
And the great jazz scene with E.S.T and Bobo Stenson.

I´m a punkguy from the beginning, which is your relation to punk?
-The energy on a punk gig is definitely something you must have seen.
An the attitude to just go for it.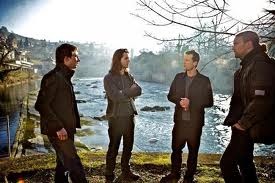 Do you think that you can change anyone´s life with music, I mean lyrics and so on?
-No. Sure, the world would be different without any music.
We just try to give the people something to explore. It's cool, when someone is telling us, that he still discover new things in our music. You need a bit of time to understand, what we want to say.

Politcis and music, does it goes hand in hand?
-Some bands use politics for promotion, like "Fuck Bush" or stuff like that. That's bullshit.
But when an artist stands up for the real problems, then it's ok.

Best political artist/band?
-Bob Dylan

Your lyrics, where do the influences comes from to do them?
-We talk about ignorance, fear, people who never do what they really want, never say what they really think ...
So, daily routine.

Never thought of writing in a different language than english, I mean you have many other languages in your country? From which part do you come from, I mean which language do you speak?
-We are from the swiss german speaking part. As we said, the scene is small. When you write in English, you have the opportunity to play in other countries.

Please rank your five best records, five best concerts in life?
-Records:
Led Zeppelin: Mothership
John Lennon: Plastic ono band
John Coltrane: A love supreme
The Beatles: Abbey Road
Frank Sinatra: In the wee small hours
Concerts:
Queens of the stone age
Rage against the machine
Prince
Smashing Pumpkins
Radiohead

First, last and most expensive record ever bought?
-First: AC/DC (Live)
Last: Nine inch nails (Year zero)
Most expensive: Keith Jarrett (Live at the blue note)

Where is best to play?
-Mexico and Bosnia was pretty cool.

Which is the biggest band you have been playing with?
-Probably Coheed and cambria

If you could choose five bands from the history to do a big concert with, which five bands have you chosed, both dead and living?
-Jimi Hendrix, Tom Waits, Led Zeppelin, Frank Zappa and Miles Davis. Yeah, that's a combination!

Futureplans for the band?
-In summer we play couple of openair gigs and in fall we would like to make a little Germany tour.

For yourself?
-Try to spend as much time as I can with music and people I like and inspire me.

What do you think about mp3 and downloading?
-I guess you think of illegal downloads.
The labels tried to long to stop the free download, instead of looking for other ways to sell the music. Now, there are more and more people out there, who thinks they have the right to download music for free and don't understand, that there is a lot of work to make an album.

Is it good or bad for a band like yours?
-It's definitely good for us. With the internet, smaller bands have the possibility to reach people all over the world, without spend much money.

Wisdomword?
-Take it easy but take it.

Something to add?
-Thanks