PPL-JKPG released a really nice record this summer and with members from a lot of groups, they got this group together. It took a while for the answers to arrive but now it's here. November-2022
How come you who are in the band play together. You have other bands like Belta 53, Skrammel and Red Revolver, right? Will you continue with these bands as well?
-PPL was formed by Schatte out of the end of his band Spegelmannen. Jojo and Turbo from Belta 53 hung on and when Jacob jumped on and we brought in Bam from Skrammel on drums. PPL existed before Röd Revolver became a band but having multiple bands running is no wonder to us.

PPL-JKPG- where does it come from and what does PPL mean?
-PPL is an abbreviation that is open to interpretation but originally comes from a text on a jacket. Jkpg stands for Jönköping.
What is it like to play this kind of punk in Sweden today?
-It's fun!

What kind of audience do you draw live?
-So far, it's predominantly our friends who have come to our gigs. Really nice collection of people regardless.

Do you play songs from your other groups live as well?
-So far, we've only played our own material.

You have a different sound depending on Jojo's vocals and on the organ you use. How did you come up with the idea of the organ?
-Schatte came up with the idea when we didn't find a replacement for Jacob. And he very much wanted Bam in the band so then he had to come up with another instrument for himself.

You sing in Swedish. Never any thought of English lyrics?
-No
You mix your lyrics with both serious and not so serious lyrics, am I on the right track there? Is there anything that you would never write about?
-If we just get a good lyric together, you can sing about most things. But we never kick down. For example, we would never write about hating a certain subculture or young people driving a certain motor vehicle.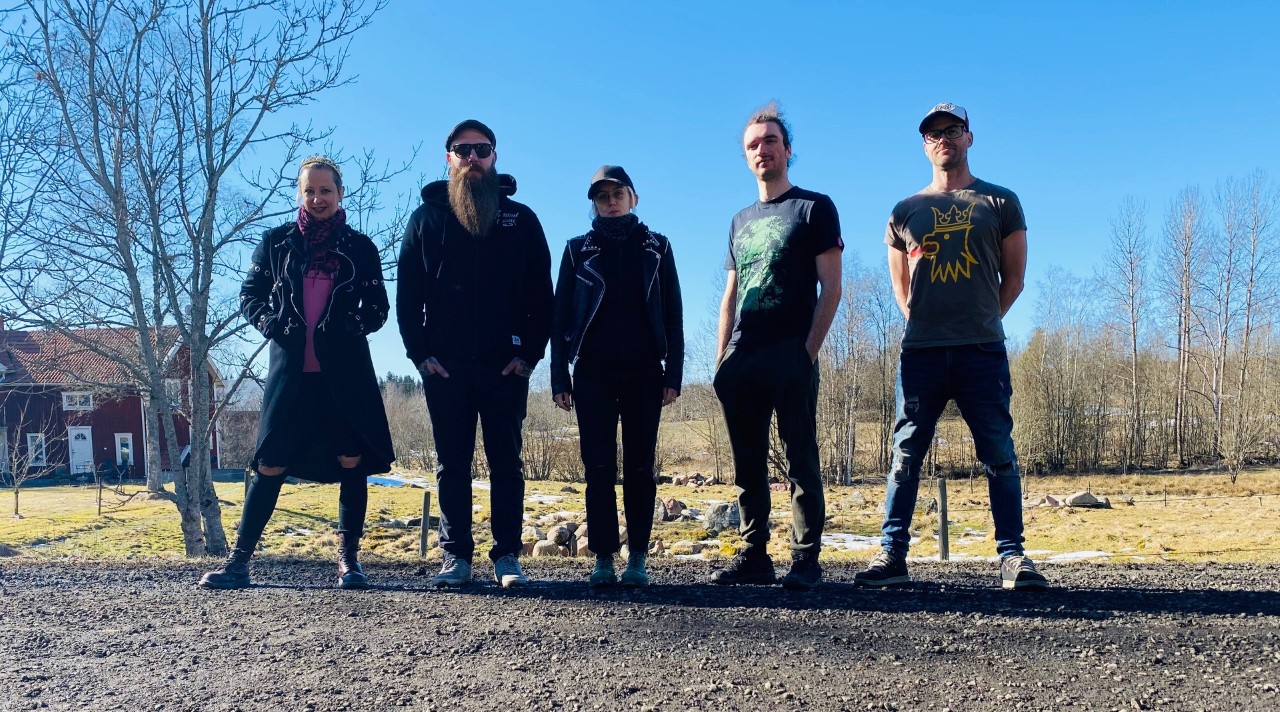 Tell us a little about the following records and what you think of it today..
-First disc you bought or received? Jojo: probably some Absolute music compilation. First punk record was Ramones - Mania
Turbo: A double CD with Ebba Grön
-The album that changed your life?
Jojo: DLK - Smile like a photo model
Turbo: Ramones - Rocket to Russia (there was something about 1, 2, 3, 4)
-Last album you bought?
Jojo: Järncell – Är du nöjd nu
Turbo: can't remember album but the last album was Äggröran 2 to make the collection complete
-The album you're ashamed of?
Jojo: Nothing
Turbo: None
-The album that makes PPL-JKPG sound like you do?
Very difficult to answer as our influences come from so many different directions
-The album that must always be on the tour bus?
There would be something with Trubbel or Gatans Lag
-The album that you would have liked to have played on?
Jojo: Beyond Pink - Pride and Prejudice
Are there any other good bands in Sweden today that you think are worth mentioning?
-There are many! Smisk, Koma Asociala, Twin Pigs, Katthem, Slöa knivar, Allvaret, Strelitzia, Trubbel

You release your record on Grönpeppar Records. Why did it just become Grönpeppar Records?
-Jojo knew Martin through Röd Revolver and after hearing us play, he wanted to release our music.

Cocky name on your record too... Greatest Hits. How did you come to call the record this way?
-Bam said he never got it through in any band he'd played in, so we thought why not?

What does punk mean to you today compared to when you started?
-Turbo: Would say as I thought when it started for me, don't take any shit, be yourself, and feel a sense of community.
Jojo: From the beginning, it was the music, the style of clothing and the revolt against what was considered normal. Today, it is also the political, DIY spirit and the (usually) inclusive and permissive climate.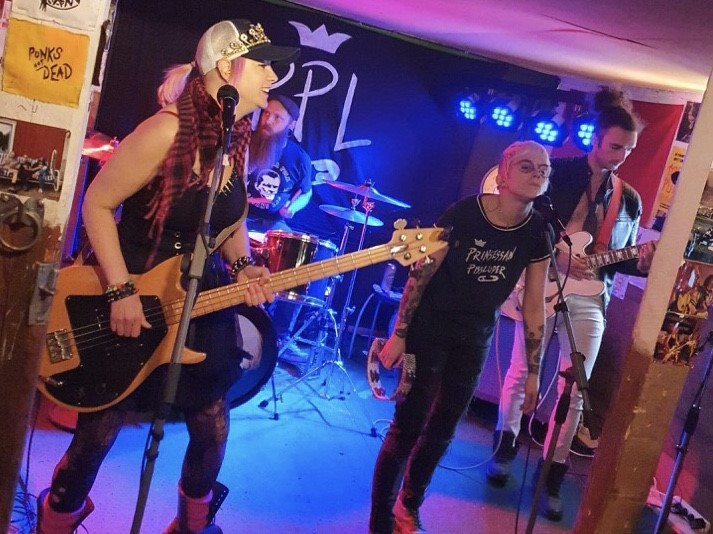 Politics and music always belong together? Or say some bands that you like that aren't political? What is the best political band?
-Jojo: As a famous artist, you always have some kind of responsibility. There are people who look up to you and things you do and say send out a message, whether you like it or not. We talked at length about whether Trubbel is political or not, as their lyrics are largely about emotions. But the only thing we came up with for sure is that we love Trubbel!

Is it important to get records out physically? Would it be boring to just release the music digitally and would it even feel like you made a record for real?
-Releasing physically is not vital to us, but it's obviously nice to have a record to hold in your hand. Could also be a generational issue that with physical releases.

What do you think it is like to live in Sweden today with politics, corona, music life, etc.? How do you see how Sweden develops politically, what can we do about the idiots?
-Turbo: It's la okay, in my opinion politics is crap in pure punk spirit but voting is not a given so voting with heart so the idiots can't fit. Corona sucked but there were still a lot of bands that went digital with livestreams and all that it was and I'm very grateful for that, even though it was never like the same thing as seeing something live, there was still something certain about watching a band play.
Jojo: Watch their lies, never stop contradicting, never stop being inclusive and spreading love around us.
Who are the members today, do you have any other bands on the side? Tell us a little bit about each member?
-PPL is: Jojo - leisure teacher, food geek and "art soul". Other bands: Röd Revolver.
Schatte - Truck driver and tough full-time.
Uncle Sam - studies to be a teacher, likes music of various genres, is not the punkiest in the band but enjoys playing in PPL. Other bands: Do some solo stuff sometimes.
Turbo - creative diy human.
Bam - beats on the drums. Other bands: Skrammel.

How many songs have you done in an approximate way do you think?
-About 15-20 so far but there will be more

If you could choose five bands to have a concert with you, which five would you have chosen if you could choose any band, dead or alive band?
-We chose one band each: Ramones, Bikini Kill, The Doors, Siberian Meat Grinder, The Distillers.
Do you buy a lot of records yourself? First record you bought, the latest and the most expensive you ever bought?
-Turbo: I personally am more for records than anything else, the first record was a compilation disc with Ebba Grön, shortly after that it was with Rövsvett, the last was probably an X-ray spex record I found on local second hand. Most expensive I don't know but the cheapest cd I bought is probably the most expensive I've owned and it's Sötlimpa-Stark
Jojo: I don't buy such expensive records. Maybe Speglar och Rök withLastkaj 14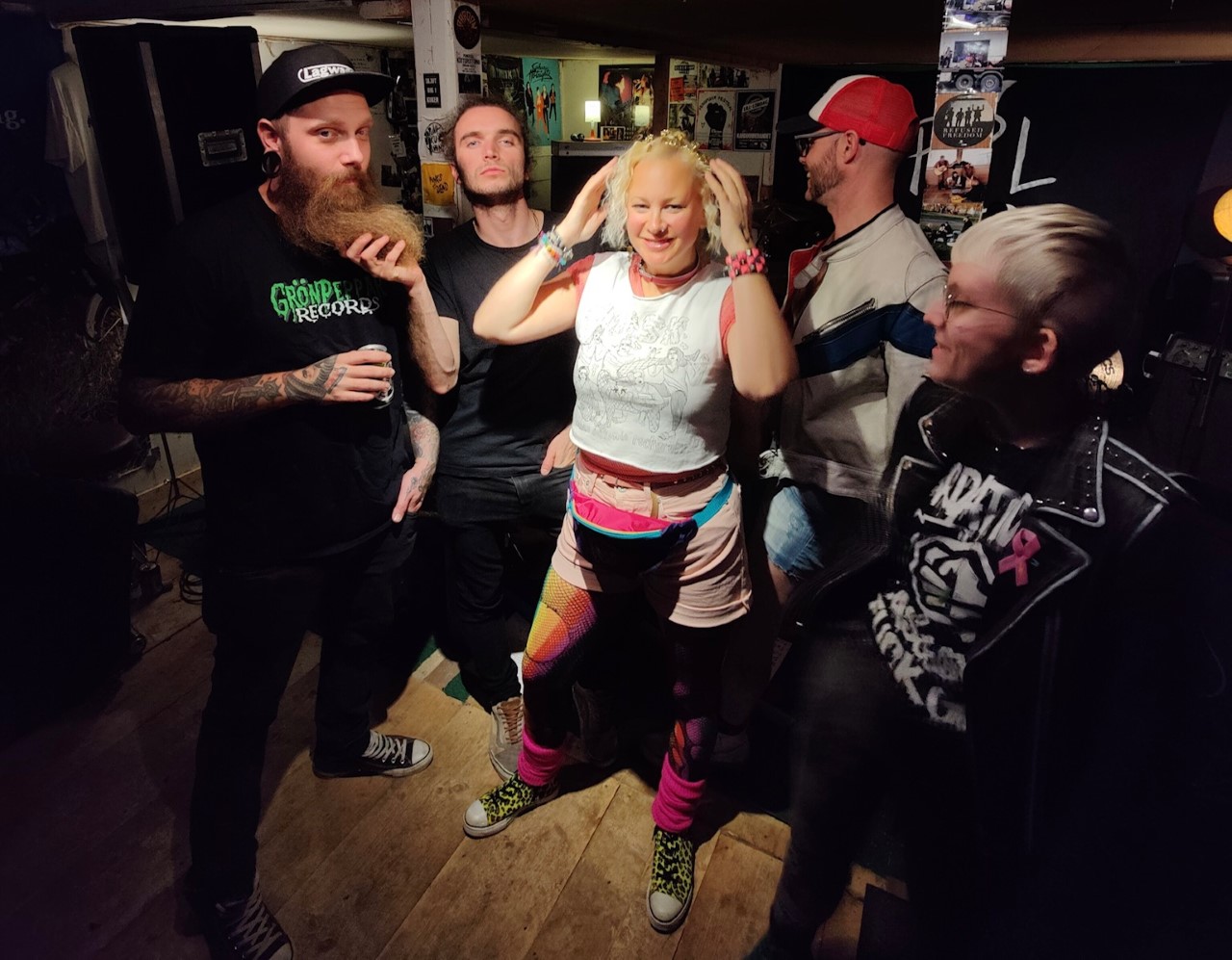 If someone would pay for a four-song cover record, what covers would you consider including on that record?
-The only cover we've talked about possibly doing is The bad touch with Blood Hound Gang but with a Swedish lyric then

When you do songs, is it one of you who does the song and comes to the rehersal or how does it work when you do songs?
-One or maybe two of us come up with a song idea. Then we arrange the song together until it sounds the way we want it.
What bands are you compared to when you get reviews? What is the oddest thing that you have been compared to and do not understand at all?
-We've been compared to The Caesars, which is a difference of opinion in the band as to whether it's a good thing or a bad thing. We've also got this description: If Lemmy, Miss Li, and Bjorn Afzelius were to get a punk kid together, it would have been PPL.

What three words describe your music?
-Original, melodious, fast-paced

Is there a lot of interviews, is it boring?
-This is the first interview.

Strangest question you've ever been asked? (except for this one then)?
-The weirdest question is probably why we have a band together when some of us play in other bands.
Fouture plans for the band?
-In 2023, we hope to be able to accept a little more gigs than we could in 2022

For yourself?
-Turbo: Trying to figure out what I want to be when I grow up
Jojo: Recovering from a few years of too much stress at work

Today's words of wisdom?
-Don't be so quick to judge others.

Anything to add?
-Thank you for wanting to interview us and sorry we took so long to respond.