Possible Suspect from The Netherlands is a group which I really liked when I heard their CD which they gave out on Mad Butcher some months ago and therefore I did this interview with them in september 2003.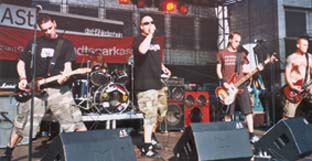 Please give me a little history about the group?
-We started somewhere in 1995/1996 with the four of us. As three former singers of other bands, we formed a band. There was no singer yet, but we soon found Mark to do the vocals. So there it was, Esther on Drums, Wander on Bass, Iwan on Guitar and Mark on Vocals. November 96 we played our first show. In our hometown Utrecht. After a couple of songs, shows down the road we decided to complete our band with a second guitar player, Dick. His first show was at the ACU benefit in Tivoli, October 1997. In March/April 1998 we recorded our first demo; "Alone in the Fight". It was a 7-track demo. November 1999 we recorded another 7 songs to release on a 7". 5 songs made it on this record. 2 other songs were supposed to use for comp CD/LP's, but never got so far. The 7" was released in January 2000. Between December 2001 and March 2002 we recorded 8 new songs, which was released in April 2003 on Mad Butcher Records. Between all this we played a lot. First we played in Utrecht, and more shows in Holland. Most of the time we played in squads or legalized squads. Places like Arnhem, Leiden, Alphen a/d Rijn, Rotterdam, Amsterdam, Rheden, Woerden, The Hague, Den Bosch, and many more. We also did a couple of small tours through Germany and one in Denmark (november 2001).
Please tell me a little about every member in the group, age, family, interests, and something bad about everyone?
-Wander: Young Dog/ Beautiful but Married / Bone breaker
Iwan: Kickboxing Sweetie Pie on Metal Riffs / Overprotected Control freak / 200 Pound Fresh on the Hook
Mark: ADHD, from drinking too much Coke / Good housewife / Darth Vader Devotee
Esther: Hard-hitting Female Know-it-all / Ever Changing Hairstyle and Color / Always in the Mood for a Good Beer (Or a Bad One)
Dick: More Rock 'n' Roll than Elvis / Likes Couch Consuming Dogs / Master of Graphs
Bands before or beside of Possible Suspect?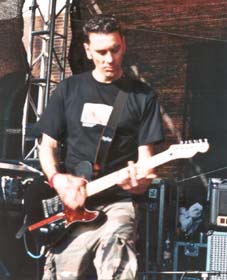 -Esther sang in B.O., Iwan sang in Disturbing Foresights, and plays also guitar in De Pisnozems, Wander sang in Temporary Toad, Dick played bass in JoJo en de Aspro's and in Diverse Artiesten and Wild Hakken and plays guitar in Tra I Mati. Mark sang along with a lot of hardcore bands when they were playing in Holland. (Show Off)
To play this sort of music in Holland is really good or?
-Pretty good. It's a small but loyal audience/scene. In several cities there are a lot of people interested in HC/punk. We usually play for 50 till 200 people. The bigger venues are hard to infiltrate. They like to go for the trends and the bands that sell enough tickets. That doesn't mean they're sell outs, they just draw a bigger audience. But there are a lot of Utrecht bands.
Why have HC/Punk such a big audience in Holland do you think?
-Well the trend is a little bit over now for the bigger venues, but there's still a pretty big scene. Of course there are a lot of bands in Holland, within a broad variety of scenes. The SxE/Vegan scene. PC scene, Punk rock (epitaph) scene, tough guy scene, HC kids, Punks and Crusties. And most of the time we get along just fine. We just don't fit really with the tough guys. Not our cup of tea. But everybody is aware of the fact that supporting one another gets us further and more satisfaction than fighting and bitching each other. The Punk/HC is getting back to the smaller venues, where it belongs!
Are there any good bands there right now?
-There are bands like: Mihoen!, S.A.F., Dodenwaard, Tra I Mati, Pisnozems, Toad, Chleb, Seein Red, Circle J, Carera, Rebound 215, Betercore, Urban Blight, The Bastards, Oil, NRA, Taco Ramirez, Crush, Insult and many many more.
Is it anything which is typical for Netherlands punk music, do you have anything odd which takes you apart from other countries punk bands?
-No, most bands are USA/UK orientated, so there is a lot of different bands. We couldn't give a specific description of a typical Dutch Punk/HC band.
I compare you to Mob and street punk? What about that? What other comparisons have you got?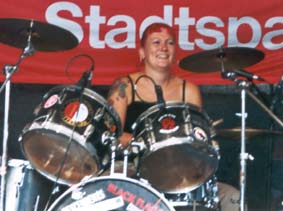 -Well a lot of people call our music street punk with a HC influence. We also were compared with 7 Seconds, Youth Brigade, Bouncing Souls and the Dead Kennedys. But we are hard to describe, because we don't fit in a specific kind of HC/Punk. It's too melodic for the HC diehards, we're not hard enough for the tough guys, we're not emo, we're not melodic enough for the epitaph kids, we're not Oi! enough for the skins and we are no SxE band. So it's hard to tell which scene we fit in.
Do you care about reviews? Which do you trust the most the best and or the worst?
-We do care about them, and as long it's done in a respectful way, it's OK to get some negative reviews. But it's always a personal taste from the reviewer.
Which is the most peculiar review you ever have got?
-Next question
You come from Holland, are you football fans (I think everyone is that because of my interest in football), if you are, which team do you support and can you think of being on a tribute to a football team or so?
-Well Dick supports Ajax, Esther, Iwan and Mark are Feyenoord supporters and Wander doesn't give a shit about football. Mark's Swedish fav is Djurgådens IF. So the most of us like football, but we couldn't be on a Tribute, because we like different clubs.
Or on a record against racism or something like that?
-We are always interested to support anything with a positive goal. Anti-racism/fascism, to support homeless or refugees. As long it socially OK, we go for it.
How about racism in Holland right now?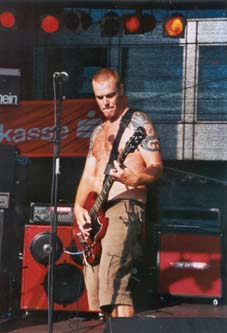 -It's certainly there; people are more open about their xenophobic thoughts. The differences between the different ethnic groups are getting bigger. So if we don't open our minds to one another, there will be a social type of apartheid. But there are not many fascist/racist gangs/skins going around. But the whole public opinion moved to the right. Especially the last two years. There is a new government, who is pretty much right wing. So the poor and defenseless are being cut down in their earnings, healthcare and social securities. And of course the rich people and corporations don't have to pay that much, so de middle and lower class are getting it harder, and guess who get the blame; the foreigners, refugees and immigrants. Which is bullshit.
You´re on Mad Butcher, is that a good label?
-Yes, the most bands are ska/oi! bands. But we like it there, especially the anti-fascist/racist ideology. And we receive also a lot support from Cable Street Beat, an anti-fascist music organization from Germany.
What do you know about Sweden? What is typically Swedish?
-It's chilly and dark in the winter. Esther and Iwan going on holiday in Scandinavia, so they know Sweden a little bit. There is a lot of forest, people are nice and Stockholm rocks.
Have you heard any good Swedish bands?
-Mark is into Swedish crust/grind/metal bands like Nasum, Genocide Superstars, Krigshot, Wolfbrigade, Intensity, The Haunted, Accursed, Uncurbed, DS 13, Entombed, Skitsystem, Regurgitate, Vomitory, ETA. But we know other bands like: The Tequila Girls*, Abba, Refused, The Hives, Bathory, Sahara Hotnights*, Monsteri, JR Ewing and The Troublemakers*. *bands we played with.
If you could choose five bands from now and from history to play a big concert together with Possible Suspect, which 5 would you choose?
-Mark: Dead Kennedys with Jello Biafra, Yuppicide, Negative Approach, The Wretched Ones and Genocide Superstars
Esther: Excel, Face To Face, Heresy, Dawn By Law and 7 Seconds
Dick: The Ex and Chumbawamba
Iwan: Motörhead, The Locust, Sham 69 and The Spermbirds
Wander: At The Drive-In and The Buzzcocks
Please rank your five best records, five favorite concerts and five most important things in life?
-Next question
Idols when you were small?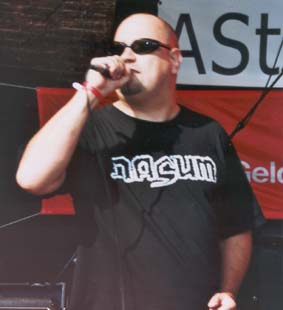 -Esther: Abba
Iwan: Zorro
Wander: Madonna was an idol then, and still is now.
Dick: Floris
Mark: Dolly Dots
First, last and most expensive record ever bought?
-Next question
How much does a punk band in your size sell? How much do the best punk bands in Holland sell? Which is the biggest punk band right now?
-If we are lucky we sell 200/300 copies of our last CD. Bands on I Scream records like Discipline, Backfire!, Right direction etcetera sell a couple of thousand CD's worldwide. Mihoen sold a lot of their Singles, I believe a 1500 copies of both singles. But we don't know which band sells the most CD's.
How is a good concert with you? Do you have good contact with your fans, if you think you have in which way?
-We have a good show when the songs went all right, the audience gave a good response and the place that we played in was very relaxed with good food, drinks and people. We don't a big following with a lot of fans, a lot of people who show up are friends or acquaintances of us. We don't receive tons of e-mails and letters.
How does the average fan look like? Which age?
-From 17 till 40. From crustie punk till dressed up HC kids. We don't have a standard fan.
Have you done anything more than "So sick of your dependence" How can I get it?
-Send us money and maybe we send you a 7". (€ 5,= P&P)
What do you mean with the title and with your name on the group?
-The title is from the song "Euthanasia". It means a couple of things. We are sick of depended people. (Addicts, religious fanatics, not independend people who base their lives on others etc.) And the fact that we depend on a lot of things in life, which cannot take for granted. But if we don't take care of them, it may just all fall to pieces. For instance environment, social security, public transportation, financial well being etc. And some people depend on other people that they don't want to live anymore (see the lyrics of Euthanasia). The band name, well just wait to you see us!
Which are the future plans for the band?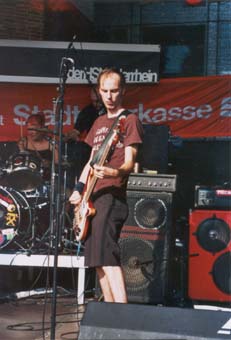 -Play shows and make a new CD.
As an human being?
-N.O.Y.F.B.
Wisdomword?
-Go with the Force Luke.
Something to add?
-When in Utrecht, Do like Possible Suspect, and go to the ACU, Voorstraat 71 Utrecht.
pictures taken by Titus and Judith