Popperklopper from Germany is a really good band which I like a lot. They have done a lot of records which is listed down under….november 2014
Album discography:
1996 Kalashnikov Blues
1997 Wer sich nicht wehrt...der lebt verkehrt
1999 Alles wird gut
2001 Learning to die
2003 No compromise
2009 Was lange gärt, wird endlich Wut
2011 20 Jahre Popperklopper - Best of CD + Live DVD
2013 Wenn der Wind sich dreht
+ some 7", 1 x Double 7", 1 x 10"


Please tell me a little bit history of the group?
Carsten: The band was formed in the Eifel (area around Trier and Bitburg) in 1989 by some schoolmates. First we did some covers and played mostly as a party band. After some line-up changes we started to write our first own songs with the "classic" line-up which was Helge on bass, Lars on drums and me on vocals and guitar, this was around 1992. First demo tape was recorded in 1994 and after releasing our first album in 1996 we started to play shows all over Germany, Austria, Switzerland and later on some gigs in Belgium, France, Netherlands, England, Sweden, Russia and Malta. In 2002 Helge was replaced by Poeppel, a friend of us and a longterm PK fan living in Bonn.
Please tell me a little about every member in the group right now, age, family, work, interests and something bad about everyone? Have you been in any other punkbands before?
-Carsten: 40 years, family with 1 kid, working in a logistics company. Something bad? hmm....maybe that I'm a collector freak, especially CDs and guitars..i played in a few bands besides Popperklopper, e. g. The Dynaminds which was more a kind of rock roll band, we did a tour with Dollhouse from Sweden in 2006 and some shows with The Hydromatics in 2007..
Lars: 38 years, 3 kids, medical doctor, interest: music, sports, diving; as Carsten a collector of LPs+CDs (maybe a bad habit?!)
I used to play in several other punkbands beside PK(PK was the first band for me(I was 15 years old as I started…).the other bands were: Rüpelz, The Mob and Back Chats (I used to play there while I lived at Bonn): Poeppel, our new bass-man was a member of the back chats too...

I think I can hear the same influences as our Swedish bands like Asta Kask, Strebers etc have? Am I right?
-Carsten: In the beginning our main influences were the old german political punk bands like Slime, Toxoplasma, Hass, Canal Terror, Vorkriegsjugend as well as the old classics like Sex Pistols, Ramones..later on around mid of the nineties we were fully blown away by the Scandinavian rock'n roll boom by the Hellacopters, Gluecifer, Turbonegro, which brought a little bit more Rock'n Roll into our music.

Popperklopper, where did the name come from and what does it mean? Which is the best bandname you know??
-Carsten: Popperklopper is a wordplay, Popper is a term of the eighties and stands for those smart dressed teenage snobs with nice haircut and who listen to disgusting pop music..i think you know what i mean...and Klopper means someone who smashes them up...hahaha...
There are a lot of funny bandnames in the german punk scene, but I don't think that you will understand names like Die Angepissten Turnbeutel or Schlepphoden..

What´s the best thing with playing live?
-Carsten: Playing live is for sure the greatest thing in a band. See people freakin out in front of the stage and singing to your songs, that's what's overwhelming me each time.
Lars: and for example playing at Moscow where a lot of fans sang our German songs with us (and I´m sure they didn´t know what they sing…..)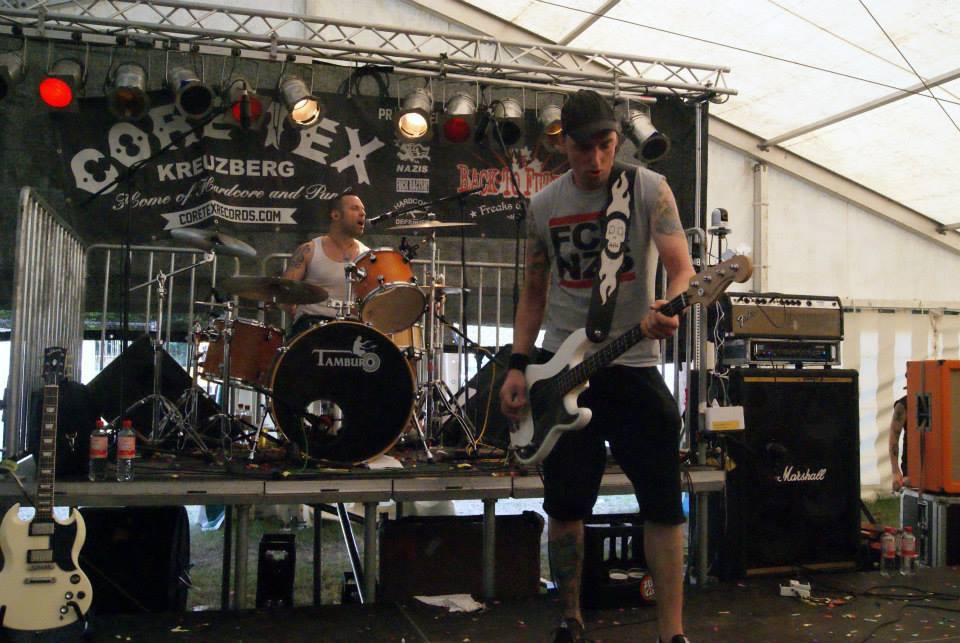 And where is best to play?
-Carsten: For me it's perfect when it is a small stage in a small club full of people, sweat and beer. That' the real thing. I don't like big stages or big commercial festivals that much. That's a completely different feeling.
Lars: Same!! Gigs at foreign countries give a special thrill…..

How is it to play this sort of music in Germany?
-Carsten: I think in Germany we have a very good club scene with many punkrock clubs. Almost each city has at least one club where you can go to punkrock shows on a regular basis. My favorite cities are Berlin and Hamburg, but of course when you play a show in these cities there might be 5 other punkrock concerts on the same day, so sometimes it's a little bit difficult. Same for the "Ruhrpott" area, which means the cities around Essen, Duisburg, Oberhausen. So sometimes it's even more exciting to play somewhere where the people don't have that many concerts in their town.

How would you describe your music in three words?
-Carsten: Simple, melodic, powerful
Lars: Political, melodic, punk rock

What does punk mean to you, is it only a word or is it a lifestyle?
-Carsten: When you are a teenager of course you first get in touch with punk only by music and fashion. But when you are into it longer and deeper, you get a better understanding for the punk movement and it's becoming an attitude towards life. It's reflecting your daily behavior and thoughts. You can change your taste for music but this punk attitude is something which is integrated in your mind for the whole life.
Lars: Don´t take everything like it is….you can change many things. Sometimes only small things. But sometimes after a while small changes grow bigger and bigger.

How do you see on downloading, mp3 and that stuff?
-Carsten: With the music digitalization of course everything has become easier for everyone but also more fast moving. On the one hand that's fine for me as a consumer as I'm taking the benefit of it as well, but on the other hand it's getting harder for the whole music "business", especially for the smaller bands..

How is it to live in the Germany now? Politically?
-Carsten: My feeling is that since we have a grand coalition led by Angela Merkel many topics are like a standstill. When it comes to unpleasing topics her strategy is silence and waiting till it's over and apparently this leading style is successful. It seems that most of the people are fine with that as it is her third legislative period..I think many people are bored by politics as they are always hearing the same flowers of speech and nothing is changing/getting better...in terms of politics in Germany we have a shift to the right over the last months/years like in other European countries, which is very frightening. There is this weird new party called AFD which reached over 10% during the last elections with an increasing trend.
In general I think that most of the politics and propaganda is done by the different media, TV, internet etc. nowadays and that's a little bit scary as well..

Is there any good bands from Germany now? Is the punkscene big? How is it in your hometown?
-Carsten: I think there is still a big punkscene in Germany. It's just splitting into more and more sub-genres, so that each individual scene stands for itself. Speaking for myself my favors are still the old bands which I have grown up with..but there are of course some good current bands around as well, like Alarmsignal, Hausvabot, Modern Pets, Zack Zack, Paragraph 08/15. In our hometown Trier we have a very nice concert location which is called Exhaus, with different room sizes for different kinds of concerts and which is offering cheap practice rooms as well.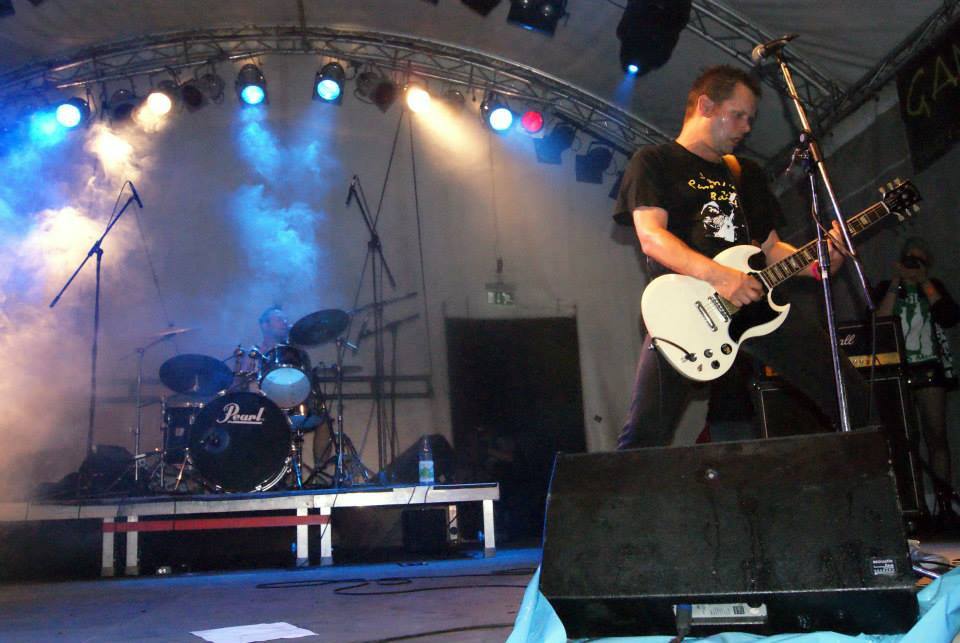 What do you know about Sweden?
-Carsten: Forests, lakes, elks and expensive alcohol....hahaha....no, i think that some of the finest music comes from Sweden! Sometimes you hear a new band which is really good, then you ask where do they come from...aha, from Sweden...yes, of course, that was clear...
We played on a festival called Bollnäspunken back in 1998, headliners were The Vibrators and One Way System. That was really an amazing weekend, except for the long drive for just 1 show..
We would really like to come back to Sweden again, so if somebody is interested in booking a show please send us a message.
Lars: Yes the Sweden-trip was cool…..

Have you heard any good bands from Sweden?
-Oh yeah!!! The Hellacopters are one of my alltime favorite bands!! 2 weeks ago I saw Imperial State Electric, Nicke Anderssons new band. It was really amazing! And I really like The Nomads, Union Carbide Productions and The Soundtrack Of Our Lives. We played 2 shows together with The Past from Sweden, which were also great! And 1 show with Cosa Nostra, including members from Asta Kask.
Lars: The Past, Hellacopters, Besserbitch and I really like the baboon show!!

Your lyrics, who does them and what influences you?
-Carsten: Most of the lyrics are written either by Lars or me. The main influences are personal experiences with the daily madness and unfairness in our sick society.

Is there any subject that you never will write anything about?
-Carsten: hmm....I think we never recorded a party or football song...maybe we should do this in the near future, but I'm not sure as we are not that kind of carnival band..

Politic and music, does it goes hand in hand?
-Carsten: Yes, I think that works. Music is a good way to send a (political) message to people and to animate them to think a little bit more about some topics.

Best political band/artist?
-Carsten: Germany: Slime and Ton Steine Scherben
International: Dead Kennedys/Jello Biafra

Do you think that music(lyrics and so on) can change anyones life, I mean people who listens to music?
-Carsten: Yes, I think someone who is really deep into a special music/band will also pay attention to the lyrics and think about it. I mean there are also many bands who don't have a message in their lyrics, so you are only listening to the music. For me it is very important to have a clear message, I don't like all these fun or senseless lyrics..
Lars: This is one reason why we do this….we want the people to think about the lyrics.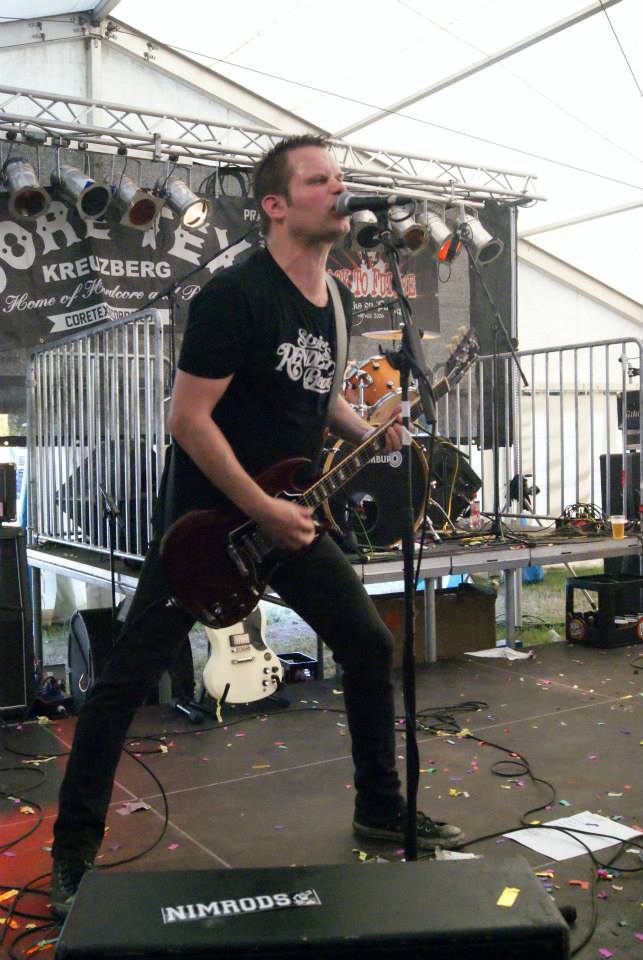 You sing in both English and German, which is the best language way to express yourself??
-Carsten: It depends on the song. For some songs it's clear for me that I sing in English (mostly the 77-style songs) and for others I prefer to sing German. Or sometimes you have a refrain in mind and then you choose the language.

You have been on Höhnie and Now Aggressive punk ,what´s the difference??Is it important for you to get out your records as physical records?
-Carsten: It is very important for us to have the releases as CD and vinyl. Unfortunately not all of our records are available on vinyl, but we will take care about that for future releases.
Höhnie records was ok for us in the beginning, as we didn't have any experiences and it was not that much professional. Over the years there were more and more issues and discussions with him so we decided to change the label. Then we had a contract with Suppenkazper for some years, but after all this wasn't satisfying either.
So we changed the label again and now we are very happy with Aggropunk. The support is much better than before, the guys know the scene, they are playing in bands as well and they know how to promote a band like ours. It is the perfect label for a band like Popperklopper.

Please tell me a funny thing which have happened during your career and under some gig?
-Carsten: Hmm...I'm sure there are lots of funny stories but most of them are just situational....besides the standards like naked people on stage or booze stories etc etc...

How does your audience look like? Which people do you miss on your concerts?
-Carsten: I would say it's a nice mix of younger and older people. I don't miss anybody, i'm totally fine with that.

Please rank your five favoriterecords, five favoriteconcerts and five most important things in life?
-Carsten: Records: it is really hard to mention only 5, so i just pick some (besides the classics like AC/DC, Motörhead, Ramones, MC5, Stooges and all that 77' stuff):
The Hellacopters - High Visibility
The Dictators - Bloodbrothers
Slime - Alle gegen alle
Die Toten Hosen - Bis zum bitteren Ende live
Radio Birdman - everything
Lars: Turbonegro: Apocalypse dudes
AC DC: Highway to hell
Queens of the stone age: songs for the deaf
Razzia: Ausflug mit Franziska
Social Distortion: White light
Carsten:
Concerts...as far as i remember:
Ramones + Monster Magnet in Trier, 1994
Slime in Duisburg, 1992
The Hellacopters + The Hives in Cologne, 2002
The Rolling Stones + AC/DC in Oberhausen, 2003
Gluecifer in Trier, 1998
Lars: Stones+ACDC Oberhausen2003
Queens of the stone age: Luxemburg 2013
Slime 1992 Duisburg
Jello Biaffra, Saarbrücken 2012?
Sex Pistols + The Kids + Buzzcocks, Antwerpen 2008
Things in life
Carsten: first of all of course my family and my little daughter
health
friends
music/band/party
guitars
Lars: Family,friends and music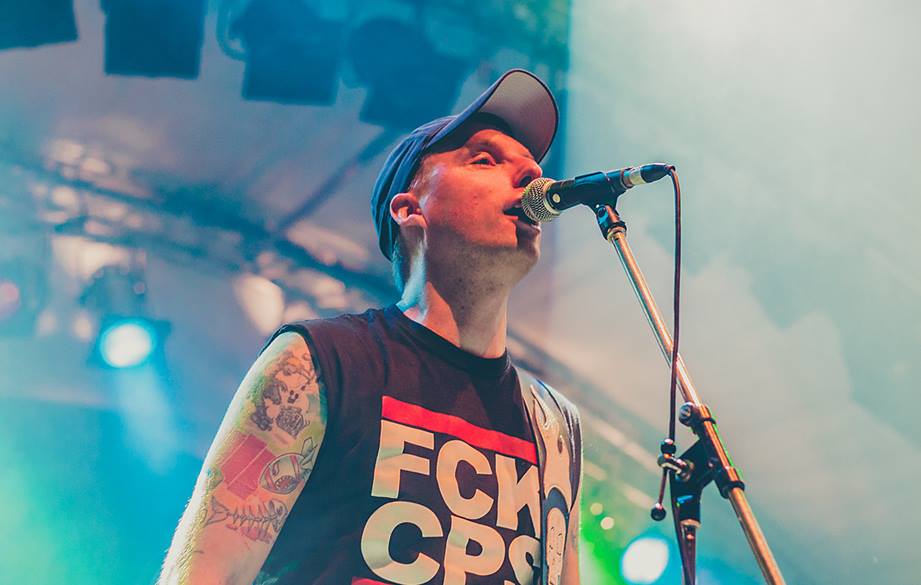 Is it boring with interviews? Is it much interviews??
-Carsten: Sorry, i don't know what you mean...I like doing interviews as long as I got the time for it. Time is the main issue in regards to Popperklopper.

Please ask the questions you never get but you want to have, ask it and answer it?
-Carsten: hmm....maybe some questions regarding the gear we use to record, guitars etc....but I think I don't have to answer it as nobody is interested in it. Or what about the songwriting, where did we steal all the riffs and lyrics....hahaha...I could write a book about that..

Futureplans for the band?
-Carsten: We are just doing a concert break until next spring as Lars is going to have his third kid in December.
Currently we are writing new songs for the next album which will hopefully be recorded mid of next year. We already have around 15 new songs which are almost finished.

For yourself?
-Carsten: Next year finally i will move to my own house with my family. I'm really looking forward to this.

Something to add?
-Carsten: Everybody who is interested in Popperklopper, shows or records or whatever, don't hesitate to contact us via Facebook.