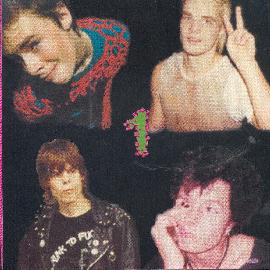 TOMAS MODIG WORKS AS A CULTUREPRODUCER ON FRÖLUNDA KULTURHUS, HE WAS IN P-NISSARNA AND HE IS PLAYING IN SKYRON AND SPEEDFREAKS NOWADAYS. IN THIS INTERVIEW WE TALK MOST ABOUT P-NISSARNA AND SPEEDFREAKS. AND THIS WAS DONE IN APRIL 2004 BUT THE BEGINNING OF THIS INTERVIEW WAS DONE IN DECEMBER 2003 BUT THE ANSWERS WAS PUT IN APRIL 2004.
You start with a presentation of yourself, age, family and so on?
-My name is Tomas Modig and I´m 39 years old and I´m living with my woman Veronica. Works as a cultureproducer on Frölunda Culturehouse and most with musicarrangements. Interests music, film, theatre, books and to collect old things.
You started with P-Nissarna when?
-I played drums 1975 already in bands with "hard" names like Black Star, Shamrocks and Burning FlamesAs you can hear on the names the punk haven´t arrived yet. We played mostly Status Quo songs. When I moved up to seventh class it started to happen things. During the summer I have put my Angelrecords in my cellar because now it was Sex Pistols which was the thing. In the new school I met Per Fender which was a charismatic guy and really creative guy and he also liked punk. I remember that he had a bunch of Kriminella Gitarrers"Vårdad klädsel" which he sold for 10 swedish krona. He wanted to start a punkband so I asked two of my old boogieguys? Do you want to play punk? –Yeah sure!. We started to do Pistols and Ramonescovers under name as Anarchy and The idiots. But I and Per started to go into the library in Falun which have been the meetingpoint for all punks which the people who worked there didn´t like. There we met some "real" punks like Mats "Määts" Åkesson and Jan "Calzone" Karlsson and they became our new basist and drummer and I began to play the guitar instead and the year was 1977 and P-nissarna is born.
You did two singles and now there is a CD coming out, what is going to be on the CD?
-It´s theree unreleased studiosongs which actually was recorded between the first and the second single and then was Per Fender still the singer. And it´s six songs from The Morapark-recording and it´s four songs with the group Kanon which was recorded in our rehearsalroom of the Shitman. Kanon was founded 1999 and it was me and Fender and H-son and Arild from Troublemakers. And of course the both singles.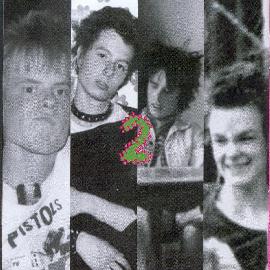 Did many people react on the name P-Nissarna?
-People was more sensitive at that time so it was easier to chock people, so of course we got some reactions. Fenders brother lived in Stockholm and there the male parkingguards was called P-nissar which we didn´t know. We thought it was a Swedish answer to Sex Pistols.
The musiclife in Falun became big after that you have started, was it any more good bands there then and how is it now?
-Before the punk came it was 6-7 bands and among the bands I knew about then it was bands like Endless Day, Burned Fuze, High Pressure and Ryno Rockers. After the punkinvasion 1980 Aftonbladet did an article about the musiclife in Falun and then it was about 100 bands. It wasn´t only punkbands but I think that all bands thought- shit now we dare to do it also.
The song Jugend surely woke up some feelings , wwas it important to have improtant lyrics which was about something interesting?
-The switchboard on radio Dalarna collapsed when we was played there, people was upset and thought we was nazis because of the refrain. He whole band was called to the studio to defend themselves and the whole thing turned out to be a chaosstyled interview.
In the same time "raggare" was angry on our song"Vägra Raggarna benzin", and they started to spray "Save the energy, burn all punkbastards" on a house in Falun.When we talk about the contain in the first years it was a lot of " glimpse in the eye" and it was about raggare, guards, polices and son on. And then in the second punkwave we got a new singer in Stefan "Sloback" Lindau and the tune was more serious except some exceptions.
What does the punk mean to you today? How has it formed you?
-Once a punk always a punk. I was so young when I took position for everything that punk stand for so I think it was a sort of bringing up in the punkgang. Some was some years older and they surely influenced us more than we thought. You broke up from all of your old friends and choosed to go your own way and dare to do it. And in the same time it all was about being curious and not to be rotten inside as many does. I think I´m that was nowadays too!
You was on the concert Swedish Punk 25 years, what did you like it and which bands impressed most?
-It was really fun to go round and speak to everybody you knewed. Really good organised and good atmosphere. I think that Grisen Skriker was outstanding but Attentat and Perverts were good also. I missed Slobobans but I saw them at Pustervik some weeks later!
Would P-Nissarna be on a thing like this?
-Now when our first singer Per Fender have passed away, which is really tragical and heavy. The record was released in the memory of him. But it would be fun to seek up Sloback and see what he does. The other ones have I talked with before and they think it would be fun. We will see what the people who organised the festival say and if they will be trying to be on the next punkfestival.
SKYRON
Whihc was your favoruitesong with the group?
-Vägra raggarna benzin!
How many gigs did you do?
-We played at Jarlateatern in Stockholm with GLO, Brända Barn and Cellskräck. We was on the Konkurens-galan in Örebro with Attentat, Incest Brothers, TST and Warheads among others. But otherwise we played a lot around in Dalarna, especially in Falun which is the groups homecity. It wasn´t maybe more than 30 gigs
Have you done any reunionsgigs?
-No!
Which was the other in the group and what do they do today?
-The basist Määts plays with Moonboys, a fuckin good garagerockband with their roots in the New York-rock. The drummer Calzone was when I heard something about him the last in the group B-sides.

On that time, what do you think was the difference between the punk which came from Skåne, Northern Sweden , Gothenburg and the Stockholmpunk?
-I listened only to Stockholms or Gothenburgbands except Kriminella Gitarrer, Problem and Massmedia. I think that Gothenburg was more "down to earth", Stockholm more glamrock and fun and Skåne and Northern Sweden difficult. .
Which is the best punksong through all times?
-What an impossible question!! God save the Queen! maybe!
Which bands have been most important for swedish punk?
-Probably Ebba Grön, but KSMB for me personally.
What happened for you after P-Nissarna? I know that you have been in the stonerrockgroup Lotus and that you´re in Speedfreaks now?
-In the same time as the first P-nissarna played as most I was drumemr in another punkband which was called Sloban Sloback (Stefan Lindau wasa singer there)and in a rockabillyband which was called Rockabilly Teds!!? 1982 P-nissarna goes in the grave so I on drums and Määts on guitar started a rock n roll trio together with the bassist , Lars-Erik Rydén as we called Likbas,. We was inspired by Johnny Thunders Heartbreakers and New York Dolls. We recorded actually a 5-track demo in Gävle Ljudstudio(the same as with P-Nissarna). 1983 I started a new band called Kachina Dance which must have some of the first bands who mixed Sisters of Mercy with Black Sabbath. We recorded two demos and then I moved to Gothenburg and 1987 I started the first band here which was Overland Stage Raiders, a funk-glam-garageband. We did three demos. 1990 I started ,together with Niklas Börjesson (guitar and vocals) and Hans Bruhn (drums) Fruitcake and we had so fun that Overland give way for Fruitcake. Fruitcake played only in clothes with fruits as a motive and all our songs have fruititles. The music was some sort of 70´s groove with funk mixed in it. Nonstop Records released the three track CD"Freaks" and we was on Backstage compilation record. We played all over Gothenburg and mostly on Magasinet and that became a little bit of cult.
1997 Hans Bruhn quits the group and in comes Hans Eriksson (fromPlankton) and we tone down the fruitimage and change name to Lotus. Lotus is/was not any stonerband even if we maybe have the same influences. We was inspired of bands like Captain Beyond, Sir Lord Baltimore, Highway Robbery, Bloodrock och dom klassiska Zep, Purple, Sabbath. We got a record contract with Record Heaven. They released thre fullengthrecords , one seventrack and a coverrecord and so on.
On our second record "Quartet conspiracy" Brian Robertson (Thin Lizzy, Motörhead) was on it and helped us out . We wrote all lyrcis and music and he produced it and played sologuitar, piano and son. We toured with him in Sweden and Finland. We have been support act to Thinlizzy in Stockholm, Gothenburg and Malmö and to Johnny Winter in Lisebergshallen. We have played two times on Sweden Rock Festival.
1998 I meet Per Fender during Falu folkmusicfestival and I haven´t seen him for 16 years. It is so that he´s still upset and pissed of al unjustices in the world as he was during the puntkime. I ask him if he haven´t thought of moving to Gothenburg and that we maybe can put something together there. Said and done, he moves to Gothenburg and we talk H:son(which we both know from the punktime in Dalarna, and he´s from Lima, Malung and played then in Sune Studs och Grönlandrockarna) fromTroublemakers about doing something with us. He asks Arld Hansen from Troublemakers which is also comes along. We became the group Kanon. The group rehearsed 15 times,wrote 15 songs and did one gig on Röde Sten on The sky´s gone out for lunch-festival in Gothenburg. The well known/notorius shitman recorded four songs in our rehearsalroom which now is on the CD.
In february 1999 does the distorted garageband The White Negroes seeks a new singer. That have I never done before, I must try it . And it went on fine. We did some gigs and recorded three demos and was on Rockulärmusik and got some good reviews.
On a party the new years eve 2001 my woman wanted to start a band with the people who was there, Jonas Elgemark (bass) and Anna Glans (organ) from the sleeping group Evil Knievel and Stefan Örström (Good Morning Sweden) and then I was in the group on guitar again.
Skyron became the name on the new yearsband and really fast we have some songs and record a fullength direct. And then I became a member in Speedfreaks which really is going for 100% so I had to quit White Negroes. I think they have quit now and that´s a shame on a good band and Lotus is only doing gigs here and there, doesn´t write any new material.
Why did you move to Gothenburg?
-I studied Movies and Theatre in Falkenberg and there I met a girl from Gothenburg and I moved with her..
You wok on Frölunda Culturehouse, please tell us? Cultureproducer , what is that?
-We is a group with seven cultureproducers which works with different things, and it can be theatre, exhibitions, puppet theatre and music and so on. The music is my area and I have arranged everything from jazz and operettas to punk, world music and hiphopconcerts. There it is the usual organizerthings, contact with the bands, contractsigning, hotelbookings, technique, to do posters, flyers and to send information to the press. I´m almost always there and build the scene, doing the light, carry the instruments and serve the artists. It´s not as on the big scenes there everyone have their own task , because here you´re on from the beginning to the end. We have also servicefunctions as preparing of debates or lectures.
Teadances ,what is that?
- It´s a classic thing from the 50-60´s dancehalls which we have taken foreward again. Afterdinnerdance is done , willingly to big band jazz and it´s done in the afternoon already. It´s really popular. We have done it in six years..
You´re in Speedfreaks as a singer now, how does that band seem to be and how did you come into that group?
-A really big force with really nice guys which can their rock n roll and wants to come and do gigs. I knew Zvonko a little before and he came to me on a Fuzz-party on Musikens Hus and said that they wanted a singer. Then I was on the road again..
How would you describe your music in three words?
-Hard-energy-Rock n Roll
Which records have you done? A whole lot of tributesongs, of which bands?
-They have released some stuff before I came into the group. Check the website www.speedfreaks.se
The records I have been to this far is a splitsingle with Powder Monkeys. A fullengthsplit is on it´s way, that we split with the Portuguese band We Were Wolfs. Tributerecords we will be on is tributes to Johnny Thunders, Zodiac Mindwarp, Nazareth and Tank.
Please tell me a little about the other members in the group, age, interests, family and something bad about everyone?
-Zvonko Boogiebastard, bass, age unknown, collect Motörhead..
Edo, guitarist, age unknown , he like fight sports and food
Pelle, drummer, age unknownDVD, m,usic and games on the net freak. .
Please rank your favouriterecords, five favouritesongs and five most important things in life?
-It´s impossible so I only choose to choose my 10 punkfavourites:
1. Sex Pistols: Never mind the Bollocks
2. Damned: Damned Damned Damned
3. Ramones: Ramones
4. X-Ray Spex. Germ Free Adolscene
5. Dead Kennedys: Fresh Fruit For Rotting Vegetables
6. The Clash: The Clash
7. The Ruts: The Crack
8. Vibrators: Pure Mania
9. Damned: Smash it Up
10. Ramones: Leave home
Favoruitesongs, continue with punk....
1. Sham 69: Borstal Breakout
2 The Rings: I Wanna Be Free
3. The Saints: I´m Stranded
4. Dead Boys: Sonic Reducer
5. The Undertones: Teenage Kicks
Life!!
My woman
My family
My health
My bands
My work
First, latest and the most expensive record ever bought?
-My first own record I bought was Poppa Joe with Sweet. But I had got a I-Feel- I´m-Fixin-To-Die-a-Rag with Country Joe and the Fish and a lot of Elvisingles before. And I have surely been really much influenced of my two first LP-records. My mother should buy me a record and of course I found two. It was a compilation with Ten Years After, I´m going home and New York Dolls, In Too Much Too Soon. I couldn´t choose and after some listenings couldn´t I decide which one I wanted, so she was tired and it ended up with that I got both of them..
The latest buy was three. Iggy (Skullring), Mustasch (Rat safari) and The Strokes (Room on Fire).
The most expensive! I don´t know I have about 6000 vinyls and 1500 CD..
A good concert with Speedfreaks , how is it?
-A lot of fun and that the audience is with us.
A "fan" to Speedfreaks, how do they look?
-A sort of hybrid between a punk and a heavymetal freak maybe.
You said that you should go and look on Turbonegro toady, is it something you do often, maybe not look on Turbonegro but go on gigs?
-I write down ever band I see and last year I was on 31 concerts and saw 57 groups and that was really bad but it was because of the fact that I hadn´t the time to go. .
What drives you to do and play music in this way?
-Music is the only medium who can get you live, laugh, cry, dance, remember, feel, be angry, enjoy, travel in time , to be here and now, do for yourself or in group, mediate hate/love EVERYTHING. I have a constant need of all that.
Where do you stand when we´re atlking about mp3`s, when the labels goes bankrupt(??) and what is good and what is bad with mp3?
-It´s nice to see that the big labels is going to suffer a little. It´s a little bit of the same reaction as when the punk came, they got panic. We don´t need any more constructed boybands histories. I hope that more and more small bands will be seen. I have personally never downloaded anything but I have burned things that I´m curious on and tings I buy if I like it. That´s there the problem can be if people think that music not will cost anything, I think the prizes is too high. But MP´3:s and demos gives more spread och it should come more people to the concerts, so the concertform is something for the future. I have never bought so much demos from unknown bands as now and naturally the net with label, festivals and similar bands will have a big part in the development.
What´s the problem to be a relative unknown band ? What is good with that?
-We have precisly began and right now I´m looking positive on this becaue now we can develope our music in calmness and we have no demands that it must sound in a special way. The most negative is that you must work harder in a already hard world..
From where do you get most response, is it from Sweden or from some other country?
-Zvonko have good connections out in the world and that where he have put down all his work.
When you were in Lotus you was outside Sweden a little and played, have you or will you go out with Speedfreaks
-Speedfreaks goes to Holland, Belgium during the spring. And in the autumn we go to Italy, Slovenia and Croatia. And it´s interests from USA and Canada to come over to them in 2004 but we will do it 2005. Much because that we want to have a fullength in our luggage.
When you do music with Speedfreaks, what is most important , is it the lyrics, melodies or is it to have a good refrain that people remembers??
-For m it´s the wholeness and then it´s good if you have a good riff, good lyrics and really good refrain. It´s really hard to prior something special. You shouldn´t do it to hard for yourself because then you can destroy the best of songs.
Which are the futureplans with Speedfreaks?
-Tour, and a recording in the autumn. Do the website more nice. Some more merchandise as lighters, badges, T-shirts, key rings and a lot of new fat riffs are on the way, do some new songs. .
And for yourself?
-I´m satisfied with the situation but I will try to not going into any new projects.
Wisdomword?
-Live Fast! Die Old!
Something to add?
-Vote on P-Nissarna to the punkconcert in Gothenburg 2004(if it´s going to be one)