Pleasure Squad is a band from Denmark who bought my idea about sending a record to me for review and here´s the interview now with the group. September 2017
Please tell me a little bit history of the group?
-Some guys started a band, and after a couple of lineup changes, here we are.
We've been friends since like... forever, and are out of the danish late 80's punk and squatter scene (around Ungdomshuset, Jagtvej 69)
Please tell me a little about every member in the group right now, age, family, work, interests and something bad about everyone? Earlier bands? Other bands on the side?
-K: Vox/Gitter. Avid roleplayer and old punk rocker.
Bo: Bass - Another old punker.
MC Evil: Drums/Vox - Evil mastermind.
ElChefe: Gitter.... the guy who plans everything.
We've been in a lot of bands. CopWeaps, MT Heads, Scrotum, Miss Marlow, Intern Varsling, Konkhra, Zephyr, Onkel Eefsens Trækkerdrenge, James Vance and The Face Erasers, Fritz Fatal, and probably a lot more.
I can hear much different influences but mostly punk and a little UK82 etc? Favorites from the past?
-A lot of influences. RKL, Disorder, Conflict, Fearless Iranians From Hell, CRASS, Discharge (K mentions "Dom Där" as well)
Pleasure Squad are you satisfied with the name? How did it came up? You weren't afraid that some other band would be named like this?, Why an English name when you sing in danish? Which is the best bandname you know?
-Sure we are satisfied. The name comes from the personal pleasure squad of the Kim family (from The Democratic Peoples Republic of Korea).
It is true that we presently make our songs in danish, in the past it was often english.
We do not care if anyone else has the same name.
What´s the best thing with playing live?
-Meeting new friends is marvellous. And playing very loud is a great pleasure :-)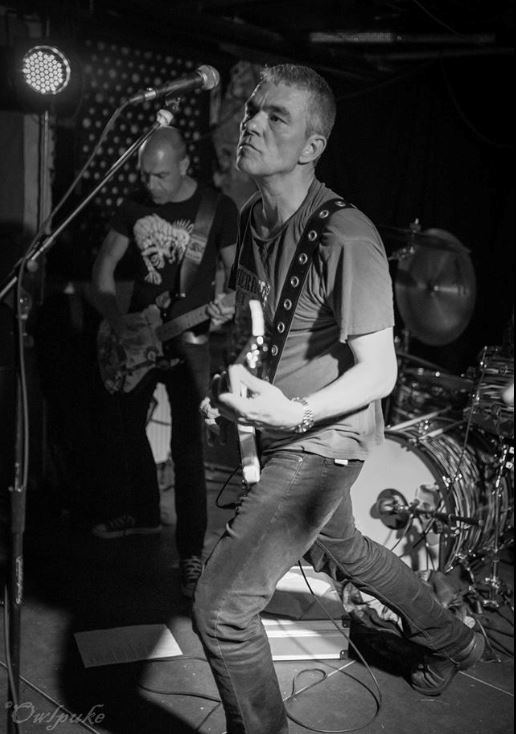 And where is best to play? And the worst place?
-Best place...... Underwerket in Copenhagen is really great, on the other hand, we have not played anywhere we did not like (yet). We must also mention the "Punx Undead" crew, who frequently hosts shows with all kinds of great bands.
Generally those places and persons are very friendly.
How is to play this sort of music in Denmark right now? Which types of bands do you have concerts together with?
-It is ok. We mostly play with punk and hardcore bands. I guess the only issue is, that often, there are overlapping punk shows, which does tend to split the potential amount of audience.
How would you describe your music in three words?
-Exellent, Delicious, Crisp :-)
What does punk mean to you, is it only a word or is it a lifestyle?
-A way of thinking... a mindset.
How do you see on downloading, mp3 and that stuff?
-Practical.
It is a great and cheap way to spread your music (or our music).
How is it to live in Denmark right now? Politically? Fascists?
-Hmmmm...... a lot of the politicans are populistic assholes. One of the parties in the parliament is openly fascistoid. Almost the entire political spectrum have moved several steps to the right.
On the streets however (at least in Copenhagen), there is not a nazi presence. They seem to be a bit afraid of going out (and for a good reason we believe)
Is there any good bands from Denmark now? Is the punkscene/hardcorescene big? How is it in your hometown?
-There is a lot of excellent bands, the scene seems to be quite big. We don't know all the bands, and at gigs we often play with some we haven't even heard about before. We have no idea how many there are. 75+ in Copenhagen alone I would say.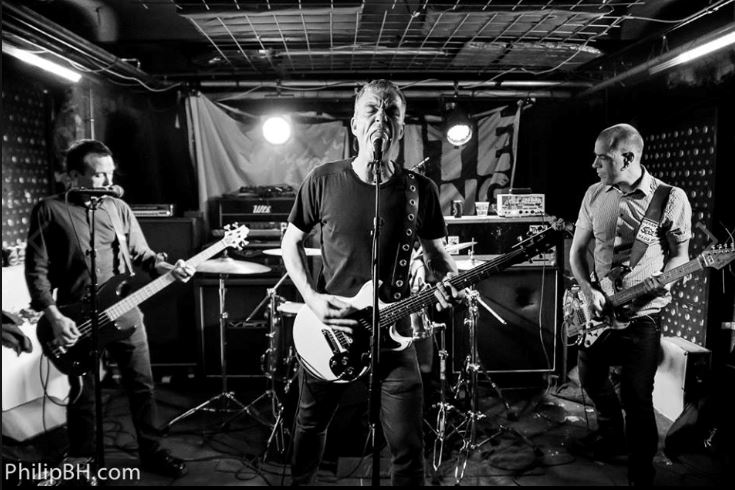 What do you know about Sweden?
-There really is a lot of insects in the coutryside in the summer.
It is full of swedes.
We can understand the signs.
Have you heard any good bands from Sweden?
-Sure.... We have forgotten the new ones, though.
Older bands that we remember (mostly because we still have the records, and/or have seen them live) are asta kask, snobb slakt, rövsvett, puke, charta 77, dom där, f.i.l., los bohemos..... and probably a lot more, if someone reminds us.
Your lyrics, who does them and what influences you? Is it easier to do lyrics now or was its easier to do it when you was younger? Never in English?
-Mostly, we just do our lyrics ourselves. If someone comes up with something, the others can elaborate on it. We have songs, where the lyrics are written by Nickmlas Burman, he is a great writer, and a great guy. One of our old songs was written my "Mikkeline W. Gudmand Høyer".
The influences are mostly the injustice, corruption, government/police brutality..... and love.
We have some english songs.
Is there any subject that you never will write anything about??
-Probably there could be something, can't come of with any non-issues right now.
Politic and music, does it goes hand in hand? Which is your most political song?
-Politics and music does absolutely go hand in hand. We have no "most" poltical song. 90% of our songs are political (the last 10% are about love of one kind or another)
Best political band/artist?
-Discharge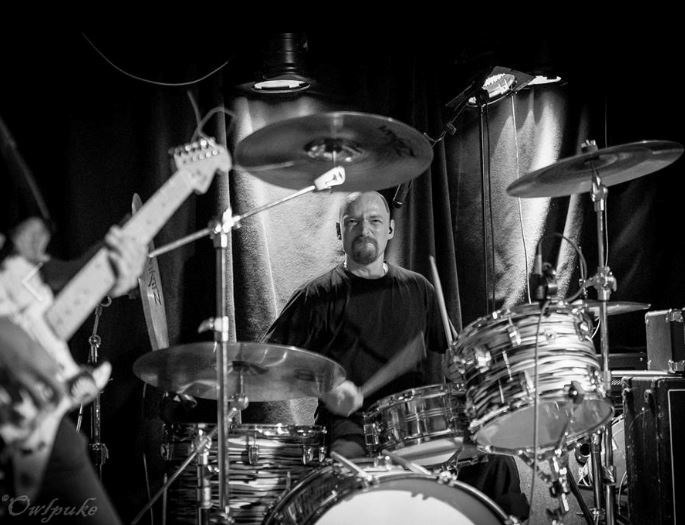 Do you think that music(lyrics and so on) can change anyones life, I mean people who listens to music?
-Sure.... we just have to look at ourselves.
Your cover on your record looks really nice, is it important to have a record cover which shows people which type of music you play? Your favorite recordcover? Who does your covers? And do you have any good recordstores in your hometown?
-It is not a cd, it is an vinyl ep :-)(I wrote wrong) Anyway, it is practical to have a nice cover, which does reflect something you want to express.
Is it important to get out physical records of your stuff? Why or why not? Vinyl, CD, cassette, what do you prefer if you could choose whatever ? What happened with your single, it was only 47 of 100 which was working to play?
-The pressing plant delivered 53% useless records, and did not want to admit it. We have noticed that other bands also have great problems with then. Stay away from vinyltryk.dk they are a bunch of cheating lying bastards. Furthermore, they are not able to deliver anything on schedule.
Total wankers. Fuck them!!! And expensive too.... did we mention that they lie a lot?
How does your audience look like? Which people do you miss on your concerts? Which is the biggest band you ever have played together with?
-Our audience look like real nice people, and have a fantastic sense of fashion, they do seem to drink a lot though.
Biggest band..... depends on definition. I suppose we could say that Chaos UK is fairly famous (and very good at playing). We had a nice gig with them.
Please rank your five favoriterecords, five favoriteconcerts and five most important things in life?
-Come on man :-) We would never be able to agreee on that.
First, last and most expensive record ever bought?
-K: Last...... "Wayl" their CD is called "In Bed"
Is it boring with interviews? Is it much interviews??
-We have never been interviewed before (in this constellation). It is nice.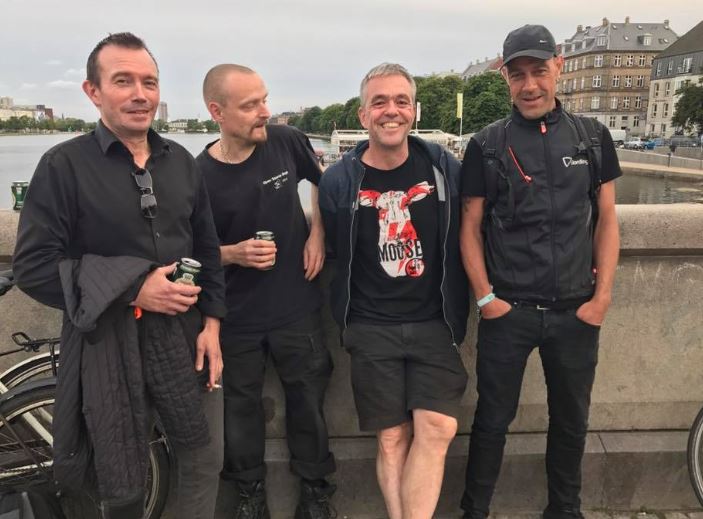 If you could choose five bands from the past and the history and nowadays and both dead and living bands to have a concert together with your band. Which five have you been chosen?
-GG Allin & The Murder Junkies
Anal Cunt
Motorhead
Husker Du
Beneath Contempt
Is music a good way to get out frustration and become a nicer person outside the music??
-Sure it is a good way to vent our frustration. We are always nice :-)
Which is the most odd question you ever have got in an interview?
-Ehmmmm.... :-)
Futureplans for the band?
-Play gigs, make new friends, create music and have fun with each other.
For yourself?
-I want to be president
Wisdomword?
-Never pass up an opportunity.
Something to add?
-We love you.