Geoffrey, bass-player of the band Plague Thirteen. apologies for making me wait, but we managed to answer (the most of ) your questions. This was done in november 2021.
Please tell me a bit history of the group ?
We were formed in the spring of 2019, Geoffrey and Michael had a band called LINK, Bjorn and Arthur Played in SORE.
Both bands splitted up in the course of 2018.
It's a small scene down here...
Everyone already knew each other and our D-beat blood soon flowed together.
Please tell me a little about every member in the group right now. age, family, work, interests and something bad about everyone, earlier bands? other bands on the side?
-Arthur is the youngest of the pack , he is half as young as Michael. Michael was born the same year as the album "High voltage " of Ac/Dc.
Bjorn was less lucky he is born the same year as the album "Nevermind" of nirvana, an album that pleased Geoffrey right before he tended secondary school.
Bjorn plays in a other band called 'Rhydes' , playing bluesy indie rock. He works in a brewery, his job is to fuel the bars with booze, and makes sure no one is getting thirsty.
Geoffrey has no other band he is too irritating to work with and to lazy to start a solo project.
Michael is as irritating as Geoffrey but manages it to play in an other band called 'Scraps' they emerge from the north of France and have been around for decades. Old school hardcore a real must see, his solo project 'Exhale7' is also worth checking!
Arthur has so much inspiration left and plays in a trashmetal outfit called 'Lethal Injury' and a couple of other side projects. his main influence and all time favorite artist is Leo Rojas.
I can hear much different influences but mostly hardcore and some death metal. favorites from the past?
-We all have a wide range of tastes but hardcore is absolutely the binding component.
Plague Thirteen, are you satisfied with that name ? How did it came up. you weren't afraid that some other band would be named the like this? Which is the best bandname you know.
-We're pretty satisfied with the name, Michael came up with it and sounded so natural and applicable that the rest agreed instantly. Do you know any other band called Plague Thirteen ? Best Bandname ever would be 'Anal cunt' .
What's the best thing with playing live ? Do you miss it now?
-We miss playing live a lot of course, One of the nicest things is the adrenaline and drive we get with eacht other and people at shows, it's kicking hard when everyone is going crazy. There are a lot of venues with sweet people, it's beautiful to see how the diy scene roll.
And where is the best place to play? and the worst place ?
-We once played a place where the drywall ceiling fell on someones head... Geoffrey predicted it would happen... and the most sweet place I already went was Kopi in Berlin.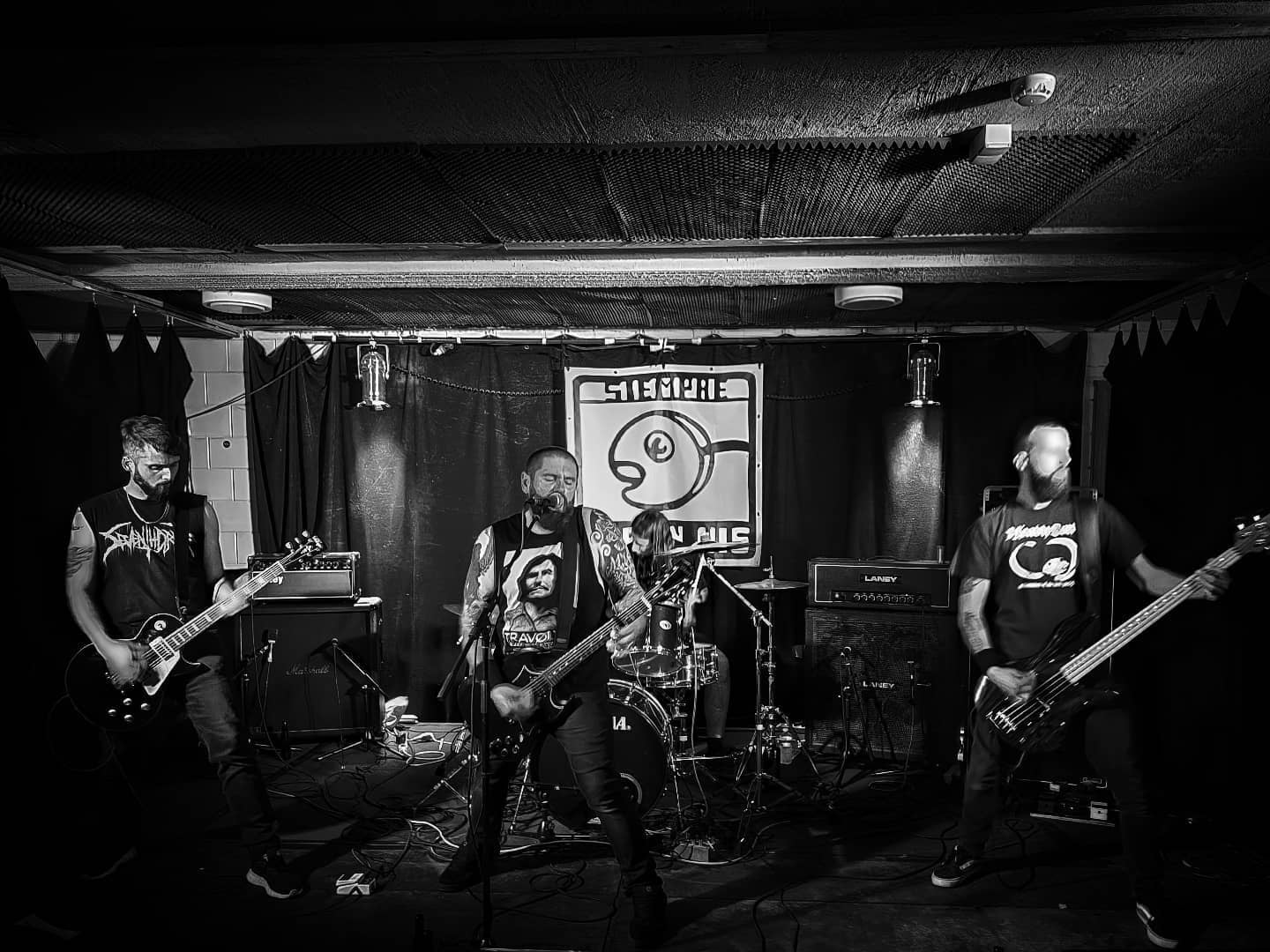 Photo by

Karel Karel Deweerd

How is it to play this sort of music in Belgium ? wich types of bands do you have concerts together with ? Belgium had a big hardcore scene many years ago , how is it now ?

-The hardcore H8000 scene used to be big and well known, there's not much left of that now, a decoction here and there... There are still good bands around like Silence means death, Frusterad, Hetze, Travolta, Lectamynol.

How would you describe your music in three words?

-Resentful throwning tables?

What does punk mean to you, is it only a word or is it a lifestyle?

-Swimming against the stream, not letting the goverment and others fool you or walk their pretentious line.

Which song/ album or group was it who took you into punk/hardcore ?

-For me , that must be Minor Threat.

What shall a young guy do today to shock their parents as the way we did when we were young ? They have already seen everything ?

-I dont know... a lot of kids now follow the trend of mumble rap and being little matrealistic pricks. Brain dead music and sedated from Lean and Xananx, showing off their Gucci and golden teeth. I think this is the way of "shocking" now, but there's no proper message behind it.

How is it to live in Belgium right now ? Politically? Fascists ? The covid situation ?

-A lot of people are turning completely around because of the stream of immigrants. there is a lot of racism and right wing enthousiasm, sad but true.

Is there any good band from Belgium right now ? is the punkscene/metalscene/hardcorescene big? how is it in your home town

-We answered that earlier... nothing of a massive scene around here...

What do you know about Sweden ? Have you been here sometime ? What is typical Swedish ?

-I've been in Sweden for a few days a few years ago.

You all live in wooden houses, preferably red painted. There is a zero tolerance policy for drinking/driving, but most are friendly drivers. Some of you do snss, a kind of nicotinetablet thats propped in the mouth and stays there for hours, a real recommender in the morning! Despite the cold it is quite lively on the streets and in parks.

Typical Swedish ... Nothing is left to chance ...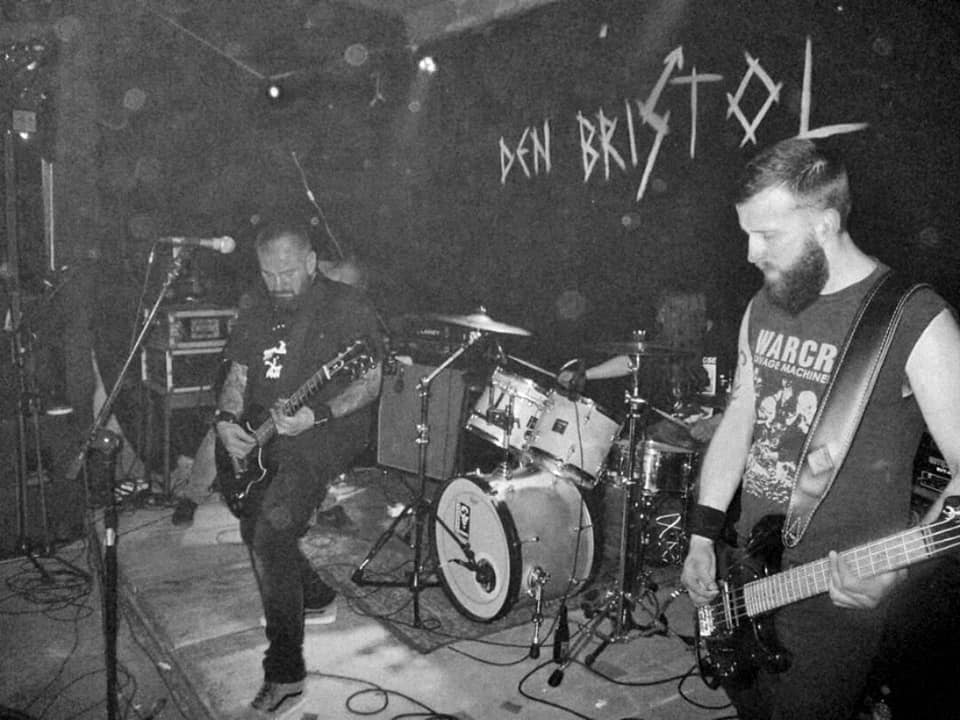 Have you heard any good bands from Sweden?
-Martyrdod, Wolfbrigade/ Wolfpack of course. Bathory, Craft, Lifelover, Crude SS, Anti Cimex, Kaaos, Totalitar... I don't Know what it is about Sweden but you guys do sweating good music!
Your Lyrics, why does them and what influences you? Never in your own language?
-Everyone in the band writes lyrics, sometimes it fits, sometimes it doesn´t. Thats for me the most beautiful thing with the band. Everyone influences everyone and listens to each other. As a matter a fact it is stupid to sing and write in a other language, some bands have realized that and do all or some songs in their native language, much respect for that. a real dooropener for the creative journey, that can set you apart as a band and can make a great(er) connection with the audience in your own country. On the other hand if you are from Belgium wich is a small country splitted up in three language communities you rather soon discover the limitations of that Journey. So we choosed to write in english and reach more people, but I don't rule out trying this out in the future for a song or two.
Is there any subject that you never will write anything about ? Or isn't anything sacred ?
-As long the music fits the words or vice versa... anything goes….
Tell me about following songs..
-Haunt them :is about rich people getting away with crimes, and let the rest of the world pay for it. Thats the way it is now and how it was in the past. nothing will change if you don't "haunt them".
Mourn : speaks for itself.
Sunken : is about seeing everything in the bigger picture and finding some peace of mind in that.
Best political band/ artist ? And best unpolitical one?
-Hard to tell one but following artists/moment come to mind.... I saw Greg Bennick a few years ago with a spoken word, that was quite moving. Dropdead really suprised me last year with their new album. the new Iron maiden is worth a listen.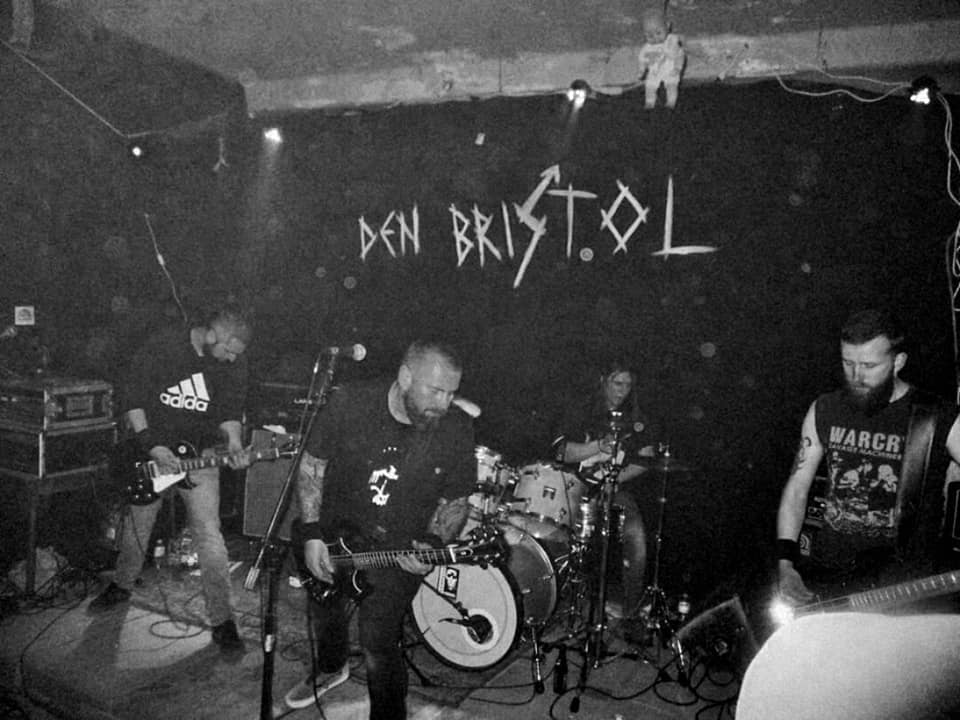 Do you think that music (lyrics and so on) can change anyones life, i mean people who listens to music ?
-Oh yeah sure, cause music is the expression of thoughts and feelings, it is related to memories whether they're good or bad. It can lift you up , can bring you down.
And especially your own created music can work as a medicine.
That´s what it does to me, and some bands/artists have brought me to insights. These insights partly formed me to the person i am today.
Your favorite recordcover alltime? Who did your recordcover?
-We did the artwork ourselves, Michael take the most credits for that. all time favorite albumcover....Twisted Sister : Come and out and play.
Is it important to get out physical records of your stuff ? Why or why not ? Vinyl, cd, tape, what do you prefer if you could choose ? Can you get the feeling if you do it only digital that you don't have a record ?
-I hope Vinyl will survive. To me the ultimate format, especially for the artwork. digital/ streaming is useful for discovering new stuff.
Please tell me a funny thing wich have happened during your career and under some gig ?
-My life is one big joke, so it is difficult to pick one particular moment.
Do you care about reviews? Wich is the most peculiar you ever had. Have you ever changed anything after a bad review?
-Don't care much. Never change a thing because of a review . A review sometime tells you something about the band/record, and sometimes it tells alot about the reviewer....
Which bands do people compare you to, is it boring that people compare you to other bands or is it understandable ?
-People like to compare I guess... We are comparable. Bands we have been compared to are Martyrdod, Tragedy, From ashes rise... can you add some ?
Future plans for the band ?
-We soon will start recording a new album, should be done by the end of the year. After this I hope some local shows will keep us away from a winter sleep. And in the meanwhile of all that we''ll try to work things out to do a european tour in the spring of 2022. Perhaps Sweden will be dotted on the maps, would'nt that be cool Peter?