Picture Frame Seduction from wales was one of the first bands I interviewed. They was in my first issue back in 1984 and here they get the chance 21 years after the first time,. This interview took place in november(the end) of 2005.
Please a little bit of history?
-Well, we started back in 78' inspired by The Sex Pistols really. It was as case of picking up guitars and stuff and teaching ourselves to play. We were awful, really bad, but we persevered and started to play local welsh venues. We supported Anti Pasti, Chron Gen, UK Decay in the early days. Recorded a few things, but never took the opportunity to move on once we reached a certain level. We were young and well in to punk rock, we even turned down No Future Records ! Thats how switched on we were ! And Riot City. In the end we released a compilation track on' demolition blues ' The Insanes record label in 1982. And then had a re-think which meant our original bassist and guitarist left and we got in lads who wanted to go further afield, tour and record vinyl. Which we did for SO SO records in wales and then ROT records in Mansfield, we were on that label with The English Dogs and The Varukers. Released some other compilations a few singles and an album, which we really do like still. Theres loads more to tell, but its on the website, our guitarist ( Mark ) from the vinyl days died in 1990, thatís was sad, he was a great guy, died of a heart attack aged 26. Ok kids - just say no ! It was such a heavy time though being in a second wave punk rock band, and now of course that was the start of UK82 punk rock, which we are proud to have been a part of.
Please tell me a little about every member, age, family, interests,work
-Keith - Vocals, founder member, married, children aged 21 and 18, mad football fan and is a teacher.
Griff - Drums, took over from playing the drums from Keith in 1981, runs a pub is married with a host of kids and loves fishing ( I know )
Rob - Original guitarist from 1978, has got some children about the place and various scattered relationships, runs a funeral directors in Wales and is the best guitarist in punk rock - awesome.
Steve A - Bassist since we reformed in 2003, the first punk rocker I ever saw, and goes by the name of punky. cos he is. Has kids and lives with a very tolerant partner.
and something bad about every one?
-Oh, we are all cunts, old irritable bastards with semi hardons, and a love for beer and - er - beer. We probably dont like each other either.
Wales, tell me about it(I have been there once)?
-Its full of welsh people, sheep and disused mines. Ok - here is a welsh tour - the Manics, Tom Jones, Shirley Bassey, Anthony Hopkins, Swansea city, rugby, sheep, hills, silly songs, a fine language, a nice national stadium, The Oppressed, Partisans, Foreign Legion and us :-) Oh and Dylan Thomas.
Which other groups are you being compared to?
-GBH and The English Dogs - which is nice as we taught them all we knew :-)
Many people would say that you play streetpunk, what about that expression? How would you describe your music yourself?
-Thats not a term from way back, it has developed over the years. We play hardcore uk punk rock, fast, tight and to the point. However those that have our old and new stuff will see little change - and also some nice and interesting songs in there that knock you around a bit because they are not in our usual style.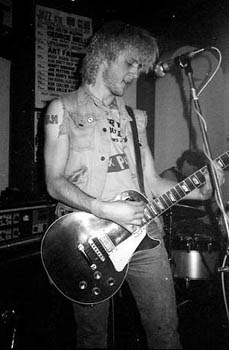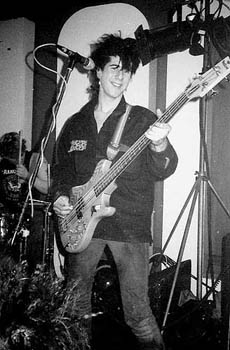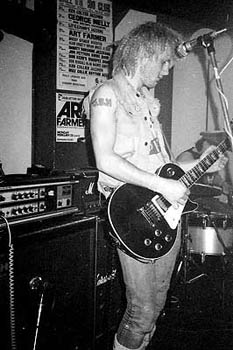 Picture Frame Seduction 1985
How many records have you done, I have only Sex war, which other records > have you done and how can I get it?
-We recorded a single good enough for me in 1984 and album hand of the rider in 1985 and a single try with a little help in 1987 ( donīt buy this it is shit, commercial nonsense ) There are loads of comps out there and Retch Records released Whats that hardcore noise cd album in 2003, it was a half hearted release of old stuff, maybe worth a buy, but something which we are not happy with. We have a full back catalogue release of the vinyl and unreleased stuff on GTA in the USA in March 2006 ( at last ) E bay is selling a lot of our stuff, the re-issued vinyl and that has all gone so it really is a case of gettng Sex War and listening to that ( 20 trax well worth it ) thatís everywhere worldwide from HMV to Tesco's in the UK ! and on our website for not a lot of money. Its distro'd thru Pinnacle in the UK and is out in Japan and Australia on other labels in 2006.
Which type of people comes to your concerts?
-Mainly punks old and new from mohicans with studded leather jackets to baggy trousered young little chaps with Blink 182 shirts on. We are a UK82 band, so its not the same as the kids are used to, but they soon learn :-)
Is there any good bands in your home country?
-Yes, see above plus Dogzuki, and a ska punk band called Johnny action finger.
What is typical swedish? What do you know about Sweden?
-If I said IKEA would you hate me ? Itīs the only country where the clouds are interesting, and big brother says its the place to go ? Too much time to think too little to do ! Apparently. IFK GŲteborg ? Abba ? Good punk venues / let us know.
Have you heard any swedish bands?
-Yes.
Which reviews have you got on the new CD?
-Yours you cheeky little chap, and Max Rock n Roll, loads of websites, big chees mag, razorcake it got mainly good reviews. Some were a bit snipey, bless em.
You know, how dare they reform !
Do you care about reviews?
-They help sell the album, which is important as itís a great punk rock album my son.
Which is the most peculiar review you ever have got?
-From Sounds Magazine in 1985 - The reviewer told us to 'piss off down the pub and do something more interesting ' So we did. They were very supportive though, especially Garry Bushell. That reviewer wasnít in to punk rock, so I suppose he was a cunt :-) Bushell used to print all our tour dates, good egg.
Your name Picture Frame Seduction, where does it comes from?
-A song by KGB. How did we get the name ? I donít know, it just happened, some like it some donít, but it doesnít tell you what sort of band we are thatís for sure. Back in the old days people thought we were a band like Alien Sex Fiend, now EMO ! I donít know why couldnít we just choose a real horrible punk name, FACEFUCK or WE ARE A LOUD AND FAST PUNK ROCK BAND LIKE GBH !
Is it important to have a name which sticks out? Which is the best punkbandname?
-Thereís loads, the best - Sex Pistols. great name.
How is a good concert with you? Is it violent?
-There is absolutely no violence at gigs in the Uk ( well, not a lot ) very unusual these days, back in the old days it was bad, we had a guy killed outside of one of our welsh gigs, there is none of this skinhead fighting punks rubbish. So thatís the reason why we carry on, its fun.
When you do songs, is it important to have a lyrics which is about something important or is it OK to sing about love(i know that love is important but you know what I mean?)?
-We had a love song on our first album, so its ok, well, sort of love about friendship and that. We try to sing about what we care about, the usual stuff that effects others and us. It is a case of not preaching or trying not to, make your own mind up. I mean The Buzzcocks are a good band and they sang one or two love songs :-)
Politics and music, does it go hand in hand?
-Yes, if you want it to, it changes opinion and gives alternatives, hopefully without preaching.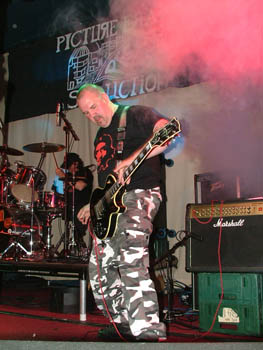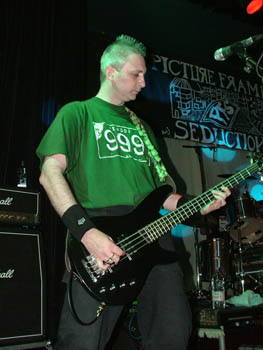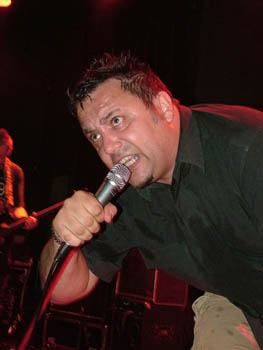 Picture Frame Seduction 2005
Which is the best political band?
-I suppose Conflict, I admire them for their continued stance for what they believe to be right.
Which label have been releasing your albums?
-Cherry Red, Rot records, Soso records, Retch records, our own label Cultjam records, and a few more I cant recall.
Please rank your five favourite records, five favourite concerts and five most important things in life?
-For me, maybe not 5 but records ? Never Mind the Bollocks, Rattus Norvegicus, City Baby attacked by rats, Troops of tomorrow,
Concerts - Stranglers in Dunfermline in 1978, Sex Pistols in Finsbury park 1996, SLF all the time in the early 80's, and any show that continues to shout our corner here in the uk - any punk show, they are still amazing places to go to. My most important things in life are my family. Nothing else comes close.
First, last and most expensive record ever bought?
-1st - Gary Glitter, Rock n Roll Part 2. last - Drongos For Europe Barcode Generation. Most expensive - a mint copy of our album hand of the Rider on E bay.
Most embarrassing record in your collection?
-That heap of shit we released in 1987. Fucking hell its awful.
What does punk mean to you, is it only a word or is it a lifestyle or what?
-Punk is a way of life, clothes,choice, freedom, music, - and of course not forgetting where it started - the uk.
It have been a lot of terroristattacks around the world lately, are you scared and what shall we do about it?
-No, Iīm not scared I donít feel as if its me they are after, what should we do ? Nothing, but those that put themselves in charge of us should stop killing innocent people and dictating that what they do is right. I didnít vote for these people, they are so full of ego its them that scare me. Nobody else.
Have you done any songs about this stuff?
-See Sex War
What about the bands future?
-Do what we can when we can, play where we can when we can, and have a bit more fun.
Wisdomword?
-Friendship
Something to add?
-You ask a lot of questions, but thanks for taking the time to do so, sorry its taken so long, but Ive been making tea for my family. The kettle has broke and I had to boil the water using a light bulb.
http://www.pictureframeseduction.com/ & www.myspace.com/pfs_punx Write to RY Media, PO Box 19, Gloucester, GL34YA, UK / SAE please and you will get some nice things sent back to you.