I ordered some records from this young singer/songwriter a while ago and now I was litsening to them at my work and I realised really fast that I like this much. Here we can here influences from Sundtröm, Winnerbäck and many other troubadours and check his music out immediately. Nowadays he have a band and it will be make him more strong. Theinterview was done in january 2004.
Please tell us about yourself, age, family, work, interests and something horrible about yourself and something secret too?
-My name Peter Olofsson, is 20 years, have two siblings and two parents. I am single and I work in a shop. I´m really interested of football(Hammarby IF) in addition to the music. Something I don´t say too often is that I´m fucking scared of flying and I cannot whistle.. ;)

How did you came up with the thought of playing music in this way, isn´t it anyonme who wants to play with you or do you want to earn all the money for yourself?
-Nowadays I play with a band but I thought it was nice starting as a soloartist even if I hade a girl on vocals(Tove Karlsson) during the first gigs. It´s no big money I earn when we play but of course I got more as a soloartist.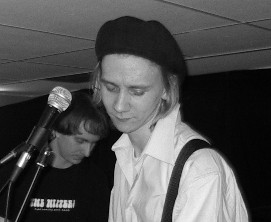 I understand Dick Lundberg have been to big help and inspiration, is there any other people you want to thank which have inspired and helped you out?
-Dick is the one who have helped me most. I hadn´t come this far without his help. But Fredrik Johansson have also helped me much. And the driving force Ingemar Ragnemalm who arrange gigs where I have been.


How did you felt the first time you were on stage with your guitar and people only wanted to hear covers insetad of your own songs? Or how was the feeling?
-It was on Skyltenfestivalen and it was in front of a little bunch of people but it was nice. I did a really bad gig but it´s nice to have done it. And I don´t often hear the things with covers and that people wants to hear that.

I understand that lyrics is important to you, is it difficult to write lyrics?
-It´s really different. It can take many months and other lyrics can come when you take a shower or when you play a little But it´s not an easy work I will say.

Politic and music, does it goes hand in hand?
-haven´t any good answer to that question. I think it does it a little..but I don´t write so political right now. But it is periods when I do it.

The best political music, who does it?
-Without doubt Dan Berglund.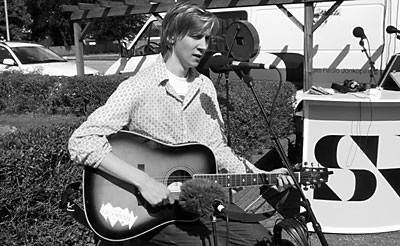 You have done some record, isn´t there any label who wants you?
-have never contacted any label, so I don´t really know. But I have some plans..

Dick do the website Ljuv Musik, does it help you much?
-I do´t know if it helps but it´s a funny place to be. Many toher good musicans are there and we get contacts to gis and where to sell records. So it´s good that it´s there.

Do you only play acoustic music , aren´t you longing for to really give everything in your music?
-As I said I have band now so it could be really loud sometimes.

How does your audience look like? Which type of people comes to your gigs
-My target is people in my own age and a little around there. But the people who like my music is often girls from 15 years and up. I have mostly female fans if you say so. But it deosn´t matter as long as my music reach out to people.

Where is best to play, on a troubadourfestival, on a pub with drunk people or where is best?
-On a troubadourfestival. Festivals beats everything but it´s really cozy with troubadourevening on cafes also. Everything is good as long as people listens.

Wwhen you write a song, which is most important, is it to have a good lyric, a good melody or to have a refrain that people remembers?
-I want people to be touched of the things I write about. That you can identify with my lyrics. And I really want to say something with my songs.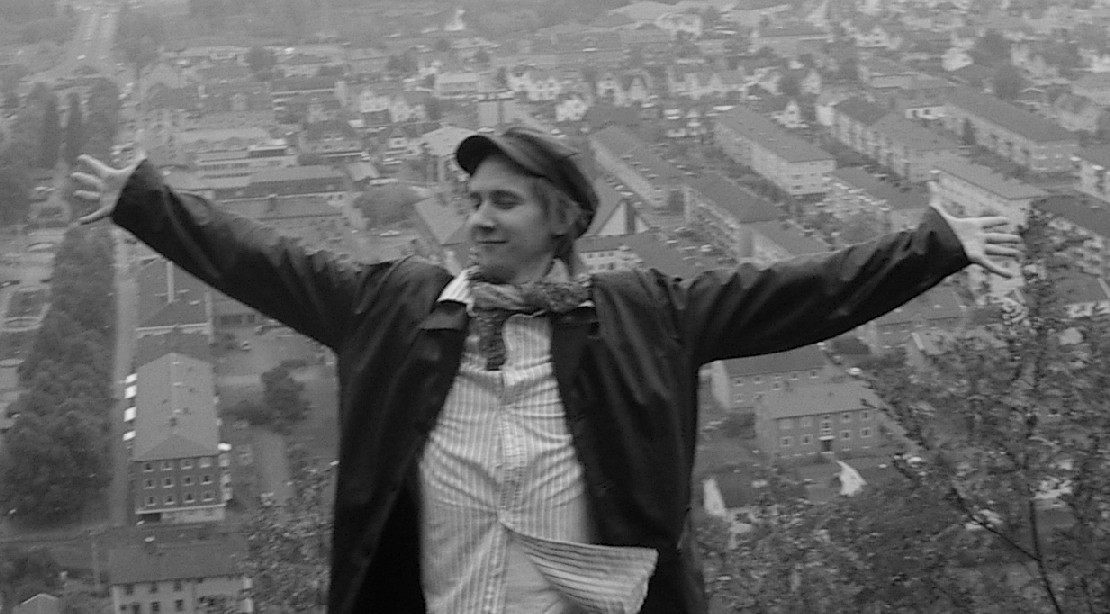 What do you think about the musiclife in Sweden right now, any good bands/artists?
-really bad actually.. Lars Winnerbäck is the best musicsweden have got foreward antime. Otherwise it´s not so good. Håkan hellström is good. But except from them it´s really the same music and boring music which is played right now. But as a mate saidabout today´s musicindustry "Are you being served shit, you eat shit" Not anybody like the things which is played, but isn´t anything other been played you msu accept the things which is played.

What do you think about living in Sweden otherwise?
-Really calm but it´s too cold. It´s difficult to move anywhere else to do Swedish music. Perhaps Norway which I actually can think of doing.

If you could choose five artists/bands to play on a big concert with you, which five would you choose?
-Lars Winnerbäck, Dan Berglund, Stefan Sundström, Johan Johansson & Jakob
Hellman.

Please rank your five favourite records, five best concerts and five most important things in life?
-Records: 1. Dans med svåra steg (Lars Winnerbäck) 2. Rusningstrafik (Lars
Winnerbäck) 3. Solen i ögonen (Lars Winnerbäck) 4. Söndermarken (Lars
Winnerbäck) 5. Kom (Lars Winnerbäck)
Concerts:
1. 14/11 -03. Lars Winnerbäck on Konsert & kongress in LKPG.
His last gig, so fucking big..
2. Lars Winnerbäck on Konserthuset in JKPG april -03.
3. Our gig onElsas Hus 14/10 -03.
4. Our gig on Höglandets visfestival 30/8 -03
5. My gig in Nässjö 9/11 -03
Things in life:
1. family, relatives, near and beloved.
2. Music
3. Hammarby IF

First, last and the most expensive ever bought?
-The first record I cannot remember, the latest was Ragnar Borgedahls
newreleased "Hum hum från Humlegården". Most expensive was the Cornelis box "Mäster
Cees memoarer" for 399:- Swedish krona.

Is it much interview? Is it boring?
-Not so dangerously much, and I haven´t anything against it yet.

Which is the question you never get but you want to have? Please ask it and answer it
-What do you want to say with your new record"Allt eftersom"?
MY life as a teenager, all problems, all questions, all unhappy love, every deceits. I want to smash some nasty people and I want to make this in a nice way so it touches people.
Where do you stand when were talking about mp3`s, do you download yourself?
-I download some thing. But I don´t know what I think. But I think it´s REALLY stupid to raise the prizes on empty CD-r records. It will be the death to undergroundmusic!!
<![if !supportLineBreakNewLine]>
<![endif]>
Are the lables going bankrupt?
-It´s what i am hoping and then I mean the big ones.

Is it many people who buys records from your website?
-Yeah,a whole lot..

Do you do many covers?
-I do covers of songs I like.

Futureplans musically?
-I hope I come into the musicschool in Västervik & Kungälv. Tour this summer with my band
"Partyorkestern" and with 2 Dagens.

And for yourself?
-As above. I will stop working if I come into school.

Wisdomword?
-Take it easy..

Something to add?
-Buy Allan Edwalls compilationrecord. It´s as good as Cornelis!