Perkele have released a really wonderful record which will sails up as a favoruiterecord to one of the first places when we have to sum 2005. Ron and I speaking about football, rascism and punkrock in a really good mix ……..august2005
For how long time have you played together now?
Ron – It is eleven years now, it doesn´t feel like it can be so long time and it happens new things with the band all the time and it´s fun as hell..
Have it been many personal changes in the lineup?
Ron – Not so many, Chris chaned in insetad of Olof -96 and therefor Anders who played the sologuitar left the band. And we tested for at while that Chris was doing comp and we had a bassist(Richard) on the record No shame but then we became the ususal line up again and it´s me Ron – vocals and guitar, Jonsson – drums and Chris -bass.
You sang in swedish in the beginning, but not now?
Ron – We thought it sounded really fine in english and felt that it suited our style better but we still do some swedish releases as the Göteborg Ep and we hope to do another swedish Ep in a year
Do you do any of the swedish songs live?
Ron - Yeah, Från flykt till kamp we do always and even Stolt sometimes but it´s not so that we play so much in Sweden anymore because then it have been more swedish songs on the repertoire.
To be a skinhead today it´s not the same to be a nazi as it almost was some years ago. When did the right thing came back and what happened?
Ron – I think it haven´t arived so many new band with that connection and that nazis don´t choose to be dressed as skinheads as much as before.
And you can imagine that it isn´t so interesting for the naziskins when it have arrived so many originalskins the latest time and that it have coem foreward that this subculture have coming from jamaican roots.
What shall we do to the fact that "everybody" thinks that skinheads is the same thing as fight, racism and so on?
Ron – I don´t think you should do so much, only when it´s about the racistthing, it´s better that people are a little bit afraid so it doesn´t go so far as it did with the punks when people come to them and wants to feel on their hair and so on. It could never happened when the punk came.
I think I hear some skainfluences in your music now, am I right?
Ron – Yeah, that´s obvious, I listen much to old ska and even some old 2 tone but it´s mostly old Toots, Skatalites and good skinheadreggae.
How would you describe your music in three words?
Ron - Aggressive, honest and proud.
I think you have done of this years best record? What do you think for yourself?
Ron – We hope so, we really satisfied and love the sound and the songs and it will be wonderful to do them live.
It feels like if your really inspired by 77-punk and do you have any favourites there?
Ron – When we´re talking about Swedish bands it´s, Gbg sound, KSMB and british/foreign bands like Buzzcocks, The Saints, The Damned and Eddie and the hotrods and a lot of other 77-stuff.
You do many songs which you can sing along with? Is that a goal you have or is it only so that it´s become that way?
Ron – I think it is something we like and then it´s being so, we all love to sing along with Cocksparrer hits and it´s have infected our music too he he .
Chris looks a little bit dark in his skin, do you have had problem on any gig with that?
Ron - Yes, he´s adopted from Sri Lanka, it happened once in Belgium on a really odd gig when it came nazis in there and started to incite and we incited back and it was thrown beer here and there, it was reallys ick, but otherwise it have been free from problems and we haven´t that kiond of people on our concerts. från Sri lanka, det hände en gång i Belgien på ett jävligt konstigt gig där
Why the name Perkele?
Ron – It is maybe my finnish stock which was helping out there and we didn´t found any good Swedish name which could describe our music in the right way. The band is shortly Perkele and then a fisthit, he he
Is it important to have a name which sticks out, and which is th best punkbandname?
Ron - 4 skins it´s really good, yeah, the name does matter, I have difficulties to take name as Radioaktiva Räker as serious, a name which isn´t funny, maybe when you´re a child.
What does punk mean to you, is it only a word or is it a lifestyle?
Ron – Absolutely a lifetsyle. We feel that that it is an alternative to today´s shitsociety which I haven´t anyhting in common with. And can´t you fit into to that you must find an own life there´you´re enjoying it. Good mates, good muci and loyalty.
In the song Subculture Shame many gets their hits from your fist, what do you want with that song?
Ron – I was only so fucking angry on people who calls themselves skins, oiband, punks and they do it only to look cool, earn money and they haven´t an idea of what it´s all about, bands like Blink 182, Good Charlotte and other bad bands.
And also people who is doing a lot of shit, put on their boots, shave their heads only so they can fight.
Soccer, is it anything you´re interested in(if you are in which team, my ownis GAIS)?
Ron – For me it´s Gais which is the team, the other people like Blåvitt(IFK Göteborg)
Could you do a song to a footballteam or something else you burn for?
Ron – Not to a soccerteam, as I said we´re supporting different teams, ha ha. We hadn´t done that anyway because we think that our music haven´t anything with that to do, I know that other oibands have done it but we don´t want to do the same thing as others.
Politic and music, does it goes hand in hand?
Ron – It depends of what you call politics, maybe some political things but we think that music should be music, otherwise you can be a politician instead.
Where do you stand when we talk about politics?
Ron – From nowhere to the left but it haven´t anything to do with the band, we writes about what we think is important.
Is there any good political bands around?
Ron - KSMB was good, but it was because of their funny lyrics and good music, now it isn´t so much of those things, it´s too serious and extreme in that style.
Is there any good bands in Sweden?
Ron - Hmmm, if Asta kask can be counted they´re really good, and I like Medborgargardet from Gothenburg, and otherwise it´s a little bit dry right now.
Is it many interviews, is it boring?
Ron – Yeah, very much, from all possible countries, you can be really surprised sometimes. It can be boring with the same questions in all interviews but this was fun , and it´s more fun in Swedish.
Which is the question you never get but you want to have, please ask it and answer it?
Ron – Question about the music, for example , favoruiteguitarist, drums , how we get foreward our sound and so on. It´s actually music we´re doing, haha.
Answer to that is that I have Olga from Toy Dolls as a favoruiteguitarist and also Adrian Smith and Dave Murray from Iron Maiden and Angus Young /AC/DC.
Jonsson have Bill Wards as one of his favourites.
The sound we get foreward through mix the sound from all bands we like and we plays mostly on old stuff, , Fender telecaster, Ludwig drums and so on. We try to have an old sound but new and good in the same time.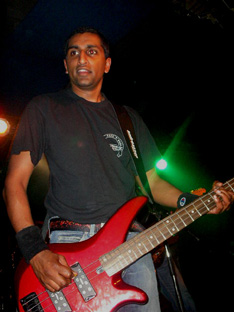 How is it working with Bandworm records?
Ron – Fucking good! We´re really satisfied and we hope that Bandworm is that too. This is the best label we have been on. And we have been and met the labelmanager(Mark) in Germany and he is a really good and serious person. We hope we will work together with Bandworm for a while.
What have you done except Confront, Från flykt till kamp....? How can I get them?
Ron - Voice of anger Lp/Cd, No Shame Lp/Cd, Göteborg Ep and Stories From The Past Lp/Cd. You can buy them from www.oiaintdeadrecords.com or Madhouse in Gothenburg.
To be on compilations, is that good?
Ron – Yes, it is, and especially the first Brewed in Sweden because then the rest of the world explored us and that have been a lot of help. ,
You have been on both Bronco Bullfrog and Blind Beggar and now on Bandworm, why do you change label likes that?
Ron – Bad deals and unprofessional style which we have to take us through to come to the right place at last and now we´re hoping this will suit us fine.
Please rank your five favourite records, five favourite concerts?
Ron – Wow, that was difficult.
Records: Templars - Phase II, Mr Review - Keep the fire burning, Iron Maiden - Peace of mindeller Powerslave, Combat 84 - Send in the marines och Adicts - Sound of music
Concerts: Iron Maiden Gothenburg, doesn´t remember which year it was.
Desmond Dekker - Lindesberg last year, Asta Kask Lindesberg, last year also, King Diamond Kåren, This is among the best ones I can come up with.
First, last and the most expensive record ever bought?
Ron – The first was Kizz Solo albums when we´re talking about the ones that I bought when I was little. The first punkrecord must have been Clash or Sex istols Never Trust a hippie (Live) what a bad soundquality on that record, ha ha
The most expensive, hmm, I don´t really know , I´m collecting old punkrarities, The latest record was the latest Discipline record anyway.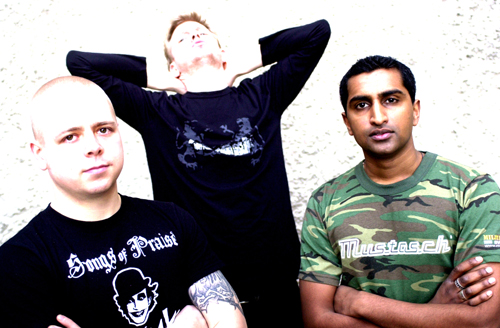 The most embarrassing record in your collection?
Ron – Wow, there isn´t anyone record like that , maybe Radioaktiva Räkor
Wisdowmword?
Ron – Think for yourself, don´t let yourself be affected of the shitcommunity, live your own life and you live more funnier.
Something to add
Ron - Perkele wants to thank for the interview and we hope that the people who reads the interview wants to buy our record which we have recorded with blood, sweat and tears. We love it and we hope that you do that too, Perkele is here to stay.
See ya!
I can only agree, buy their new record Confront and hear real and pure skinheadmusic.