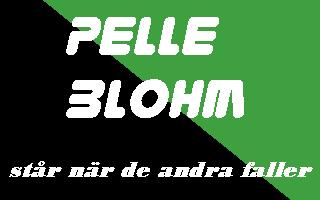 Pelle Blohm fast became a cultplayer and he´s one of the ones who´s been called a real GAIS-fighter and with a heart for the club. he came to the club 1999. He have a genuine rockinterest and therefore I interviewed him and that he was quit playing in GAIS. GAIS is a footballclub from Gothenburg which is really warm to my heart. The interview was done in the beginning of 2001.
Please tell me a little about yourself?
-I´m 34 years old and I´m born and grown up in Örebro, I´m living with Åsa and the cat Alf. I have played football in seven clubs, it´s BK Forward, Örebro SK, IFK Norrköping, Dalian Wanda, Viking Stavanger, GAIS and Utsikten BK.

What have been must fun in your acreer?
-The years in Norrköping, The prothing in China(there we became the ebst team in China) and the 99-year with GAIS must be the best and some things in some special match.

That you stopped play in the higher series in just GAIS, what does it meant for you, is GAIS forevere in heart after these years?
-GAIS is always in my heart but that I stopped playing in this club doesn´t mean so much. Maybe I got more written about me in this club. The mix of big city and a classic club is very good.


What´s the unique with GAIS and their fans?
-It´s very near between the players, leaders and the fans which let us get a feeling to be in a very big loving family.

You played one match for Sweden, which was it against and when and who were in Sweden at the same time?
-I played 12 minutes in a match against West Germany in their last match as West Germany. We lost 3-0 and they came with their whole team which won the worldchampionship 1990. In Sweden players like Hysen, Thern, Schwarz, Rehn, Ravelli, Roland Nilsson, Janne Eriksson and Limpar was in the team.

What do you think about todays swedish team, is Lars-Tommy to lame?
-To lame I don´t know, but they have coming in a very bad situation. Everything they do and say gets wrong in medias and all footballfans eyes and ears. Even when they take the right decision so it gets wrong in the end. I think that it´s lucky that they won their latest matches otherwise they haven´t been in the team, anymore.


What shall they do to get a funnier football??
-they must got a team together and which suits together. The individual players are there but they don´t suit each other. Tactically on paper they´re on the right way.


You will comment football on television, please tell me?
-Not much to tell. I work as a commentaryman for Telia Com Hems digital TV and it´s when they show Allsvenskan in football. I work there two matches a week and I´m in the studio and as a commentary man.


How shall a good commentaryman be, what shall he do and what shall he doesn´t do?
-It´s surely a thousand of opinions about that but I think that a good commentaryman which is on the side of the ordinary commentaryman must explain things which happens in the match in a deeper way. I think and I hope that it´s more true because I have just put my shoes away. I know people in the teams and I know what happens in the modern football.

What do you like the program Fotbollskväll?
-I like fotbollskväll and I like SVT.
The calm tempo , I really like it as a watcher.


Your chronicle after the match against Assyriska, wasn´t so nice against some players, where have you learned to write in taht good way?
-I think it´s fun to write. I write and read much because I want to be better. And then I hope I have some talent for it but it´s a choose for other to say. It´s fun that you liked it.


How do the old players which you have played with react when an old player write things about them that´s not so nice?
-Of course it´s a little bit sensitive but I think as long as your honest so will they accept it even if they´re getting angry in the beginning. But for my dignity I must write how it is and that I must do even if I know some of the players. But I would never do any bad things to them and say that they´re useless because it´s not my style.


How did you start to write your chronicle?
-Somebody asked me and I said yes because it´s a good way to be in the club and it´s a good way to show up my writingknowledge if I have some.


You still football in the division four club Utsikten, what´s the difference if you compare with higher divisions?
-Everything, but not the way to keep the team together and that we´re mates in the club.


You lost to my sons footballsteam Fässbergs IF with 4 to 1, was they good(he is only nine years old so he´s not in the team)?
-Fässberg was OK, they were fast, young and in this match better than us. Otherwise is division four is very many teams which is good and really many teams which are as good as any other team.


Which is your adive to a nine year old boy to be better as a footballplayer?
-Have fun and try many sports, listen to the trainer and whn you get a little older, tgrain harder and be curious.


He had you as an idol in the team when you played with GAIS. Did you get many letters and how is it to get them?
-I got maybe four or five letters during my time in GAIS. It´s only fun when I get them.

You get these answers and I must think a little more about the musicquestions and I will tyry not to take so long time to answer them.
Grretings, Pelle Blohm

Maybe not but nowadays he´s a the third trainer in GAIS so it maybe take a while to he´s answer these questions.