This is the first interview with a russian band I think. 25 years on and not a Russian band before….Sasha was so kind to answer my questions…..mars 2009.
History about the group, you have been on the road for many years?
-The Pauki start play in 1991 year. First album we record in 1996 "Flag on the flagpole". And now we have come out with 9 albums together with splits. The Pauki have 17 years on the stage!
Please tell me a little about every member, age, family, work, interests and something bad about every one?
The Pauki it's an old band, but only I'm and Max bassist plays now in the band from the original lineup. I'm working, make tattoos, ut´s called "Spiderland Tattoo Studio", plus I release Punk Occupation Compilations, it's an international compilation.
Bassist Max works. Zenja drummer is also DJ, punk parties in clubs in St.Petersburg.
The other guys also works, nothing special
Have it been changes in the line up through the years?
-Of course we have some more changes in the band. In The Pauki band iy have been 10-12 people. And I think it possible it could be more lineupchanges.
To play punk in Russia, how is that?
-Now time have changed in a better way. Long time ago to play punk in Russia was criminal… now youngsters can play any music, any style, and many people do not understand, that long time ago it was crazy laws against punk people.
If you have played punk before the Berlin wall fell how would have been taken then, as crazy bastards, criminals or what?
-I think and crazy bastard, and criminals of course. In Russia it was an old guy Egor Letov from Grazdanskaja Oborona, very many people know this guy and the band, and I would like tell you how much problems this guy had from the police and they beat him just because of his lyrics and opinions. He started play in 80´s, it was still hard time for punks.
What does punk mean to you, is it only a word or is it a lifestyle?
-Punk – of course it's lifestyle. But it's often in the early years, young style. I can't say that we always play punk music. If you listen to our music there more oi!-folk with punk atmosphere.
But I think that The Pauki can be called a punk band.
Beerpunk, what is that? No "real" lyrics at all?
-I would be called better BEER-CORE style. We play PROCHABILLY, Procha is our friend, but he died. And I called this style for his name. But in west people don´t understand PROCHABILLY, and I say BEER-CORE to other people!
Which is the most political song you have done?
-Yes, last time I also try tell for people something about lyrics against war. We have a few songs about this. I know what that songs and lyrics it's really can be a weapon but it´s dangerous to put words in lyrics! I don´t would like if someone from my lyrics can be killed!!! Not, only not this…
Is there any good Russian punk and which is really political? Other good Russian bands?
-Now in Russia it´s big problems in the political scene and everyday have some struggle between "right" and "left". This history is a long way back, and I want that this war ended. I´m personally is against this war, "punks & skins" without politics!!!
Of course I know more bands from Russia, but not all bands sings about something political, I like: Chimera, FPG, Caries, Beerocephals, Uchitel Truda, Tequilajazzz, Messer fur Frau Muller etc… this list can be very long.
How is it to live in Russia nowadays? What's the best and what's the worst?
-Now is life in Russia interesting and hard. Much more open possibilities, but very heavy earn. And last months very much changes to the worser. People have lost work and can't find any new work. I know a few guys without work now, and they don't know what will do next.
Is it many differences between rich and the poor?
-Hehe, of course. I think all hear about businessman why buys house in Europe. And believe me, this isn´t possible for all people from Russia. Very beautiful see big town Moscow, St.Petersburg and other big towns. But if you going for 50-100 km from any town you can see the REAL Russia. It's poor, poverty and ruined. All young people try going from those places to a big town. And old people be left dying.
A band like Tarkany are they big over there?
-O yes, Tarakany the band is our friends, and they have a very good public here. I think what very soon they can gather a stadium! Good luck for them!!!
Is it any big punkbands which have been over in Russia and played? (I meant well-known bands from abroad)?
-Punk rock in Russia have a good history. First band was Grazdanskaja Oborona of course. Also bands like Automatic Udovletvoriteli, Narodnoe Opolchenie, Yugo-Zapad, Chudo-Yudo, Nol, Mongol Shudan, Oblachny Kray etc, but they don´t play nowadays. Many guys from those bands is dead now.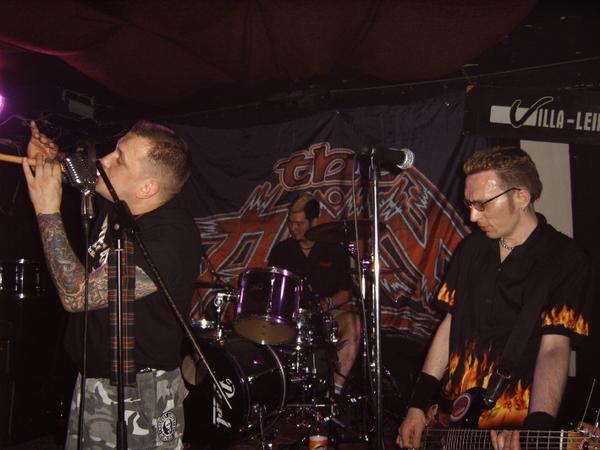 St Petersburg, how is the musiclife there?
-Real music life in SPb started in the early 90´s. Before that we didn´t have any clubs. The first club TaMtAm was great! All bands could play there without problem. Later other clubs open, and now there is much more interesting places for gigs, and for visit for a drink.
What do you know about Sweden?
-Sweden it's the great and beautiful country!!! When we´re going to Germany to do gigs we´re going over to Sweden, very fine when we go around the big sea! And if it´s possible we would like to make a few gigs in your country!
Have you heard any good Swedish bands?
-O! I know a few the great bands from Sweden The Bones, Perkele, Mob 47, Clawfinger, etc, and of course ABBA! Hehe… it's very loved band and my mother loves them!
You give out Punk occupation too,,,please tell me about it?
-We started to make this compilation in year 2002. I had a few different songs from different bands, and make my first PUNK OCCUPATION. Later people started to send me demos, and I myself started to offer participate on my compilation. And now I have 15 of this CD comp. I have started to complete the 16th.
New things like My Space, Facebook and those things, have it helped you a lot?
-Of course helping, because this is international and many more people can see and hear your music!!! It's great!
You have been a lot outside Russia and played, where have you been and where was most fun?
-Yes, we have visit a few countries in Europe: Finland, Germany, Holland, Czech, Slovakia. We have played on festivals like Antifest in Czech, it's a great place for playing music. In Germany in Dresden, Leipzig, Berlin is a very good town, there they know The Pauki and people do a cool support. We sings in Russian language, but people have liked it.
How does the average Pauki-fan look like?
-Now it´s a man 25-30 years, punks, skins, football fans.
Which song is the fans favourite? And your own Pauki-favourite?
-Of course it´s called MUG OF BEER. We are always playing this in the end of everyy gig, and this is really the favourite song for our fans! I think that fans can also this song. And for us this is also a favourite song!
You haven't done any cover-songs?
-Yes, we are make 3 cover-songs from Chimera band from Russia, NVU band from Czech and Die Zlaskhinx from Finland. All this songs we have recorded for tribute those bands. Other cover songs have we not make, because I think we need make something new and own.
Bira Bärs sounds really Swedish, where does that name comes from?
-O yes, this song Bira Bars was recorded in 2002 year, and this was an offer from our guitarist. He told us: hey guys, I know great Swedish words for new song! And offer us Bira Bars, this is from Sweden. Ok, ok, we can make this song! Hehe.
And now this is history.
Please rank your five favouriterecords? Five Favouriteconcerts? And five most important things in life?
-About records it´s difficult, because every year changes my favourite music, but I try to say 5 of the best bands in 2008:
Dropkick Murphys, The Bones, Horrorpops, Perkele, Jello Biafra & Mojo Nixon.
About 5 favourite gigs, ok, best of the gigs the last 17 years is:
28.09.08. - St.Petersburg "Roks Club"
25.04.07. - Moscow "Tochka"
24.10.05. - Leipzig "Villa" (Germany)
23.10.05. - Dresden "Luise" (Germany)
07.08.04. - Svojsice "Antifest" (Czech)
I think this was the great gigs, but of course each our gig is a good show for us.
About life, I think it's: my family, my daughter, The Pauki, Tattoo, Peace (which isn´t is).
First, last and most expensive record ever bought?
-My first record I buy in 1984 was LP Kansas the band from 1977. I hope you know it was hard finding some music in this year. Because I was in school and didn´t have any money. The LP price was around $ 30, very expensive.
And last CD I buy was Last Resort for 10 euro in Finland on a gig with Lest Resort.
Most embarrassing record in your collection?
-About this I can't speak really, because for me I hear music music from the whole world, and I cannot now remember any embarrassing record. Ha, maybe I can say grind music from Mexico, it's not possible to understand, Voice monster. Maybe this.
What about mp3 and downloading, where do you stand?
-Mp3 music from the band helps a friend from German us to put out on My Space and Youtube. I don´t do this work myself.. Also in Moscow I have contract on mp3 internet.
Is it good or bad for a band of your calibre?
-Now´s the time of internet and mp3 format, and this a better method for yourselfs reputation! I think it's good of course, but only one problem, people won't help to bands and don´t buy some production of the bands. It's very not so good because it´s very expensive prices for record in a studio, and we need earn money for this business. In Russia it´s hard to search any label and we want money for our records and so it can come out more CDs..
How much does a band like Pauki sell of your CD..s?
-Not very much, I told you that we have mp3 on internet. CDs is liked by people for collections.
We selling around 1000 copies of each album. Only Splinters of the Mind have sold about 2500 copies and Through around 1500 copies.
many copies I change with other labels and bands from the world.
Futureplans for the band?
-We are now ready to make a new record album, which will come out on CD and LP. After this we will tour Russia and Europe. But for the start we need to make this record. Also hope visit Sweden with some gigs!
For yourself as a human being?
-Human… future not reality, Space attacks, can't speak right…
Wisdomword?
-Take Care my friends! Life beautiful and danger, be courage and attentive!!!
Something to add?
-Make filter of TV news, they lie and they be happy if people take guns for war between yourself!
Keep your mind!
Thanks
Sasha
THE PAUKI
Discography of THE PAUKI:
01. THE PAUKI "Metallostroy Destroy" (live) 1994 (tape)
02. THE PAUKI "TaMtAm's Biological Strengthening" (live) 1995 (tape)
03. THE PAUKI "The Flag on the Flagpole" 1996 (CD, tape)
04. THE PAUKI "The Dragon Tooth" 1997 (CD, tape)
05. THE PAUKI "The Holiday at the Lunatic Asylum" 1998 (CD, tape)
06. THE PAUKI "The Arakhnofoby" 1999 (CD, tape)
07. THE PAUKI "Wild Dances of Dead Dogs" 2000 (CD, tape)
08. THE PAUKI "The Pauki: Is That What You Expected?" (the best of) 2001 (CD, tape)
09. THE PAUKI "Through" 2002 (CD, tape)
10. THE PAUKI "The Splinters of the Mind" 2005 (LP,CD)
11. THE PAUKI "1994-2002 mp3" 2005 (CD)
12. THE PAUKI/THE VENDETTA/SICK OF SOCIETY "A.R.E. Freundschaft" 2006 split (LP,CD)
13. THE PAUKI / OTSTOI / DEAD RABINZ "split" 2008 (Russ/Germ/Israel) (CD)
14. THE PAUKI "The Das Ist Pauki" 1999 video tape (60 min, PAL system)
15. THE PAUKI "The Pauki and no snivel" 2003 video tape (65 min, PAL system)
16. THE PAUKI "15 year over boat" 2008 (DVD)