Paranoya is a german punkband which a lot to say and therefor I let them do that in this interview. It was done in October 2015
Please tell me a little bit history of the group?
Hendrik: Hi! At first i like to say thank you for the possibility to talk about our Band in you Zine in Sweden. Second thing, i have to say my english is not so good how it should be, so i therefore apologise in advance if my grammar is not so good. History, so on! We startet in 1994 in our Hometown Hamm, near Dortmund, in a little room behind a Garage of our first bassplayer.
We used old hifiamps for our guitars, cause there was no money for a good equipment. In 1996 we started serious with a first little Demotape and the Name PARANOYA was found. At first we played shows in Hamm and in this Area. After two tapedemos we released our first 7"Vinyl and played a lot of shows in Germany.
Marco: I joined the band in spring 2004. The bass player at that time left and I was asked to record the next album with Paranoya, just to help the band out. Now we got 2015 and it seems that I never really left, we just never talked about leaving the band again (smile), so at the end my part-time-job made me a full member of the band…sometimes life is just a huge surprise.
Thorsten: I found those two tiny nerds in my boring hometown in 1994. We listened all to Heavy Metal and a bit punk, I have to say, so that my bandmades are satisfied, hehe. After two years Of making noisy and lousy music the Band began to play punk rock. The bass player quit and for me it was too late to run away.
So the Metalman and the two punkheads began their career hehe.
Please tell me a little about every member in the group right now, age, family, work, interests and something bad about everyone? Earlier bands?
Hendrik: I am 36 years old, study Socialwork and have a job.I am intrested in, Music, Soccer and Biking. PARANOYA is the only band i ever played and still playing for. Something bad about everyone? I dont know, hehe.
Marco: I am 37 years old and really interested in music and bass playing…obviously ;-).
Zwiebel: I am 35 years old and a carpenter. My interests are Music, music, music, concerts, books, comics and videogames. Bad about me? My english! Haha! Today I have a second Band called Dörpms. Check it out!
Thorsten: I am 37 years young and really frustrated about my job as fucking postman in my fucking hometown. My insane and nasty girl quit last month. My Volvo need some very expensive repair. The GEZ (Beitragsservice Köln) sent me a huge bill. They want me to listen to TV every day.
Help !!!
I can hear much both anarhopunkinflences, hardcoreinfluences and some deutschpunk here in your music? Am I right? Favorites from the past?
Hendrik: I like Crass "Feeding of the 5000" LP very much, or the Gorilla buiscuits "start today" Lp and Slime for example of this three types, so there must be an influence of our music. But that's not all, I also like EA80, Joy Division, Cure or at the moment Holograms from Sweden. A lot of postpunkbands. And some old Metal stuff. So there is a big range that has influenced our music.
Marco: To me there´s also a big range of influences. I like a lot of metal-stuff and I am most of all fan of the extreme metalgenres like Deathmetal (Cannibal Corpse, Nile, Krisiun), Blackmetal (Emperor, Darkthrone) and Doommetal (My dying Bride, Ahab). I don´t know if someone can hear that by listening to our music, hehe. But you will also find Jazz, Classic Music, Pop, Rock and even Folk in my living room.
Thorsten: For me the important influence was in the early nineties the Powermetal Band Rage.
The uptempo beats gets me in the style of my drumming. Combining Metal and Punk Style beats, for Paranoya was and is the Mission.
Zwiebel: That's right. My favorite bands from the past are Giuda, Bishops Green, Gogol Bordello and Baboon Show.
Paranoya are you satisfied with the name? How did it came up? You took the Y just because of the fact that many other bands surely could be called Paranoia? Which is the best bandname you know?
Hendrik: I am satisfied with the name, there is nothing more to say. We have been searching old medicine books or other stuff to find a name and than we found paranoya. We know that one Band from the DDR called Paranoia, too. But we don't care and write it with "Y". The other thing is why we are changed "i" into "y". When we started we've been 15 or 16 years old and in this time the oi-szene here was getting big. And in this backround, there've been a lot of naziskinheads who tried to infiltrade this szene. So in this young years i didnt't want to get in this circle. Best bandname? I don't know.
Thorsten: Jaap. The name is important and describes the personality of the insane and nasty drummer in this Band.
Zwiebel: Best Bandname? J.B. and the Guantanamo school of medicine!
What´s the best thing with playing live? And what´s the biggest difference if you compare with when you started to play gigs?
Hendrik: The best thing for me, is just the pure energy on the stage. I am always nervous before the gig starts that really hasn't changed since we started. But when i play my first chords it is just gone and i am in a different world. Today, we are a bit more organized when we have gigs. We got our amps and our stuff (merch) with us and so we know how to handle it. In the beginning we often need to ask for stuff like amps or speakers, so sometimes it was kind of stressfull.
Today we got all to play live and just have to share the drums or the speakers for guitar/bass with other bands.
Zwiebel: The Energy on stage. I love it to dive into the music. And today we play "cleaner" and not to drunk on stage.
Marco: All of us are just better musicians than in the beginning.
Thorsten: Is their enough food bevor and after the show when I sweat all my energy on the stage.
And where is best to play? And the worst place?
Hendrik: The best place is when we recorgnized that people are really into it in organising gigs and trying there best, so that everyone and the bands are having a good night. I really like Oetinger Villa in Darmstadt, Haus in Kassel, Djäzz Duisburg, Druckluft Oberhausen, AZ Mülheim and so on, there are a lot of places. The worst place, hmm ... we have some but it could change, so i dont want to name places.
I think important is, that the bands are having a good place to sleep, if they need it and that they get food, drinks and the money negociate.
Marco: The best place is where people like us and appreciate what we are doing.
Thorsten: Mmh?!? Everywhere where we get enough food bevor and after the show.
How is to play this sort of music in Germany right now? Which types of bands do you have concerts together with?
Hendrik: The shows we play here in Germany are mainly shows in little clubs and often good organised. In the last years we played some gigs with BicahunaS, Schwarze Schafe or Kontrollpunkt.
How would you describe your music in three words?
Hendrik: Technical Death Punk, hehe!
Marco: I can´t say it better than Hendrik does, hehe!
Thorsten: Metalicum Technicum Death Punk !!!
Hendrik / Zwiebel: Three words, please! Sounds better, only TDP!!!
What does punk mean to you, is it only a word or is it a lifestyle?
Hendrik: It is an lifestyle, just trying to life my live how i wanted it to. Trying to stay open minded and true to myself. Having an antifascist attitude!!! Look for me it is more then even punkmusic or fasion. Punk is for me trying to create Music, Art, or a lifestyle on the edge of the mainstream. Also to have a critical view on society and our own szene. I think i really not look like a punk now, got a job, paying bills and so on, but i dont care. I am still intrested in trying to create things, and that means more than just putting a badge on my jacket or just to consume things from others.
Zwiebel: A lifestyle, yeah! But sometimes too many rules!
Marco: I´m trying to stay open minded and authentic as well, and of course I am tolerant and antifascist as well. I am just me, I don´t know if it´s a certain lifestyle, I don´t like labeling a life a certain lifestyle.
Thorsten: Stay Punk (open minded) and listen to fucking Heavy Metal.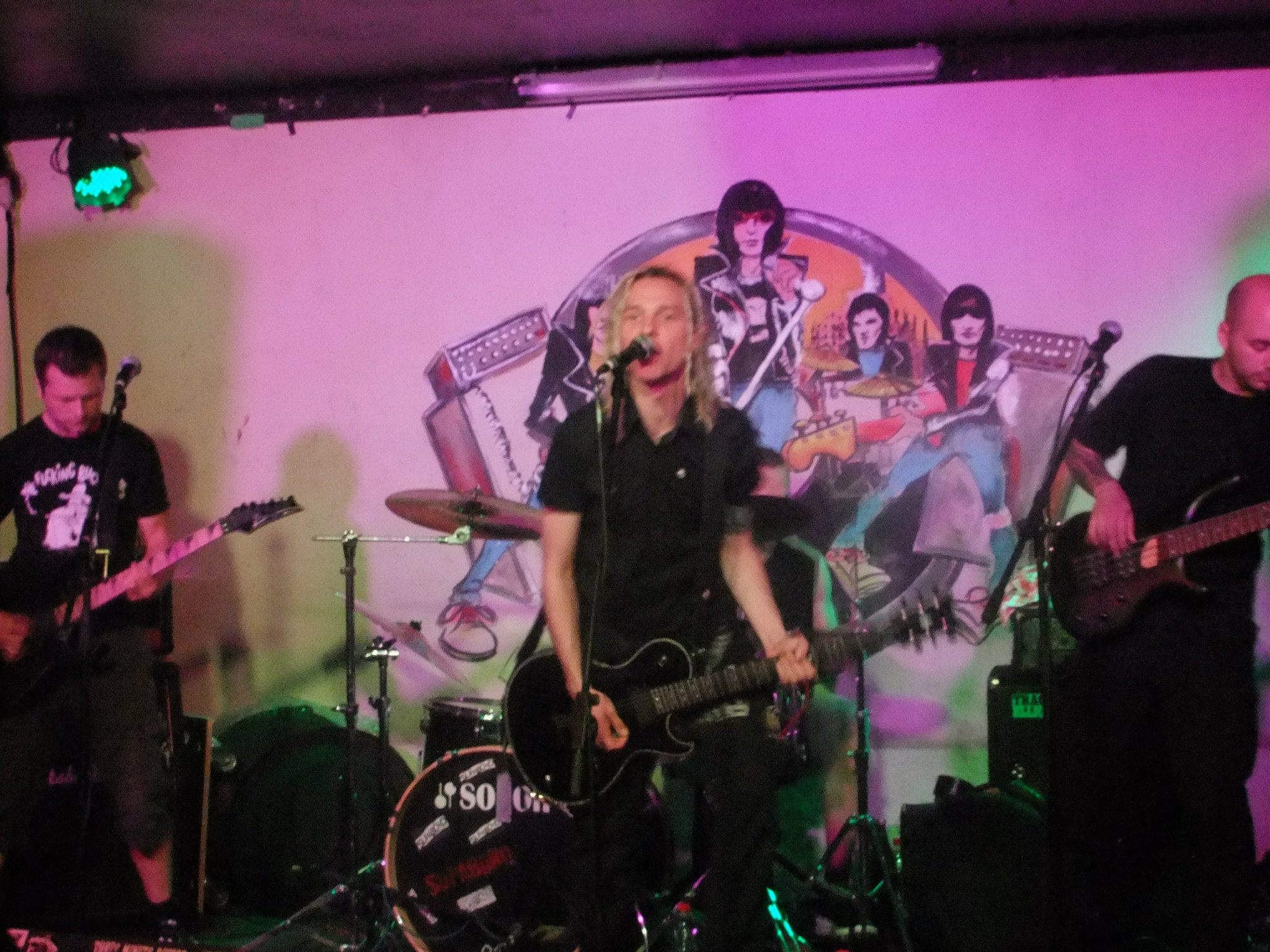 How do you see on downloading, mp3 and that stuff?
Hendrik: To this point, i have to say, if you want to enjoy music, you have to listen to Vinyl or maybe CD! But Mp3 or streaming and also download music, is a way to get a first impression of a Band. We still using this way of promoting our Music, to get Shows and to distribute our music. So you will find our Album as streams or downloads on the common platforms and people can listen to it or buy a download Album. I still got Mp3 of course for my car or when i am not at home. But Vinyl is still the best!!!
Marco: Hendrik got it! It depends on where I listen to music, at home I love Vinyl, on the road I love CDs and mp3.
Thorsten: Mmh!?! I'm a downloadwhore. But also having a huge CD Collection.
How is it to live in Germany now? Politically?
Hendrik: How can i discripe it in english? Let's try, so i think we are living here in a political dangeorus time. For me we have a mantality of egoism and patriotism here in this country, wich is pissing me of! Me first, is the maxim!
If the others suffer we don't care! And we don't want to share or understand why people are coming over to Europe or Germany. Near to us is war, people dies without any reasons but here we just scared that they will abuse us. I really can't understand this way of thinking. Refugees are welcome. I dont know what war is. And i am happy that i dont have this experience. I dont know what it means to lose everything and have to leave a country, home and family cause i have the wrong colour,religion or sexuality. And I dont know how it feels to have no future in a forgein country, because i can't speak the language or my qualifikations are not accepted. A lot of them are sleeping in a tent in this rich country, without electricity for example wich is just normal for us. They know what war is and still having a trauma but we are scared. How stupid. In Germany is Pegida (Patriots against the islamification in Germany) and they are very dangours. They say that they are normal citicens and they are scared that the islam or the people who escape from war, wants to kill the germancultur. Of course, there are some stupid normal citzician with this attitude but if you look behind this szene you will find a lot of orgenised people from the right wing. And they trying to implitate there way of thinking in the middle of society. I think at the moment it is so easy to spread prejudices and bash people here wich are not looking really german. Most German haven't changed their mind and always hide there opinons, but now it is mainstream and the old rassicm comes out. It is always: "I dont hate them but ...." "I'm not a Nazi but…" "we should take this may say that...". I can't hear that anymore. Everyday you can find news where people or asylumcenter will get attacked! I really hope that we don't get the earliey 90s back with Rostock or Lichtenhagen, but it is possible and close to it. At least i also have to say, that a lot of people and organisations trying to help the people here to give them possibilities for there lifes. We supported this as good as we can.
Zwiebel: Today it is a bit like in the 90s, where people have been scarded about the refugees. The history repeats, some humans will never learn. But a lot of people here say: Refugees Welcome! And that's good.
Marco: Stupid und dumb people will never disappear, that´s sad but true.
Thorsten: The humanity will bring it to the end. A few years and we listen to black clouds in the dark sky.
Is there any good bands from Germany now? Is the punkscene big? How is it in your hometown?
Hendrik: Of couse US!!!! Ok, I like Turbostaat, Front, Love A, BicahunaS for example. Or the new Album from Toxoplasma is great. I think we have good Punkszne in Germany and in my Hometown Duisburg. Here is the Center of the printmagazine Plasticbomb, wich i really like. I have to say we are living here in "Ruhrgiebiet". We have a lot of citys, so i have to talk about the punkszene in this area. The szene is connected from Duisburg to Dortmund for example, by train it is 5 minutes to Oberhausens Druckluft or 10 Minutes by train to Az Mülheim(Concertplaces), 20-25 Minutes to Bochum or Essen. And you always find people on concerts wich you know. I really like it.
Zwiebel: Yeah! A lot of good bands came from here, but I like more the "older" bands like Oxymoron, Goldene Zitronen, District, and so on. Since one year I life in Duisburg, too and Hendrik is right about this area here. Many cool Town's, people, bars concerts.
Hendrik: You right! Oxymoron, Goldene Zitronen, very cool Bands!
What do you know about Sweden?
Hendrik: Oh! Hmm, i just know stuff wich i learnd at School. So on, Capitaltown is Stockholm. Sweden got a Monarchy and a parliamentary democracy. Sweden is Member of the EU but not of the NATO. Also Sweden don't have the Euro but the "Krone" simlar to Great Britian. Over 9 Million people lives in Sweden. Now, i have to check Wikipedia ;-) that's all.
Marco: I visited Sweden this Summer with my girlfriend, and we were just overwhelmed by your nature. We liked as well that your country is not so crowded like we know it from where we are from. A lot of people we met were really kind and we had a great time up in the north.
Thorsten: I like the TV series Wallander and Annika Bengtzon. Someday I will travel with my old Volvo 740 to Sweden and take a look around. Yeah!
Zwiebel: Very great countryside. Good musicians but expensive beer!
Have you heard any good bands from Sweden?
Hendrik: Baboonshow for example really really great! Than Holograms, definitley one of my favorites Bands at the moment.Wolfpack, Millencollin, Beyond Pink, Asta Kask, Randy are others. The Hives (first two records great!!!), Backyard Babies, Hellecopters, not really Punk something betwenn maybe but i like it Or Refused are still great. If i check my Records mybe i will find some more.
Marco: As I said above I am really into Metalmusic and I love Bathory, for example.
Thorsten: My most favourite is Arch Enemy with Johan and later Angela. The new female singer didn't make it. Soilwork, old In Flames, Dismember , Sonic Syndicate ( very cheasy) and so on.
Zwiebel: Yes of course. Asta Kask, Perkele, Baboon Show, the Vicious, Wolfpack, the Movement and ABBA, of course.
Your lyrics, who does them and what influences you? You did some song in english, why??
Hendrik: I write most of the lyrics and some Zwiebel. But everyone can write and sing in our Band if they want to! My influences you can see above. But there a lot of bands, who influences our music. If they are all influences my lyrics? Is difficult to say. I never really thought about it, cause when i start writing, i just write things down and don't think: Oh! this text reminds me to this band or that band, cause that are my thougts. So the lyrics could be political or more personal and always discriptes my way of thinking.
Why did we wrote some english lyrics? Hmm, for me, i have to say, when we started, i thought that some songs needed english lyrics cause the music sounds like it. We did a lot in the beginning and i thought that the lyrics i wrote sounds not so dump, as i sing it in german. But now i have to say, i was wrong and this chapter for me is closed. Cause my english is not so good to explain things right, you always hear my akzent and i did a lot of mistakes like grammar and so on, like here!
One reason, why we have on the Album "Atmen" only two songs in English and on "Beobachter" only a refrain on "Uncertain". On our new Album there are no english songs anymore. And i thing i will never write one again.
Is there any subject that you never will write anything about??
Hendrik: Oh! I really never thougt about this! Cause i always write lyrics in my personal view and trying to explain or show things wich i see or feel. But oh of couse, i will never write a drinking fun punk song!
Politic and music, does it goes hand in hand? Which is your most political song?
Hendrik: Of, course!!! It is one of the strongest connection! Music will always be a way to show people what is not right or where we need a change. And mybe they started to things and prove there attidute and trying to change things. There are a lot of song wich influnces, direktly or indirektly, the politics in a land. When we started i wrote a song called "Freitag" wich is direktly against fasicm and discripte a experience wich Zwiebel and i had, when we got nearly bet up by naziskins in the 90s. The other direktly political song is now "Narren" on the new Album "Fragmente". In Germany is a big szene wich called "Deutschrock". The lyrics of this Bands are very konservativ and for me they have a lot of fasicm elements. They spread a manhood or a "be proud of your land" image and trying to infuence the punk or alternative szene with there attitude. For me Punk was and is always anti-fascist, against homophobia, against rasism, etc. And thats what i am trying to say in "Narren" and make clear that we are aginst this new "Deutschrock" szene or actually Pegida.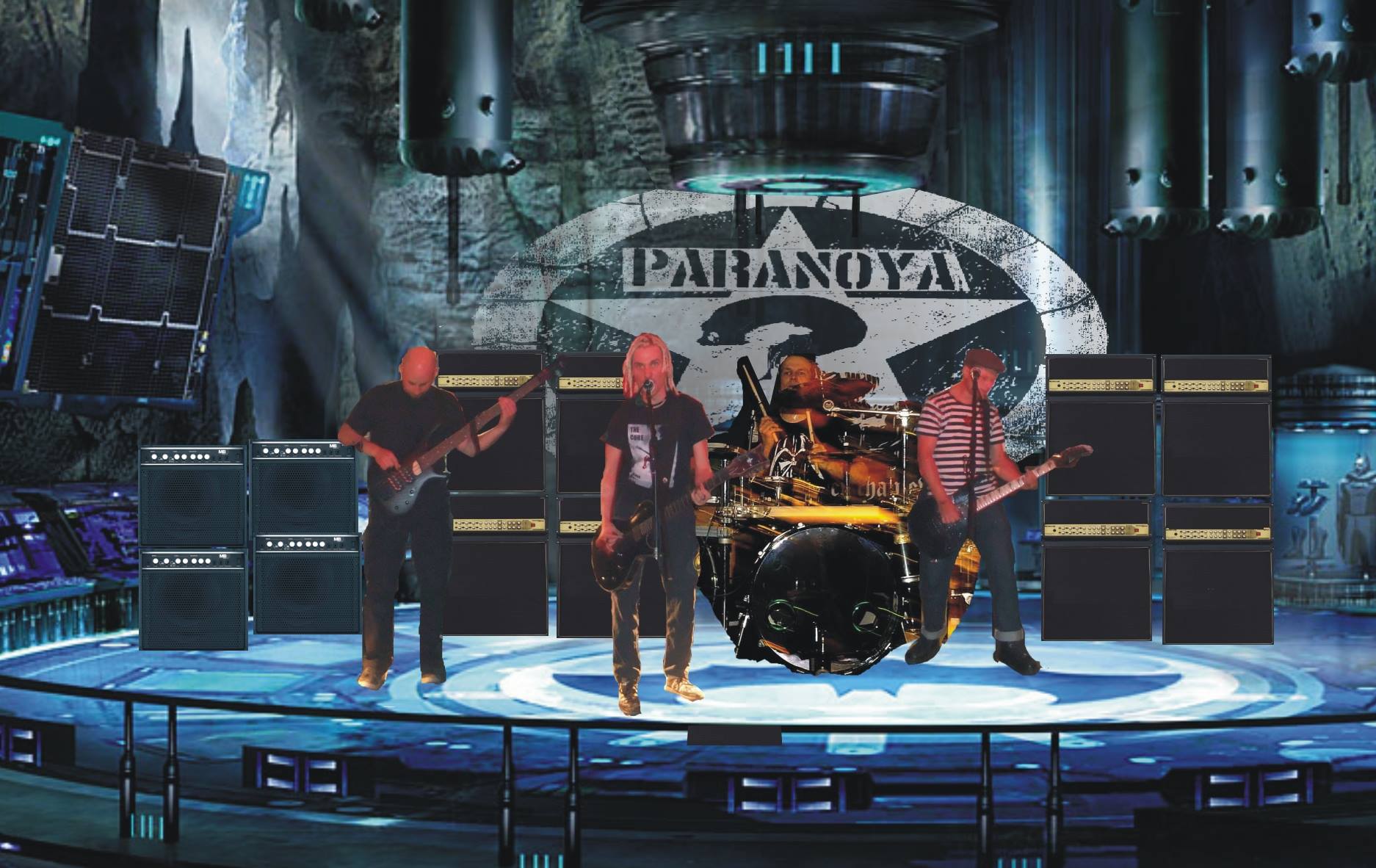 Best political band/artist?
Hendrik: Ton Steine Scherben was/is my favorite political german Band and the frontman Rio Reiser. Old Rockgroup from the 70's with very brilliant emotional-politcs Lyrics. And the lyrics are still up to date!
Marco: Napalm Death!
Zwiebel: MDC, Subhumans (UK) and of course Ton Steine Scherben.
Do you think that music(lyrics and so on) can change anyones life, I mean people who listens to music?
Hendrik: It depends, in which way you listen to music. If it is just to get drunk and to party hard, than that's all and no development will happen. But If you listen to the lyrics and how the bands made the music, i still have to say it can change lifes. It still changed my life and it is still changing it. New groups are coming with new lyrics and new views and so with new influences.
Marco: Yeah, music changed my life definitely. Without music my life would be empty, that´s for sure.
Thorsten: Everytime when some of my nasty and insane girls quit I listen to very loud and fast Death Or Black Metal CDs.
Zwiebel: Music has changed my mind and my life.
Your cover on your CD looks really nice, is it important to have a record cover which shows people which type of music you play? Your favorite recordcover? Who does your covers?
Hendrik: Thank you for this compliment. I made the Cover of our Albums and yes, for me it is very important to show with the Artwork wich kind of music could be on the record! I need a lot of time to get it ready and i always compare it with the music wich we recorded and trying to catch the feeling of the recording in the Artwork. It is just one part of the music! One of my favorite Cover is the "In Utero" from Nirvana or "London Calling" from The Clash for example.
Zwiebel: Thanks. One of my favorite Covers is: "Zoundz-The curse of Zoundz" with the firefighters on the front and petrol truck on the back, hehe great!
Is it important to get out physical records of your stuff? Why or why not?
Hendrik: It is! I dont deny mp3 or streams but i told it before, if you really want to enjoy and listen to music you have to buy Vinyl or CD. There is a difference between having music just in a cloud or on a mp3 player or just hold a record in your hand.
Zwiebel: Yes! It is same like books or comics, don't like it on a display.
Please tell me a funny thing which have happened during your career and under some gig?
Hendrik: Hmm, a lot funny things happend when we played, i just remeber "Terlfete openair" years ago. The band before played a mixture of crust and hardcore, very noisy. The audience started to throw their cans and plastikcups to them. We were drunk and stood behind the stage and saw this. We put our guitars beside, went on the stage and started to catch the cans and cups and throw it back to the people, so that the other guys can still play. After that we just started to play and the people spit at us! And we spit back! It was a bit wierd couse they started to pog and dance and call for an encore after the gig. Another thing was Darmstadt, where we played with Stressfaktor and AnsichtX. It was a good show of all Bands. And when the last band started to put the stuff from the stage. We went up and started with the guys from the other bands a jam session.
After a few minutes, all bands were on stage and we played together maybe half a minute just sounds and ryhtm and the audience just stayed and danced, that was really great.
Thorsten:Mmh?!? Our Band leader (some call him Hendrik the killer ) broke the leg from an fan that was laying on the stage. After the show the band have to run as fast as we can hehe.
Hendrik:: Oh! I Forgot this story. It was an accident, this guy was trying to sleep on the stage, cause he was so drunk. I didnt saw him and so....
How does your audience look like? Which people do you miss on your concerts? Which is the biggest band you ever have played together with?
Hendrik: I really can't say that the audience have a spezial look, it is still a mixture of all and depents on the citys where we are playing. The Biggest Bands we played was defnetly DOA and Real McKennzies.
Thorsten: More Metalpunk Heads !!!
Zwiebel: Sometimes I miss old friends on our shows. Maybe they are to busy…
Please rank your five favoriterecords, five favoriteconcerts and five most important things in life?
Hendrik: Ok i will try.
Favorite Records: "Nirvana - Nevermind",
"The Cure - Desintigration"
"EA80 - Grüner Apfel"
"Fugazi - Repeater"
"The Clash - London Calling".
Favorite Concert: The Fixtures, The Cure, EA80, Turbostaat, Editors
Five importent things in Live, that´s difficult, maybe it was, when i moved to Duisburg and started to study. That changed a lot.
Marco: Uh, there are so many bands and concerts worth mentioned by this question, if you look at question 3 you will have an idea whats impressed me this far.
The five most important things in my life are:
1. My girlfriend
2. My family (including all the pets)
3. Music
4. Nature
5. Literature
Thorsten: Paranoya
My bicycle
Nature
All girls that Stay by my side for a few weeks
Zwiebel: Only Five Bands?
1. Agent Orange – Living in darkness
2. Gorilla Bisquits – Start Today
3. Cock Sparrer – Shock Troops
4. The Jam – Staturday kids (Peel Session)
5. Meteors – These evil things
Favorite Concerts:
1. 7 seconds (because they played the complete "The crew- Album"
2. Gogol Bordello
3. Cock Sparrer
4. Oi Polloi
5. Angelic Upstarts
Important things:
1. Leaving my hometown
2. Start to play guitar
3. taste beer
4. discover new bands/music
5. find out that love sucks
Is it boring with interviews? Is it much interviews??
Hendrik: We dont have many interviews, so it is not boring. I am just happy if people are intrested in our Band, our Music and wants an interview.
Marco: I like interviews.
Thorsten: The Band want me to answer this questions or I get hit and mangled by them (Help!!!)
Hendrik: Thats right! And you made it!!!
Zwiebel: Yes, it is boring. All those thousand interviews we have to make. Normaly at this time i play videogames. But now i sit here, drink beer, smoke and listen to surf sound. It's terrible, hehe!
If you could choose five bands from the past and the history and nowadays and both dead and living bands to have a concert together with your band. Which five have you been chosed?
Hendrik: So it is a wishlist? Good, if it is possible i would like to play with EA80, (Old)Dead Kennedys, The Clash, Baboonshow, (Old) The Cure.
Marco: Again, just look at question 3.
Zwiebel: Elvis presley, Ennio Morricone, Johnny Cash, Motörhead, Man or Astroman
Is music a good way to get out frustration and become a nice person outside the music??
Hendrik: That is the point! You got the answer in the question. Defnetly it's the way!
Marco: Yes!
Thorsten: Mmh?!? I'm a grimmy and angry Person since I was born in 1978. But playing and listening to music(+ minimal alcohol) can take all this for a moment away.
I live for this moments.
Zwiebel: Outside our music we are not nice people, specially our drummer. We are outlaw death rockers and after every show we eat our fans!
Which is the most odd question you ever have got in an interview?
Marco: To get asked what was the most odd question, hehe.
Hendrik: You got it, Marco!
Zwiebel: Why play your drummer a doublebass in a punkrockband? He hasn't!!! He is only quick.
Which is the question you want to have but you never get. Please ask it and answer it?
Hendrik: ???
Zwiebel: Do you want to rule the world? Yesss, I want. Har! Har!
Futureplans for the band?
Hendrik: To come over to Sweden and play a tour, yes!!! So if people like to organise 4-5 shows in Sweden we would come and play. The other is to record the next Album, cause we got some new songs!
Marco: Just keep the whole thing going.
Thorsten: Conquer the World and dictate every human to buy Our New record!!!!
( like Beitragsservice Köln) hehe!
Zwiebel: A new record before we are 40!
For yourself?
Hendrik: Just staying healthy!
Marco: Yeah, staying healthy is more important than anything else!.
Zwiebel: I want to buy a new washing machine
Thorsten: Just staying angry and healthy
Wisdomword?
Hendrik: Not really! Just listen to our stuff, and if you like it, buy an Album on Vinyl or CD!!!
Have a look on www.paranoya-online.de! Thanks!
Marco: Music! In music there is more wisdom than in anything else.
Thorsten: Wisdom ?!? No thanks !!!.
Zwiebel: Revenge is a dish that is best served cold!!!!
Something to add?
Hendrik: Thank you very much, for this opportunity to intedruce our Band in Sweden! I hope that the people understood my answers cause my english..., you know. Maybe some people are intrested now to listen to our music, so that we can come over!!! I like the way to think that some people are listen to us in Sweden, now. Thank you for this!!! All the best.
Marco: Thank you for this interview!
Thorsten: See you in Sweden when we play with paranoya in your hometown!!!
Zwiebel: Thanx for the interview, good questions. Cheers to Sweden.