Paranoid Visions have started up the band again and they have recently given out a new CD. It´s good and their gothic influenced punkrock is really good. They answered my questions the 20/6-2007. and it was the same day as I send the questions to them.
When and why did you start to play? And why did you start the band again
-We started the band in about 1981 / 1982. Initially the reason was to express ourselves, have a bit of a laugh, get into gigs free and be creative as a means to escape the normal drudgery. We reformed, on every occasion, because we had never actually split up...the band just kept going on the back burner and then a catalyst would come to reignite us...first it was the offer of the Sex Pistol gigs, then the Damned gigs, then most recently the back catalogue being released...this time we decided we had a really strong line up together and decided to write and record new material and keep it going.

Please tell me a little about every member in the band, age, family, interests, work and something bad about every one? Both new and old members? What do they do nowadays?
-Deko: vocal. Age 43. doesn't speak to any of his family, loves punk rock...something bad? Well as he has been my mate for 26 years that's a hard one...maybe he is a bit self opinionated, but then again whats bad about that?
P.A: guitar. Age 41. happy family, married with 2 kids. Loves cars and movies and music! work in printing. Bad stuff???? Its me..i don't have bad stuff!
Sarah Bellum: vocals. Age 26, has a little boy, loves movies and the gym...bad stuff...talks fast when drunk!
Joe Libido: guitar. Age 44, not much family! Loves anything that's gadgety, studio stuff, guitars. Bad stuff..can be as unreliable as a lada
Paul O Tician: drums> age 27, headcase! Like sex and drugs and rock n roll! Bad influence!!!!!!!!!!
Kev7: bass 28, student who loves electronic stuff, girls and beer. Has the memory of a goldfish

Ireland as a punk country how is that?
-Not great. There aren't a whole heap of punk bands worth mentioning, lost of gigs, but mainly in Dublin

What does punk mean to you? Is it only a music style or is it a lifestyle?
-Oh it's a lifestyle..through and through...you aren't a punk just cos you spike your hair...in the same way as you aren't a policeman by wearing the uniform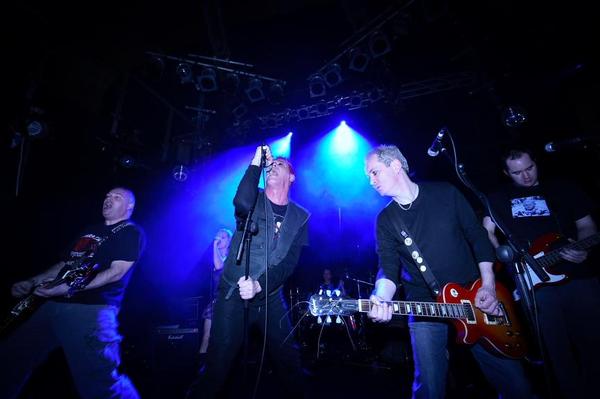 Which is the difference between playing nowadays if you compare with 20 years ago?
-Huge! We get taken more seriously! There are less fights! The gigs are bigger and more professionally arranged

Is there any good bands around ....in Ireland?
-Yes...us!
Also Runnin Riot, Dropping Bombs, Mongo Horn and a couple of others I'm sure

What do you know about Sweden?
-Tall people, blond hair, pretty girls, Volvo and Saab, a bit cold and you all love ABBA.

Have you heard any good Swedish bands?
-Abba! Weren't 2 unlimited or someone like that Swedish???? Punk bands though...not many that I can recall...Totaliäar and Avskum....were Bannlyst Swedish?? Kleenex were weren't they?

What..s the best and what's the worst of being a girl in a punk rock band?
-Sarah just sent me the answer by text:
The best is being the prettiest in the band. The worst is the smell of feet.

How would you describe your music in three words?
-Melodic, raucous, polemic

Which type of people comes to your concerts?
-The audience is made up of a range of people from 18 to 45, punks, skinheads, straights, boys, girls, metallheads

Which type of people do you miss on your concerts?
-Quiote a few of our mates have died over the years...them.

When you do a song, which is most important, is it to have a good lyrics, a good melody or to have a refrain that people remembers?
-All of the three. I write and arrange a lot of the music and it must have a hook, melody and I am a great fan of refrains...ATV were the masters at that!. The lyrics are immensely important and Deko is without a doubt, the most prolific and talented lyricist in punk rock...or any musical genre I reckon

Politics and music, does it go hand in hand?
-No...but it should where appropriate

Best political band/artist?
-Crass, Jello Biafra, Rage against the Machine (for bringing to a wider audience)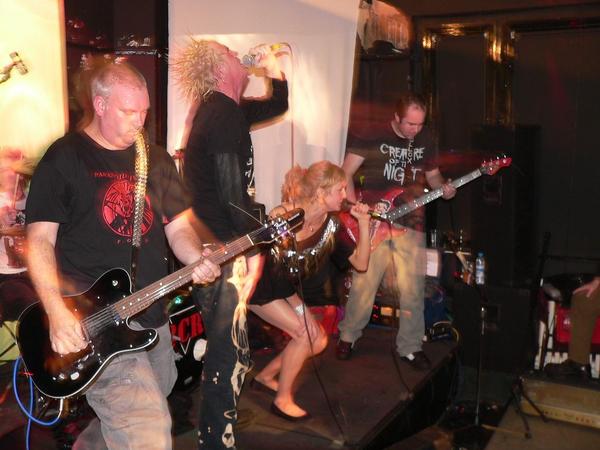 Please rank your five favourite records, five favourite concerts and five most important things in life?
-All in no particular order....
Records:
Never mind the bollocks
Stations of the crass
The killers: hot fuss
The subways
Fresh fruit for rotting vegetables

Concerts:
Sex pistols at Crystal pplace London
Iggy pop, National stadium Dublin
Bad brains, Astoria, London
Stranglers National Stadium
Sonic youth / Nirvana, Top hat Dublin

Important things
Health
Happiness
Family
Music
stuff

First, last and most expensive record ever bought?
-First: Ramones Its alive 1978
Last: The Hedrons
Most expensive: I got an autographed gold disc of never mind the bollocks on my wall...cost about €300
Most embarrassing record in your collection?
-The amazing darts

Have some of your records become really expensive...how much have you heard that anyone paid for it??
-Some of the vinyl is a bit pricy I think,
I have tried to buy up stuff when I see it so I can sell it onto people who I know are interested. I paid €20 for a copy of schizophrenia on vinyl and I heard someone bought autonomy in Australia for €15

How is it to live in Ireland otherwise, I mean politically?
-We live in a conservative type nationalistic society, which is a tigert economy..meaning that everyone is on the make all the time. Fine if you are on the make...shite if you are left behind.. a 2 tier society

What do you think about the government?
-Whoever you vote for,,,the government wins!
We have the green party now in a minority coalition, they have control of some interesting areas that may or may not be good

I compare you to as different bands like Crass, Sisters of Mercy, Stooges, Dolls. Comment?
-That sounds great to me!!!! Not far off the truth...love them all

I understand that you being compared to other bands, which are those bands?
-Usually its described as a cross between bands.
A cross between Killing Joke and Dead Kennedys is the one I like best
But Subhumans and ATV is good too
As is the Damned and Crass

Do you care about reviews? Which do you trust the most, the good or the bad ones?
-Love good reviews as they either mean that the target audience likes it, or if its mainstream press then the non target audience may take note.
Although when the irish press said " I wouldn't pay a penny for this rubbish and neither would anyone with an interest in rock n roll" I was delighted.
Also when melody maker magazine hated the album but threw in a load of references as to why he didn't like it (variously sounding like the Ramones, Kleenex, Conflict, Cockney Rejects and referring to rottenisms) I was really really pleased.
Both of these were from about 1987 though!

Which are the most peculiar you have got?
-The 2 above were funny
Bono describing us as "Irelands answer to the Clash...but are a load of rubbish really" was cool

Which is the biggest audience you have played for? The amount of people I mean?
-We played to about 3000 with metal band Onslaught, 1000-ish with Subhumans and similar at Wasted.

Which is the biggest band you have been a support act to and which is the biggest one you have had as a support act?
-We were on the bill for the Sex Pistols, but the gig was pulled. So in no particular order of fame...
The Damned
The Dickies
Anti nowhere league
Gang Green
Subhumans
Manic street preachers
Lots of others at wasted and places like that too

Futureplans for the band?
-Uk and European gigs
12" of rock n roll n revolution with Crass influenced sleeve due out in august

For yourself as a human being?
-Eat, drink and be merry

Wisdomword?
-In the words of spinal tap
Have a good time..all of the time

Something to add?
-Seriously guys....50 years of rock and roll and all you give us is ABBA.