Austria, punk and so on.Not so often I have heard that combination but here gives us Panica the opposite. Foeny was so kind that he answered a lot of questions from me in the beginning of November-2008.
History?
-Yelling guitars, great melodies, blasting choruses, demanding vocals, to the point drums, groovy baselines, four friends –
all flavoured with a straight attitude and an adequate pinch of Punkrock.
This might give you an idea of what Panica is all about but still you know nothing about this band unless you have experienced them.
Based in Schwanenstadt, Austria, Panica is performing and keeping the crowd busy since the early days of the new millennium.
Originally starting out as a trio, Foeny (vocals and guitar), René (bass) and Gonzo (drums) have released two studio albums so far: 'Sunshine on my Ass', their debut album, and 'Invaders', a five-track EP - both released on Suspect Records.
In order to grant Panica the last grain to be complete, they've introduced Pene (guitar) as a lead guitarist to the band in 2004.
Since then they are keeping themselves occupied developing their musical appearance, fine tuning their sound and of course writing songs.
2008 they are releasing their newest long player 'Not Everything's Just Grey' on Antstreet Records, Germany. The new album represents a new found style by combining powerful and intoxicating songs with thoughtfulness and sometimes even a whiff of melancholy.
Please tell me a little about every member, age, interests, work, family and something really bad about every one?
-Gonzo:
Age 29,
Interests: Motorbikes and music
Work: Engineer
Family: a really lovely daughter
Something really bad: driving auto scooter without fastened seats belt
Pene:
Age 25,
Interests: fishing, all about music
Work: Mechanic
Family: girlfriend
Something really bad: getting body painted once asleep while going out
Rene:
Age 28,
Interests: Bodybuilding is my life
Work: Austrian railways
Family: girlfriend
Something really bad: farting into faces
Foeny:
Age 29,
Interests: Music
Work: Engineer
Family: single
Something really bad: nose picking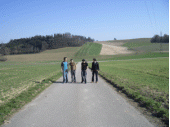 Punk in Austria, how is it to play it?
-Small but nice scene
Have it been any good bands back in time in Austria, any favourites?
Red Lights Flash, You Know, Seven Years Bad Luck, Wham Bam Bodyslam, just to name a few
Never thought of singing in german?
-We do have some songs in german, but those have not made it on a record so far
Not everything..s just grey, what do you mean?
-It is mainly related to issues in everyday life that get can you down or make you feel alright.
It's about being able to put optimism and hope in what you believe in, even when it seems hopeless.
It's about a certain attitude towards your own life and the believe that there's always a coloured spot left on the horizon, even when everything appears grey.
Which type of people comes to your concerts?
-Well, all across the board! As mentioned, it's a small scene here, so it's really mixed up – guys who are into metal or hardcore as well as emos, skaters and of course punks.
What does punk mean to you, is it only a word or is it a lifestyle?
-The main reason why we are doing what we are doing is, as simple as it may sound, because we believe in it and because we feel comfortable doing it. We personally do not lay so much meaning into the word it self, or the style and fashion that comes with it. More like how it is interpreted by one self – means to put value in what makes sense to you and what you believe in and to give a fuck about the rest, no matter how good or bad it fits into anybody else's idea of society, business or what ever.
How would you describe your music in three words?
-Check it out
How is the reviews you have got for the new CD?
-We did not get that much so far as it has just been released - but some good some bad, you know…
Do you care about reviews?
-Sure, they give good feedback on how our music is appreciated in general, but we always try to keep our focus anyway, so we do not take them too serious - no matter if they are good or bad.
How is it to live in Austria, I mean politically?
-Election day just passed, so we are looking forward to a new government by the beginning of next year. Unfortunately the right wing parties made some major gains this time…
The best and the worst of living in Austria?
-Best: Very nice landscape, having the best soccer team in the world, good beer
Worst: Always getting mistaken with Australia, worst skiers, dumb politicians
What is typical austrian? What is typical swedish?
-Austria: Wiener Schnitzel, Alps, Lederhosn
Sweden: Volvo, Millencolin, pretty girls
What do you know about Sweden?
Europe, similar population figure as Austria, blond people, Vikings, IKEA
Any good bands from Sweden you like?
-Loads of! Just to name a few: The Sounds, The Soundtrack of our lifes, Roxette, Millencolin, The Bones, Refused…
Much interviews? Is it boring?
-No, absolutely not, we enjoy every single one
The question you want to have but you never get? Please ask it and answer it?
-Question: You have three wishes - what are they?
Answer:
1. a bottomless beer
2. another one
3. salami pizza with anchovies
Please rank your five favourite records, five favourite concerts and five most important things in life?
-Gonzo:
Records: Shelter – Beyond Planet Earth, Rammstein – Sehnsucht, Pennywise - About Time, Life of Agony – River Runs Red, Rise against – Siren Songs of the Counter Culture
Concerts: Life of Agony, Rammstein, Toto, Ska-P, Die Fantastischen 4
Important things in life: Lena, health, friends, humour, music
Foeny:
Records: Face to Face – Big Choice, Pearl Jam – Ten, The Sounds – Dying To Say This To You, Coldplay – A Rush of blood to the head
Concerts: Weezer, NoFx, Coldplay, Pearl Jam, Dynamo
Important things in life: Panica, health, friends, to be at ease with myself, happiness
Pene:
Records: Foo Fighters – One by One, Millencolin – Pennybridge Pioniers, The Killers – Hot Fuzz, Lagwagon – Hoss, No Use For A Name – Making Friends
Concerts: Jimmy Eat World, Coldplay, Look See Proof, Farin Urlaub, Foo Fighters
Important things in life: friends, Sonja, Panica, family, health
Rene:
Records:
Millencolin – Tiny Tunes, Blink 182 – Blink 182, Unwritten Law – Unwritten Law, Pennywise - About Time, Dog Eat Dog – All Boro Kings
Concersts: Danko Jones, Vans Warped Tour 97, Lost Prophets, Fall Out Boy, Disco Ensemble
Important things in life: health, orgasms, good digestion, music, Susi and friends
First and last record you bought?
-Foeny:
First: ACDC - live
Last: Kings of Leon – Only by the Night
Gonzo:
First: Beatles
Last: ACDC – Black Ice
Rene:
First: EAV – Maerchenprinz
Last: Volbeat – Guitar Gangsters and Cadillac Blood
Pene:
First: Die Aerzte – Le Frisur
Last: Coldplay – Viva la Vida
Most embarrssing record in your collection?
-Gonzo: Bravo Hits
Rene: Bravo Hits 2
Pene: White Snake
Foeny: Avenged Sevenfold
Your record label is it good?, is it a good label, what have they released more?
-Really nice guys, we really appreciate the cooperation, support and friendship
Other Bands: Random Hero, Hungry, Small State, Guitarshop Asshole, etc.
New stuff like My space, facebook and so on.... is it good or how do you see on these things?
-Myspace is definitely a good and important tool helping bands to get their music out there and also to find good new stuff and people. Unfortunately business gets a more and more weighty part of it…
How do you see on Mp3 and downloading and so on? is it good or bad for smaller bands?
-It definitely helps to get heard all around the globe. Mp3 sharing is stealing, no doubt about that – although as a band you probably rather would want someone to share your stuff instead of not even taking notice...difficult question…We'll see how the paid download thing is going to work out in future.
Which is the biggest band you have played with on a concert?
-Chumbawamba, The Exploited, Bambix
And which band do you really like to support if it..s possible?
-Hmmm, there are loads of – the Foo Fighters would definitely earn a high ranking here
Is it a dream you have to unite all the world punks, do you see that there is many different styles of punks which don..t go so well together?
-There's much controversy here. Punk somehow became an umbrella term for thousands of different styles. Some would simply not fit together so no, we do not think this would work…
Futureplans for the band?
-Shows, shows, shows, new record, etc.
For yourself?
-See above
Wisdomword?
-Not everything's just grey
Something more to add?
-Thanks for the interview
.